Kids' Table: Dogfish Head Alehouse in Falls Church
A baby in a bar? Why not.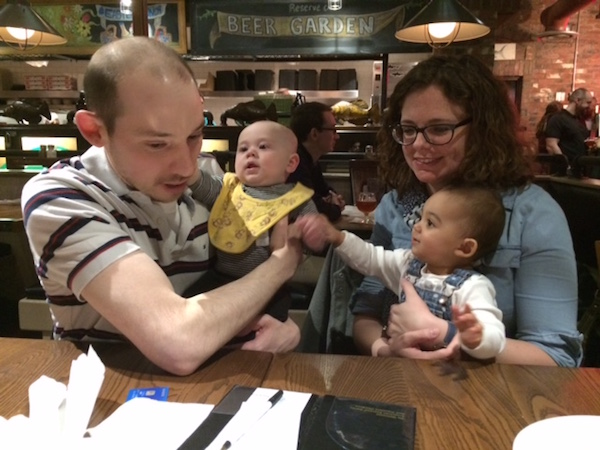 Arlington residents Katie Clister and Russell Confroy play with niece Ellie and the author's son Alex while waiting for dinner to arrive.​
I am the mom bringing my baby into a bar on a Friday night.
Luckily, I'm not alone. Especially at Dogfish Head Alehouse in Falls Church.
If you're eager to stay in the craft beer loop without leaving the kids behind, this restaurant and bar—an offshoot of the Delaware-based brewery—at Seven Corners Shopping Center has plenty of room for families, along with an ever-changing list of freshly brewed beers on tap and in bottles. (Dogfish Head Alehouse also operates a location in Fairfax.)
Walking in at 6:30 p.m., we see kids of all ages throughout the restaurant's multiple dining rooms. It's so crowded with little ones that when my friend arrives and asks where the table with the baby and the toddler are, the hostess looks at her like she's crazy.
If you arrive a peak time, be ready to park your buggy at the door. Many of the tables are too close together to accommodate strollers. But don't worry—kids who are not yet ready for adult chairs have several tableside seating choices, including slings that hold car seats safely in place. This option is a win for parents who are wary of placing car seats into wobbly, inverted (and dirty) highchairs.
The "pup's menu" comes with crayons, nautical-themed games and a list of familiar dishes, from grilled cheese and wood-grilled burgers to fish and chips or pasta with butter, alfredo sauce or marinara. Sandwiches and chicken tenders come with fries or applesauce, for a healthy nod. Older kids will find many options on the main menu, including custom pizzas or a loaded mac 'n' cheese topped with bacon, red peppers, sundried tomatoes, summer squash and zucchini.
For parents, the sprawling menu features beer-friendly pub food like burgers and ribs. Cheese sticks are wrapped in ham and the grouper, cod and shrimp come deep fried. There are also lighter options such as grilled salmon and gigantic dinner salads, and most portions are large enough for several satisfying meals.
Staff are quick to bring appetizers and drinks, but can be slower with entrees. The dining room din—though helpful for masking baby fussiness—also makes it harder to get servers' attention, so be ready to order quickly.
For beer lovers, most of Dogfish Head's year-round and seasonal brews make an appearance on the drink menu, including the popular 60 Minute IPA, Indian Brown Ale and Midas Touch, brewed with honey, muscat grapes and saffron. Check the website before you go for an updated list of what's on tap.
Although it's a chain, the restaurant works hard to earn local credibility. It regularly hosts fundraisers to support area elementary schools as part of its Helping Hand program; in April, five were listed on the Falls Church location's website for the coming months.
When we leave at 8 p.m., most of the space has been turned over to adults ordering from the lengthy beer list. As our group makes its way to the door, carrying a sleepy three year-old and two babies, a waiter carrying a tray heavy with drinks nods goodbye and quips, "You've got your babies, I've got mine."
Dogfish Head Alehouse At-A-Glance
Parking: Large lot adjacent to Seven Corners Shopping Center.
Wait Time: Call ahead for an estimate. No reservations taken, but several roomy dining areas available.
Seating: Booster seats, sling holders and highchairs available. Room for large parties.
Restrooms: Changing tables available in both men's and women's restrooms.
Bites: Dedicated kids' menu and extensive regular menu with loads of youngster-friendly options such as wood-fired burgers, pizza and loaded mac 'n' cheese.
About Jessica
Jessica Strelitz has worked in all kinds of restaurants – from tiny Maine delis to white-tablecloth fine dining – and has covered the national and regional food scene for nearly a decade while living in both Arlington and Falls Church. As a mother of two who also works full time in the digital media space, she tries to takes a break from her home kitchen once a week. She's seen and heard a lot –from generous, supportive and understanding staff and patrons, to contorted faces and snide remarks from fellow diners, owners, chefs and yes, even writers (both in person and online). And while she doesn't think you should bring kids absolutely everywhere, she does feel that with proper awareness and planning, you can bring them to most restaurants.
Send her your favorite places in Arlington, Falls Church and McLean to dine out as a family at jstrelitz@gmail.com