Kids' Table: Texas Jack's in Lyon Park
Barbecue joint offers something for the whole family.
Welcome to Kids' Table, our new monthly feature navigating the world of dining out with kids in Arlington, Falls Church and McLean. Every month, Jessica Strelitz will chronicle the joys and pitfalls of dining in NoVa with tots in tow. For more on Jessica and her always hungry brood, check out her 'About Me' at the bottom of the page.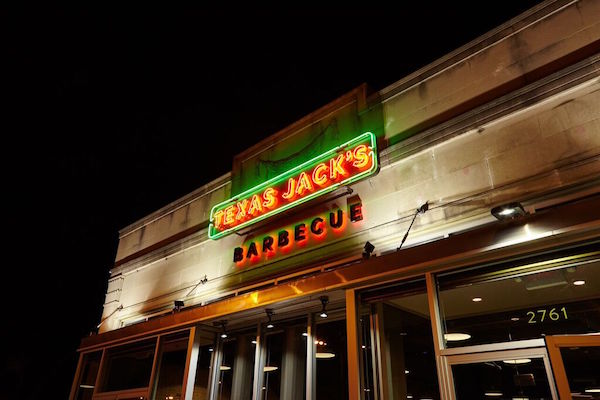 I took my 3-year-old son Mason to a restaurant for the first time when he was six weeks old.
Dining out is part of my work, and I'd already spent a few months away from the scene. I was both anxious about feeling out of the loop and excited to be a diner again — albeit one clad in glorified yoga pants. It was also a test: How would this new creature behave outside of his happy nest, and how would my husband and I handle this wee person in a new and not always hospitable environment?
It turned out well. No one shot us dirty looks or rolled their eyes when they saw us arrive with the car carrier, or even when he began to fuss a bit. After less than an hour, we were driving home and breathing a sigh of relief, our bellies happily full.
The desire to skip washing dishes for a night or have a Bloody Mary at brunch doesn't end when you have a kid – or in my case, two. And it shouldn't.
After the birth of our second son, Alex, I was eager to try the newly-opened Texas Jack's in Lyon Park. There's nothing delicate about the place — firewood is stacked against the wall, the ceiling has an industrial feel and wood furniture dominates the landscape. It's tough, which makes it good for families, even if it's not specifically designed for them. There's no dedicated kids' menu, toys or books. But a restaurant doesn't have to be customized for families to still work for neighborhood dining.
Texas Jack's features two roomy dining areas with ample space to spread out, or to gather a large group for communal dining at one of the oversized tables. The decibel level is fairly loud, which means fussy dining companions likely won't draw too much attention or create a complete disaster. Plus, one finds action and distraction everywhere — especially close to the big, open kitchen.
There's plenty of space for a car carrier, but not much room for a stroller, so you may want to leave the latter behind – especially if you can snag a coveted parking spot in the tiny lot next door. The hunt for street parking can be tough, but not impossible. Texas Jack's takes reservations, but we walked in around 6:30 p.m. with no wait for a table of seven, including a pre-schooler and toddler. We immediately spied another large family with several kids.
The bench seating along the right side of the main dining room (the former Tallula space) is great for tiny people who want to check out what's going on in the next room via large cut-outs in the walls. A large, colorful map of the U.S. dominates one wall and may spark an impromptu geography lesson.
​When it's time for a bathroom break, both the men's and women's restrooms are equipped with changing stations, a welcome update.
Personable and efficient servers offer families with younger children boosters and high chairs, and two off-the-menu options of a petite cheeseburger or simple grilled cheese for $5. Both come with fries, arrive quickly and are by far the cheapest eats on the menu.
This is an upscale barbecue joint, and while some of the food is designed to be eaten without utensils, plenty of the plates arrive with large, shiny knives, so beware of curious hands.
Nachos, sandwiches and meat on the bone encourage older kids to eat with gusto. Picky eaters will enjoy macaroni with three cheeses, familiar chips with addictive queso, plus smoked and fried chicken options.
Kids' drinks arrive in plastic cups, but there's plenty here for grown-ups. Former Eat Bar fans will smile when they see that the old bar remains in the same place, though the menu now skews more toward beer and cocktails than wine.
Livin' the Pie Life, an Arlington bakery set to open a storefront later this spring, bakes the miniature pies available for dessert. A few bites will satisfy without creating a massive sugar rush before bedtime. I was glad the salted-caramel chess pie was my three-year-old's first introduction to this delicious twist on a classic.
Parking: Small lot, street parking
Wait Time: Reservations recommended or arrive before dinner rush
Seating: Booster seats and highchairs available; Room for large parties
Restrooms: Changing tables available in both men's and women's
Bites: No kids' menu; Off-menu burger, grilled cheese available, plus kid-friendly adult entrees like mac 'n' cheese, fried chicken and chips with queso
About Jessica
Jessica Strelitz has worked in all kinds of restaurants – from tiny Maine delis to white-tablecloth fine dining – and has covered the national and regional food scene for nearly a decade while living in both Arlington and Falls Church. As a mother of two who also works full time in the digital media space, she tries to takes a break from her home kitchen once a week. She's seen and heard a lot –from generous, supportive and understanding staff and patrons, to contorted faces and snide remarks from fellow diners, owners, chefs and yes, even writers (both in person and online). And while she doesn't think you should bring kids absolutely everywhere, she does feel that with proper awareness and planning, you can bring them to most restaurants.
Send her your favorite places in Arlington, Falls Church and McLean to dine out as a family at jstrelitz@gmail.com