Kids' Table: True Food Kitchen
Get your little ones to eat their veggies and more at this Mosaic District eatery.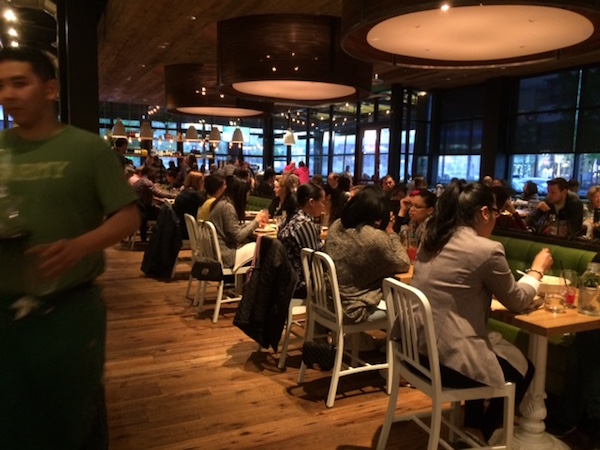 The dining room at True Food Kitchen in the Mosaic District. Photo by Jessica Strelitz
On a recent visit to True Food Kitchen in the Mosaic District, I learned how to get a baby and a preschooler to eat kale: Blend it with creamy avocado and tangy cotija cheese and add plenty of baked spelt chips, flecked with flax seed. The result: a pair of green, smiling faces.
The restaurant, which has a dozen locations in nine states, opened its only Virginia location two years ago with a menu that initially reads as too healthy to be fun. It's full of buzzwords like "anti-inflammatory," "bio-dynanamic" and "sustainable."
But kids only care about how food looks and tastes, and most of the dishes we ordered hit both notes. The food was colorful with bold flavors, thanks to dill in the ranch dressing and garlic in the tzatziki on the smoked turkey sandwich. True Food's subtle approach to healthy is less tofu scramble, more seeded-grain (instead of white) bread.
Support for families begins at the door. We were offered a children's menu—in addition to the regular menu—and escorted to a mid-room table with plenty of bench space. High chairs are available, but our hostess let us know that, due to safety concerns, they don't allow them to be flipped upside down to accommodate car seats.
Our server quickly brought a plastic cup of milk (with a straw) for our 3-and-a-half-year-old, noting that all restaurant staff are trained for allergies, should that be an issue. The main menu boasts a lot of gluten-free options (think pizza crust, buns, pita and noodles) along with a huge selection of vegetarian plates and sustainably fished and farmed proteins. Four of the six options on the kids' menu are meatless, including a fancy PB&J with almond butter, banana and strawberry on seeded grain bread. My older son's teriyaki bowl arrived in minutes, but he picked around the salty chicken in favor of its tangle of crunchy peas, carrots and quinoa.
In addition to the avocado-kale dip, noteworthy dishes on the main menu include a grass-fed bison burger; a chicken chopped salad laden with dates and manchego cheese; and red-chili shrimp with sesame noodles and Chinese broccoli.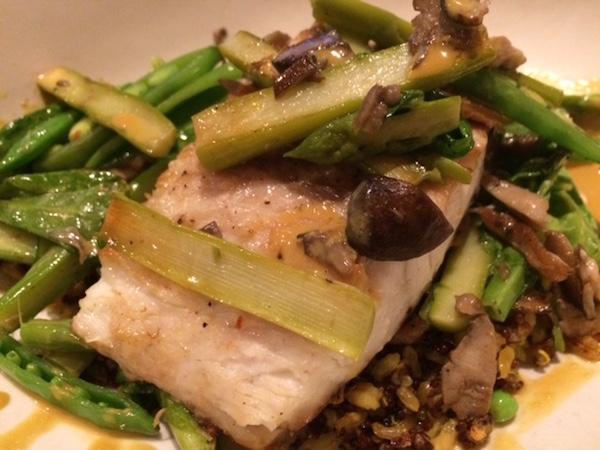 Sustainable sea bass with asparagus, sugar snap pea and whole grains at True Food Kitchen. Photo by Jessica Strelitz
Our family of four wasn't alone. On a Friday night at 6:30 p.m., the open dining room was nearly full and at least a quarter of the tables had guests under 18. We didn't make a reservation and there wasn't a delay for a table, but I would suggest one for weekend prime time dining. Seats near the open kitchen provide theater for curious diners, while banquet-size tables and a large enclosed patio offer space for larger groups. Every part of the restaurant is loud, so conversation is tough. (The upside is that tiny guests ignoring the "inside voice" rule won't raise many eyebrows.)
Antsy diners will appreciate a walk around to check out the decor. One wall features a faux stand of white birch trees, while succulents top nearly every surface. The bar displays piles of colorful fruit that serve as the base for True Food Kitchen's long list of "natural refreshers." These include Medicine Man, which blends sea buckthorn, pomegranate, cranberries and black tea; and the spicy Root & Remedy, made with beets, carrots, ginger and honey lemonade. Older kids will enjoy specialty sodas like a gingery mix of honeydew, citrus, honey and ginger. And imbibers who are 21 and older can request that (organic) spirits be added to the mix.
Both the men's and ladies' restrooms have changing stations inside roomy stalls. The automated, noisy hand dyers may terrify some little folks, although they fascinated mine.
When it comes to kiddos, the staff at True Food Kitchen gets it. Our plates came quickly and more than one server stopped by just to say hello to the kids. One strode over with a smile, offering: "I'm just one of those people who likes babies."
True Food Kitchen At-A-Glance
Parking: Street parking and free multi-level garage around the corner.
Wait Time: Reservations suggested for Friday and Saturday nights after 7 p.m., as well as for weekend brunch.
Seating: Large main dining area and enclosed patio space, plus bar area. Mid-room tables have benches.
Restrooms: Changing tables available in both men's and women's restrooms.
Bites: A dedicated kids' menu features several vegetarian items including veggie sticks and dips, mozzarella pizza and a chopped salad.
Location: 2910 District Ave., Mosaic District; 571-326-1616
About Jessica
Jessica Strelitz has worked in all kinds of restaurants—from tiny Maine delis to white-tablecloth fine dining—and has covered food for nearly a decade while living in Arlington and Falls Church. As a mother of two who also works full time in the digital media space, she tries to takes a break from her home kitchen once a week. She's seen and heard a lot—from generous, supportive and understanding staff and patrons, to contorted faces and snide remarks from fellow diners, owners, chefs and yes, even writers (both in person and online). And while she doesn't think you should bring kids absolutely everywhere, she does feel that with proper awareness and planning, you can bring them to most restaurants.
Send your favorite local places to dine out as a family to jstrelitz@gmail.com.