Knock-Out Kitchens
Great remodels aren't always a matter of adding on. Sometimes the game-changer is what you take away.
Family Style
Budget: $60,000
Designer: Nadia Subaran,
Aidan Design, 301-320-8735,
nadia@aidandesign.com,
www.aidandesign.com
Contractor: Steve Smith,
The Ventura Group, LLC,
703-536-8576,
venturagroup@aol.com,
www.venturagroupllc.com
Steve and Stephanie Richey called their pre-renovation kitchen "the cave." But they were stumped on what to do with the small, dark space in their ranch-style home in McLean—particularly with a budget that wasn't enough for an expansion.
Following the advice of designer Nadia Subaran of Aidan Design, they removed a wall between the kitchen and dining room to create one light-filled, 288-square-foot free-flowing space. A generous island now serves as the transition point between the two areas, as well as the hub of family life. Stephanie, a busy mom who works part time at her kids' school, cooks dinner while her young sons, ages 9 and 11, sit at the island to do their homework. On weekends, it's just the spot for lazy mornings and chocolate chip pancakes.
For improved traffic flow, Subaran moved the sink and dishwasher into the island to create an efficient work triangle. Knowing that the family would eventually pursue a second-phase remodel (they plan to convert an existing screened porch into a family room that connects to the dining room) she designed the kitchen so that Phase 2 can begin seamlessly without requiring the removal of any additional walls.
The kitchen's neutral palette is also forward-thinking. Rather than choosing trendy colors and finishes, the Richeys opted for classic white cabinets and black granite countertops. This base scheme is easily accented with paintings, ceramics and movable furniture (interchangeable pops of color that can be easily swapped out, whereas installed features such as cabinets and countertops cannot). Big-ticket items such as the Wolf gas range and luxe backsplash of handmade subway tiles were balanced out with economical choices such as a KitchenAid refrigerator and dishwasher, and Ikea barstools.
Remodel Highlights:
Painted maple cabinets from Brookhaven are accented with polished nickel cabinet hardware from Restoration Hardware.
Hand-molded backsplash tiles from Architectural Ceramics create a "white on white" textured affect.
The countertops are Absolute Black honed granite.
Slip-covered Henriksdal barstools from Ikea are both practical and pocket-friendly. Cost: $89.99 each.
Party Central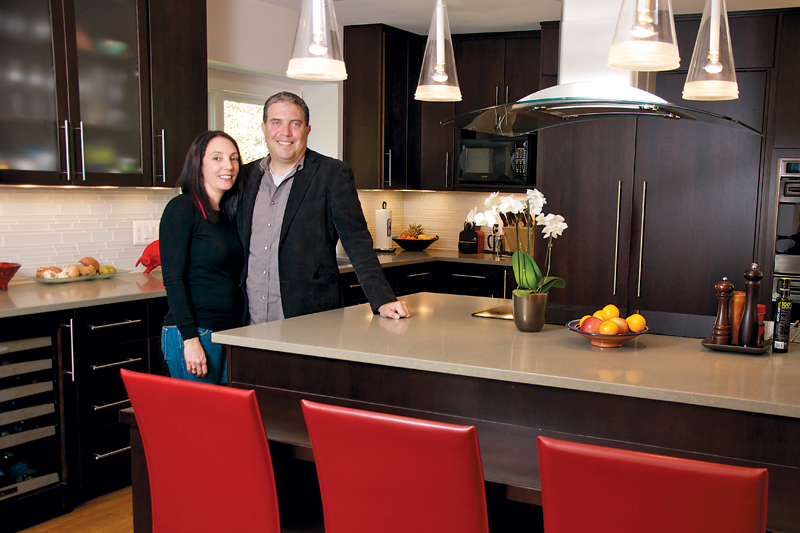 Budget: $85,000
Architect: Gretchen Ginnerty,
Intellectual Homes, 703-408-7476,
Gretchen@intellectualhomes.com,
www.intellectualhomes.com
Contractor: Vincent D'Avena,
AV Remodeling & Construction
(Intellectual Homes' sister company),
703-307-7860,
Vincent@avremodeling.com,
www.avremodeling.com
When David and Ella Gorodetski bought their McLean split-level two years ago, the kitchen had been recently remodeled for resale purposes. The problem was it just didn't make sense for how they live.
"We wanted the feel of an open apartment more than a house with separate rooms," explains David, co-founder and COO of Sage Communications, an integrated marketing firm in Tysons Corner. "We also wanted a contemporary look. But not a cold contemporary."
Ella, a stay-at-home mom (the couple has a 7-year-old-daughter), volunteers for St. Jude Children's Research Hospital. They love to entertain, and dinner parties range from intimate gatherings to 50-person fundraising events. The kitchen needed to work equally well in both scenarios.
With the help of architect Gretchen Ginnerty of Intellectual Homes, they were able to strike just the right balance. Removing the kitchen's center support wall, as well as a second wall between the kitchen and dining room produced the desired openness, allowing the 275-square-foot space to feel even larger than it actually is.
In place of those walls, the kitchen is now anchored by a multi-tiered island that does triple duty. It's outfitted with a raised bar for entertaining and serving; a countertop-height area for food prep; and a table-height ledge for casual dining. Sleek fixtures such as glass pendant lamps and stainless drawer pulls are counterbalanced by warm wood cabinets and floors.
Prioritizing spending was the hardest part, David says. At Ginnerty's suggestion, they divided their product wish list into must-have, nice-to-have and wish-we-could-have columns. Then they made trade-offs. Workhorse appliances such as the Wolf induction cooktop and Thermoform vent hood were the biggest investments, but with the payoff of long-term energy savings.
Remodel Highlights:
FLOS pendant lamps by Italian designer Achille Castiglioni.
Custom cabinets would have cost more than these espresso-stained cherry cabinets from Medallion Cabinetry's semi-custom line, which come in stock sizes. But they weren't cheap. Cost: $32,000.
The glass mosaic tile backsplash was an expensive indulgence, both in product price and labor and installation costs.
Red leather chairs from Design Within Reach add warm accents.
Bachelor Pad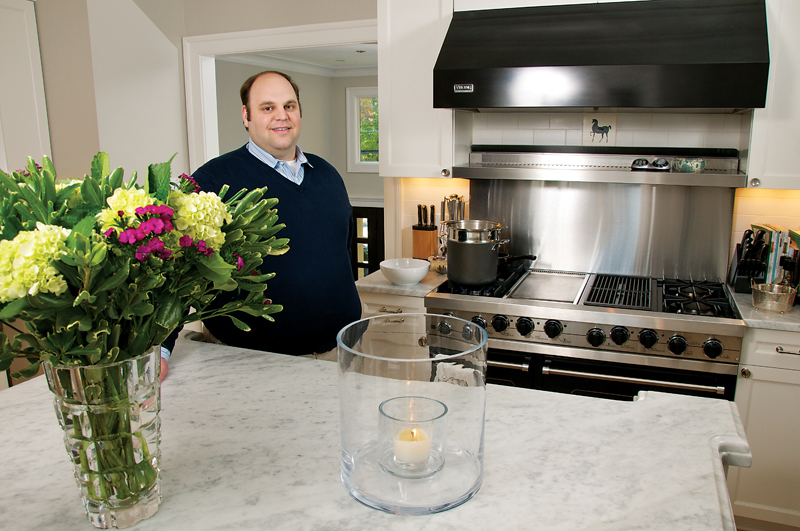 Budget: $55,000
Designer/Contractor: Jeff Akseizer,
Akseizer Design Group, 703-288-9488,
ext. 103; jeff@designadg.com
"Condemnable." That's how interior designer Jeff Akseizer described the condition of his split-level home in Arlington's Old Glebe neighborhood when he purchased it a few years ago. Since then, Akseizer has painstakingly renovated the entire house, including its 175-square-foot kitchen.
Given that the culinary zone was just one part of a larger makeover, the local designer was judicious with his resources. Rather than bumping out the existing space, he reclaimed a closet from an adjoining hall bathroom to give the kitchen a little bit more elbow room. Then he removed a wall between the kitchen and dining area to open things up.
Classic and simple, the new kitchen is a case study in designer tricks. For an economical backsplash, Akseizer used off-the-shelf subway tile to frame a single antique tile. "Everything new works better from a design perspective when mixed with something old," he says.
To make the Carrara-marble-topped island feel more substantial, he asked the fabricators to laminate remnants of marble to the edge of the top slab, giving the appearance of two stacked pieces.
The restaurant-grade Viking range and hood satisfied his desire for a kitchen with chef cred, although he achieved a sizable discount (about 70 percent off the retail price of $17,000) by purchasing floor samples from a large store. The other appliances and fixtures are from mid-range lines.
Akseizer is serious about fine cooking, but his dinner parties are informal. The new, open plan accommodates that vibe. At one recent gathering, friends watched the movie Julie & Julia in the adjoining space while their host prepared Julia Child's classic French boeuf bourguignon. "I love that I can be in the kitchen and hear everything and be actively involved in the laughter," he says.
Remodel Highlights:
An antique equestrian tile sourced from Red Schoolhouse Antiques in Millwood, Va., creates a focal point in the backsplash.
Shaker-style painted cabinets were made by ADG Millwork, a shop in Boswell, Pa., that Akseizer owns.
The 60-inch Viking range and hood are floor samples from an appliance retailer and are covered under warranty.
Bonding marble remnants to the countertop edge made it look like two stacked slabs that are 3 ½ inches thick. Cost: $2,500.
Catherine Funkhouser is an architecture and home design writer in Arlington.