Last-minute Thanksgiving Saves
Local restaurants offer scrumptious side dishes -- and even a whole turkey -- to take the hassle out of the holiday.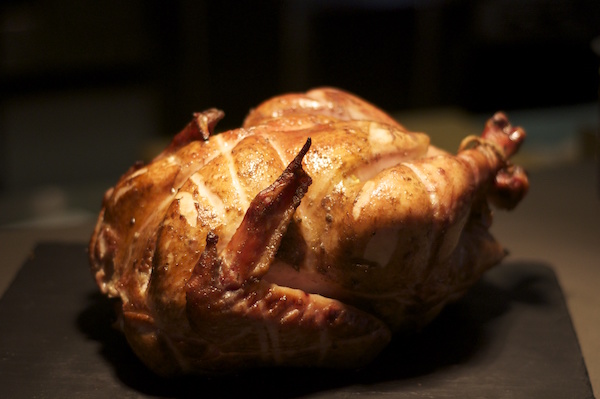 Turkey from Kapnos Taverna
Turkey Day sneaking up on you? These places have you covered.
If you're like us, the warm fall lulled you into a feeling of complacency. Who wants to think about turkey and stuffing when it's still ice-cream weather? Well, the temperatures are dipping, Thanksgiving is upon us and it's time to get cracking. Maybe you've got a plan and all you need are a few side dishes to pull it all together. Or you're just looking for a killer dessert. Or maybe you need the entire meal, from turkey to drinks. Luckily there's help — but you'll have to act fast, since most restaurants stop accepting orders Monday. These options will help you dress your table for success:
Red Apron Butchery
This Mosaic District whole-animal butcher uses locally sourced meat and also sells charcuterie and other provisions. You can order whole turkeys, which come from Fields of Athenry Farm in Purcellville, Va., in sizes ranging from 13 to 25 pounds. Deadline for ordering: Noon Monday, Nov. 21.
Red Apron Butchery, 703-676-3550; redapronbutchery.com
Rocklands Real Barbeque
If you like your Thanksgiving smoked, Rocklands Real Barbeque is the place to go. Fresh smoked turkey with homemade gravy is available in sizes of 10 to 12 pounds for $44.99; 14 to 16 pounds for $64.99 and 18 to 20 pounds for $84.99. Or ordered a smoked turkey breast with homemade gravy for $11.99 a pound. Sides include cornbread stuffing with sage at $11.89 per quart and ginger candied baby carrots at $11.89 per quart. Deadline for ordering: Noon Monday, Nov. 21.
Rocklands Real Barbeque, 703-778-8000; rocklands.com
Bistro 360
This wine bar offers a rotisserie turkey breast and all the trimmings for $25 per person, with a minimum of two people. Sides include deviled eggs, apple and sage stuffing, and green beans with shallots and almonds. Apple crumble, bourbon pecan or sweet potato pies cost $18 each and serve six. Deadline for ordering: 5 p.m. Sunday, Nov. 20.
Bistro 360, 703-522-3600; bistro360.net
Bayou Bakery
For a Cajun twist on Thanksgiving, try this Court House institution known for its beignets and pimiento-cheese sandwiches. Sides include dirty rice for $15 a quart, braised collards for $12 a quart and candied spiced pecans for $15 a pint. And if your dinner guests are still hanging around the next morning, serve them a slice of banana chocolate-chip, pumpkin chai or apple cider crumble breads, all for $16 per loaf. Deadline for ordering: 10 a.m. Monday, Nov. 21.
Bayou Bakery, 703-243-2410; bayoubakerydc.com
Kapnos Taverna
Mike Isabella's restaurant offers a Greece-inspired Thanksgiving menu with Greek-spiced spit-roasted turkeys with sides including chestnut stuffing, charred brussels sprouts and roasted lemon potatoes. For something a little different, Kapnos is offering lamb and pork shoulders, too. The turkeys weigh 16 to 18 pounds and serve 8 to 10 people. Deadline for ordering: Sunday, Nov. 20.
Kapnos Taverna, 703-243-4400; kapnostaverna.com