Life After Postpartum Depression
Arlington resident Adrienne Griffen went into an emotional freefall after her second pregnancy. Now she's helping other new moms to regain their footing.
AFTER AN EASY pregnancy and delivery with her first child in 1999, Adrienne Griffen had no reason to believe that anything would be different when her second was born in 2001. Instead, her baby's vital signs flagged with every contraction, and Griffen suddenly found herself having an emergency cesarean. What should have been a joyous moment became one filled with trauma.
Later, at home, those feelings were exacerbated by the stress of caring for a toddler and an often-screaming newborn, along with sleep deprivation and round-the-clock nursing. Griffen soon entered a downward spiral unlike any she had ever experienced, consumed by feelings of rage, hopelessness and a desire to run away. She remembers feeling disconnected from her newborn son and even told her husband, Michael, that she wanted a divorce.
"I was losing it and falling apart," she says. "I thought my family would be better off without me."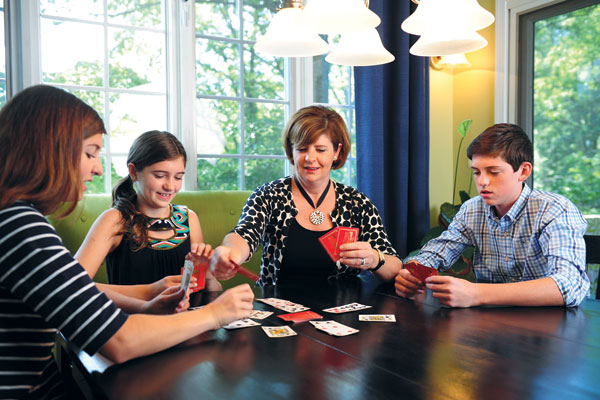 Adrienne Griffen with her kids (from left), Claire ,16; Nora, 11; and John, 13. Photo by Michael Ventura
The emotional freefall seemed to come out of nowhere and was shocking for a woman who otherwise prided herself on being smart, capable and organized. As a U.S. Naval Academy graduate who held a master's in public policy from Harvard, Griffen had enjoyed a successful career in both the public and private sectors. Before she opted to stay home full time with her kids, she'd worked for the National Security Council in the White House Situation Room during the first Bush administration and the early Clinton administration, briefing senior officials and, on one occasion, even President George H.W. Bush.
So when the mundanities of parenthood caused her to unravel, it was clear to her that something was seriously wrong. She just didn't know how to fix it.
Griffen reached out to doctors and mental health professionals but says she generally found them either dismissive or overreactive. One physician offered to prescribe Prozac before she'd even finished cataloging her symptoms. The worst incident was a desperate phone call to a behavioral health office during which she overheard a medical staffer describing her as "homicidal" simply because she'd admitted to handing her newborn over to her husband in a low moment. After a visit to that office led nowhere (the doctor suggested only sleeping pills), Griffen sat down in an empty stairwell and sobbed.
"What I needed," she says, "was someone to say to me, 'I'm sorry you're having a hard time' and 'Lots of women go through this.' "
It was six long months before she would hear those words from a sympathetic psychiatrist in Maryland who specialized in women's health and confirmed that she was suffering from a severe case of postpartum depression and anxiety (PPD/A). She began taking the antidepressant Zoloft, which is considered the safest for breastfeeding or pregnant women, according to medical literature. The same doctor worked with Griffen to ensure that she got enough sleep and exercise—critical elements of self-care for women with PPD/A. Almost immediately, Griffen says, the treatment cleared away the clouds and brought her back to her family and her life.
Now 50, she is still happily married to Michael, a lawyer, and is the mother of three—Claire, an 11th-grader at Bishop O'Connell High School, and John and Nora, who are in eighth and sixth grade, respectively, at St. Agnes Catholic School in Arlington. (They share their Bellevue Forest home with Riley, a chow-chow-Labrador mix.)
Her career has also taken a new direction. Griffen's experience in 2002 came at a time when PPD/A was still a largely misunderstood condition. Back then, it was often conflated with postpartum psychosis, the affliction that tragically led Andrea Yates to kill her children. (Brooke Shields' groundbreaking PPD revelation and her public showdown with Tom Cruise, who had criticized the actress for using antidepressants, were still a few years away.)
Determined to give other women the encouragement and clarity that she had desperately sought for herself, Griffen started a support group for mothers with PPD/A through Virginia Hospital Center in Arlington. The success of that group eventually led her to found a nonprofit organization, Postpartum Support Virginia (PSVa), in 2009, which she now serves as executive director.
Today, PSVa—an affiliate of the larger advocacy organization Postpartum Support International—provides support to hundreds of pregnant and postpartum women suffering from PPD/A as well as resources and training for obstetricians, pediatricians, lactation consultants and other professionals who come in contact with new mothers. The group lays out a four-pronged "path to wellness" for struggling women: self-care, social support, talk therapy and, if needed, medication. Group members repeat a mantra: You are not alone. This is not your fault. With help, you will be well.
"One in five new or expectant mothers experience anxiety and depression," Griffen says. (Medical journals generally cite a prevalence of 10 to 20 percent, although in some high-risk groups, such as women who have previously suffered from PPD/A, the percentage can be much higher.) "We acknowledge and validate what these women are experiencing," she says. "We offer hope."
Attorney Megan Monsky was one of those women. She contacted PSVa for help after the births of her daughter and son. "My world was falling apart," says the Alexandria resident. "I was having heart palpitations. I didn't know if I would ever sleep again. Adrienne gave me hope and reassurance that I was going to get better. It brings me to tears just thinking about it."
Monsky went on to volunteer with the nonprofit as a social support person and joined its board last year.
Postpartum depression would not be Griffen's only struggle. Family, colleagues and neighbors rallied around her three years ago when she was diagnosed with Stage III colorectal cancer. After a grueling course of treatment at Virginia Hospital Center that included radiation, chemotherapy and several surgeries, Griffen is now cancer-free and back at the helm of PSVa, which she calls her "life's work."
In May, she and two fellow PPD/A survivors gave an emotional and funny performance about their experiences as part of This Is My Brave, a live storytelling program performed in theaters and other public venues around the country (and watchable on YouTube). Performances are intended to remove the societal taboos surrounding mental illness.
Today, Griffen encourages everyone to ask new or expectant mothers this simple question—"How are you doing?"—and pay close attention to the answer. It's an act of kindness and empathy that could help other women out of their own empty stairwells and back into the light.
Kim O'Connell is an Aurora Highlands resident and the mother of a 9-year-old and a 5-year-old. She is grateful for the support she received from members of the Fairlington MOMS Club when she was a new mother.