Local Motives
Is eating local really healthier and better for the environment? Or is it just hype?
Tom Coates pulls out his cellphone to make sure he hasn't missed any calls. "I need to pick up a steer," he explains, sliding the phone back in his pocket. He's waiting for a ring from Milcreek Farm in Lovettsville, Va. Once notified, he'll drive approximately 50 miles to the farm to pick up 500 pounds of steaks and ground beef.
What's surprising about Coates' statement isn't just what he says. It's how he says it—with everyday nonchalance—and where he says it—standing in the middle of a 1,400-square-foot mom-and-pop store. As the owner of The Local Market in Falls Church, a shop that sells more than a dozen items from nearby producers—from hummus to fresh pasta—Coates is a present-day ambassador of the locavore movement.
It's been seven years since the debut of The Omnivore's Dilemma, in which author Michael Pollan gave Americans an unflinching gut check on where our food comes from; and six years since the word locavore (a person who aims to eat locally produced food) was named word of the year by the Oxford American Dictionary.
More than a decade has passed since a 2001 study by Iowa State University's Leopold Center for Sustainable Agriculture jolted our gas-guzzling consciousness by revealing that conventional produce travels an average of 1,500 miles to reach its destination.
Even the idea of going to a farmers market is no longer nouveau. The number of farmers markets nationwide nearly doubled, from 2,746 in 1998 to 5,274 in 2009, according to the USDA. Collectively, Arlington, Falls Church and McLean had four farmers markets in 2002. Now we have nine.
On a Saturday, just two blocks from Coates' store on West Broad Street, 31-year-old Falls Church resident Josh Mazen is carrying bags brimming with leafy wares he buys weekly at the Falls Church Farmers Market. "The food here tastes leagues better than what's in the grocery store because they're going for taste and nutrition," he says, "whereas the grocery store's growing it to look all the same."
Taste, of course, is one of the primary reasons many locavores say they prefer to buy and eat food that is grown close-by. But what of some of the other standard claims? Is locally grown food, in fact, more nutritious? Is it better for the environment? Before tackling those complicated questions, let's start with what should be an easier one: What is local?
There's the rub.
While the 2008 Food, Conservation, and Energy Act (a continuation of the farm bill) defined local agriculture as "less than 400 miles from its origin, or within the state in which it is produced," a 2010 U.S. Department of Agriculture study acknowledged that there is no commonly accepted definition of the term, leaving retailers and consumers to define local as they see fit.
Area residents interviewed for this story gave a wide variety of answers, ranging from one's own backyard to southern Pennsylvania.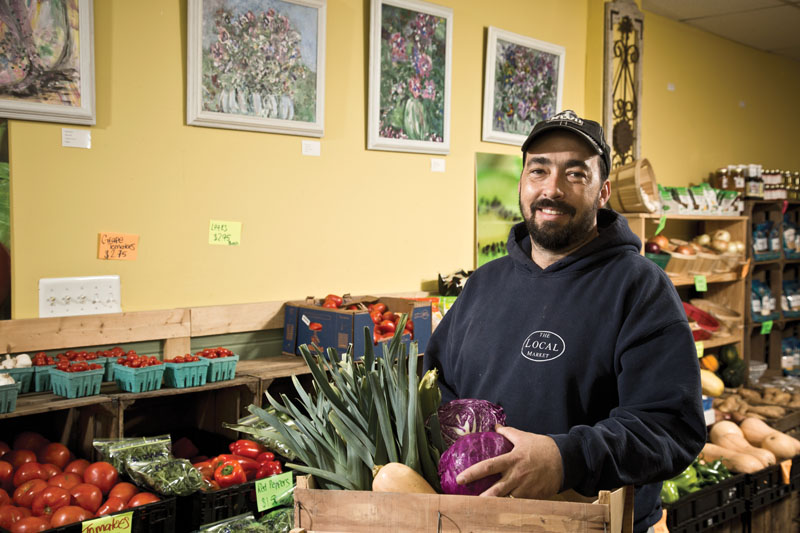 Back at the Falls Church Farmers Market, vendors must be located within a 125-mile radius of Washington, D.C. The Ballston and Crystal City markets, both managed by FARMFRESH markets, stipulate that their vendors must be from the Chesapeake Bay Watershed region, and ideally no farther than 200 miles away.
What about grocery stores? According to a Harris Teeter spokesperson, the company identifies as "local" any produce that is grown in the state in which it's sold; most of the 15 to 20 local growers that supply the retailer's D.C.-area stores are less than 100 miles away. (Other supermarkets contacted for this story, including Trader Joe's and Giant, declined to comment. Safeway did not answer interview requests.)
Jill McCarthy, coordinator of mission and purpose for Whole Foods' mid-Atlantic region, says the stores in her territory are currently reevaluating just what local means in a region that spans from southern New Jersey to Virginia. Nationwide, the retailer deems products local if they are sourced within a seven-hour drive. But in January, the Clarendon Whole Foods joined two of the company's other Virginia stores in piloting a hyper-local model that sources goods—when applicable—within a 100-mile radius. If the testing goes well, McCarthy says, the concept will be rolled out at the company's other mid-Atlantic stores over the summer.
"I think that's the direction local's moving in," she says. "I think it's really getting back to what it means to source your food from your community."
In practice, buying local is nothing new for restaurant owners like Tracy O'Grady, who opened Willow in Ballston eight years ago. "I've come from restaurants that have always bought locally, so for me, I honestly didn't understand the big deal about it," says the chef.
At Willow, O'Grady buys many of her ingredients from producers within a five- or six-hour drive, even though doing so is logistically tricky because delivery schedules vary with each supplier. "I have a mushroom company, I have a cream company," she says. "It's a little more complicated. I don't just pick up the phone and say, 'OK, drop off everything that I need.' Things come different days."
Still, many chefs see the juggling act as a worthwhile price to pay in exchange for quality ingredients that they say taste better—and for giving customers what they want.
This is true even at the casual end of the dining spectrum. "My belief is if you don't do this, then one of these days restaurants that didn't participate…are going to be out of business," says Ype Von Hengst, co-owner and executive chef of Silver Diner, a regional chain with locations in Arlington, Falls Church and McLean. The diner's menu, which Von Hengst revamped four years ago, now references the origins of various ingredients—from turkey from Koch's Turkey Farm in Tamaqua, Pa., to blue cheese from FireFly Farms in Accident, Md.
Customers are no doubt demonstrating a taste for the homegrown with their wallets, but the question remains: Is local food really better?
Many environmentalists say yes, citing research on "food miles" (how far food travels from producer to consumer) as an important metric. In a 2003 report, the Leopold Center for Sustainable Agriculture estimated that local produce traveled an average of 56 miles to market, whereas conventional produce traveled roughly 1,494 miles.
There it is in black and white. Fewer food miles traveled means less fossil fuel consumption, which translates to fewer carbon emissions and less environmental impact. Right?
That's oversimplifying things, says James McWilliams, an associate professor of history at Texas State University and author of the 2010 book, Just Food: Where Locavores Get It Wrong and How We Can Truly Eat Responsibly. "Just because the food is closer to you [doesn't mean] it has a smaller environmental footprint," he says.
For starters, economies of scale come into play on matters of fuel efficiency, he points out. "If you have 100 oranges traveling 100 miles that's [not as resource-efficient as] 100,000 oranges traveling 1,000 miles…when you do the calculation on an orange-by-mile basis."
Plus, McWilliams argues, the concept of food miles isn't as clear-cut as some may believe. "Because you can't get the overall array of groceries that you might want at a farmers market, you end up going to the grocery store anyway. So the farmers market actually becomes an extra trip. This makes food miles a bit more complicated. You're not just looking at how far the food traveled [to market], but also how far [and how often] people had to travel [to buy it]."
McWilliams isn't the only skeptic who's done the math and views the food miles argument as a bit of a red herring. According to a 2008 Carnegie Mellon University study, food transport represents only 11 percent of the average American household's carbon footprint for food consumption, whereas food production (meaning the energy consumed before food even leaves the farm) accounts for 83 percent.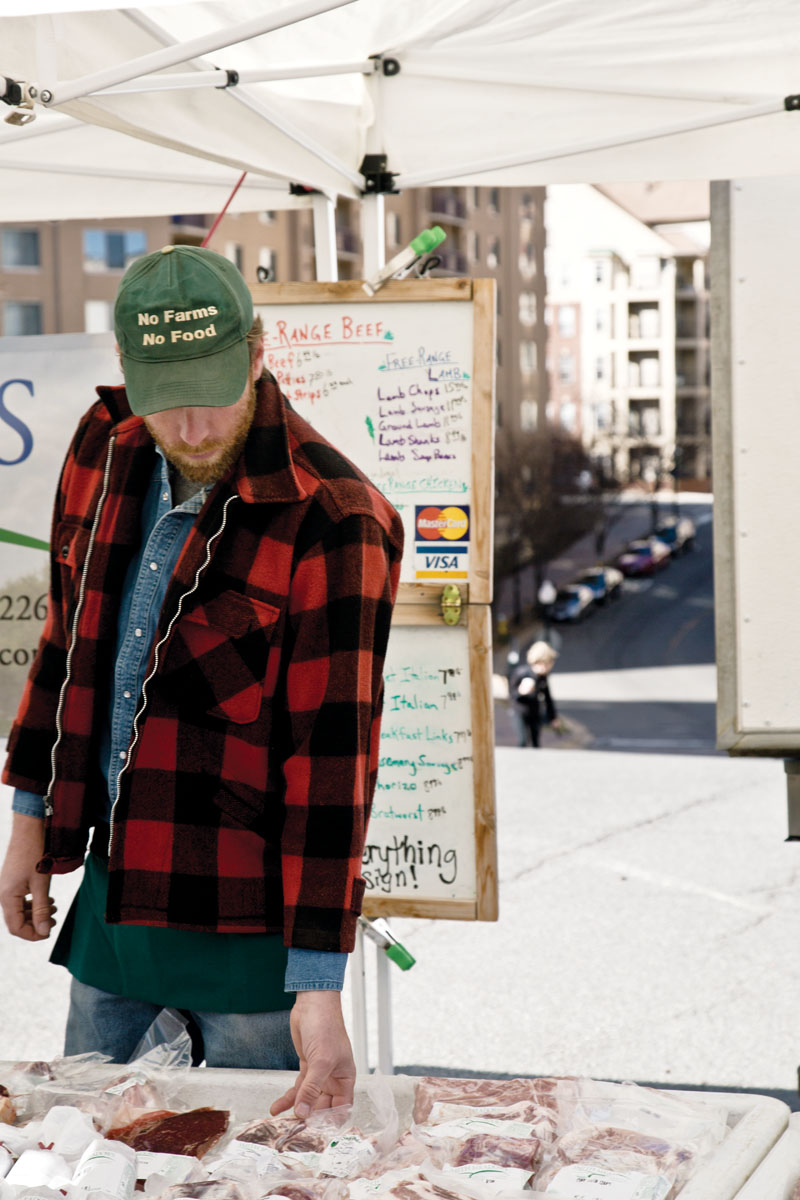 If the goal is to reduce greenhouse gas emissions (GHG), what you eat and how it is grown may matter more than where it comes from.
"On average, red meat is around 150 percent more GHG-intensive than chicken or fish," Christopher L. Weber and H. Scott Matthews, authors of the Carnegie Mellon study, wrote in their summary. "Shifting less than one day per week's worth of calories from red meat and dairy products to chicken, fish, eggs, or a vegetable-based diet achieves more [greenhouse gas] reduction than buying all locally sourced food."
Why are red meat and dairy products such climate offenders? "It can take more than 10 pounds of [feed] grain to produce one pound of beef," Gary Adamkiewicz, a senior research scientist at the Harvard School of Public Health, explained in a recent Harvard Extension blog post. "If that grain is energy-intensive [to grow], that beef is going to be much more so."
But the question of environmental impact becomes even more complex when you factor in differences in farming practices. On this point, Adamkiewicz noted a 2006 study in which researchers found that for British consumers, lamb imported from New Zealand had a smaller carbon footprint than U.K.-raised lamb, even factoring in the environmental cost of long-distance transport. How is that possible?
"New Zealand sheep are generally pastured [grass-fed] and raised on farms using hydroelectric power," he explained. "This represents such a big energy savings over U.K. sheep fattened by commercial grain [which is grown using chemical fertilizers and diesel-powered farm equipment] that you can still afford the fuel cost of the 11,000-mile cruise from New Zealand."
Water pollution is another concern for many Virginians who wish to align their eating habits with environmental stewardship. "If you really want to be as sustainable as possible, then you're also buying from farmers who are doing the right thing that will keep their farms from having excess run-off into the streams and rivers," says Elenor Hodges, executive director of the nonprofit Arlingtonians for a Clean Environment.
In our area, that's a lot of farms to keep tabs on. Nearly one quarter of the Chesapeake Bay's watershed is agricultural, consisting of 87,000 farm operations and 6.5 million acres of cropland, according to the Chesapeake Bay Program, a regional partnership dedicated to bay restoration and preservation.
To reduce run-off, Rob Schnabel, a restoration scientist with the Chesapeake Bay Foundation, encourages farmers to adopt sustainable farming practices such as permanent pastures—in which animals graze on rotating grass locations year-round—in lieu of temporary crop covers.
"With grazing, you have permanent grass cover year-round…so you won't have nearly as much soil running off," he says, referencing a 2011 study by the USDA's Agricultural Research Service that found that switching confined dairy cows to permanent pasture grazing reduced sediment erosion by 87 percent.
Run-off isn't an issue for Smith Meadows, a 500-acre farm in Berryville, Va., that supplies beef, pork, lamb, poultry and eggs to seven area farmers markets. Still, farmer and owner Forrest Pritchard has used perennial pastures and rotational grazing since the mid-'90s, in part, because doing so alleviates the need for chemical fertilizers and fuel-burning tractors outfitted with manure spreaders (thereby reducing his farm's carbon footprint).
"[Rotating animals] is a very effective way of distributing manure," he explains. As the animals move from one paddock to the next, they do the work naturally. No machinery or chemicals required.
Like Smith Meadows, many small farm operations serving the D.C. area embrace sustainable farming practices, meaning they use no pesticides, herbicides, growth hormones or antibiotics. But the same is true of any number of producers who are farther afield—which raises the question of health benefits.
All farming practices being equal, is an apple grown in Virginia going to have more nutritional value than one shipped from Chile? Perhaps. But not as much as one might think.
"There could be a slight difference," says Arlington nutritionist and dietitian Lise Gloede. "Some fruits and vegetables have to be picked early when you're transporting them [long distances]. The advantage of buying local is they were just picked a day or two before [so] you're going to get a more ripe product. Sometimes there is a little more nutritional value when you allow a fruit or vegetable to ripen on the vine. You'll get a little more vitamin C."
Riper produce also creates the potential for an overall healthier diet because it tastes better, Gloede says. "If the fruit or vegetable tastes better, people are going to eat it and they're going to eat more of it. And if they increase their fruits and vegetables, then they'll increase their overall nutritional intake."
The same argument could be made for free-range, organic meats, poultry and eggs, which proponents say taste better than their factory-farmed counterparts.
But theoretically, those servings could come from anywhere. "Whether or not local food systems tend to improve health and nutrition in this way is largely an unresolved empirical question," a 2010 USDA study concluded.
Whether eating local is healthier or more eco-friendly is a moot point for some area residents who see the option as financially unfeasible.
"I love Whole Foods because it's healthy. If I could go there every day I would. But they're expensive," says Arlington resident Tawana Key as she fills her shopping cart at the Penrose Square Giant with frozen Healthy Choice dinners (sale price: 10 for $6).
Key, who works as a food manager at a high school in D.C., says she does most of her weekly shopping at Giant or Wal-Mart. She's less worried about where her food comes from than she is about managing her household budget and making sure her 13-year-old daughter eats breakfast.
Food costs are a consideration even at restaurants that cater to an affluent clientele, such as Willow, where O'Grady admits that she has to make compromises. While she'd love for her menu to be as local as possible, she says it's just not doable without tacking on a price that would repel some customers. As an example, she points to three steaks on her menu: petite filet medallions for $31.50; a 9-ounce sirloin steak for $28.50; and a New York strip for $43.50.
Guess which one's local?
"Look at that price," she says, gesturing toward the New York strip, which is advertised as coming from Roseda Black Angus Farm in Monkton, Md. "I put that there for the people who know and care, but if I had to charge that amount of money for all of [our steaks], not everyone's going to buy that. I sell four of those a week."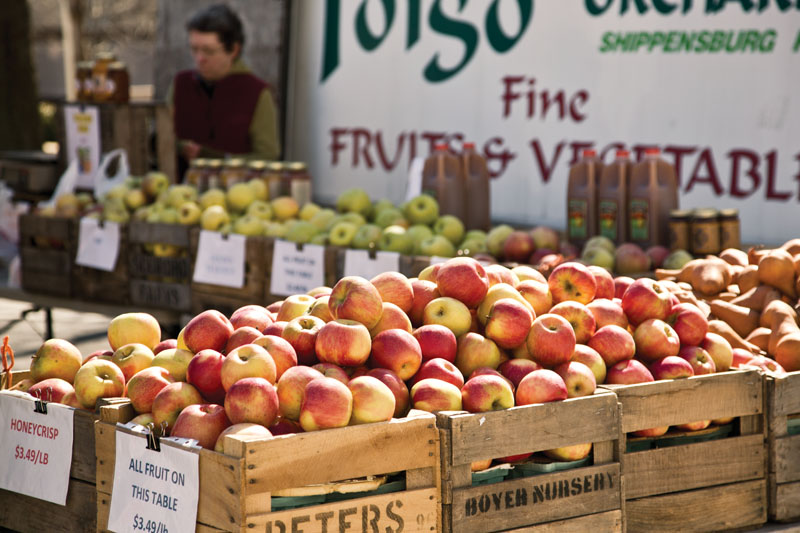 Still, Smith Meadows owner Pritchard, whose organic meats enjoy a steady following at local farmers markets, isn't about to apologize for what he sees as a fair price for sustainably-farmed products. "For me, it becomes a question of what do you value?" he says. "If you value a story like ours where we're transparent, you can visit our production [and] you can physically benefit from the food we create…then spend money on us. If the story is, 'My food has to be cheap and I have to get it into my mouth,' then our story probably isn't going to appeal to you."
Is locally grown food always more expensive? It doesn't have to be, contends Silver Diner owner Von Hengst, who grew up shopping at local markets in The Netherlands. He now buys eggs for his 14 restaurants from Martin's Quality Eggs in Lititz, Pa., paying two to three cents per egg. "You can get a better price ," he says. "You can get a discount or you can make a better deal."
Individual consumers may not be buying hundreds of eggs at a time, but they can benefit from bulk deals, too, says Tom Coates. This April through October, he'll be heading to the Loveville Produce Auction in Loveville, Md., where he'll bid on locally grown produce—much of it by Amish and Mennonite farmers—that is sold in large quantities, three times a week. Coates passes the savings he gets at auction on to his customers at The Local Market.
"[Last summer] we bought 2,000 pounds of tomatoes," he says. "In this little store, we sold them for a dollar per pound and still doubled our money."
Another option? Community-supported agriculture partnerships (CSAs), in which customers pay an upfront fee directly to a farm in exchange for a share of the weekly produce over a predetermined period of time. According to the USDA, there were two CSAs nationwide in 1986. By 2005, there were 1,144.
The types of CSAs available—from Amish farmer co-ops to small family farms—are as varied as the items they sell, giving consumers lots of leeway to choose a CSA that aligns with their dietary and philosophical needs.
Lancaster Farm Fresh Cooperative is one such operation. "Our largest farm is around 30 acres, our smallest is about a half-acre," says Casey Spacht, general manager of the seven-year-old co-op, which represents 80 (mostly Amish) certified organic farmers from Pennsylvania's Lancaster County, 125 miles away. The CSA makes weekly deliveries to a drop-off spot in Falls Church.
The advantage of the co-op model, Spacht explains, is that it allows farmers to specialize in the products they know best, rather than trying to grow everything. By teaming up, farmers can also pool their resources and order supplies in bulk—whether it's boxes or twist ties—that would cost more if they were ordering individually. "In return, we can pass that low cost on to our customers," Spacht says.
The economic value of CSA membership may vary for customers, but there's no doubt that it benefits the farmer. Just ask Kate Zurschmeide, owner of Great Country Farms, a 600-acre CSA farm in Bluemont, Va. "When people are willing to fund you up front, suddenly you have cash flow ahead of the season when you actually need it," she says. "And then you have a ready market for your product."
Which brings up another aspect of eating local that many food-conscious citizens are more than happy to spend money on: supporting local businesses.
According to a 2012 report by the Virginia Cooperative Extension (a program funded by Virginia Tech and Virginia State University), 98 percent of Virginia farms are family-owned and –operated. National statistics indicate that farmers typically make about 12 cents of every dollar spent on their food. But cutting out the middleman—money spent on distribution, packaging and marketing—keeps more profits in local farmers' pockets. The same study estimated that Northern Virginia could generate $638.3 million annually for the regional economy if households spent $10 of their weekly food budget on Virginia products.
"There's a wonderful thing that happens when people grow food," says Kirsten Buhls, the Arlington County agent for the Virginia Cooperative Extension. "They share food with other people. When you share food with other people, you become a community. It's an amazing transformation to experience."
And many would argue that the taste of success is that much sweeter when it happens in your own backyard.
Home Grown
The jury may be out on certain locavore claims, but that hasn't stopped local officials from exploring new opportunities for community-based agriculture. Last year, the Arlington County Board created the Arlington County Urban Agriculture Initiative, a task force that is investigating a multitude of local farming options—from backyard hens to rooftop gardens.
Kimberly Haun, a horticulture technician with Arlington's department of parks and recreation, says there's no shortage of citizen interest. She points to the increasing demand for community garden plots as one example. Haun manages applications for approximately 250 plots within the county's eight community gardens. The plots are leased to Arlington residents on an annual basis for $25 to $60.
Prior to 2005, she says, there was no waiting list for the plots. In 2012, there were roughly 150 new applicants—most of whom will now be on the waiting list (which is first-come, first-served) for at least two years.
Visit www.arlingtonva.us/portals/topics/UrbanAg.aspx for more information
Co-ops vs. Grocery Stores
Is produce from CSA farms (community-supported agriculture) less expensive than grocery store produce? To find out, this writer signed up for a winter vegetable share with Lancaster Farm Fresh Cooperative. The cooperative charged its members $250 for a dozen deliveries over a 12-week period. That price worked out to $20.83 per week for enough organic produce to feed a family of four. One week's selection included carrots, beets, Portobello mushroom caps, salad greens, cabbage and baby bella mushrooms.
Does the low-cost theory add up? It depends where you shop and whether or not you buy organic. Here are price comparisons for the equivalent vegetables at three area grocery stores. Organic produce was factored in whenever available. The conventional produce was always the lowest priced.
Cost per week:
Lancaster Farm Fresh
$20.83 organic
Giant
$17.46 organic
$14.49 conventional
Whole Foods
$21.98 organic
$20.90 conventional
Harris Teeter
$26.69 organic
$22.01 conventional
To find other CSAs serving Arlington, Falls Church and McLean, visit www.localharvest.org.
Kris Coronado is a freelance writer based in Arlington. You can read her work at Kriscoronado.com