Preppy Elephant Apparel Aims for Happy, Traditional Designs
Designer and owner Lynette Olifer launched the label in 2015.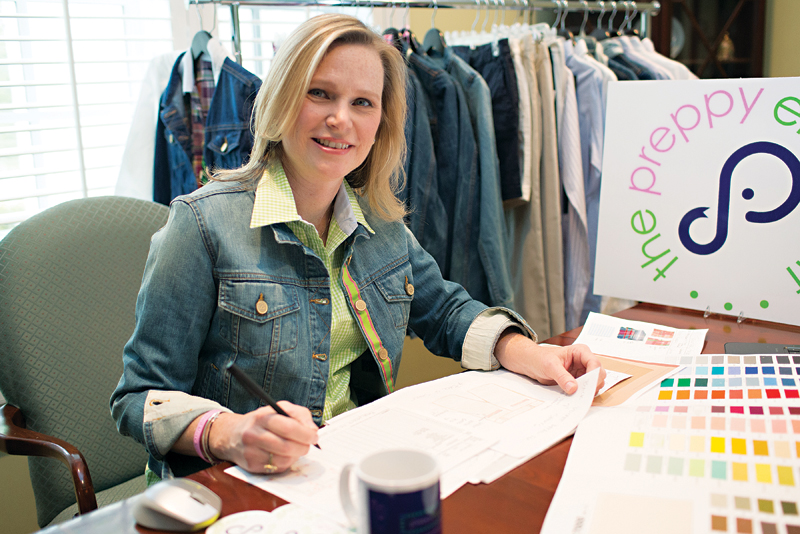 Preppy Elephant founder Lynette Olifer wearing her signature jacket. Photo by Jennifer Burns
It all started with Lynette Olifer's search for the perfect denim jacket. "I had spent my career in the buying departments of major department stores and working with Ralph Lauren, but I never found a line that had everything I was looking for," explains the McLean resident. "I had this vision for a certain style: happy and traditional, with thoughtful details."
In 2012, Olifer started sketching her own designs, carefully selecting fabrics and seeking U.S.-based apparel manufacturers that could carry out her vision. In July 2015, the Preppy Elephant clothing label was born.
Olifer uses 12-ounce Cone denim ("a crisp denim that washes and wears well") from her home state of North Carolina as well as a New York-made pinpoint oxford cloth. While some of her textiles are sourced abroad—including a gingham fabric from England—all of her pieces are designed and made in America.
The label's signature denim jacket is the centerpiece of her collection. It's based on a vintage J.Crew design that's been updated with a grosgrain ribbon-trimmed placket and pinpoint-oxford lining at the collar and cuffs. The Preppy Elephant also offers classic dress shirts (for both men and women), artfully stitched wrap dresses and even pet accessories with preppy details. The entire line is available online and at local trunk shows and pop-up shops. Join the mailing list to be updated on events. www.thepreppyelephant.com
Got a favorite local boutique, service or style tip?
Contact style columnist Adrienne Wichard-Edds at adrienne.wichard-edds@arlingtonmagazine.com. Follow her at @WichardEdds.