Moving from Tehran to Arlington Wasn't Easy. But There's No Going Back.
A local writer discusses the immigrant experience. And what many Americans still don't know about Iran.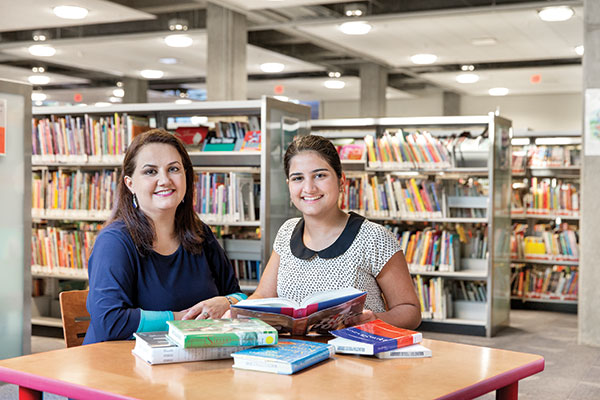 The author and her daughter at the Shirlington public library. Photo by Christopher Shane.
It was pitch-dark and chilly. At the end of a stressful fall day, I had managed to get myself on the wrong train and "visit" Arlington National Cemetery for the first time. As I struggled to find a point of return, a Metro employee appeared from the shadows to ask if I was lost and offer assistance.
"How did you know I was lost?" I called as I followed his helpful instructions and headed for the opposite tracks. He grinned, his white teeth gleaming. "This time of the evening, no one comes here unless they're lost."
I've felt lost in Arlington many times. More than a decade has passed since I decided to uproot my life in Tehran and move to the U.S. for a job as a broadcast journalist with Voice of America (VOA), the Washington, D.C.-based news organization funded by the U.S. government. The application process took several trips to the U.S. Embassy in United Arab Emirates (there is no American embassy in Iran) for tests and interviews, followed by fingerprinting and a background check. All of this took 30 months, but I finally got here at the age of 32.
Prior to 2005, I had never lived outside of Iran. Though I'd learned English as a kid and was fluent, I was entirely unfamiliar with the American system: how to rent a place, get insurance, navigate the Metro, find suitable day care for my daughter (who was 4 when we arrived), get a Social Security card.
I didn't know a soul in Washington, and was surprised to discover that my co-workers, many of them fellow Persians, were unfriendly. Some were unhappy that I had been hired from "overseas"—the logistics of which meant that I had to be hired on staff, while they were contractors—and they made no effort to hide their resentment. One even suggested that I'd gotten my position through an inside connection. My second line supervisor (also Persian) seemed to dislike the fact that I was fluent in French, as she was, thus diminishing her status as the office Francophile.
I remember wondering whether I had made the right decision, tearing my daughter, Neeka, away from the heart of our family in search of better opportunities in a foreign land. My parents and family still live back home. So does my ex-husband—Neeka's father—who moved to the States with us, but returned to Tehran shortly after.
During our first week in Arlington, we sought refuge in the Aurora Hills branch of the public library. Neeka found books and played on the little computers. I could hardly fathom the "unlimited" books we were allowed to borrow. Later on we discovered Borders, and then Barnes & Noble. I didn't have a car, but both stores were only a short walk from the Metro. Our pilgrimage to the bookstore became a ritual for my daughter and me.
Soon, we were well-versed in American slang, current events, politics and pop culture. In 2013 we became American citizens.
We have occasionally felt the sting of discrimination, which can be hard to distinguish from sheer ignorance. I will never forget the time we were pulled over while driving to Charleston, S.C., in search of an all-American Southern Christmas experience. Neeka was sleeping in the back seat, and the state trooper who stopped us in Halifax County, N.C., said he couldn't see whether or not her seat belt was fastened. After asking for my license and registration, he kept staring at my name and picture, then back at me again.
"Where are you from?" he finally asked. To which I replied, "We're visiting from Arlington."
"No, I mean originally," he said. "I've never seen a name like yours before."
"I'm originally from Iran," I said, wanting to add: But I'm paying my dues and taxes, working hard for a U.S. government news agency and applying for citizenship.
At this point the trooper looked deeply puzzled. "But you have no accent! Where are you really from?"
I've since discovered that Americans have many misconceptions about Iran and its people. To set the record straight:
• Most Iranians tend to love the West—especially the United States and Americans.
• Iranians don't speak Arabic. They speak Persian—also known as Farsi. (Farsi is not even in the same language family as Arabic, by the way.)
• Persian food is generally not spicy.
• Iran is not a desert, though desert areas do exist in the country.
• Iran has excellent doctors and dentists, not to mention orthodontists. Iranians can get braces and Invisalign! My sister had orthodontic work done in Iran more than 30 years ago. Iranians have been getting Lasik eye surgery for around two decades.
• Most Iranian women are educated, and most of them drive.
• The name is pronounced EE-RON, not EYE-RAN.
Meanwhile, I have learned some lessons of my own, including just how risky the media business can be. Newsrooms across the U.S. are shrinking. In 2014, I took a buyout and resigned from the job at VOA that had brought me stateside. But after nine years as a reporter for the U.S. government—providing live field reports from events ranging from G20 summits and the Arab Spring to President Obama's 2008 victory speech in Chicago's Grant Park—I cannot go back to my homeland. My life would be in jeopardy if I were to return. This makes the distance from my family even harder.
I still get homesick on special occasions, like the Persian New Year (it's in March). Loneliness creeps in when I find myself in certain places, like Rosslyn's Freedom Park, where I strolled with my father—an intellectual and a poet—the last time he came to visit. Next time, if there is a next time, I hope to take him to the Newseum.
I beat out 1,200 other candidates worldwide for that first job with VOA. My résumé also lists assignments for Reuters and the BBC, yet I've struggled to find full-time work in the two years since I took the buyout package. Perhaps my name sounds too ethnic. Then again, maybe if I spoke English with an accent (or even less fluently) I would be considered more "exotic." It seems that many Americans aren't sure what to make of me. I'm not entirely native, but I'm no longer foreign, either.
I continue to learn new things from my daughter every day. Now a successful high-schooler and published writer in Arlington, Neeka plays two musical instruments and thrives in the Model UN club and AP classes. She is fluent in four languages and is learning a fifth. We have deep affection for each other and an unbreakable bond. She is my greatest gift.
On tough days, I find solace in Arlington's landscape. Its century-old oak trees have given me serenity in times of angst. I have a wonderful friend in my neighborhood. I make a point of visiting the Iwo Jima Memorial and Arlington National Cemetery—now with intention—amid the beautiful fall foliage, at Christmastime and in the spring when the pink flowers are in bloom.
I have regrets, but the decision to live in Arlington has never been one of them. Today, it is the only place I call home.
Mehrnaz Samimi is a freelance journalist and communications professional looking for full-time work. She can be reached at mehrnazsamimi@gmail.com.