Neighborhood Watch: January/February 2016
Corporate cover band on the move, a local pastor hikes 500 miles, Vietnamese in Virginia schools and more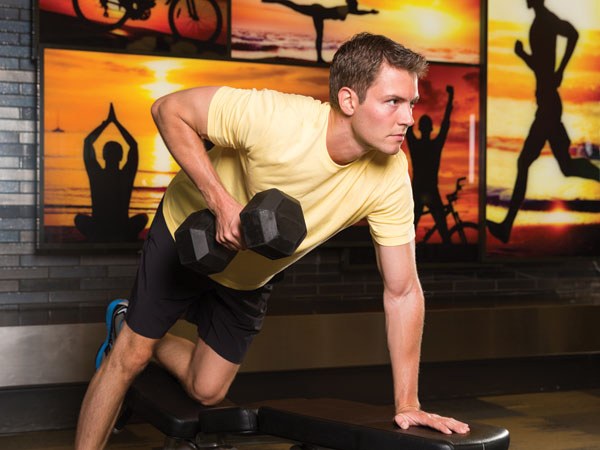 Stephen Gosling Photography
One Fit Guy
Ballston is home to one of the hottest and healthiest single trainers in America, according to Match.com. Last fall, Arlingtonian Jon-Erik Valetti, 31, a marketing professional by day and volunteer firefighter by night, was named one of 11 finalists in a nationwide contest sponsored by the online dating service that raised money for the American Heart Association.
For Valetti, a certified personal trainer who once resuscitated a patient who was in cardiac arrest (he was subsequently nominated for a valor award in Loudoun County), the cause was somewhat personal. "I stay fit to save people's lives," he says.
Though he didn't win the top prize, the handsome bachelor says he came away from the experience with plenty of prospective dates. "I definitely received a lot of emails from the contest," he says "and now I'm trying to set something up."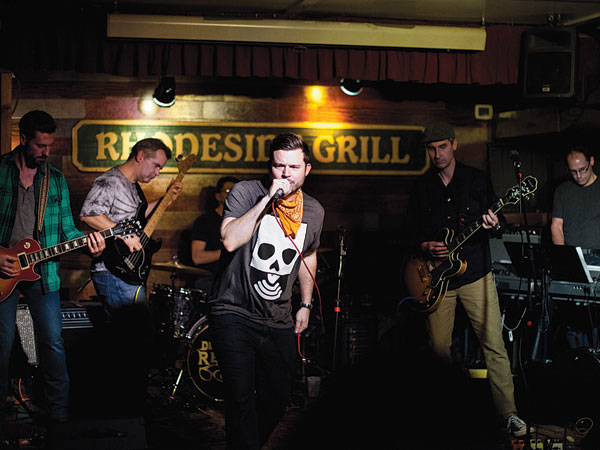 Local band Detached Retina. Photo by Jason Pentecost.
Music Business
"Don't quit your day job." That's the advice aspiring musicians often hear—although the members of the Arlington cover band Detached Retina have their day job to thank for a run that took them all the way to the Rock and Roll Hall of Fame in Cleveland in September. They went to compete in the 15th annual Battle of the Corporate Bands.
The impetus for the band started with keyboardist Steve Cooper, one of the founders of Excella Consulting, an IT company headquartered in Courthouse. "Every year at the holiday party, Steve would put on some kind of skit, and they were frequently awful," drummer Jonathan Bruskin recalls. In 2010, Cooper decided to replace the skits with a company band. But just before the band's debut performance, its original drummer detached a retina. Suddenly, the group had a name, and Bruskin had earned a spot as its new drummer.
In Cleveland, Detached Retina placed third overall (opening with the Rolling Stones classic "You Can't Always Get What You Want") while also bringing home three "best instrumentalist" trophies—to Cooper for keyboards, Bruskin for drums and Patrick Rasche for guitar. Other tunes in their set list included "Feelin' Alright" (Joe Cocker), "Maybe I'm Amazed" (Paul McCartney and Wings), "Rebel Yell" (Billy Idol) and "Figure It Out" (Royal Blood). detachedretinamusic.com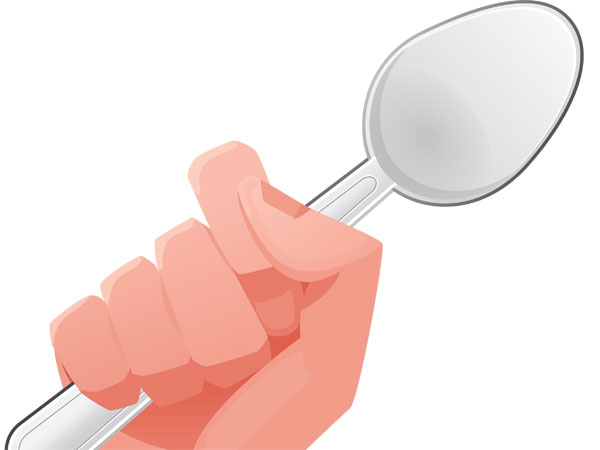 Language Lessons
Say hello—or, more appropriately, chào—to the first Vietnamese language class taught at a Virginia public high school. Falls Church High School broke new ground in September when it began offering two Level I Vietnamese classes per day. While the class is most popular with students of Vietnamese heritage, it is open to all, and 31 beginners have signed up so far, according to teacher Yen Weiner, a native of Vietnam who attended Marymount University.
Weiner says that while many of her students can understand some spoken Vietnamese, none know how to read or write the language. Many students even spelled "hello" wrong during the first week—using a reversed accent mark that turns the word into "soup."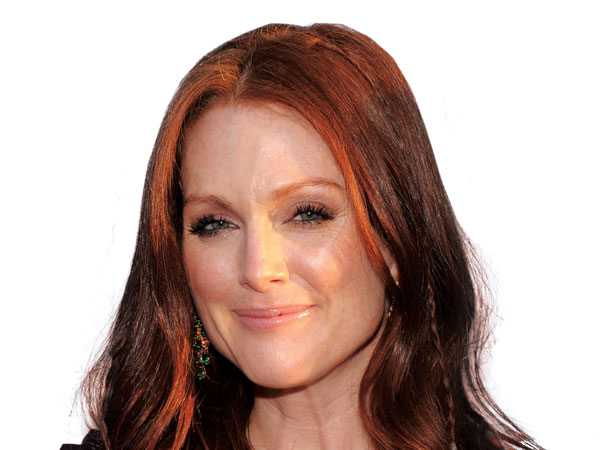 Big Names
Oscar-winning actress Julianne Moore (Still Alice) and Hollywood producer Bruce Cohen (Silver Linings Playbook and Milk) first worked together in the ninth grade while performing in the play Once in a Lifetime at J.E.B. Stuart High School in Falls Church. But their latest collaboration is a petition on Change.org aimed at renaming their alma mater, whose name honors Confederate Gen. James Ewell Brown Stuart. "No one should have to apologize for the name of the public high school you attended and the history of racism it represents," they contend. Instead, the petition asks the Fairfax County School Board to rename the school after Thurgood Marshall, the first African American to serve as a Supreme Court justice, who lived in Falls Church from 1968 to 1993. As of press time, the petition had gathered more than 34,000 signatures.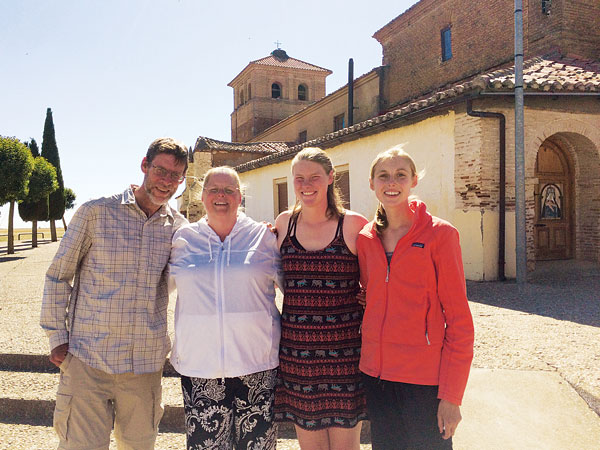 Left: Aaron, Judith, Martha and Rebecca Fulp-Eickstaedt in Hermanillos on Day 25. Above: The view into Zubiri on Day 3 of their journey.
Pilgrims' Progress
Hiking 500 miles in 48 days along a medieval pilgrimage route is no stroll in the park. But after 23 years of serving in the ministry without an extended break, Aaron Fulp-Eickstaedt, pastor at Immanuel Presbyterian Church in McLean, and his wife, Judith, were up for a challenge. So they tackled the Camino de Santiago (aka the "Way of Saint James"), a winding path that starts in the French Pyrenees and leads to the Cathedral of St. James in Santiago, Spain. Once a Roman trade route, the trail later marked an important Christian pilgrimage during the Middle Ages.
Trekking with their daughters, Rebecca, 22, and Martha, 20, the couple encountered everything from steep mountain climbs and food poisoning to crumbling castles and flamenco bands.
Each day, Aaron says he pondered a different word, which he drew randomly from a bag. Among these daily meditations: gratitude and trust.
Those who follow the Way usually "go for a reason beyond just a challenging hike," he observes. "Even if they're not explicitly religious … they're on some sort of spiritual journey." Read about his adventures at thispilgrimway.wordpress.com.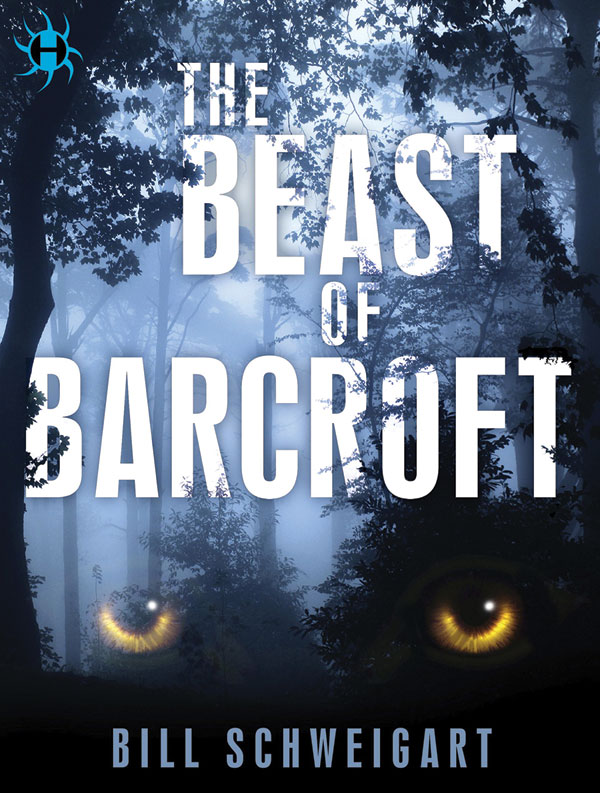 Beast Mode
When Barcroft resident Bill Schweigart stumbled upon an old news story about a mysterious animal that had butchered cats and dogs in South Arlington in the summer of 1974, "it was like a lightning bolt," he says. Schweigart knew he'd found the idea for his next book, the fictional thriller The Beast of Barcroft (Random House Hydra), which was released in November.
Turning to the Center for Local History at the Arlington Public Library, Schweigart learned that the real-life beast had turned out to be an escaped pet civet, a nocturnal mammal that looks like a giant weasel, which the National Zoo was called in to identify. "But I can promise you the villain in my story is considerably more terrifying," the author says. "Arlington deserves a better bogeyman than a civet!"
A sequel called Northwoods, to be issued in February, will send many of the same Arlington-based characters to Minnesota to investigate a grisly death and a mysterious wooden chest. billschweigart.com