New Coffee Shops Coming to Arlington and Falls Church
Find your buzz at these new (and soon to open) java joints in a neighborhood near you.
Just in time for gray, pry-yourself-from-bed fall mornings, Arlington and Falls Church are seeing a mini-boom of new coffee houses as enterprising caffeine purveyors find their niche in strip malls, busy restaurant rows and even a former American Legion Post.
Need a caffeine fix? Here's a rundown of the latest additions to the landscape (including new openings and some that are forthcoming)—in case the pumpkin-spice frenzy leaves you in the mood for something new.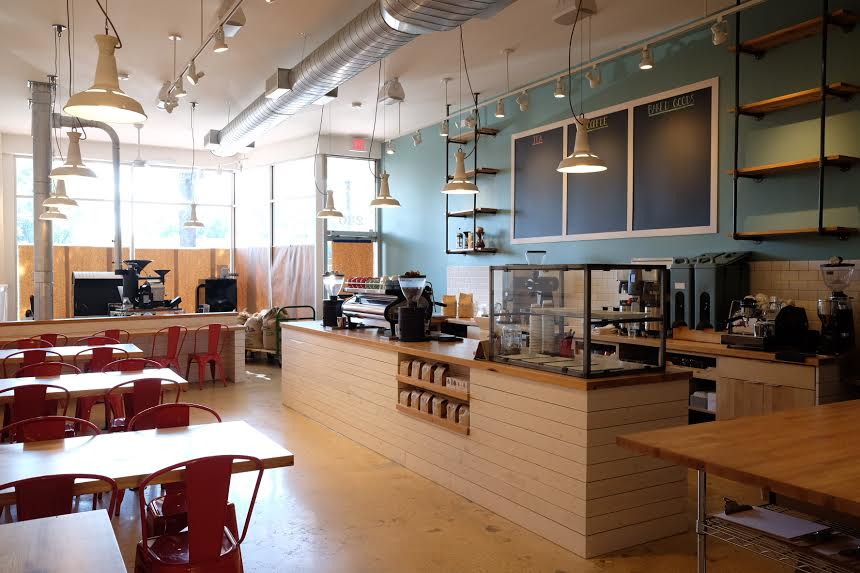 Photo courtesy of Rare Bird Coffee
230 West Broad Street, Falls Church
What started as a hobby, roasting a few green coffee beans in a popcorn popper at home, will turn into a full-bird store for Arlingtonians Bryan Becker and Lara Berenji when Rare Bird Coffee Co. opens its doors next week.
The couple has been roasting beans for a while—first at home and then in a D.C. warehouse—selling them online and wholesale to restaurants in the District like Garrison on 8th Street and Little Red Fox on Connecticut Avenue.
Their forthcoming storefront will be nestled in a 1,300-square-foot space between the two Doodlehopper toy stores on Broad Street in Falls Church City. Formerly occupied by a frozen yogurt franchise, the space has been "basically gutted," Becker says, to create an airy feel that will allow customers to view the roasting process up close. Add to that reclaimed wood countertops, both indoor and outdoor seating, and a back wall storage area displaying green coffee imported from places like Costa Rica, Brazil, Ethiopia and Rwanda.
The menu will feature pour-overs, as well as espresso drinks (including a "real" pumpkin spice latte). "We're keeping the drink menu fairly simple," says Becker, "Not only do we want it to be a neighborhood coffee shop, all of our baked goods come from people within the neighborhood, too."
Arlington's Village Sweet Bakery will provide sweet and savory baked goods, while Natalia's Elegant Creations (a former Broad Street establishment that's now an in-home bakery) will provide the European-style pastries the neighborhood has been missing.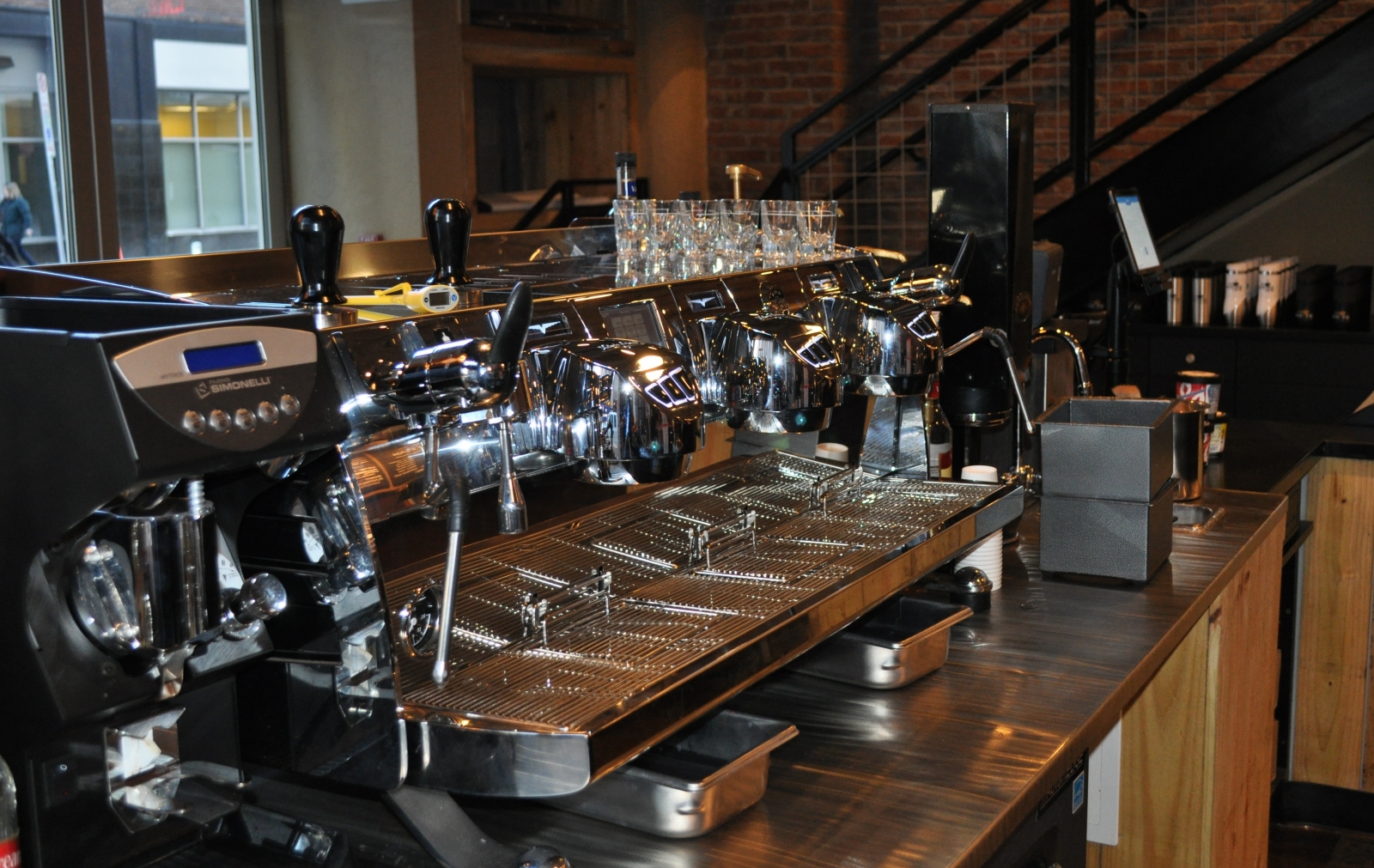 Photo courtesy of Rock 'n' Joe
4401 Wilson Blvd., Ballston
The coffee franchise that goes by the nickname "RNJ" in its home state of New Jersey is expanding into one of Ballston's busiest strips next month.
Filling the space next to Big Buns (the two establishments will share a courtyard), the 1,800-square-foot shop will also jump on the rustic bandwagon with reclaimed wood ceilings, benches and a bar. CEO Shawn Levine describes it as "a warm yet industrial vibe, sort of like rock-and-roll music, with an edge." (And yes, there will be rock-and-roll music playing on the speakers.)
Among the menu highlights: artisan beverages like vanilla hazelnut or strawberry shortcake coffee drinks, which can be served hot, iced or blended. The shop will also serve pour-over coffees with whole bean flavor names like Sledgehammer (dark roast), Velvet Underground (medium roast) and Symphony (lighter).
"We have something for everybody," says Levine. "No fancy lingo to learn, no limitations. We have a smalls, mediums and larges."
Talha Sarac owns the Ballston franchise, which is scheduled to open in mid- or late-October. It will be the sixth Rock 'n' Joe in the country.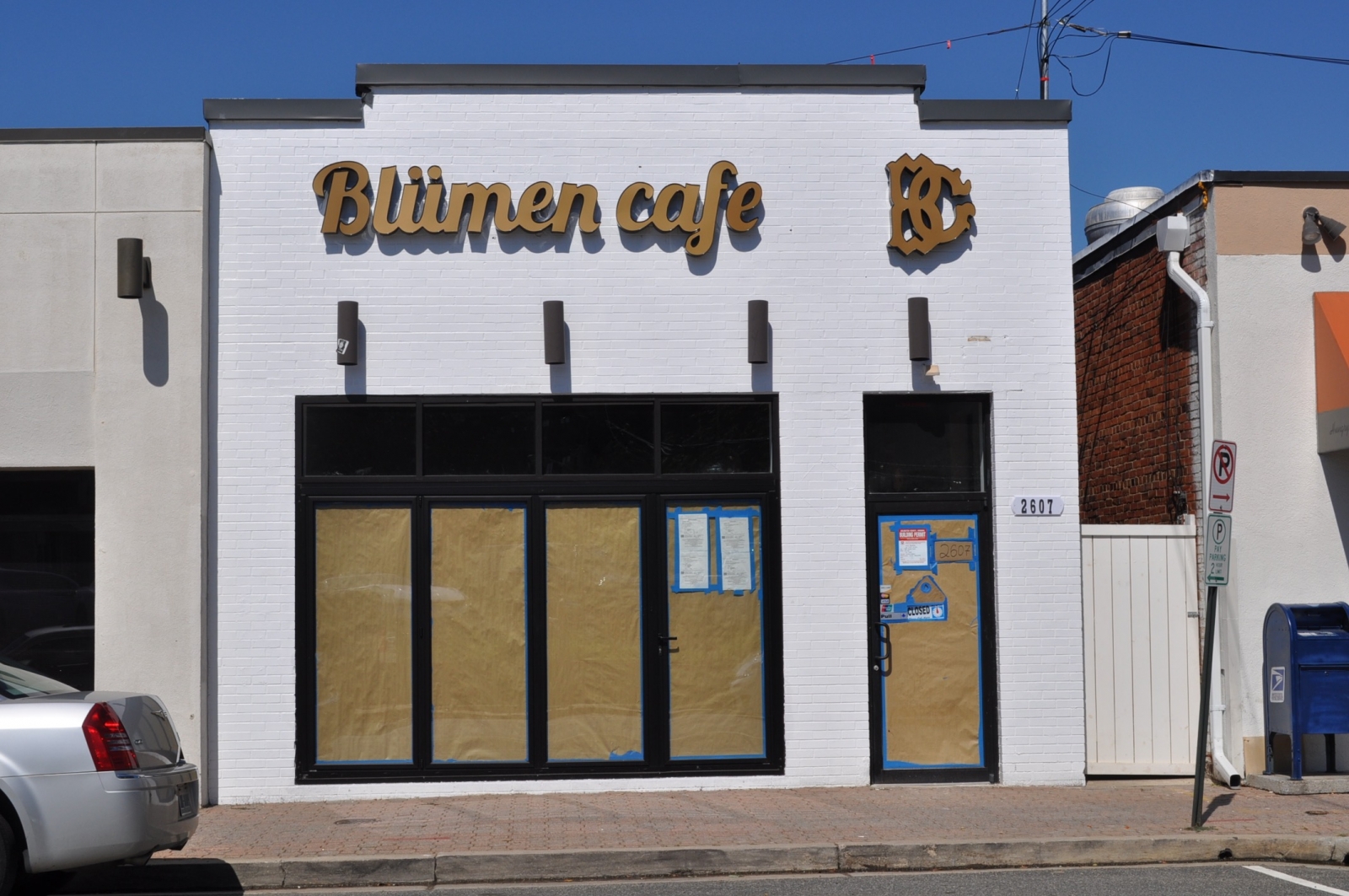 ​Blumen Cafe​. Photo by Whitney Pipkin
Blümen Cafe
2607 Wilson Boulevard, Arlington
A café offering high-end teas, coffee and snacks is slated to open in the space formerly occupied by CD Cellar, next to Earl's Sandwiches, in Clarendon.
Though the owner of the new café, Andira Jabbari, could not be reached by phone, signs in its window say the building permit was issued at the end of June and that the doors will open soon.
A pair of architects walking by the building last week commented on its latest addition. The original front windows have been replaced with floor-to-ceiling glass doors that open, accordion-style, to bring the outdoors in. (The narrow sidewalk next to the café would provide little room for a patio otherwise.)
Let's hope the place opens in time for patrons to enjoy the fall weather.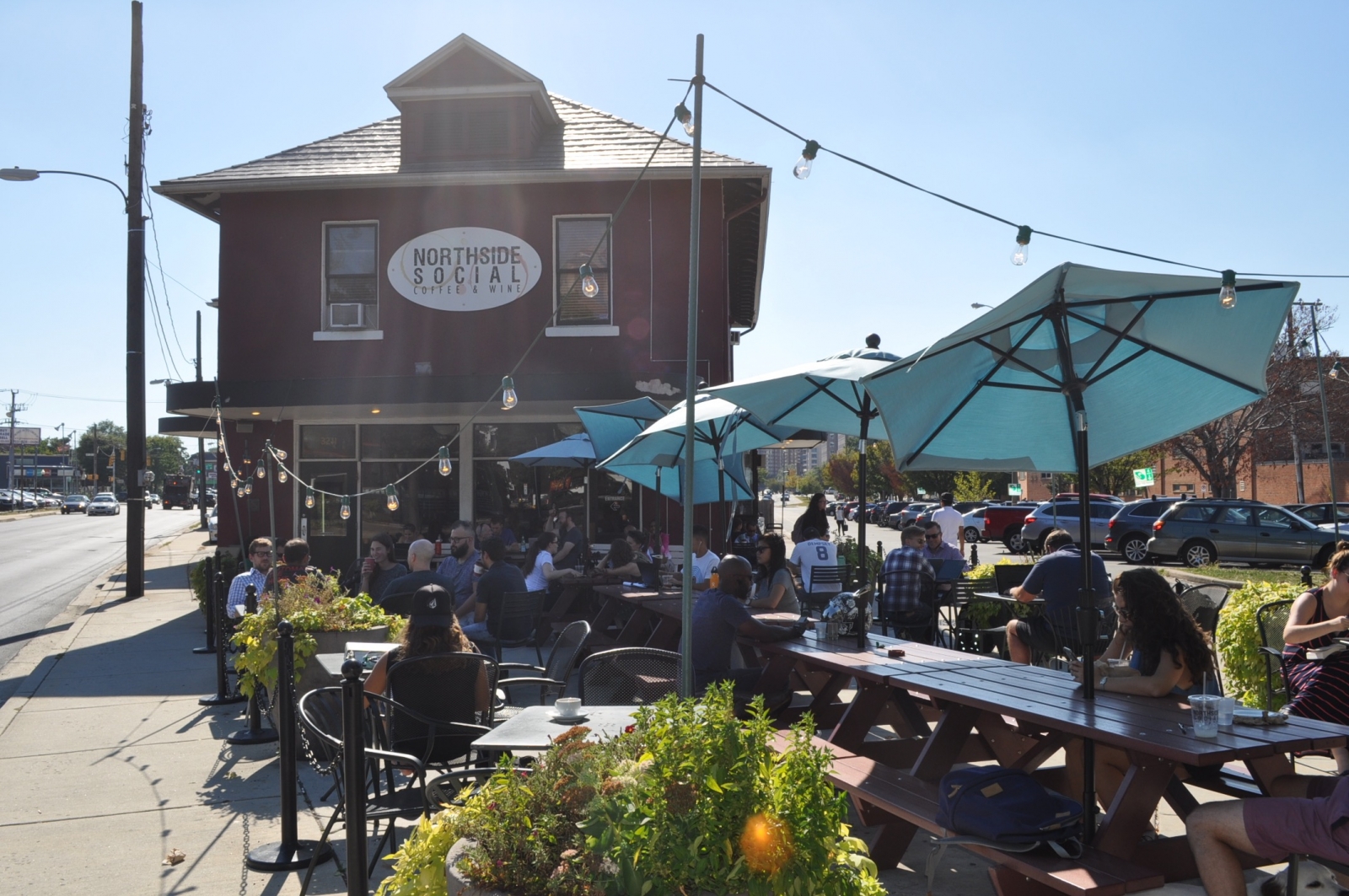 ​Northside Social​. Photo by Whitney Pipkin
Northside Social Coffee & Wine (2.0)
205 Park Ave., Falls Church
Falls Church could soon have its own Northside Social in the neighborhood—or will it be Westside Social?
"There's nothing like this over there," says Erin Hutchens, general manager of the popular Clarendon hangout Northside Social Coffee & Wine, which has begun work on a second coffee, wine and food shop to open next year in a historic Falls Church building near Broad Street.
Hutchens says the team at The Liberty Tavern Group (which owns Northside, The Liberty Tavern and Lyon Hall) has yet to land on an official name for this forthcoming outpost. But, like its sister locations, the new café will make the best of an old, historic building—which also makes its opening date a bit unpredictable.
The team is currently getting permits and starting work on the small white house that was once an American Legion Post, one of the Little City's oldest buildings, circa 1797.
Though the launch date is still a moving target, the concept will be similar to Northside Social's, with coffee, food, alcohol—and a pizza kitchen. The team also plans to add a limited cocktail menu. Right now the new location is scheduled to open in March of 2017.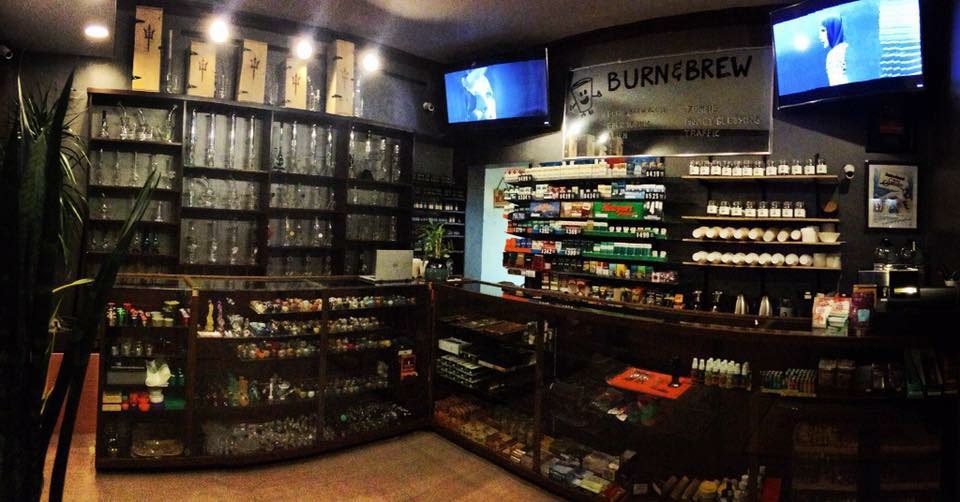 ​Burn & Brew​. Photo courtesy of Burn & Brew
566 23rd Street South, Crystal City
Coffee lovers who appreciate a good cigar or "anything smoke related" may find themselves in heaven at this coffee shop concept that opened in Crystal City a little over a year ago.
Owner Taha Humayun says the concept is based on those he's seen in Europe (think Amsterdam), where smoking accessories are offered alongside that morning or afternoon cup o' joe. He says the closest thing he has seen to it in the United States is hookah bars where coffee is served.
The small shop features pour-over coffees and caters to more of an afternoon-and-evening crowd, with hours from 9 a.m. to midnight. Restaurant workers and others who man the night shift are among its regulars, and a high-caffeine blend—aptly named "the zombie"—is among its most popular brews.
Burn & Brew roasts its own beans at an off-site location and creates several of its own blends. In addition to coffee, the shop sells cigars, cigarettes and other smoking accessories.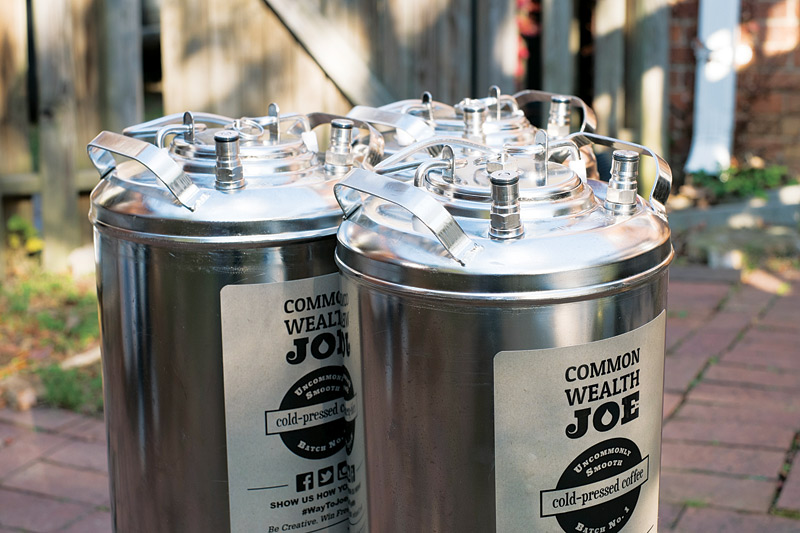 Photo by Graham Hudgins.
520 12th Street South, Arlington
Fans of The Java Shack in Courthouse will be happy to know that the owners have opened a flagship store in Pentagon City. Founded by a group of UVA grads,Commonwealth Joe sells sustainably sourced coffees and roasts its own beans. The new location (next to Whole Foods) features a pour-over station and a glass-enclosed cupping room for sampling new coffees from around the globe. But the main attraction here is the roaster's addictive nitro cold brew, an iced coffee infused with nitrogen gas that comes from a tap and has the appearance of a stout beer. It's sold by the glass…as well as by the keg.