Off the Grid in the Mid-Atlantic
Three hideaways where you can unplug and recharge.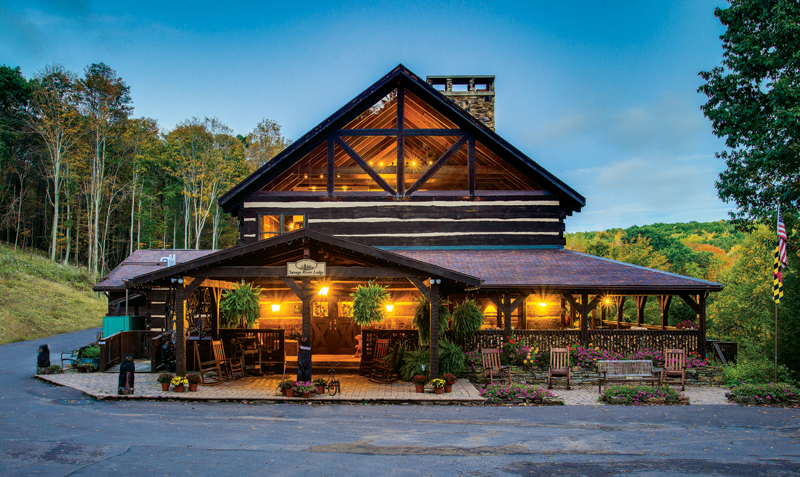 Savage River Lodge. Photo by Jennifer Dobson
Tucked away in the foothills of the Blue Ridge Mountains is the Virginia Center for the Creative Arts, a retreat that is so quiet you can hear horses chewing grass. Artistic types have long applied for residencies there in order to take advantage of uninterrupted time and space to read, wander and create. As I discovered during my own residency in this idyllic spot, artists aren't the only ones who benefit from that type of disconnected time.
In his New York Times best-selling book Essentialism: The Disciplined Pursuit of Less, Greg McKeown spends a chapter detailing how people in many professions seek escapes from their daily routines, including Bill Gates, who takes a secluded "Think Week" by himself twice a year to read, reflect and focus. Inspired by the concept, I set out to find places in the mid-Atlantic region that could serve as revitalizing refuges for anyone wanting time to think. Here are three such hideaways where you can go to recharge and tune your senses.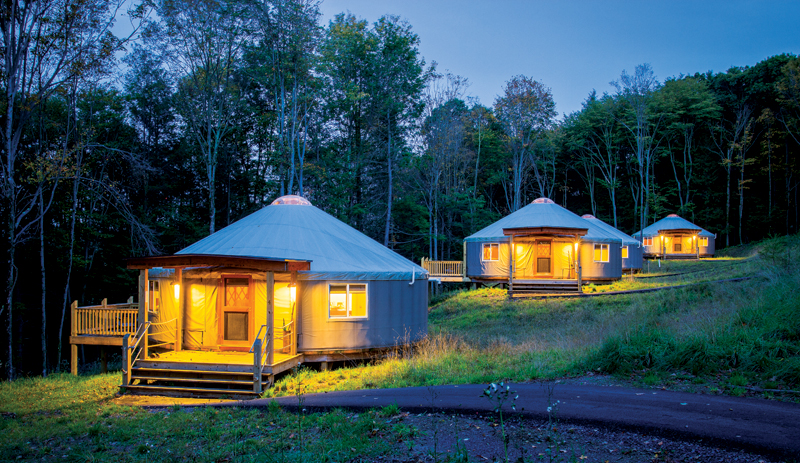 Yurts at Savage River Lodge (here and below). Photo by Jennifer Dobson
SAVAGE RIVER LODGE
Restoration Setting: In western Maryland, Savage River Lodge's large post and beam structure serves as home base for the eight yurts and 18 cabins that dot the woodsy landscape around it. The peaceful 35-acre retreat is off the grid in more ways than one. A hillside of solar panels on the property provides roughly 65 percent of the annual power needed for the main lodge and the electric vehicle charging station. Room keys come with a mini-flashlight to help you navigate at night. There are no TVs or Wi-Fi in the cabins or yurts. (Wi-Fi is available in the lodge.)
During my stay in one of the yurts, I expected the sound of silence. But rain drip-dropped on the rooftop. Birds sang and cawed. The wind whooshed wildly through tree branches. It was evident that previous guests appreciated this multisensory experience, too. They wrote in the yurt journal about decompressing with a book by the fire, listening to the howls of coyotes and, said one, simply "yurtin it" and "lovin it."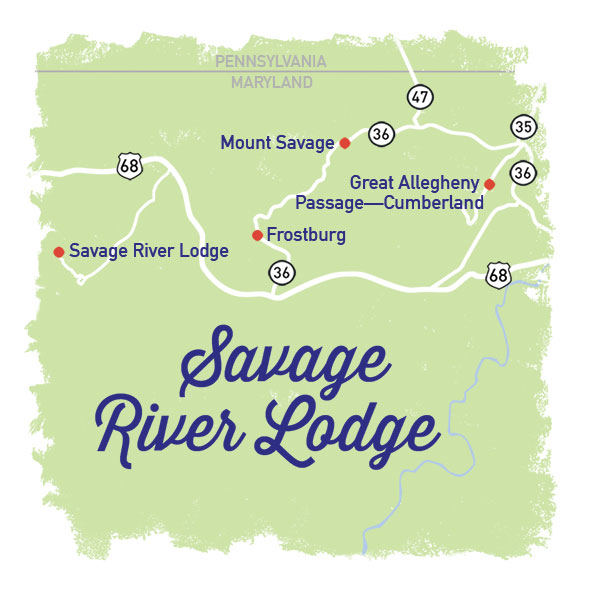 Map by Mary Ann Smith
Surprisingly, there's a lot to do in this wooded paradise. You can explore 14 miles of trails, fly-fish, cross-country ski, bike the Great Allegheny Passage, read in the lodge's loft library, look out at colorful sugar maple, poplar, white oak and larch trees from an upper deck rocking chair, and have a beer at the bar, the smell of burning wood wafting from the two-story stone fireplace.
Rest: Each yurt and cabin at Savage River Lodge is stocked with a mini-fridge, fresh ground coffee, cocoa mix, board games and pine-scented bath products. The walls of the 30-foot-diameter yurts feature a double layer of canvas with a middle layer of gel insulation, and there's a center dome skylight, heated hardwood floors and a portable air-conditioner. The spacious interior includes a comfortable king bed, a lounging area with a gas fireplace, leather and suede club chairs, a sofa, and a copy of Life's Little Instruction Book on the coffee table.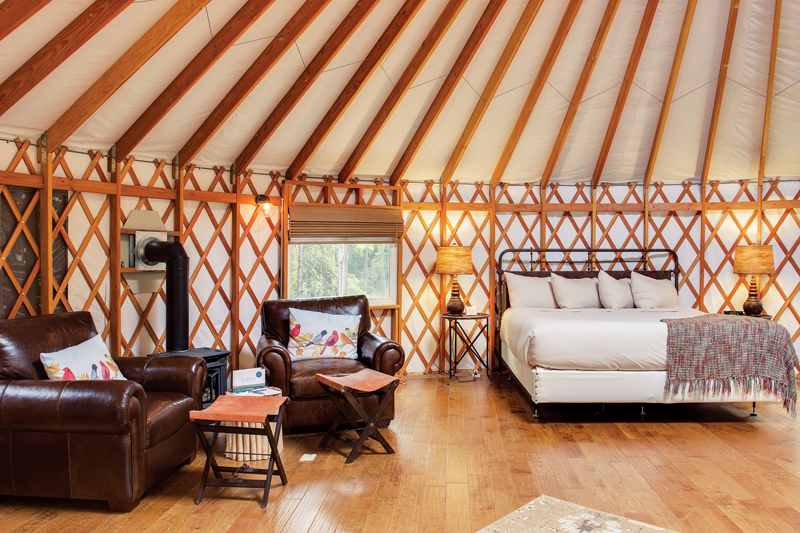 Photo by Jennifer Dobson
The two-story cabins each have a porch with rocking chairs, most overlooking the forest. Inside, you'll find knotted wood walls the color of caramel, a filled bookcase, a gas stove, a plump chair with a soft blanket, a pullout sofa, a soaking tub, and a queen or king bed in a loft. Dogs are allowed in some of the cabins.
Refuel: Homemade muffins and juice are delivered in a basket to your porch each morning. The lodge's restaurant is open for breakfast, lunch and dinner on weekends; lunch and dinner on weekdays. Specialties include maple bacon-wrapped meatloaf, wild game dishes and a vegan shepherd's pie. Dining in your cabin or yurt is also available, including a "Bone Appetit Menu" for dogs.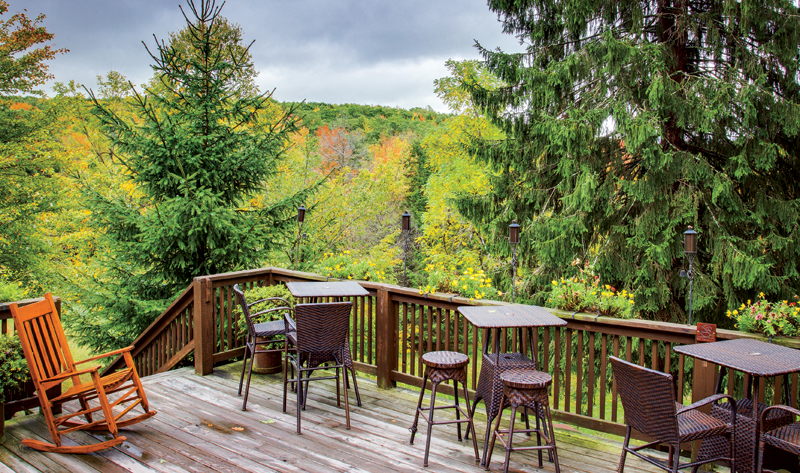 A view from the porch at Savage River Lodge. Photo by Jennifer Dobson
Unplugged Perks: Massages in your cabin or yurt can be arranged. There's a bonfire most weekend nights, when you can sit back in an Adirondack chair and munch on skillet-made s'mores.
Details: Rates begin at $235, including coffee, cocoa and morning muffins and juice. 1600 Mount Aetna Road, Frostburg, Maryland; 301-689-3200, www.savageriverlodge.com.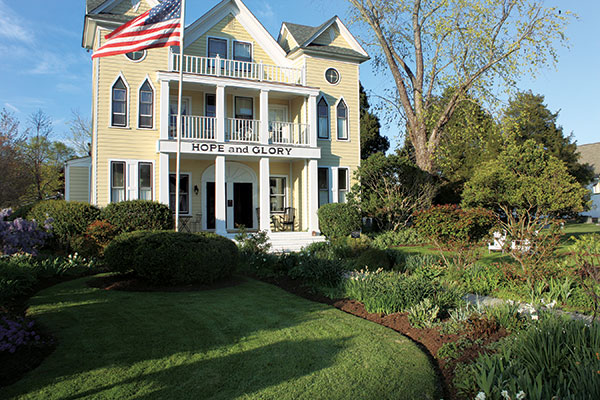 Hope and Glory Inn.
HOPE AND GLORY INN
Restoration Setting: Situated in artsy Irvington, a town on Virginia's Northern Neck peninsula, Hope and Glory Inn excels at taking your brain off the grid by fostering new ways of looking at old things. A schoolhouse from 1889 to 1908, this inn is infused with clever ideas, many a nod to its roots in education.
"Detention. Where only the Hope and Glory can make punishment so sweet," is scrawled on the chalkboard at the inn's bar, Detention. One table in the bar has a checkerboard with salt and pepper shakers serving as game pieces. Scattered about are composition notebooks that hold previous guests' cheeky confessions—both from school days and more recently—on why they were in "detention" (skinny-dipping and reading 50 Shades of Grey are but two).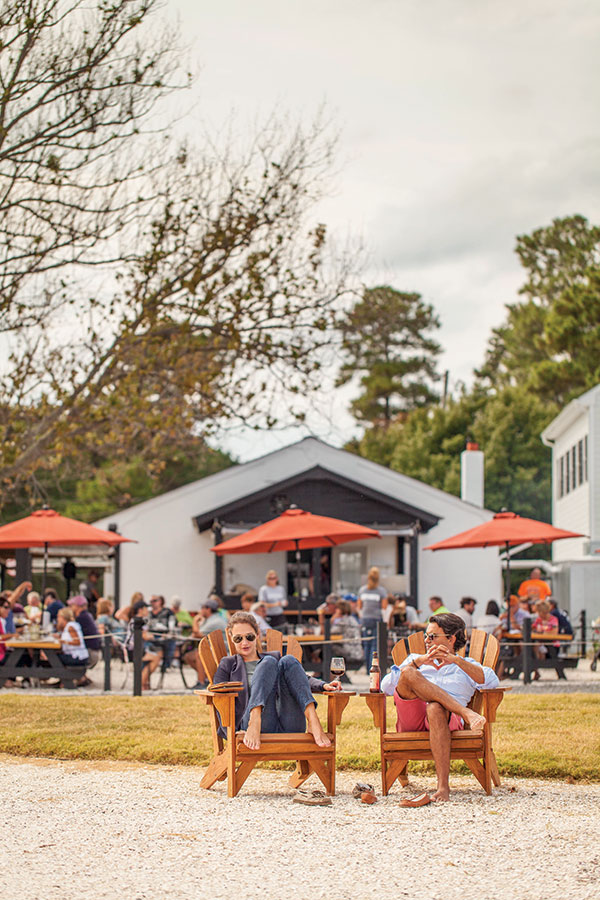 Riverfront dining at Rappahannock Oyster Company's Merroir tasting room. Photo by Tyler Darden
The inn's small spa, Recess, includes a cozy sitting room with blankets and cushy seats.
Beyond Hope and Glory, there's more inspired creativity in the small town. Objects, Art and More (4462 Irvington Road) features the work of more than 200 artists from around the country. There are intriguing paintings of watermen that play with color and scale, pictures on antique dictionary pages, and sculpted lamps with shades made of dangling oyster shells. The gallery itself, a 1950s gas station that also housed other businesses over the years, won a state refurbishment award for its restoration.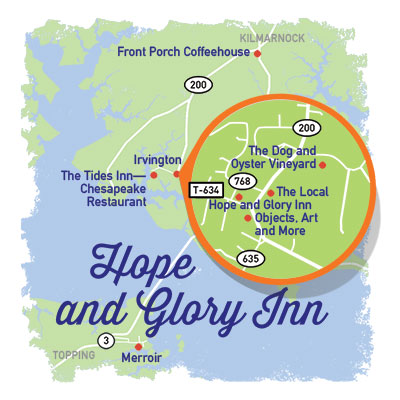 Map by Mary Ann Smith
If coffee shops are your sanctuary, The Local (4337 Irvington Road), a short walk from Hope and Glory, serves ice cream, delicious panini and locally roasted organic coffee.
Three miles up the road in neighboring Kilmarnock, the new Front Porch Coffeehouse (139 S. Main St.) has outdoor seating amid a small sculpture garden.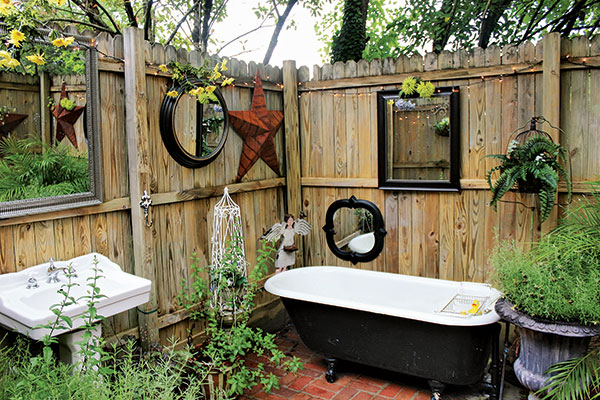 The outdoor garden bath at Hope and Glory Inn.
Rest: The inn's six guest rooms are whimsically decorated with painted furniture, slipcovered chairs and folk art. Rooms 3 and 4 (on the second floor) each feature a semi-private balcony with wicker chairs overlooking the front lawn and English perennial garden. Behind the inn, a landscaped garden with brick pathways is home to a new pool and six guest cottages, each with a porch or patio. One path—near a garden sign that says, "Say yes to something you usually say no to"—leads to an outdoor garden bathroom that's available to all guests. Enclosed by a tall fence, the al fresco space has a shower, a sink, potted plants and a claw-foot tub where you can bathe under the stars.
Refuel: Gourmet breakfast is served in the courtyard or in the cozy Dining Hall restaurant. The Dining Hall also offers a prix fixe four-course farm-to-table and boat-to-table dinner menu for $68 per person. A half mile down the road, the Tides resort's Chesapeake Restaurant (480 King Carter Drive) offers panoramic water views, excellent seafood dishes and an outdoor terrace. Merroir, the Rappahannock Oyster Company's tasting room overlooking the Rappahannock River (784 Locklies Creek Road, Topping, Virginia), serves oysters and small plates, and is worth the 15-minute drive.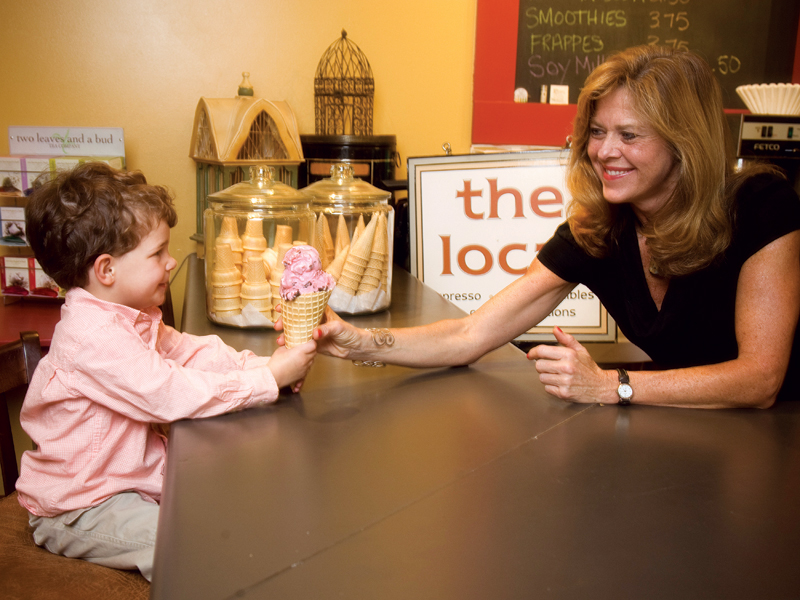 Ice cream at The Local in Irvington
Unplugged Perk: Borrow a bike from the courtyard for a short ride to The Dog and Oyster Vineyard (170 White Fences Drive), where you can sample wines and meet the rescue dogs who keep watch over the vines.
Details: Rates begin at $205, including the gourmet breakfast. 65 Tavern Road, Irvington, Virginia; 804-438-6053, www.hopeandglory.com.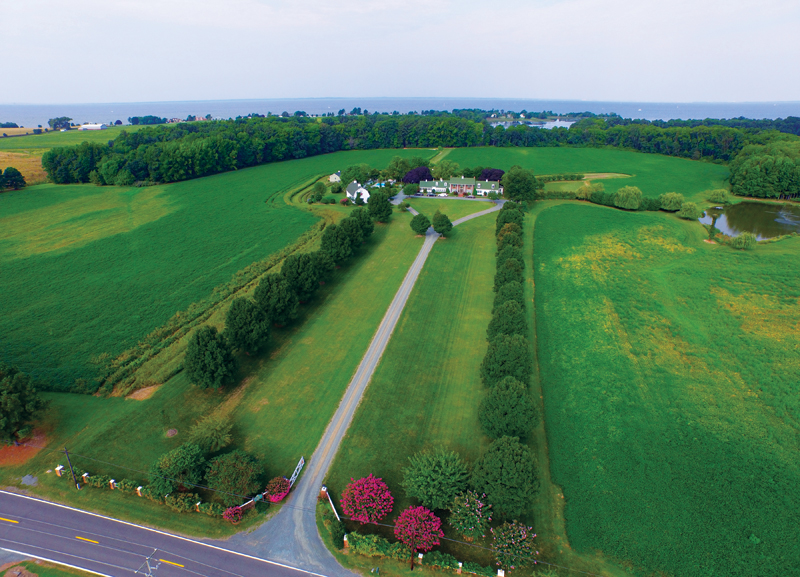 Here and below: The Inn at Huntingfield Creek offers spacious grounds, sleek accommodations and fields of flowers.
INN AT HUNTINGFIELD CREEK
Restoration Setting: Located along Maryland's Eastern Shore, the Inn at Huntingfield Creek in Rock Hall is 70 acres of quiet fields and wooded trails. "This place feels like an artists colony," a man from Delaware says during the communal-style breakfast of eggs and pastries. Sculptures made from stone, bark and birdhouses dot the property's intimate paths and sprawling fields. A dead tree has been transformed into a work of art with rebar spikes that hold colored bottles in blue, green and amber.
Serenity takes many shapes here, including sailing, fishing, kayaking and sitting dockside while looking out at the bay and Baltimore's skyline in the distance. You can also read and relax in Adirondack chairs interspersed throughout the property—some overlooking sunflowers, some a large pond, and others within sniffing distance of the inn's lavender fields.
Birding aficionados have recorded their sightings on a list that's tucked into birding guides, which are available for guests. Eagles, ospreys, snowy egrets and cardinals are among the more than 70 species recorded thus far.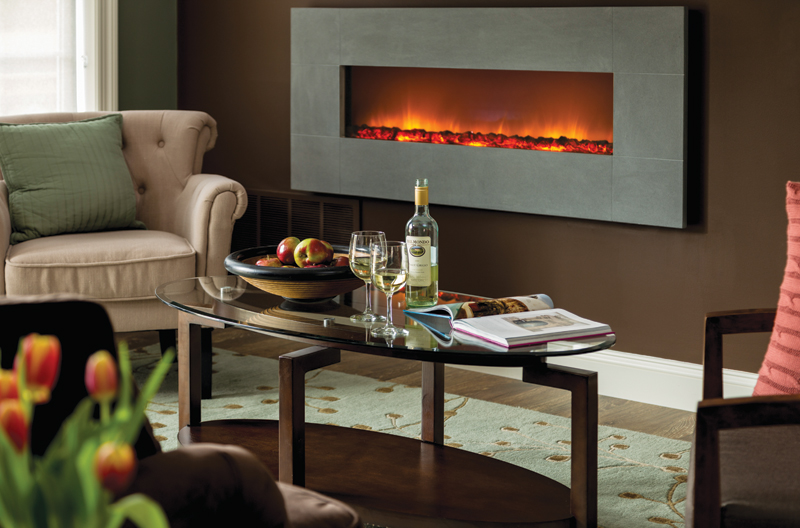 Indoors, the inn's library is packed with books, magazines, literary journals and games. The space features a comfortable sofa where guests often stretch out with a blanket. Complimentary beer, wine and soda are always available in the library, along with homemade cookies.
Rest: In addition to five main house guest rooms, there are seven spacious cottages (most are 600 to 800 square feet) peppering the landscape between the main house and farm fields. All provide a sofa, Tempur-Pedic bed, desk, mini-kitchen, flat-screen TV, well-stocked bookshelves and deck with a grill. The aptly named Zen Cottage, decorated in soothing sage and cream colors, has a two-sided gas fireplace that can be seen from the living room or the quarried stone spa tub. Lavender Cottage, one of a trio of new cottages added last year, overlooks rows of lavender, and, like the other new cottages, has a glass-enclosed shower with elegant tiles and fixtures. Three cottages are pet-friendly.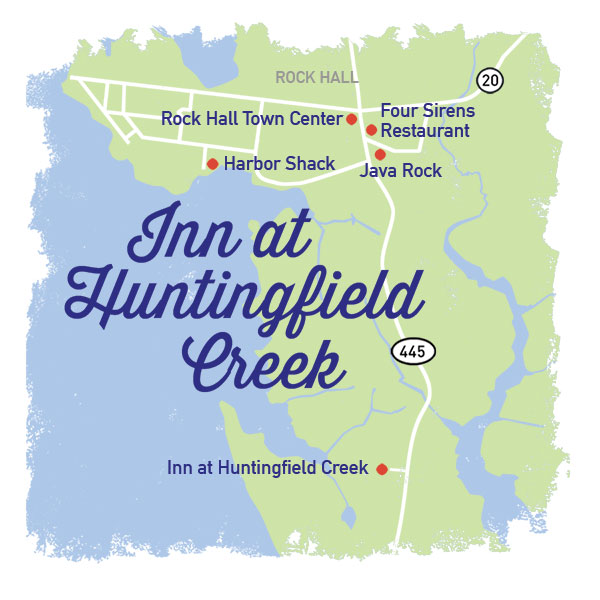 Refuel: A hearty breakfast is served in the dining room each morning at 8:30. Good restaurant choices are a few minutes up the road in Rock Hall's town center and are adjacent to several marinas. For casual Mexican and pub food overlooking boats on the bay, head to Harbor Shack (20895 Bayside Ave.). The tiny Four Sirens restaurant (5757 N. Main St.) is a local favorite for upscale fresh food. Java Rock (21309 E. Sharp St.), a coffeehouse owned by the proprietors of Huntingfield Creek, is also nearby.

Unplugged Perks: Kayaks and bikes are free to borrow, and the deck at the inn's saltwater pool offers cushioned loungers in the shade.
Details: Rates begin at $185 and include breakfast, complimentary beer, wine, soft drinks, bottled water and cookies. 4928 Eastern Neck Road, Rock Hall, Maryland; 410-639-7779, www.huntingfield.com.
Christine Koubek writes about travel, history and families. Find her at www.christinekoubek.com and on Twitter @CKstories.