Page Turners
Are your kids looking for something good to read? Check out these children's and young-adult titles by local authors.
Danielle Ellison
Salt Macmillan, 2014
"It's sassy, and has magic and kissing." That's how Danielle Ellison describes her debut young-adult novel, a story about a teenage witch who is hunting down the demon who stole her magic. Salt is the first novel in a series, with its sequel, Storm, due to be published this fall. A self-described nomad who has lived in 29 different houses to date, Ellison currently lives in Falls Church. She works at One More Page Books and organizes the NoVa TEEN Book Festival.
Jacqueline Jules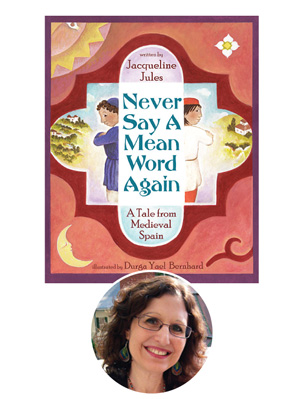 Never Say a Mean Word Again, Wisdom Tales, 2014
How can Samuel make sure that Hamza never says another mean word to him? Samuel contemplates training a monkey to clamp Hamza's lips shut, but eventually comes up with a better solution in Jacqueline Jules' latest picture book. A seasoned pro in the world of children's literature, Jules has more than two dozen books in print and based her latest story on a folk tale from medieval Spain. She has taught at Nottingham Elementary and lives with her family near York-town High School.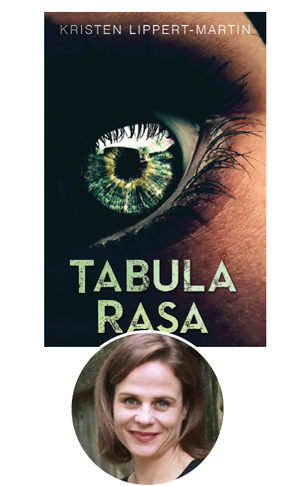 Kristen Lippert-Martin
Tabula Rasa, Egmont USA, 2014
Kristen Lippert-Martin says she found inspiration for her first book in a number of works, from Hamlet to The Bourne Identity to new developments in neuroscience. "I always thought the Bourne premise was the perfect metaphor for adolescence,"says Lippert-Martin, who has lived in Lyon Park with her husband since 1997. "My main character, Sarah, is fighting to survive while trying to figure out who she is." Her dystopian thriller for young adults, Tabula Rasa, is due to be released in late September.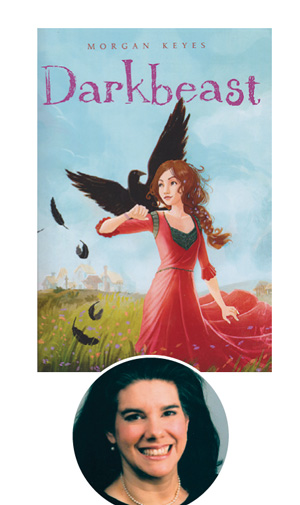 Morgan Keyes
Darkbeast, Margaret K. McElderry Books, 2012 repeat edition
What if kids could get rid of their darkest emotions by giving them to an animal? That's the premise behind Morgan Keyes' Darkbeast, which follows the adventures of Keara, a girl who refuses to kill her magical companion animal on her 12th birthday, as the law demands. Keyes, who lives in Arlington, is also the author of a follow-up fantasy book, Darkbeast Rebellion. "Keara's story grew out of my own interest in rites and rituals," she explains. "Rites of passage are not necessarily all good."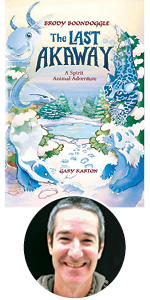 Gary Karton
The Last Akaway, Brattle Publishing, 2014
As a kid, Gary Karton let spiders crawl on him in hopes of gaining Spiderman's superpowers. It's not a strategy he recommends today, but the author wants kids to know that everyone has their own special power—a central theme in his middle-grade adventure novel about a boy in search of his spirit animal. Karton, who lives in Barcroft, is now writing the second part of the planned trilogy, which opens with one of the major characters from The Last Akaway waking up in a Mexican prison. Karton had to overcome dyslexia to become a writer (he wrote an essay about this struggle in the September/October 2013 issue of Arlington Magazine). "If I can do this," he says, "then anyone can do or become whatever they can imagine."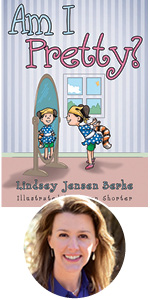 Lindsey Jensen Berke
Am I Pretty?, Archway Publishing, 2013
When her daughter was in preschool, Lindsey Jensen Berke was troubled by one particular question that she heard a lot: "Mom, am I pretty?" So she turned her response into her first picture book. Am I Pretty? takes place at a preschool where only girls who wear fingernail polish are allowed to play in the sandbox. The heroine tackles this problem in a story that touches on self-esteem and bullying. Berke, who lives with her family in Arlington's Bluemont neighborhood, says she wanted her daughter to understand that she is "pretty smart, pretty kind, pretty brave, pretty amazing…pretty is too small a word to describe any human being."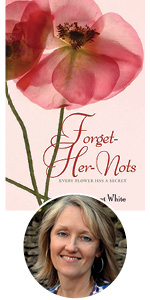 Amy Brecount White
Forget-Her-Nots, Greenwillow Books, 2010
An expert on the Victorian language of flowers (in the 19th century, certain blooms conveyed specific meanings), Arlington author Amy Brecount White put that esoteric knowledge to work in her first book, the young adult novel Forget-Her-Nots. The book's heroine discovers a link between flowers, magic and her own ability to make things happen, but she struggles to control her gift when unintended consequences start to blossom. A frequent contributor to Arlington Magazine, White recently wrote a story for the magazine about replacing lawns with—among other things—more flowers.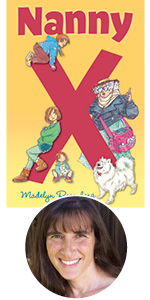 Madelyn Rosenberg
Nanny X, Holiday House, 2014
In Madelyn Rosenberg's new book for elementary school kids, an unconventional "Mary Poppins" and her charges set out to save a local park. The nanny turns out to be a secret agent, but she's not the only one in disguise. According to Rosenberg, the fictional park is a gussied-up version of Chestnut Hills Park in Arlington, and the fictional town of Lovett, Va. (which she named after Lyle Lovett), sits about where McLean does on the map. The author of six books, Rosenberg lives in the Bluemont section of Arlington and frequently writes the Familiar Faces column for Arlington Magazine.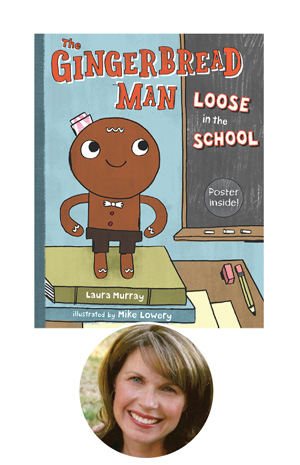 Laura Murray
The Gingerbread Man Loose in the School, Putnam Juvenile, 2011
When Laura Murray was a kindergarten teacher, a gingerbread man somehow managed to escape from her classroom at the start of every school year to lead her students on a seemingly impromptu tour. She has since pinned the mischievous cookie to the page in her first picture book, winner of a 2014 Virginia Readers' Choice Book Award. Murray, who lives in McLean, has already published a follow-up adventure involving a fire truck, and hints that a certain baked good may soon find himself at the zoo.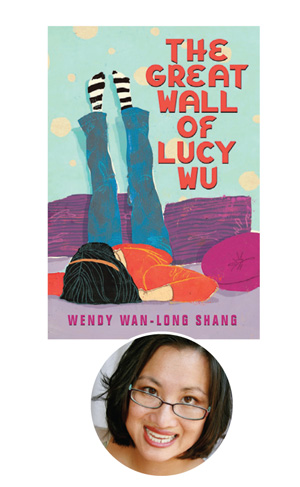 Wendy Wan-Long Shang
The Great Wall of Lucy Wu, Scholastic, 2013
Wendy Shang of Falls Church bills herself as a "professional gummi bear eater," but she's better known as the author of The Great Wall of Lucy Wu, a middle-grade novel about a girl whose plan for the perfect school year goes off the tracks when she's forced to share her bedroom with an elderly relative from China. Shang describes the publication of her first book as a dream that came true "after I almost forgot how to dream."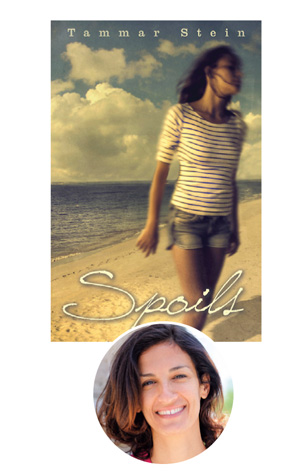 Tammar Stein
Spoils, Knopf Books for Young Readers, 2013
When Tammar Stein discovered that many lottery winners come to view their lucky ticket as the worst thing that ever happened to them, she knew she had the premise for her next book. Spoils is Stein's fifth novel for young adults, and centers on a girl who must save her family after they win $22 million. The Arlington-based author is quick to disclaim that she ever won the lottery. "I didn't really see a way to make money reading books," she says, "so I decided the next best thing would be to write them."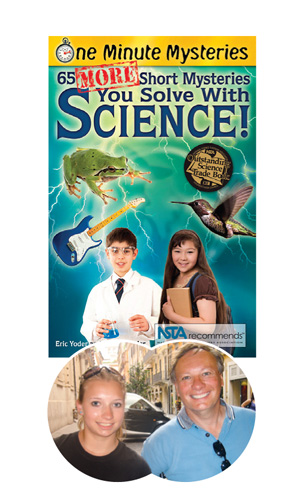 Natalie and Eric Yoder
One Minute Mysteries: 65 More Short Mysteries You Solve With Science!, Science, Naturally!, 2008
If you've got a minute, you can solve a mystery! That's the premise behind this fun chapter book for elementary-age readers, written by the father-and-daughter team of Eric and Natalie Yoder. Eric lives in Arlington, and Natalie is currently a student at Penn State University. The two began collaborating when Eric started making up short mysteries for Natalie to solve, and she tried to stump him in turn.
What's in Your Backpack?
Looking for more options? Here are the top-selling juvenile books at the Barnes & Noble in Clarendon as of June 19, compared with Barnes & Noble stores nationwide and online at www.bn.com
Barnes & Noble Clarendon
Tales From a Not-So-Glam TV Star (Dork Diaries Series, #7), Rachel Renée Russell
My Little Pony: The Journal of the Two Sisters: The Official Chronicles of Princesses Celestia and Luna, Amy Keating Rogers
Big Nate: In the Zone, Lincoln Peirce
How to Outrun a Crocodile When Your Shoes Are Untied, Jess Keating
The Meaning of Maggie, Megan Jean Sovern
The Enchantress Returns (The Land of Stories Series, #2), Chris Colfer
The Unfairest of Them All (Ever After High Series, #2), Shannon Hale
The Storybook of Legends (Ever After High Series, #1), Shannon Hale
Frozen: The Junior Novelization, Disney, Sarah Nathan, Sela Roman
Big Nate: Great Minds Think Alike, Lincoln Peirce
Barnes & Noble Nationwide / www.bn.com
Tales From a Not-So-Glam TV Star (Dork Diaries Series, #7), Rachel Renée Russell
Wonder, R.J. Palacio
The Giver, Lois Lowry
Frozen: The Junior Novelization, Disney, Sarah Nathan, Sela Roman
The Lightning Thief (Percy Jackson and the Olympian Series, #1), Rick Riordan
The School for Good and Evil (School for Good and Evil Series, #1), Soman Chainani
Disney After Dark (Kingdom Keepers Series, #1), Ridley Pearson
The Unfairest of Them All (Ever After High Series, #2), Shannon Hale
Harry Potter and the Sorcerer's Stone (Harry Potter Series, #1), J.K. Rowling
The One and Only Ivan, Katherine Applegate
---
Kids-lit Events
How can you get kids excited about reading? Let us count the ways.
Arlington
Arlington Public Library
703-228-5990, library.arlingtonva.us
The Arlington County Library offers weekly story times at nearly all of its branches (except for the Plaza mini-branch), plus a host of additional events, including a Nanny Club for nannies and their charges at the Columbia Pike branch.
The Paws to Read program (offered at six library branches) invites early readers to practice their skills by reading aloud to a dog. Kids can sign up for 15 minutes with a patient pooch who's ready to hear a story.
Fans of American Girl dolls will also appreciate the library's American Girl program. Actual dolls can be checked out of the library for one week at a time, and each doll comes with a book and a journal, in which borrowers can post stories and drawings about the dolls' ongoing adventures—which have recently included bike rides and blowing out birthday candles. (For a peek at some journal pages, check out www.flickr.com/photos/arlib/sets/72157633394972342/.)
Teen readers may enjoy the High School TAB (TAB stands for Teen Advisory Board, as well as Talking About Books) book club that meets at the Central Library on the first Tuesday of most months at 5 p.m. Members share book recommendations and pizza.
Every other month, the Central Library also hosts Shut Up and Write!, a series of panel discussions with published authors on the craft of writing. Aspiring young-adult novelists (both teens and adults) are encouraged to attend these sessions.
One More Page Books
2200 North Westmoreland St., #101, 703-300-9746, www.onemorepagebooks.com
This independent bookstore on the border of Arlington and Falls Church City offers two monthly book clubs for kids and teens. The Mother-Daughter Book Club, aimed at girls 9 to 12 years old, meets on Sundays at 3 p.m.
The Young Adult Book Club meets on Wednesdays at 5 p.m. The clubs are free and open to everyone; each club's monthly book selection is posted on the store's website.
Barnes & Noble at Market Common Clarendon
2800 Clarendon Blvd., Suite 500, 703-248-8244, store-locator.barnesandnoble.com/store/2068
Each story time at the bookstore features a specific book, including some that are written in Spanish. Programs are currently held Wednesdays at 10 a.m. and Saturdays at 10:30 a.m.
Barstons Child's Play
4510 Lee Highway, 703-522-1022, www.barstonschildsplay.com
The toy store (which also has a sister shop in McLean) offers story time at its Arlington location in the Lee Heights Shops on Fridays at 10:30 a.m. The final program of the year is held the Friday before Halloween, and the schedule resumes in January.
Kinder Haus Toys
1220 North Fillmore St., 703-527-5929, www.kinderhaus.com
Story times are held Monday and Friday mornings at 10:30 at this toy store in Clarendon. Selections may include board books, sing-alongs, picture books or books for elementary school kids.
Falls Church
Mary Riley Styles Public Library
120 North Virginia Ave., 703-248-5030, www.fallschurchva.gov/424/Library
Mother Goose Rhyme Time is a six-week program featuring rhymes, bounces and music for tots 18 months and younger. The program is free, but space is limited and registration is required.
Fall story times begin Sept. 15. Books for kids between the ages of 2 and 5 are read at 10:30 a.m. Mondays and Thursdays, while Tuesdays at 10:30 a.m. are geared toward toddlers between 18 and 26 months.
The library goes to the dogs on the second Tuesday of every month from 5 to 6 p.m., when the friendly canines of Paws to Read are on hand to listen to any books that kids care to read them.
A teen book club is also planned for the fall; please check with the library for further details.
McLean
Dolley Madison Library
1244 Oak Ridge Ave, 703-356-0770, www.fairfaxcounty.gov/library/branches/dm/
This fall, the library hosts a Bouncing Babies program on Sept. 8 and Oct. 6 at 10:30 a.m., with stories and songs for infants 12 months and younger.
Story times at 10:30 a.m. for older kids include: Tiny Tots (for toddlers 13 to 23 months) on Sept. 22 and 29; Toddling Twos and Threes on Sept. 10 and Oct. 8; and Treasured Three to Fives on Sept. 3 and Oct. 1.