Pizza Vinoteca Pairs Gourmet Pies and Wine
If you're more than a few years out of college, you may prefer wine with pizza instead of beer.
If you're more than a few years out of college, you may prefer wine with pizza instead of beer.
But at a time where it's hard to find a good glass of vino that doesn't cost more than your appetizer—or your entrée, for that matter—pizza becomes an odd proposition: How do you reconcile a meal that's supposed to be quick and cheap with a decent vintage that most assuredly is not?
Ari Malcom, the CEO of Pizza Vinoteca, the New York-based chain that recently opened in Ballston, wants to absolve that inherent tension.
"Pizza's humble, simple—not expensive," Malcolm says. Which is why he sampled more than 1,000 wines last summer to come up with a list of 36 wines by the glass that are all $10 or less.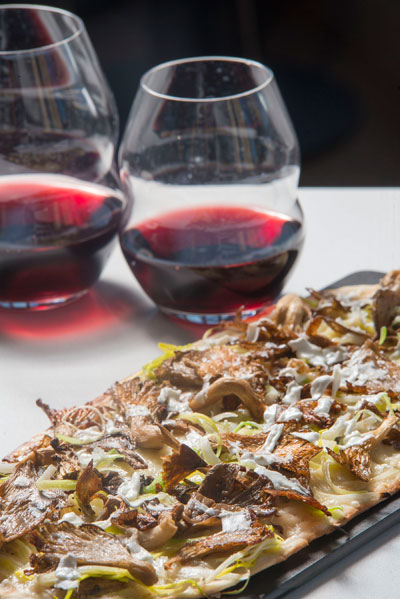 Photo Credit: Fredde Lieberman
Malcolm points out that while the price is nice, the wines aren't "cheap." A group of writers (myself included) recently sampled what he was talking about. And after rounds of an Austrian gruner veltliner; a French Riesling; a French blend of chardonnay, viognier and sauvignon blanc; and a merlot from Uruguay, I'd have to agree.
But let's get to the point here. What about the pizza? If the wine prices have come down to meet their mates, the individual, grilled-to-order pies have come up in equal measure. That said, this is not one of the "slice joints" that Malcolm recalls from his childhood on New York's Upper East Side, where you could order a huge, $2 slice and be on your way.
Ranging in price from $8 to $15 (one pie is enough for one person, although they are also great for sharing), the oval-shaped pizzas are made on a 16-burner grill that cooks them from the top and bottom. The hearty dough—designed to take the heat—is made with rye and wheat barley infused with red wine.
Some of the flavor combinations are surprising. One pie pairs Brussels sprouts with notes of lemon and walnut.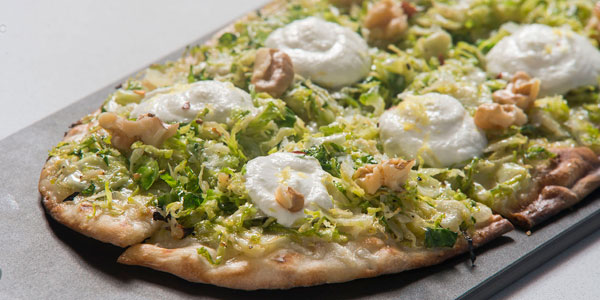 Photo Credit: Fredde Lieberman
The "Jowlciale," made with smoked pork jowl from S. Wallace Edwards & Sons in Surry, Va., is punctuated with chili pesto, pistachios and honey.
Everyone's hands-down favorite, though, was the Hawaiian. No canned pineapple here. Chef Ben Nichols tells us that they slice it fresh, and then roast it in sherry and vanilla caramel. He punches it up with hot Fresno peppers as a counterpoint to that luscious sweetness.
As someone who's never even liked the idea of Hawaiian pizza, I was all over this one. (It helps that the typical Canadian bacon topping is replaced with butter-tender prosciutto from Olli Salumeria in Mechanicsville, Va.)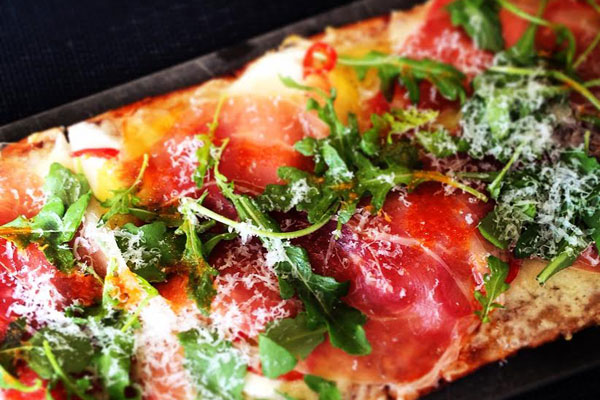 But there are also more traditional options. By way of logistics I had to bring my sons along—Henry, 13, who attends Swanson Middle School, and Chalmers, 10, who's at Arlington Traditional School. They offered rave reviews of the sausage and pepperoni pies—not to mention the root-beer floats they ordered when I wasn't looking.
Specifically, they said that the restaurant's house-made sodas—yep, that's its label on the bottle—are the bomb. But the vanilla gelato in the floats tasted "sandy," they said. Maybe it was the pieces of crushed vanilla bean? At any rate, their glasses were empty at the end of the night.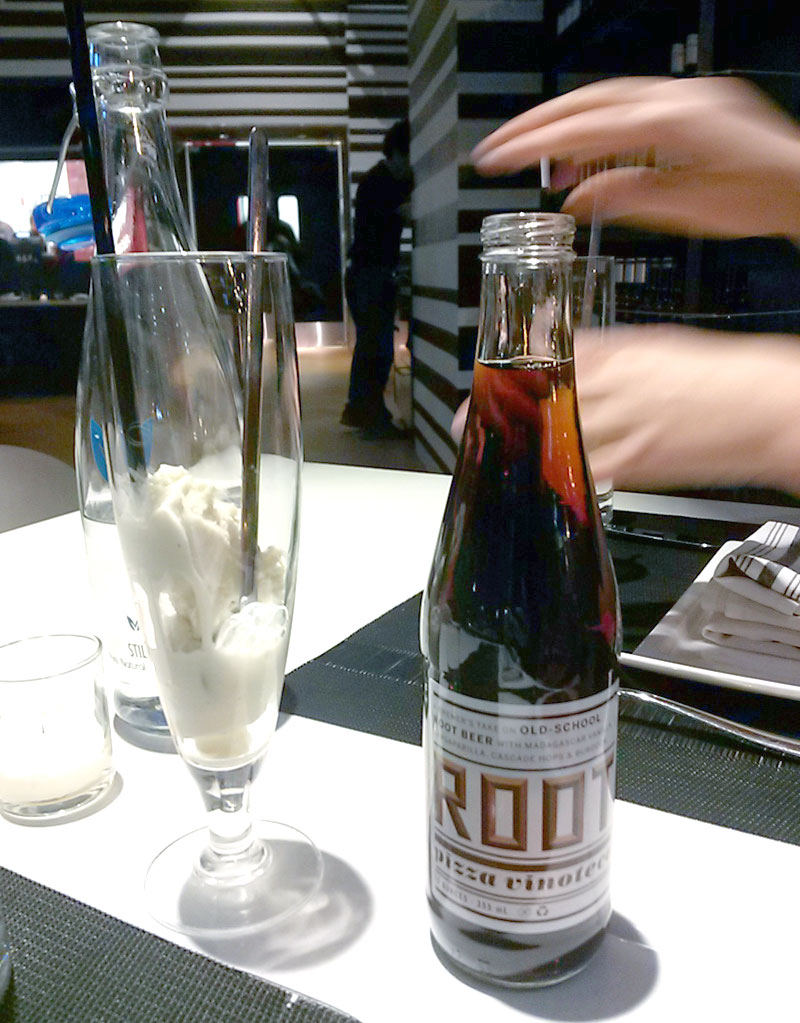 Speaking of endings, it's not possible to leave this place without ordering one of its HOT doughnuts, a.k.a. bomboloni. Light as air, they feature fillings like Mexican chocolate, lemon, raspberry and caramel.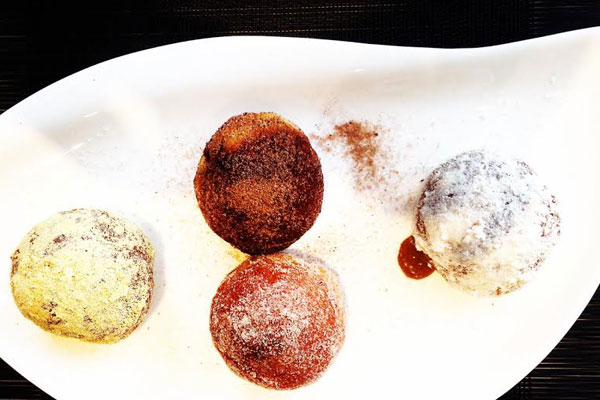 And here's what the space looks like. The next time you've got a hankering for pizza and wine (with easy viewing of a March Madness basketball game), you'll know where to go.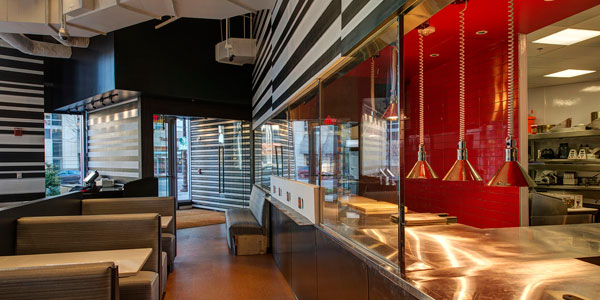 Photo Credit: Fredde Lieberman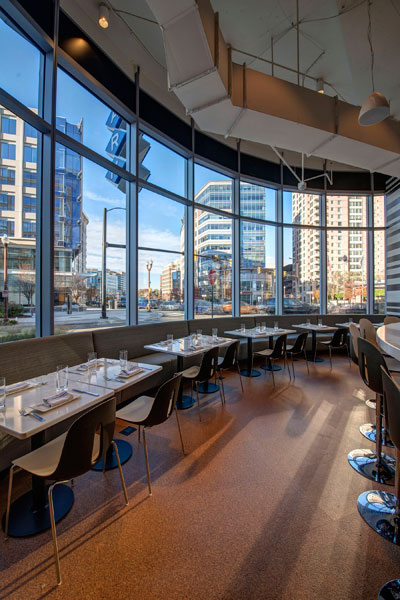 Photo Credit: Fredde Lieberman