Requin to Stay in Mosaic District
The French-Mediterranean collaboration between chefs Mike Isabella and Jennifer Carroll opened as a pop-up concept in December.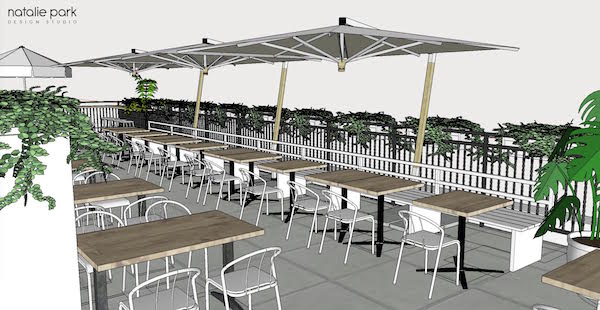 A concept rendering of the new rooftop patio at Requin by Natalie Park Design Studio.
Just two months after announcing his plans for the massive Isabella Eatery at Tysons Corner, Top Chef alum Mike Isabella is back with another restaurant announcement.
Requin, the French-Mediterranean pop-up concept created by Isabella and fellow Top Chef alum Jennifer Carroll, will become a permanent resident of the Mosaic District. According to a news release, the restaurant will maintain its current location in the former Gypsy Souls space at 8296 Glass Alley in Fairfax. Isabella had planned to introduce another offshoot of Kapnos Taverna in the space, but shifted plans when Requin's pop-up menu proved popular with area diners.
"We've loved contributing to the energy and community vibe of Mosaic District, and look forward to making this our forever home," Carroll said in a news release. "There are changes afoot in our design and menu that speak to our overall vision for Requin, and we're excited to share those with our guests."
The 5,100 square-foot location will undergo a revamp over the summer, including the addition of a rooftop patio with capacity for more than 100. The restaurant will maintain its current hours during the renovation.
Requin will keep much of its current menu of small plates and family-style dishes at dinner service, weekday lunch and weekend brunch. New additions will include a pre-theater menu (a nod to the nearby Angelika Film Center) with quick plates including white-bean-and-artichoke rillettes, grilled swordfish and profiteroles.
In addition to the Mosaic District location, plans are underway for a second location of Requin at The Wharf in D.C. to open in mid 2017.
Requin's Mosaic District location is open 11 a.m.-10 p.m. Monday-Thursday, 11 a.m.-11 p.m. Friday and Saturday and 11 a.m.-3 p.m. Sunday.