Scenes From an Italian Restaurant
Former Capri Restaurant owner Nicky DeChiara is a Washington restaurant legend with stories to match.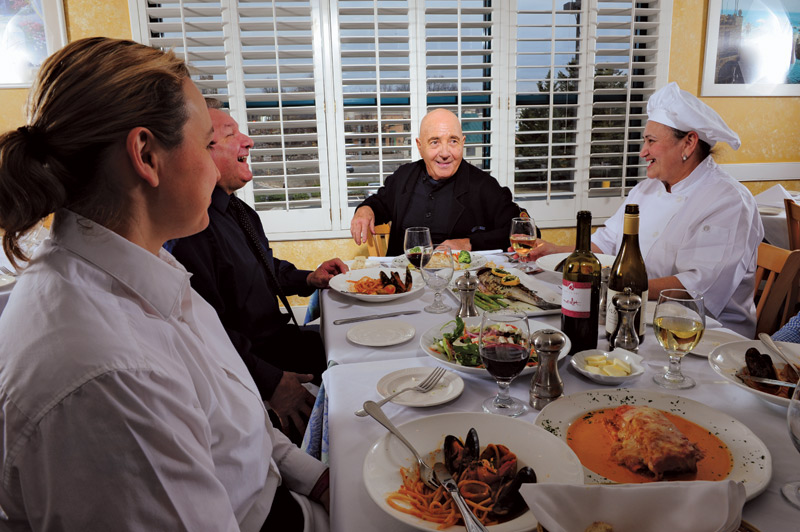 Nicky DeChiara (center) and chef Beatrice Zelaya (right)
Nicky DeChiara is a man of long lunches. He doesn't like ladies to walk in the rain without offering an umbrella, and he thinks restaurants work best when they're run by family.
At McLean's Capri Ristorante Italiano, DeChiara, 75, eschews the parameters of the modern lunch, pouring a glass of dry white wine on a chilly Monday afternoon. To know DeChiara is to know his stories. Like the one about serving Jerry Lewis and Gregory Peck or playing tennis at the Playboy Mansion. They're the kind so wild you'll start to question them, but one glance at his scrapbook of fading news clippings will set you straight.
After an hour in the dining room, DeChiara still has his dark knit cap pulled to his ears, a wool scarf tossed over one shoulder. He shaved this morning, he says, and it makes him cold. With a slight stoop to his walk, and bright, welcoming eyes, he manages a close resemblance to Greek-American actor Michael Constantine. (If only Constantine had a lingering Italian accent.)
The restaurant is tucked next to the top of an escalator in a two-story shopping center that looks like the handful of others on the same stretch of Old Dominion Drive. It's easy to miss, and yet it's had the kind of run that many local restaurants dream of: 15 years of loyal customers and no shortage of name-dropping ability. A framed photo of Vice President Joe Biden is propped in the front window, a memento of a visit just this past December.
Capri is the last in a line of more than 10 family restaurants that stretched from coast to coast over four decades with DeChiara working the front of house. Once a daily figure in the restaurant he co-owned with brothers Enzo and Renato, DeChiara stepped back five years ago. That's when Capri's ownership transferred to longtime chef Beatrice Zelaya, who previously worked with DeChiara's mother in the kitchen of their former restaurant, Romeo & Juliet, on K Street in D.C., and trained under famed toque Roberto Donna at Primi Piatti and Galileo.
DeChiara's and Zelaya's families worked together for more than 35 years, and it was that history and dedication that made him comfortable passing the torch. To him, they're all family now. The restaurant is in good hands.
"After working for so many years, we were happy to have Beatrice and her family take ownership," DeChiara says. "They've worked very hard, and they love the restaurant."
Recently, the step back became more permanent. DeChiara uses the word "retired." His nephew Michael still works in the kitchen, churning out pillowy, spinach-and-cream-stuffed agnolotti as the family's last official member to remain on the payroll. But that doesn't mean DeChiara is gone for good. The business is too deeply ingrained to fade completely from his daily life.
Born and raised in Capri, Italy, DeChiara marks the third generation of restaurateurs in his family. He never thought of pursuing a different career.
He left Italy in the late '50s, having attended culinary school in Rome, to head to the United States, where both his grandfather and uncle were running restaurants. First there was New York, where, so the story goes, young Nicky "borrowed" his uncle's Rolls-Royce without permission.
"It actually happened many times, but only this time I get caught," DeChiara clarifies. The ride ended with, as he says, three police cars and Nicky trying to explain his Italian driver's license.
Then it was off to D.C. where there's a story about a girl, an engagement and a mother who wasn't too happy about the match.
"At my birthday, she announced that her daughter would be leaving to go to California to Pepperdine [University]," DeChiara says. "So I decided to announce that I'd be opening my first restaurant in Hollywood."
The relationship fizzled, but his restaurant, a California location of Romeo & Juliet, didn't. He opened it in 1982, the same week as Wolfgang Puck's Spago, and sent Puck spaghetti and meatballs to celebrate opening night.
DeChiara says he counted Liberace as a friend and once welcomed Gene Kelly for dinner after finding a last-minute table for Kelly's daughter the night before.
But eventually, the stories of Hollywood became too much. Life in California was "too sweet," he says, and having family in Washington made it an easy decision for him to come back.
While he would go on to open restaurants in Florida and Europe, Virginia became home base for DeChiara, who now lives with his brother's family in Vienna."You look back, and it has really gone very fast," he says.
He still gets together with a small group of Washington-area restaurateurs who remember the old days in the '70s and '80s. They're mostly retired, and their group gets smaller by the year.
With his growing free time, DeChiara has taken up pingpong—he even joined a league in D.C.—to replace his beloved tennis. But he still keeps his racket in the car, just in case the mood strikes him. He's not one to give up easily on the things he loves.
That includes Capri. Retired as he is, DeChiara still visits often to see his old clients and chat with the staff.
As lunch winds down, his eyes dart around the restaurant. Whatever the time of day, he's in the habit of searching for familiar faces and ways to offer assistance. Maybe he can whip out the brass hot plate he keeps in the front for an impromptu cooking class with a picky kid who would otherwise fall back on buttered noodles. Or maybe there's a floundering date, waiting to be perked up with a free glass of champagne.
Today, though, there's a table of old friends ready to be greeted with pats on the back and stories. And a lady who forgot an umbrella. DeChiara digs a spare out of the coat rack and hands it off with a smile.
"You'll bring it back next time you come."
Emily Van Zandt is Arlington Magazine's associate editor. She hopes long lunches are making a comeback.