Gulf Branch Nature Center's Star-Studded Past
Once it was a private retreat for the rich and famous. Then it went wild.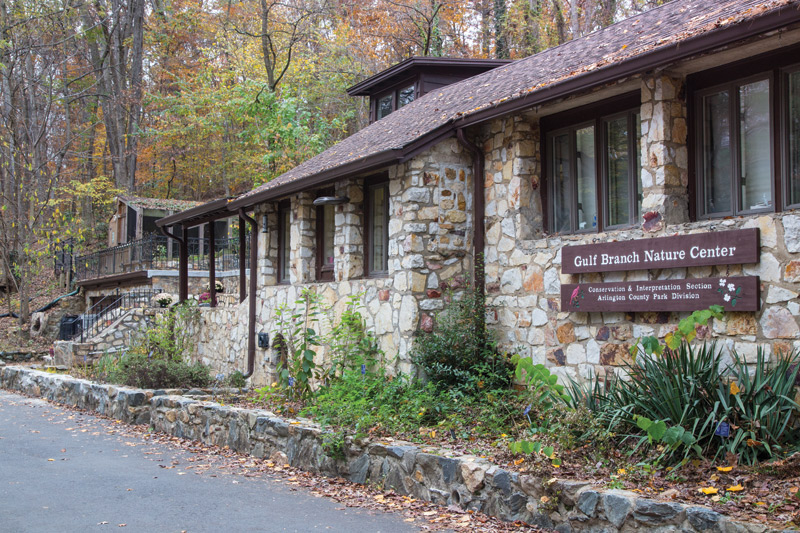 Photo by Skip Brown
To Marshall Meyers, the Arlington property on Military Road will always be "White Pines." His family, based in Washington, D.C., used it as a country home until 1944, when his father, an attorney for the petroleum industry, sold it to abide by wartime gasoline rationing and cut back on car travel.
"We practically lived outside," says Meyers, now 77, recalling the swimming pool with gates that drew water from Gulf Branch—and the time one of his family's 13 Great Danes (a dog named "Bruce") pulled him from the pool after he fell in as a small boy.
The property was already filled with stories when Meyers' family bought it for $14,000 in 1937. According to local lore, the wooded retreat had previously served as a hideaway for silent-screen film siren Pola Negri, a love interest of Hollywood legends Rudolph Valentino and Charlie Chaplin.
Today, the original stone house remains, but its only celebrity is "Ms. Owl," a barred owl who serves as a docent of sorts for the 16,600 annual visitors to Gulf Branch Nature Center. The wildlife preserve and conservation site was established 50 years ago, on June 12, 1966, after a subsequent owner sold the property to Arlington County. With its nature exhibits, hiking trails, Algonquian artifacts (unearthed during a 1970s archaeological dig) and reassembled portions of an 1871 log cabin, it's a popular spot for local schoolchildren, history buffs and outdoorsy types.
Though many Arlingtonians were instrumental in the Center's formation (including Girl Scouts executive Dorothy Grotos and biology teacher Phoebe Hall Knipling, who would go on to found Arlington's Outdoor Lab), its genesis can be traced back to Tom Richards, an Air Force intelligence cartographer who was elected to the county board in 1960.
Richards was a staunch advocate of expanding parks and open space to counterbalance commercial development. This position would prompt one political rival to deride him as "Nature Boy," but Richards (who died in 2011) prevailed. In 1963, the county board began applying for federal matching funds to acquire the land that would expand the wildlife preserve to its current 40 acres. n
Charlie Clark writes the "Our Man in Arlington" column for the Falls Church News-Press. Look for the full version of this story in the fall 2016 issue of the Arlington Historical Magazine.