Calm and Collected
A peek inside interior designer Sherri Pellegrino's Arlington home.
The first thing visitors encounter upon entering Sherri Pellegrino's 1931 center-hall Colonial is a gallery wall with 35 family photographs representing five generations. It's a fitting introduction to the home she shares with her husband, Jeff, president and CEO of Falls Church-based Peris Construction, and their two kids, Anne, 21 (a senior at the University of Georgia) and Charlie, 16 (a junior at The Lab School in Washington, D.C.). Every room seems to bridge the past with the present.
"A great home has many layers of history and character," says Sherri, an interior designer with a knack for building livable spaces around pedigreed antiques and sentimental objects. "I'm always collecting things. Everything here has a story."
Though the Pellegrinos bought their Country Club Hills residence in 1996 and remodeled in 1997, the décor still isn't "finished." It likely never will be. Rather, the house is a constantly evolving tableau, where elements are subject to change, explains the principal of Arlington-based Pellegrino Design Associates.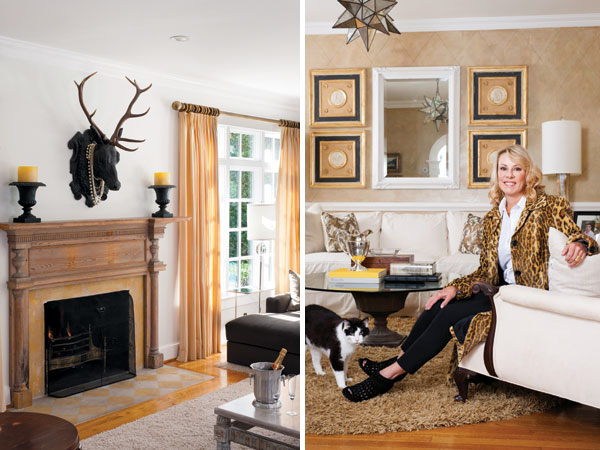 Photos by Stacy Zarin-Goldberg.
Hunting for artifacts has become a bit of a pastime, she admits, and scavenging detours are routine during family trips—like the time a small roadside sign caught her eye while she and Jeff were en route to Charlottesville (Jeff is a UVA alumnus). They pulled over, "tires screeching," she says, and soon after were driving away with the salvaged fireplace mantel that now anchors their family room (above left).
There is a certain art to intermingling the old with the new—a hallmark of the designer's timeless aesthetic. A tour of her impeccably curated and ever-changing home shows how it's done.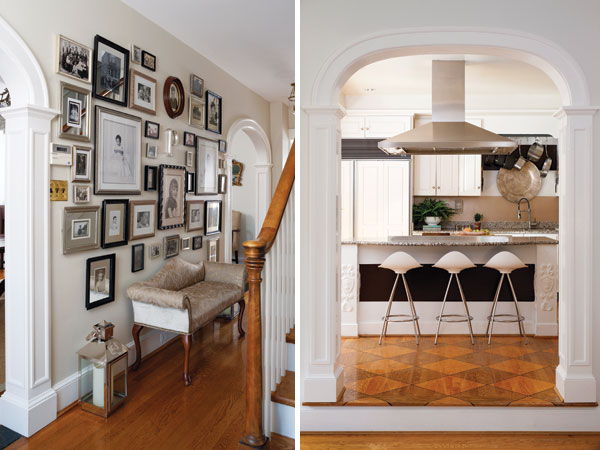 Photos by Stacy Zarin-Goldberg.
Gallery Seating
In the front hallway (above left), a wall of family photos is joined by an elegant settee that Pellegrino discovered in a Clarendon antique shop that has since closed. She had it reupholstered in a shimmering damask fabric.
Kitchen Craft
Pellegrino likes to explore secondhand stores and garden shops with an open mind. She found two cast-concrete pillars with fleur-de-lis details at the now-shuttered Sam's Farm in Falls Church and used them to anchor either end of her kitchen island (above right). And she painted the harlequin pattern on the red-oak floors herself, using alternating golden oak and walnut stains. The barstools are from Design Within Reach.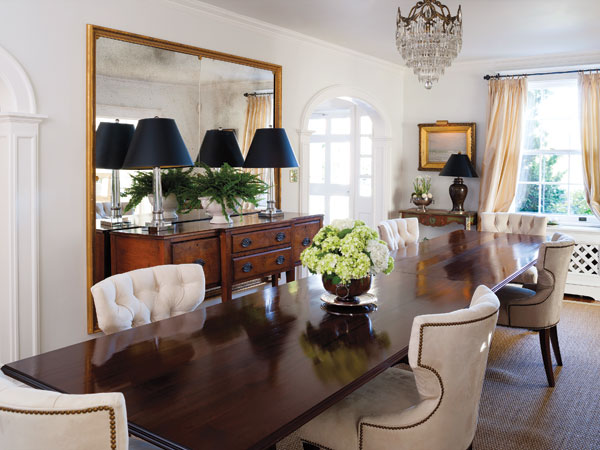 Photos by Stacy Zarin-Goldberg.
Old and New
The dining room's Depression-era Tiffany chandelier (above) is an heirloom that was originally purchased by the designer's grandfather. But the 7-by-3-foot table, with its rich mahogany top and cherry pedestals, is new. Pellegrino's father (her parents live in Arlington) made it to fit the room—his first foray into furniture-making.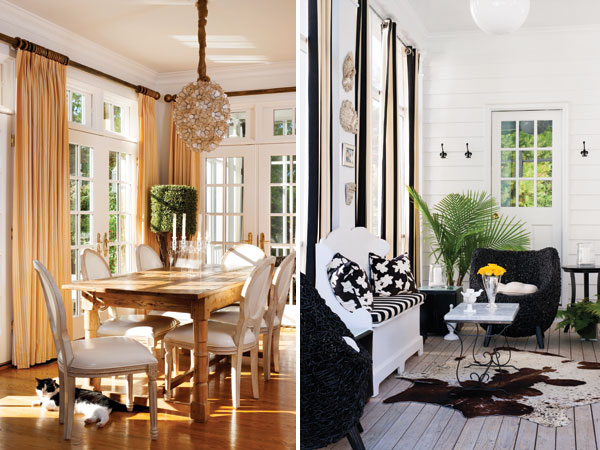 Photos by Stacy Zarin-Goldberg
Mod Meets Nature
In the breakfast room (above left), a rustic pine table is offset by whitewashed chairs with leather seats, an acrylic candelabrum and a Capiz-shell pendant lamp. "I layer pieces and play around with how parts work together," says the designer. "Lighting is an easy way to update a space."
Surface Savvy
Varied textures can make a room more interesting. The Parisian-style coffee table on the screened porch (above right) is a thrift-store find that Pellegrino repurposed by painting its rusty base and replacing the scratched glass top with a Carrara marble remnant. A treasured silver golf trophy, which her grandfather won in 1921, holds fresh flowers.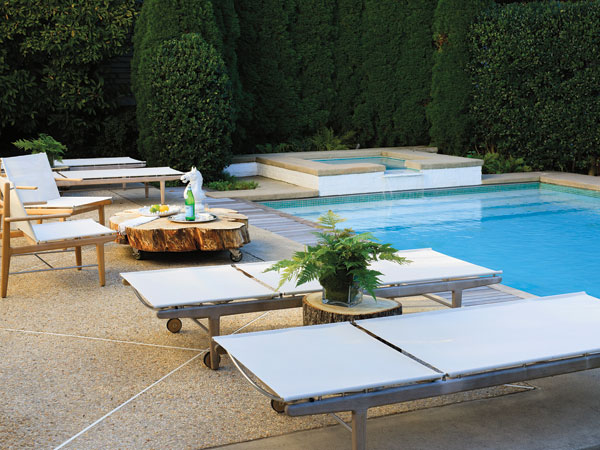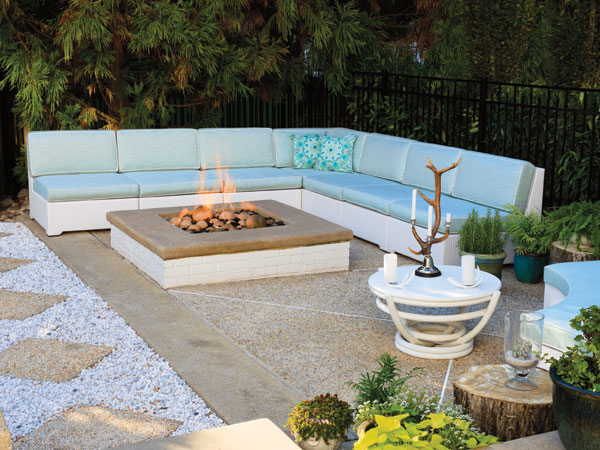 Photos by Stacy Zarin-Goldberg.
Good Wood
When the Pellegrinos lost an oak tree in their yard, they didn't let the trunk go to waste. Sections of it now form outdoor side tables (above), which are set on stainless-steel casters for easy moving. The larger poolside table is similarly fashioned out of a section of a fallen maple tree from Sherri's sister's yard in Arlington. A Frontgate sectional sofa (above), covered in weatherproof Sunbrella fabric, provides ample seating around the fire pit.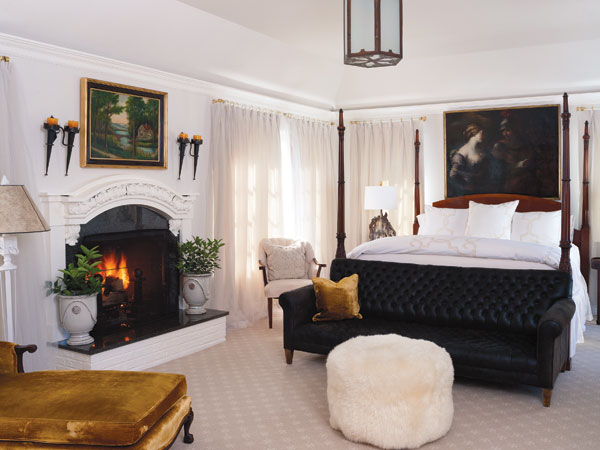 Photo by Stacy Zarin-Goldberg.
Style Master
Focal points in the master bedroom (above) include a vintage chaise lounge clad in gold velvet (rescued from a Charlottesville antique shop) and an unsigned, early-16th-century oil painting that Pellegrino purchased at an Arlington estate sale. The fireplace mantel is made out of an old cast-iron door pediment. "I'm constantly bringing new things into the fold and experimenting with new combinations," says the designer. "Our rooms keep adapting and evolving."