Soda Yoda Delivers Drinks to Your Doorstep
The local service delivers non-alcoholic six-packs and cases to homes and businesses in and around Arlington.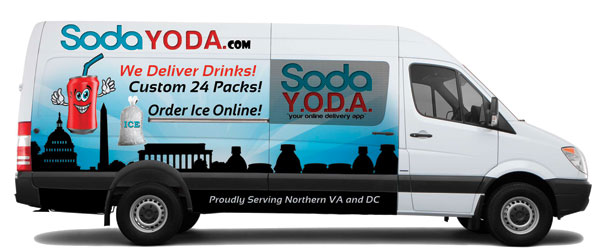 Courtesy photo
Hit any Costco or supermarket parking lot and you're certain to see people rolling massive carts of water and soda to their cars, knowing they'll have to lug the goods inside when they get home. "Once you put three to four cases in your shopping cart, you pretty much have no room for anything else," notes Arlington native Danny Cherlow.
That's why Cherlow teamed up with friends Brandon Raffensperger and Maria Khodorkovsky in 2012 to bring it all to your door. Their company, Soda YODA (Your Online Delivery App), delivers 50 brands of sodas, Snapple, teas, energy drinks, sparkling or regular water, mixers and even bottled Starbucks Frappuccino, along with ice and rental coolers for parties. The delivery service caters to offices, restaurants and individual households, as well as festivals such as McLean Day and Clarendon Day. sodayoda.com