Soup's On
Decompress from holiday binging with slurptacular soups
With the holidays in full swing, it's time to resign oneself to nonstop eating.
There's the slow-roasted bird ceremonially sliced upon on Turkey Day (and most likely picked over for another week). The honey baked hams expected to grace the Christmas dinner table. The gravy soaked-this and whipped cream-topped that deposited in conference rooms for office potlucks. And the pastry-wrapped finger foods (come on, Beef Wellington!) plucked from deep freezers for circulation at neighborhood holiday parties.
Give yourself a break from the heavy stuff by savoring a hot, restorative soup today. Your body will thank you for the reprieve.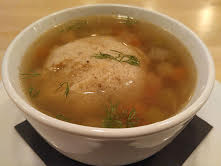 Photo by Warren Rojas
DGS Delicatessen
The matzo ball is big, all right. The central dumpling, crafted with ridiculously rich duck fat, is saturated throughout with velvety stock and perfumed with fresh dill. Diced carrots, celery and onion pack in all the nutrients you need.
DGS Delicatessen, 2985 District Ave. #115, Fairfax; dgsdelicatessen.com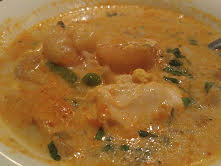 Photo by Warren Rojas
La Granja de Oro
Peru's answer to chicken noodle soup, the chupe de camarones, is laced with plump shrimp, crisp golden corn, diced potatoes, carrots, onions, sweet peas, tender rice and fragrant cilantro, all swimming in yellow, chili-spiked broth. A basket of warm dinner rolls, flanked by pats of chilled butter and housemade hot sauce (live a little; slather it on the bread), provides the tools needed to soak up every last drop.
La Granja de Oro, 2920 Annandale Road, Falls Church; granjadeoro.com
Guajillo
This Tex-Mex standby serves up authentic pozole, a hearty brew featuring chewy corn kernels (originally dried, but fully reconstituted during prolonged simmering), fresh avocado, shredded chicken, onions, herbs and piquant radishes. A sprinkling of tortilla chips ups the crunch factor.
Guajillo, 1727 Wilson Blvd., Arlington; guajillomexican.com
Pho 75
A Vietnamese staple, each steaming bowl of pho can be customized to fit just about any appetite. Carnivores can feast on hunks of brisket, flank steak, eye of round, skirt steak or specialty meatballs. Vegetarians are welcome to fill up on rice noodles, bean sprouts, aromatic basil and fresh mint. Sliced hot peppers and omnipresent bottles of sriracha bring the heat. Just don't forget the greenbacks; it's a cash-only operation.
Pho 75, 3103 Graham Road, Falls Church
Soupergirl 
This mother-daughter led enterprise is all about maximizing healthy, local ingredients. Their creations riff on the familiar (lentils accented with curry; Mexican black bean layered with sweet potato) and celebrate the seasonal (roasted pumpkin sweetened by maple syrup, anyone?). Best of all: they'll deliver the freshly made goodies right to your door.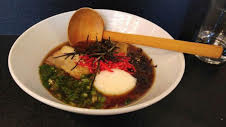 Photo by Warren Rojas
Yona
A far cry from the artificially flavored stuff customarily nuked in Styrofoam containers, this upscale ramen bar does right by the twisty noodles. Bowls arrive brimming with beef short ribs, sliced pork belly, shredded blue crab meat or chicken meatballs, all bobbing in complementary broths. Runny soft-boiled eggs, zesty scallions, umami-stoking seaweed and tangy ginger augment each swallow.
Yona, 4000 Wilson Blvd., Arlington; yonava.com