SpinFire Pizza Goes for Speed
Redskins wide receiver and co-owner Pierre Garcon will be on hand at the May 5 grand opening of Rosslyn's newest pizza joint, which turns out pies in 90 seconds flat.
Apparently, it wasn't enough that his pizza ovens at Paisano's cook pies in six and a half minutes. Founder Fouad Qreitem, who grew up in Arlington and now owns 26 Paisano's locations around the D.C. area (including two in Arlington and two in Falls Church), wanted something quicker.
He had heard about a place in Los Angeles that cooked pizzas in just 90 seconds, with an oven heated to 900 degrees. Customers could go down a line, as they do at Subway or Chipotle, choose their toppings and be seated with their lunch or dinner in less than five minutes.
Fine-tuning this concept, Qreitem opened the first SpinFire Pizza in Ashburn last October. He's since expanded with a second location at 1501 Wilson Blvd. in Rosslyn, which kicks off its official grand opening tomorrow, May 5, from 6:30 to 8:30 pm. (His third is scheduled to open in Wheaton, Maryland this summer.)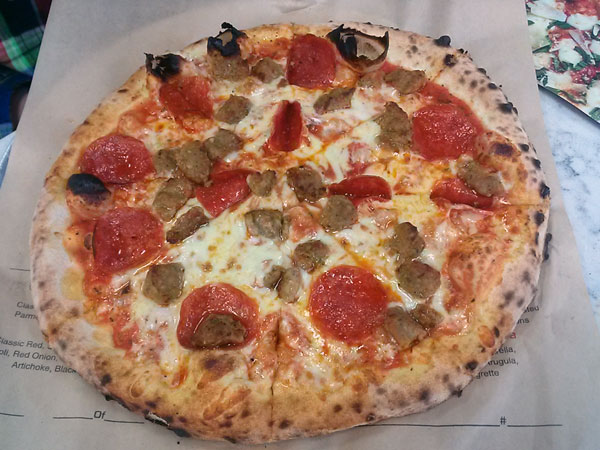 Build Your Own – Pepperoni Sausage
As a veteran of the business, Qreitem understands that selling something as ubiquitous as pizza requires clever marketing. And with SpinFire, he just might be on to something.
Let's start with his pitchman and business partner, Redskins wide receiver Pierre Garcon, who was on location in Rosslyn last Thursday, greeting surprised customers and mingling with starry-eyed children.
"I grew up on pizza," Garcon says. "Whenever there was a choice for dinner, pizza was always my go-to.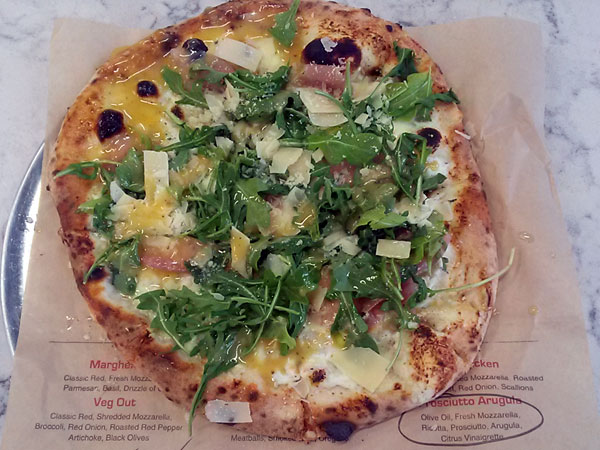 Prosciutto Arugula
After Qreitem approached Garcon in 2012 to do commercials for Paisano's, the two became fast friends. Garcon filmed a series of spots for the pizza chain that have him delivering pizza, taking orders in the kitchen, and asking Siri on his iPhone where to find great pizza, subs and pasta.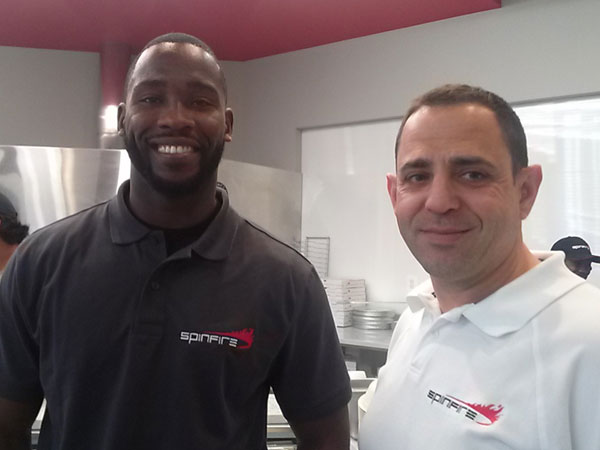 Pierre Garcon and Fouad Qreitem
So it wasn't a stretch for Garcon to sign on as a business partner when Qreitem started talking about his newest concept. "After he asked me, like, 99 times, I gave in," Qreitem says.
Garcon's involvement runs deeper than celebrity branding. "I was looking for something else to get into, and learn stuff from a business standpoint," says the NFL player. "I've learned a lot, from customer service, to employees, to building codes!"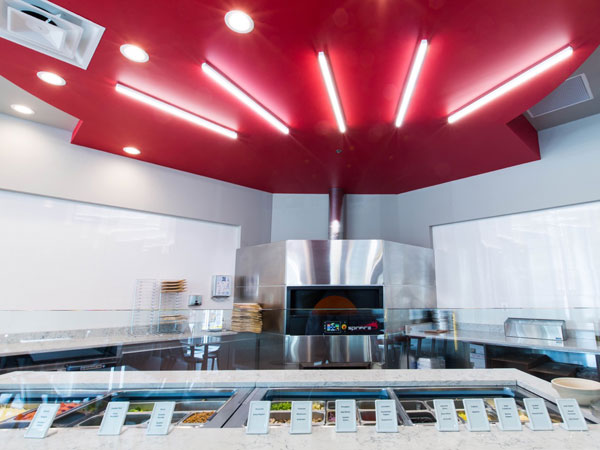 Photo by John Robinson Photography
Spinfire's quick-cooking oven—whose revolving interior inspired the shop's name—is a 7,500-pound behemoth, made in Naples, Italy. It's so heavy that a structural engineer was called in to determine how to reinforce the flooring before the equipment could be installed, Qreitem says. The entire storefront had to be removed just so they could get it in.
Now sheathed in stainless steel and highlighted with a dropped ceiling that's painted red (Garcon's idea), the oven is turning out pies that Qreitem describes as a cross between charred Neapolitan-style and chewy New York-style pizza.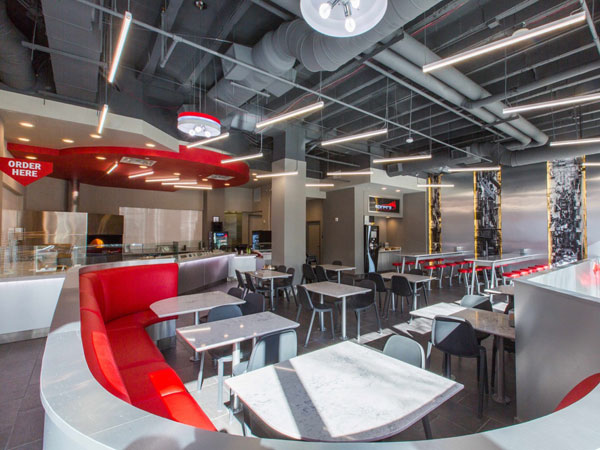 Photo by John Robinson Photography
If you don't want to build your own, you can choose from six "classic" combinations: margherita, vegetable, Hawaiian (Garcon's favorite), meat lovers, BBQ chicken and prosciutto-arugula with a citrus vinaigrette.
And if you're still hungry after downing your personal pizza, SpinFire also offers a gelato bar stocked with flavors from DC-based Dolci Gelati.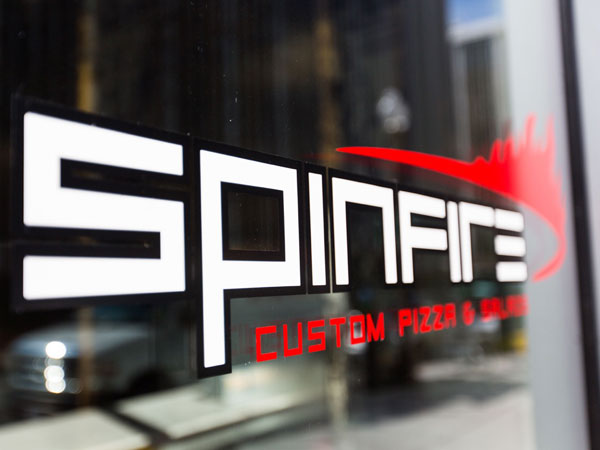 Photo by John Robinson Photography
"It's been really good," Garcon says of the reaction so far. "After all the heartache we've been going through to open, to see the people and how happy they are, and they're amazed that [the pizza] cooks in 90 seconds—it's definitely a good feeling. And now it's on to the next store."