Strike a Pose
Want to give yoga a try? The first step is finding a style that suits you.
"Position your bolster under your back and let yourself sink into this yummy pose," says Jodi Darlage, an instructor at Tranquil Space yoga studio in Clarendon. Piano notes in the background gently lead my thoughts from their ruts. My shoulders spread, releasing the tension of my day into the dimmed air. "Now focus on your breath."
I do, feeling deliciously relaxed, even though Darlage is about to lead me through a challenging Vinyasa flow of poses, known as "asanas." After 10 years of saying I was going to give yoga a try, I finally have, and I am addicted. Yoga is yummy. Its rising popularity in our area suggests that others think so too.
The word "yoga" comes from a Sanskrit word that means to yoke, join or unite. Usually, that unification refers to the melding of mind and body through disciplined poses and controlled breathing. Many yogis will also attest to the spiritual benefits of regular practice. Quite frankly, they crave their mat.
Although yoga has gone mainstream in Western culture (20 million Americans have embraced it), certain misconceptions remain. Some believe it's not a "real" workout, though 73 percent of those who practice regularly say that yoga can be as effective as running, swimming or weight-lifting for building strength, stamina and flexibility. That's according to a 2010 survey by the Yoga Alliance, a national organization headquartered in Clarendon that certifies yoga teachers.
Others avoid trying it for fear of failure or embarrassment, notes Luann Fulbright, owner of the Dream studio in McLean. "People say, 'I'm not flexible enough.' But that's exactly why you come to yoga."
Some simply feel bewildered by the choices—which include everything from "hot" yoga to family yoga and yoga for your dog (no kidding). It's hard for newbies to know where to begin. I started by "test-driving" several studios to learn more about their differences in style, philosophy and practice. Along the way, I gained some helpful insights on how yoga is helping many local residents feel better in body, mind and spirit.
"Usually I feel depressed when I have my birthday. But this year … I feel younger than I did last year," says Arlington resident Kathy Kerr, 58, who started practicing Vinyasa yoga at Tranquil Space about 12 months ago. Kerr noticed a difference in her stamina when she recently completed a rigorous five-hour hike in the Colorado Rockies with her daughter without being sore the next day. She's also lost those few extra pounds, she says, thanks to the cardio dimension of her practice.
André de la Houssaye, 38, a luxury-car mechanic at Mercedes-Benz of Arlington, says yoga has liberated him from years of pain. Because his height (6 feet) has always required him to stoop under the elevated cars, he had chronic back problems for five years that physical therapy and massages couldn't alleviate.
"Pretty much every night I'd be on the La-Z-Boy with the heating pad on my back," de la Houssaye says. At first, he was skeptical about trying yoga (he viewed it as "girlie") until he was referred to Unity Woods, an Iyengar studio in Ballston that focuses on alignment, balance and holding the poses. His instructor helped to correct his bad posture and taught him stretches he could do independently. "Now I can do more things with my life," he says, "because I'm not warped from the pain."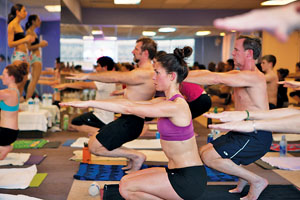 In addition to building flexibility, strength and balance, most types of yoga incorporate breathing techniques—known as "pranayama"—to promote body awareness, increased oxygen intake and relaxation. As a mild asthmatic, I've found that a mere six months of yoga twice a week significantly deepened my own breathing. Nowadays, if I'm in a class that chants, I can hold my "om" (the most popular meditative chant in yoga) nearly as long as everyone else—a small, but meaningful victory for me.
Although the practice is thousands of years old, yoga is subject to trends. Heating the studio is one relatively recent one. It's a technique that some yogis believe helps to loosen the muscles and cleanse the body. If you try Bikram, or hot yoga, the 105-degree studio—meant to mimic the heat of Kolkata, India—can be something of a shock. On my first (and only) try, I was so sweaty I kept slipping off myself. I also realized, in retrospect, that I should have imbibed much more water before the 90-minute class so my head wouldn't be pounding when it ended. But not everyone feels the way I do about hot yoga. Kathleen Dempsey, 46, who has been practicing at Bikram Yoga of Falls Church five times a week for six years now, says she "craves that heat and that sweat."
"You've detoxed yourself and gotten whatever's negative out of you," she says. In every class, Bikram repeats the same sequence of 26 poses, which Dempsey is focused on perfecting.
There are also happy mediums. Some studios, such as Dancing Mind in Falls Church, take a more moderate approach and elevate their temperature to 90 or 95 degrees. "It's hard, but it appeals to me because of the sense of fun there," says McLean resident Laura McCarthy, 34, who practices Baptiste yoga, a type of power Vinyasa, at Dancing Mind twice a week. She likes the variety of poses, the rhythm of the classes and the nonjudgmental atmosphere.
One Aspect of yoga that makes it appealing to participants of all ages and fitness levels is that it's low-impact. Poses, when done correctly, don't require your joints to take a beating, as they do with activities such as jogging, soccer or basketball. That's partly why many physicians, physical therapists and sports trainers now recommend yoga as an integral component of any fitness regimen.
"Yoga is great to incorporate as a cross-training tool," says Barbara Kapas, a doctor of physical therapy at Commonwealth Orthopaedics, which has offices throughout Northern Virginia. "It lets you know where your limits are, and you use your body as a whole." Some instructors say yoga can help correct or even out imbalances caused by repetitive motions (such as running or hitting a tennis ball) that overuse certain muscle groups.
"It can also fit in perfectly with a rehab program," says Frank Pettrone, an orthopedic surgeon at Commonwealth, who often suggests yoga to patients recovering from surgery. But his recommendation comes with a caveat: To prevent new and different injuries, it's important to avoid "forced, prolonged position holds and any arching or twisting of the neck." Individuals with knee injuries should also be careful with deep lunges, he says.
Which brings up a common refrain among experts: Listen to your body, don't do anything that doesn't feel right and don't try to keep up with the person next to you. "Going for the burn" is not the idea. This is not a competitive sport.
Yoga, like any other physical activity, can cause damage when participants contort their bodies to uncomfortable extremes. "The whole point of yoga is to get rid of ego," Glenn Black, a prominent instructor in Manhattan, said in a recent article in The New York Times. The story cited injuries ranging from ruptured disks to torn Achilles tendons in yogis who pushed themselves too hard.
A good instructor will help you modify challenging poses—using props such as blocks, straps or blankets—to prevent strain or injury.
When she was diagnosed with breast cancer last fall, McLean resident Sheri McGrath says the lessons she learned from four years of yoga—which she practices once a week at Sun & Moon in Cherrydale—proved invaluable.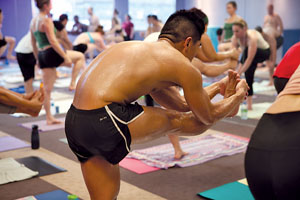 "I used yoga breathing when I felt nervous before a test and before my surgery," says McGrath, 52. "It helped me calm down." Although she had to cut back on other activities during her treatment, she kept going to yoga.
Research suggests that regular practice can strengthen the mind-body connection. Yoga can modulate a person's stress response and reduce anxiety levels, researchers wrote in the April 2009 issue of the Harvard Mental Health Letter. Studies at Brigham and Women's Hospital in Boston have shown that yoga not only reduces chronic pain but can also improve mood, energy level and perceived quality of life. Today, mental health experts at several U.S. medical centers are studying how yoga can help veterans fend off or combat the symptoms of post-traumatic stress disorder.
Childbirth is another stressful time when yoga has proved beneficial. Prenatal yoga has long been used not only to alleviate the aches and pains of pregnancy but also to prepare expectant moms for the mental and physical marathon of labor. "A lot of that discomfort that they feel gets better with yoga, and they have an easier time in delivery," says Karen King, a certified nurse-midwife at the Arlington Women's Center, an OB/GYN practice with privileges at Virginia Hospital Center. "Yoga gives them that relaxation to take their mind off their fears and worries."
In this regard, yoga is as much a mind-set as it is a practice. Rooted in ancient Indian medicine and philosophy, most classes begin with a centering and breathing exercise that encourages participants to leave the outside world and focus instead on the moment.
"As Type A [people], we're always rehashing what happened at the office or going through our grocery list," observes Kimberly Wilson, the owner of Tranquil Space and author of the book Hip Tranquil Chick. "Being in the moment is so subtle, and yet it's the hardest thing in the world [to do]."
Many yogis view their mat as a private island where they can ignore life's demands and focus on renewing themselves. (FYI, it's a major faux pas to step on anyone else's mat.) Studios draw curtains and dim lights in an attempt to exclude the outside world. Smartphones are never allowed inside.
"I don't get many breaks," says Kelly Holland, 40, an Arlington designer with three kids who practices "fast and powerful" Ashtanga yoga at Little River Yoga in Dominion Hills. "When I'm in that yoga studio, I'm only there. It feels like someone is putting firm hands on me and telling me to slow down," she says. "I need that reminder."
Yoga also helps to foster mindfulness, in that each pose requires concentration on certain body parts, alignment, and coordinating your breath with movement. It's difficult to think about anything else, particularly if the pose is challenging.
John Schumacher, who founded Unity Woods and has practiced Iyengar yoga for more than 40 years, says that discipline ultimately pays off. "We're using the body as a vehicle for really refining attention and concentration," he explains. This melding of mind and body can build strength and make participants more mentally aware of how they sit, stand and carry themselves through the world.
One of my experiences with new body awareness had to do with visualizing my foot. It was a simple adjustment for me to picture it as a three-point tripod instead of a two-point line in some of the poses. (Two points are on each side of the ball of my foot, and the third is in my heel.) This "revelation" has greatly improved my balance, so that my tree pose and warrior III pose are much less wobbly. My mind and body are moving toward sync.
Just savor the names of local studios: Dancing Mind. Sacred Well. Journey. Dream. They aim to lure you in for an experience that transcends the physical and infuses the rest of your life.
"We're teaching yoga as a path to healing and wholeness," says Annie Moyer, the director of Sun & Moon, which emphasizes therapeutic yoga. "What we teach is applicable to everything else you do in life."
Enid Kassner, 59, an instructor at Sun & Moon, first took up yoga in the mid-'90s when her daughter was in her terrible twos. "I wanted to immerse myself," she says. "Yoga…has given me training to take a conscious pause and reflect, and it's helped me to establish my priorities in life."
Most instructors recommend trying several studios until you find one that "resonates" with your spirit. One might end each class with enthusiastic clapping, while another may close with a low chant of "om" or the position of prayer hands and a whispered "Namaste" (which literally means "I bow to you"). Some studios offer deeper forays into meditation.
Tranquil Space aims for "a full-fledged sensory experience" with a variety of music, lavender aromatherapy, and tea and cookies at the end. At other studios, you will hear only the instructor's voice guiding you.
Dancing Mind offers a four-week, yoga-based "Create the Life You Want" workshop including journaling, meditation and small-group discussions.
All of the instructors I interviewed spoke proudly about the strong feeling of community at their studios.
Lucia Tolson, 46, a yoga instructor in Gaithersburg, Md., drives down to McLean every weekend to attend a fun and playful family yoga class at Dream with her son, Harry, who is 7.
"I wanted to expose my son to yoga and plant the seed," she says. "It's a place where he feels nurtured. Eventually, yoga will be a place where he can go inside himself and feel better."
Honestly, since I've been doing yoga, I feel measurably stronger, firmer, more focused and—dare I say?—more peaceful. So excuse me; my mat is calling. Namaste.
Amy Brecount White, 49, has called herself a yogi for the past year and thinks the world would be a gentler place if everyone practiced yoga.