Style Counsel
Fall Picks, Fashion to Go and more
The Closet Whisperer
MOST PEOPLE don't wear half of what's in their closets, observes Wendy Pilch, founder of the personal shopping service Spendalla. But she and her fellow stylists can help you figure out which pieces to ditch and which items are keepers. "When you can curate a closet filled only with things you love, it's very cathartic," Pilch says.
During an in-home consultation (60 to 90 minutes at $150/hour), a Spendalla stylist will sift through your closet to get a sense of your personal style and then either go shopping with you, or send you a list of online shopping suggestions based on your budget. Many local stores—including J.Crew and Madewell—offer discounts to Spendalla clients.
"One woman had $300 to update her entire fall wardrobe," recalls Pilch, who launched her business in 2004. "I showed her how to accessorize her current outfits and found her a great pair of boots. You don't have to have a limitless budget to make a big impact."
A mother of two (she's also a Title I supervisor for Arlington Public Schools), Pilch always looks effortlessly polished but never too done—which is exactly why customers seek her out.
"Our clients don't want to look like they came off the runway," she says. "They just want to pick and choose some of those trends to spice up their wardrobe." www.spendalla.com
---
Fall Picks
Spendalla's Wendy Pilch likes these looks for autumn:
DENIM: "We're still seeing skinny or straight legs—but with a weathered finish, not crisp-looking. Gray ankle-length jeans are my go-to for fall."
MUST-HAVES: "Something navy blue. And you cannot go without a great white blouse. Look for brands such as Theory, Equipment, Joie and Gap."
ACCESSORIES: "Jewelry with a stone—agate, turquoise, lapis—will be showing up everywhere and adds interest to any outfit."
SHOES: "Caged booties and strappy pumps, especially with a chunky heel, and especially in nude, which goes with everything and elongates the legs."
FIT: "It's all about good tailoring. If your shirts feel too long, have them hemmed up. Or have your old boot-cut jeans—the ones that are perfectly broken in and fit you like a glove in the waist and hip—taken in at the leg so they're straight-leg."
INVESTMENT PIECE: "Go for a great leather bag in navy or burgundy, which can be paired with any color clothing or shoes."
---
Initial Investment
KATE KARAFOTAS AND MARGAUX CALLAHAN met in 2007 in a Stroller Strides class at Lubber Run and became fast friends. By the time they enrolled their daughters at Children's House Montessori School a year and a half later, they knew they wanted to become business partners, too. "It just took us seven years to figure out which business," Karafotas laughs.
As it turned out, necessity was the mother of invention. Karafotas, whose daughters both ride horses, couldn't find someone local to monogram her daughters' riding gear. So she and Callahan teamed up and invested in a machine that would allow them to do it themselves. In June, they launched Piper & Charlie (named for their dogs), a service that offers monogramming for just about anything you can stick with a needle and thread—from the usual towels, handbags and diaper totes, to yoga jackets and more.
Piper & Charlie has become popular on the local trunk show circuit, offering customization services, along with gifty $20 items such as monogrammed chevron-print infinity scarves and colorful place mats. "We'll personalize things that people bring us, but we excel at coming up with items that are really unusual," says Karafotas, who strives to keep her wares moderately priced. "We want you to see it, love it, buy it and not have to think twice." www.facebook.com/pages/Piper-Charlie/1486157181601187
Fashion to Go
Move over, food trucks: These mobile boutiques in our area offer bite-size doses of retail therapy at price points that are easy to swallow. And most can be booked for private parties.
STYLERIDE. Designers Jen Nemerow and Cindy Perkins have been bringing on-trend clothing and accessories to the suburban masses since January 2013. "We wanted to offer something to moms who were sick of getting their date-night outfits at Target because that was the only store they could manage to get to," Nemerow says empathetically (she and Perkins have six elementary-school-age kids between them). On their truck, you'll find handbags, jewelry, scarves and clothing in sizes S to 3X from labels such as Ariella, Aryeh and Love Stitch, as well as camisoles and leggings by NIKIBIKI. Nothing in the truck costs more than $85. www.stylerideboutique.com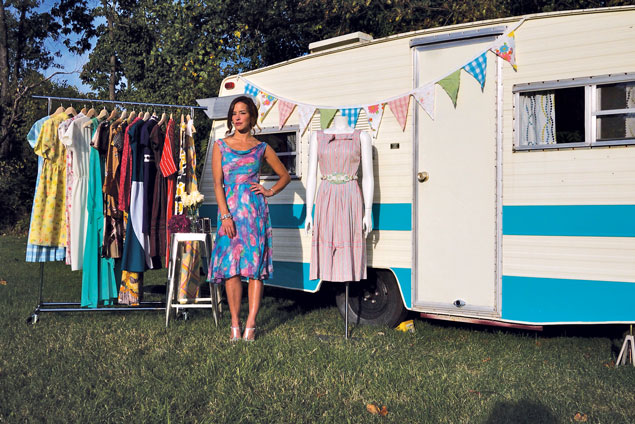 GYPSY DE LA LUNE. "My sweet spot is fashion from the '40s through the '80s," owner Ashley Grant says of her trove of vintage finds. "And I love the Mad Men silhouette: the defined waist and full skirt." Her goal, she explains, is to mix vintage with modern to create a look that's unique but not costumey. Most items are priced from $20-$50, though some of the more unusual pieces can run closer to $200. Grant keeps her stock small and focused, "so that I can help make a connection between a garment and its new owner." Events are by appointment only and can be made through her website. www.gypsydelalune.com
CURBSIDE FASHION TRUCK. Myss Stephens jokes that she had been saving up for a convertible Porsche, but ended up driving a truck. The Census Bureau worker and former board member of Fashion Group International now spends her weekends dishing up glam and glitz in the form of lip glosses and sunglasses, sparkly headbands and edgy dresses, most in the $20-$50 range. "I'm such a gaudy girl," she confesses. "I like a lot of bling. I like sparkle." Follow the truck on Twitter @CurbsideFashtTRK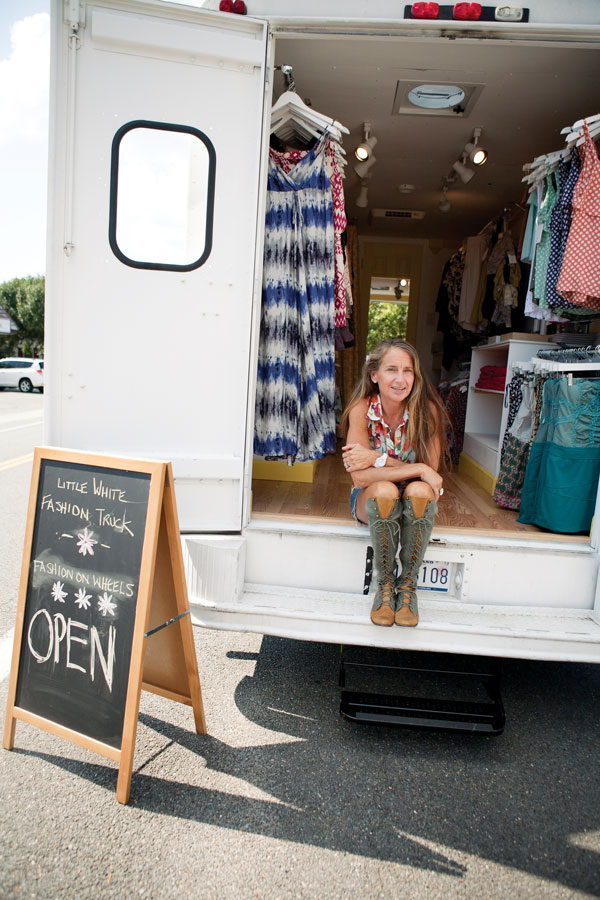 LITTLE WHITE FASHION TRUCK. A former co-owner of White House/Black Market and current faculty member at the Fashion Institute of Technology in New York, Shelley Sarmiento launched her first roving boutique in July 2012. Her fleet now includes four trucks along the East Coast, making it a veritable fashion truck chain. Boho-chic pieces range from $19-$79, and jewelry maxes out around $24. www.facebook.com/LittleWhiteFashionTruck
NOLLYPOP. Centreville stay-at-home mom Becky Badillo overhauled a 1967 vintage camper (which she affectionately calls "Elizabeth Traylor") to showcase a unique stock of delights and accessories. Most of the items that Nollypop sells—pillows, umbrellas, wineglasses, clutches, jewelry and children's accessories—are handmade, many by Badillo and her equally crafty mother. www.facebook.com/NollypopNet
STREET BOUTIQUE. A former manager for high-end salons, Sharlia Lee started out hosting small-scale trunk shows in her living room before hitting the road in her pink truck in September 2013. Street Boutique serves up fresh inventory every week from West Coast labels such as Ark & Co., Flying Tomato and Line & Dot, as well as hard-to-find Australian brands like Wanderlust (jewelry) and Reverse (maxi dresses and fall sweaters). shopstreetboutique.com
THE PINK ARMOIRE. This spring, Elizabeth Mason, owner of the prepster boutique Periwinkle, launched a more affordably priced but equally sweet 'n' girly website, showcasing dresses from brands such as Peach Love Cream and a handful of different heels and flats by Restricted, as well as tailored blazers, swingy skirts and baubles galore. Mason has plans to launch a truck this September that will do both scheduled stops and private events. shopthepinkarmoire.com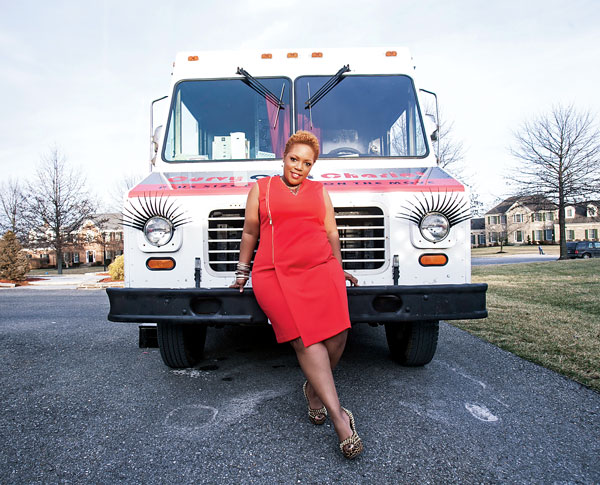 CURVY CHIX CHARIOT. "I'm a plus-sized woman who loves to dress," says owner Donna Hundley, who introduced her mobile fashion stop for plus-size women in September 2013. "I know how we are faced with a lot of fashion challenges, so I want to put all my energy into showing women how to feel great about the clothes—and the skin—that they're in." Hundley offers brands that are typically found only online, such as Monif C. and Kiyonna, giving shoppers the opportunity to try on things that they might not want to order, sight unseen. She stocks clothing in sizes 14-24, along with accessories, jewelry, handbags and shoes. www.curvychixchariot.com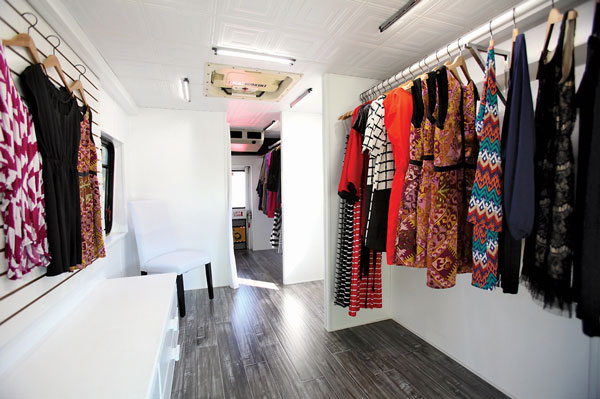 THE THREAD TRUCK. Taking inspiration and advice from their friend Katherine Glorioso Dress (owner of the Crystal City boutique Gossip on 23rd), Brooke Jordan and Stacey Kane launched The Thread Truck in March 2013, emulating Gossip's emphasis on comfortable, casual California-chic clothes. "The kind of stuff that you could wear to work on Friday, but definitely not on a Monday," says Jordan, a former radio account executive (Kane's background is in marketing). The truck carries dresses, scarves, jewelry and separates, and nothing costs more than $75. www.thethreadtruck.com