Summer Cocktails: Cool Sips
What to drink now in Arlington, Falls Church and McLean
It's hot out, and at the end of a long day there's nothing like a cool cocktail to provide some sweet relief. Happily, you don't have to go that far to find something special. Try one of these terrific tipples.
ARLINGTON
We all know that David Guas hails from New Orleans, and if it doesn't already show at Bayou Bakery in Courthouse, try his N'awlins Nector, with honey, grapefruit juice and bourbon. $8.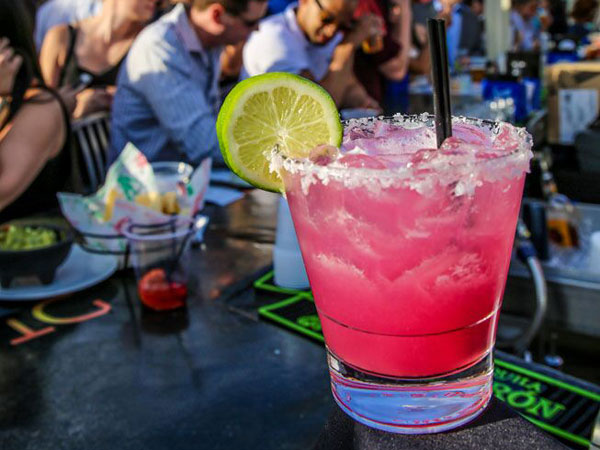 Prickly Margarita at Don Tito's
Had to deal with prickly people all day? Shake them off at Don Tito's rooftop bar in Clarendon with a Prickly Margarita, which blends Milagro Silver tequila, prickly pear purée, agave nectar and house-made sour mix. $10.
In memory of its former sister restaurant in D.C., Clarendon's Fuego Cocina y Tequileria reprises the Ceiba Mojito, with fresh-pressed sugar cane, mint syrup, lime and white rum. $10.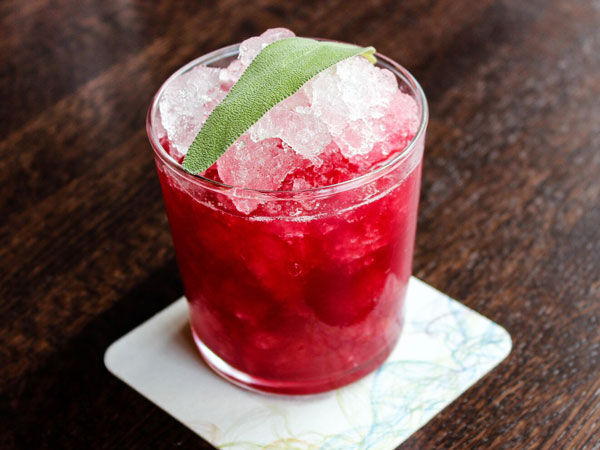 Seasonal A.M. Smash at Kapnos Taverna
As you might expect, Kapnos Taverna's Seasonal A.M. Smash will change flavors with the season. The summer rendition at the Ballston restaurant contains Buffalo Trace bourbon, Dolin Blanc vermouth, blueberry, lemon and sage. $12.
On Columbia Pike, Mazagan's general manager, Reda Bouizar, is partial to the Moroccan-inspired nutty sweetness in Dates for Dates, which mixes Ron Zacapa 23-year rum, puréed dates, Domaine de Canton ginger liqueur, lime and Osborne Pedro Ximenez Sherry. $12.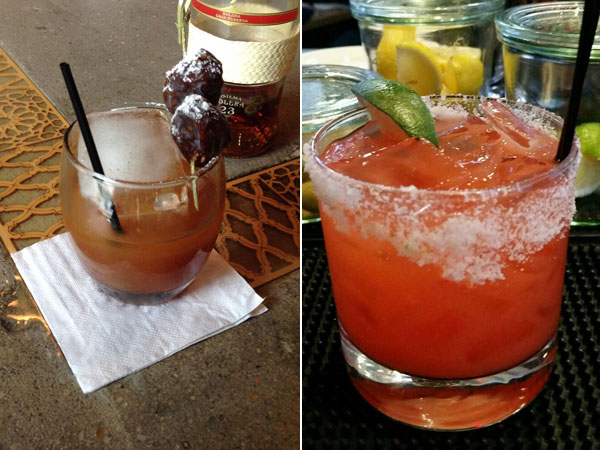 Left: Dates for Dates at Mazagan. Right: El Camino at Mussel Bar & Grill
Mussel Bar & Grill occupies a Ballston corner that was formerly home to Bob Peck Chevrolet, so its cocktails are named after Chevy models.  Try the El Camino with Espolon Reposado tequila, blood orange, lime juice and hellfire bitters. $10.
Also in Ballston, SER is hitting a nostalgic note with the Pippi Longstocking Sippycup, which mixes El Dorado rum with sherry vinegar-strawberry shrub. $8.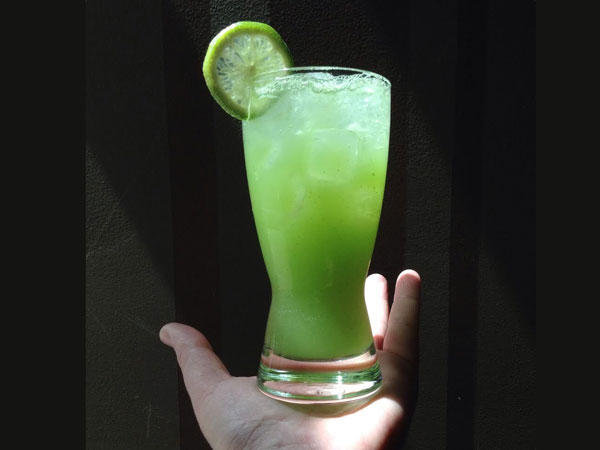 Victor's Secret at Water & Wall
Water & Wall's sous chef, Victor Tam, is the inspiration behind Victor's Secret, which blends white rum, fresh lime, mint and cucumber. One night during a busy shift at the Virginia Square restaurant, Tam puréed a batch of cucumbers for the bartenders, but kept some for himself, blending the mix with soda water and mint syrup for a refreshing pick-me-up to power through the night. The bartenders added some rum for the cocktail version, and voila! $12.
FALLS CHURCH/MERRIFIELD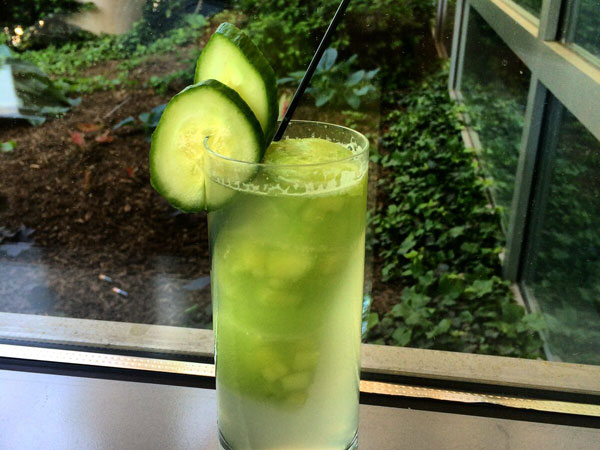 Jack's Gin & Tonic at 2941
For those who like their summer cocktails straightforward, 2941 offers a dressed up version of the classic G&T: Jack's Gin & Tonic combines locally produced Green Hat gin, Jack Rudy tonic and elderflower syrup with lime, muddled cucumber and soda. $12.
In the Mosaic District, B Side Bar and Spirits Director Jeff Faille recommends the Sweet Thing, made with Elijah Craig bourbon, Aperol, Jack Rudy grenadine and lemon. "This drink shows off the forgotten lighter side of bourbon, and how it can be used in an easy-to-drink cocktail," Faille says. $12.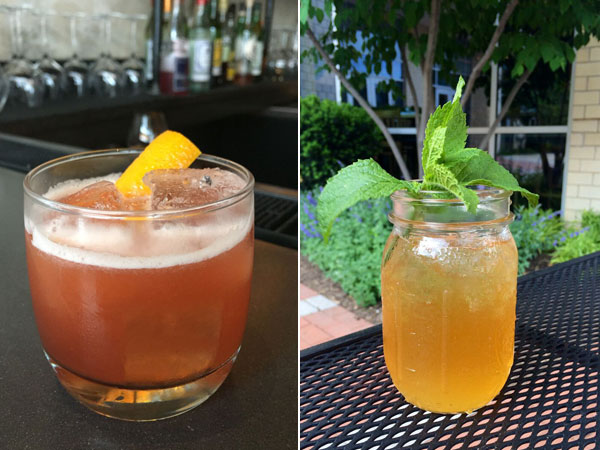 Left: Sweet Thing at B Side. Right: Summer Shandy at Pizzeria Orso.
Beer is a natural companion to pizza, but Pizzeria Orso in Falls Church City makes a cocktail out of it with the Summer Shandy, which mixes ginger beer, lime juice, mint syrup, and crushed ice—topped with Kölsch beer. $9.
McLEAN/TYSONS
Barrel & Bushel's bar at the Tyson's Hyatt puts its own spin on the mint julep: The Ginger Peach Mint Julep includes Jim Beam bourbon, peach schnapps, sour mix and ginger syrup—garnished with fresh mint, of course. $9.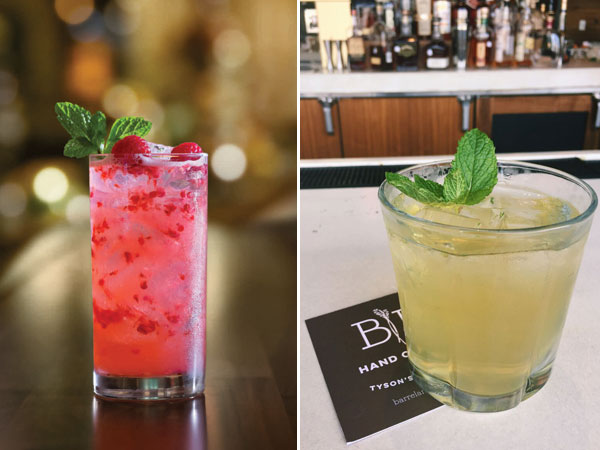 Left: Raspberry Rickey at Eddie V's. Right: The Ginger Peach Mint Julep at Barrel & Bushel
Also in Tysons, Eddie V's invokes the swinging 1920s shoreline parties of Jay Gatsby's fictional Long Island estate with the Raspberry Rickey, the only drink mentioned by name in the classic American novel. Eddie V's version combines fresh raspberries with Blue Coat American dry gin, soda, lime and a mint garnish. $12/ $10 during daily happy hour from 4-7 p.m.