Taco Bamba to Collaborate with Guest Chefs
The Guest Taquero Series will feature a special taco by a different D.C.-area chef each month.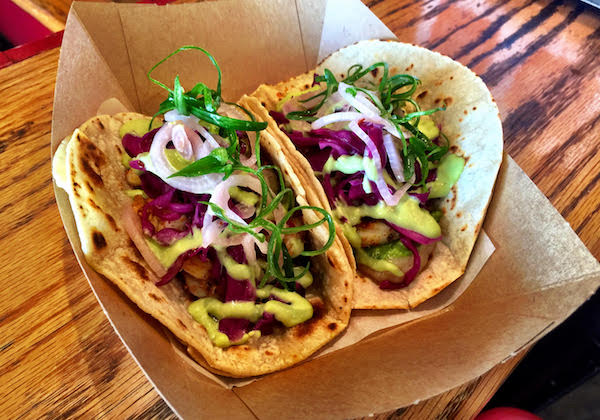 The crab-stuffed "Ma's Crabs" taco will be available through the end of March. Photo courtesy Taco Bamba.
Visitors to Falls Church taqueria Taco Bamba can enjoy the work of two Virginia chefs this month as Bamba's award-winning chef Victor Albisu welcomes Water and Wall's Tim Ma to the restaurant on March 10.
Ma is the first in a line of D.C.-area chefs participating in Taco Bamba's "Guest Taquero Series," which will feature a guest chef-created taco each month along with a one-night-only visit by the chef.
Available through the end of March, Ma's taco is dubbed the "Ma's Crabs" taco and features a corn tortilla with seared Maryland crab, green goddess dressing, spicy slaw and chicharrones for $5. Ma will be on hand to serve customers along with Albisu from 6:30-8:30 p.m. March 10 at the restaurant.
A tentative list of participants in the series includes Mandu's Danny Lee for April; Ripple and Roofer's Union's Marjorie Meek Bradley for May; Jennifer Carroll, of Requin, in June; Scott Drewno, of The Source, in July and The Red Hen's Mike Friedman in August.