Tales From a Blended Family
A real-world Brady Bunch in Arlington.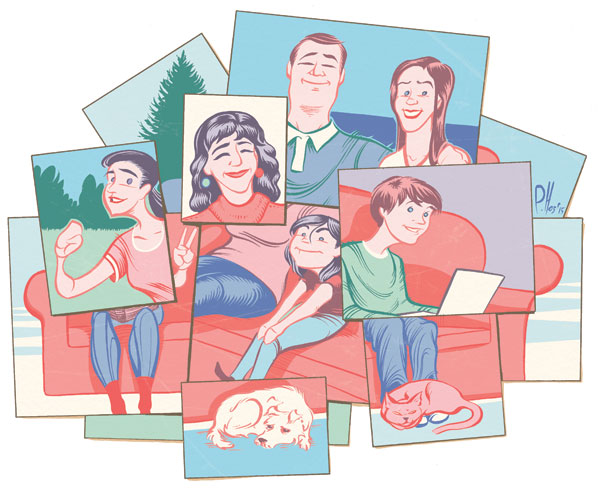 My partner, Roger, and I are on Life 2.0, as we like to call it. We were both married previously, we each had two kids from these marriages, and we are now blending our lives—Brady Bunching in all its glory. But it's been a gradual process. Though we have been together for seven years, we deliberately took our time introducing our four children into our relationship, understanding that they were also going through a period of transition and adjustment. When I was asked to write this essay, my first thought was, How do I do justice to all that has happened in our lives?
After our respective separations and divorces, both of us, for a time, maintained family dinners and even shared holidays with our children and former spouses. It was my 6-year-old daughter who finally stated that if we were going to build a new family, we should start creating the new one and not focus so much on maintaining the old ones.
From the mouths of babes. At that point I realized that we, the adults, sometimes do things that make us feel better but don't actually help the kids move forward.
In November 2014, Roger and I officially combined our families and moved into a townhouse in Clarendon with all four kids (ranging in age from 9 to 15), just in time for the madness of the holidays. While certain aspects of the season can be draining and bring out anyone's inner Grinch, one of the bright spots for me has always been creating my family's annual holiday card. It's an opportunity to reflect on the joys of the past year and to reconnect, even if only with a few handwritten words on each card, with family and friends.
But last year's card was different—it represented the first year Roger and I would be sending out holiday greetings as a blended family. And with six people in a small house (one child sleeps in the basement, two share the loft, and the fourth has a bedroom), we were still figuring out the nuances of togetherness.
Given our close quarters, I thought it would be easy enough to capture a picture of the six of us for the card. In fact, it proved nearly impossible. I'm not talking about a professional portrait in which we are all wearing clean khakis and crisp, white shirts, sitting on freshly mowed grass or perched on a sand dune. I just wanted the six of us to sit on the couch together and have someone take a photo.
But circumstances repeatedly conspired against this plan. There were sports practices, art classes, getting home late, the bad hair day (we have two teenagers), a bat mitzvah, a birthday party … you name it. Somehow the reality of life always got in the way of the portrayal of it. The more I wanted this photographic ideal, the more it seemed to be slipping from my hands. And yet I continued to hold on tightly to the original plan.
Well, as with most things in life, if we learn to loosen our grip on what we think should be and become more open to what is, things have a way of falling into place. Sometimes they work out better than we ever imagined.
On the day we went to Merrifield Garden Center to buy a Christmas tree with five out of the six of us present (a colossal victory), I let go of the wish and embraced what was. That's when I realized that the highlights reel from our previous year was composed mostly of various iterations of the six of us but seldom all of us in one place.
So that's how we decided to tackle the card. That day at the garden center, I took a picture of the eldest and the youngest picking out holiday decorations. It became part of a collage of memories—some candid shots, some posed, some selfies, all with various combinations of us—and that felt just right.
In retrospect, I saw that the previous year had been about each of us coming out of our comfort zones and finding ways to connect with the others as we joined together as a family, whether through love of sports (and a shared affinity for Boston sports teams), making a dessert together, cheering on the sidelines of a soccer game or in the bleachers of a softball game, crafting a handmade birthday card, or buying a gift just because one child thought another would like it.
Were there a few bumps along the way? You bet. Early on, I was adamant about cooking meals for everyone and having sit-down dinners with the six of us. Nothing forces you to check your sanity at the door more than trying to cook for four kids with various eating preferences. I learned quickly—imagining the dismay of my late Italian grandmother—that chicken Parmesan doesn't always include tomato sauce and that a wish for foods prepared a certain way isn't just about flavor preferences but sometimes represents a longing for what used to be in the prior nuclear family.
We have since started a tradition of preparing and cooking meals together. That has been far more enjoyable for everyone than my solo culinary journey.
It was a year of getting to know one another and learning to appreciate each person for who they are and what this family is and will be. And a year of learning, again, to loosen our grip on life.
Through the process of blending a family, Roger and I hope to be teaching our children resilience, openness, compassion and generosity. Most important, we are modeling what we believe is true partnership and love. We never could have predicted this journey, and we wouldn't have it any other way. We often express how fortunate we feel for what we share with each other and what we are building as a family.
One week after Christmas last year, we all went away on vacation together, and with ease had several pictures taken of the six of us. I had to laugh—and so did the kids.
Maybe we'll use one of those shots for this year's card. Or maybe not.
Kiersten and Roger are "all in" partners in work and life. They have their own consulting business in Clarendon and hope to move into a larger home this fall. Their 2015 holiday card is still in the works.