Tales from a Local Flower Shop
The owners of Company Flowers on Lee Highway in Arlington have stories to tell. And they sell more than bouquets.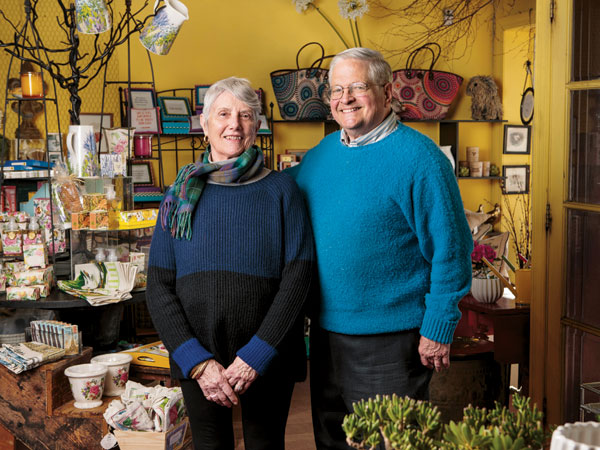 Shopkeepers Marnie and John Nicholson. Photo by Mike Oliver.
In the 23 years they've been running Company Flowers & Gifts—a narrow boutique in an unassuming strip of shops on Lee Highway—Marnie and John Nicholson have witnessed local residents' most intimate and significant moments.
"Running a floral shop is the closest you can get to being a central part of a community. We know who gives birth, who gets married, who dies," John says, referring to the life events that are so often celebrated or soothed with flowers.
At times, the Nicholsons have also been privy to a few torrid details they would have preferred not to know. (Ask them about the Valentine's Day when a customer's husband ordered three bouquets to be delivered to three different women, none of whom were his wife, and each with the exact same sentiment—You're my one and only. "Yep. That was awkward," Marnie cringes.)
Fortunately, most of the drama in this happy space is reserved for the flower arrangements, which range from delicate orchids to the popular "French Wink," a compact nosegay of bright greens, tiny buds and blossoms around a single oversize rose.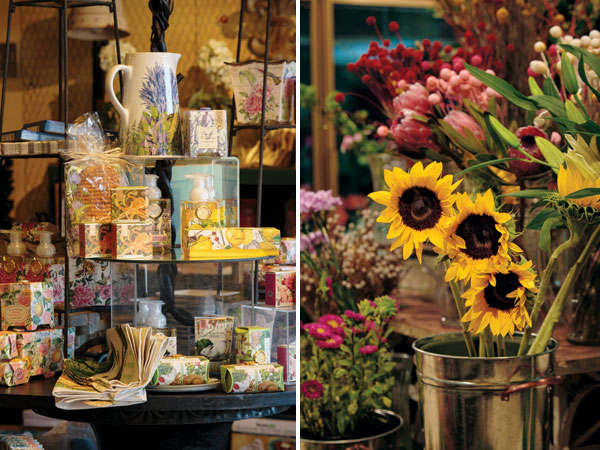 Pitcher by Mary Lake Thompson, $47.50; soaps and gifts from Michael Designs, $12.50 and up. Cut flowers are sold by the stem, starting at $1.50 (sunflowers are $4.50 each), and in arrangements, $30 and up ($55 minimum for delivery). Photos by Mike Oliver.
In addition to sourcing from local growers and flower wholesalers, the owners have a San Francisco vendor who sends blooms and plants that aren't easily found on the East Coast. The stock changes weekly, but has been known to include exotic tropical leaves, waxy pods of eucalyptus and a ruffled varietal of purple Japanese ranunculus that resembles exploded popcorn kernels.
A huge tower of high-end silks at the center of the store (also available for arrangements) requires a double-take before I realize it's not real.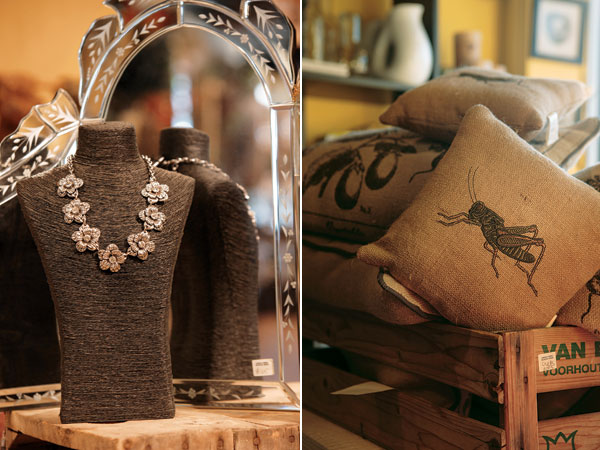 Jewelry, $15 and up; Venetian vanity mirror, $165. 5 Printed burlap throw pillows, $22-$37.50. Photos by Mike Oliver.
But flowers aren't the only stock-in-trade here. The shop has long been my go-to for funky presents for my kids, pretty gardening tools for my mom, unusual birthday gifts for friends, and the occasional something for myself. (After a recent plant-buying binge, I ransacked the boutique for planters and containers to hold all of my newly acquired greenery.)
I usually have to make at least two trips around the store before I can take it all in. I mean, who knew that when I came in looking for a verdigris urn, I'd find a Venetian triptych mirror that would be just what I needed to turn a vintage desk into a modern-glam vanity?
The Nicholsons have been married 47 years and live in Washington, D.C.'s Foxhall Village. They purchased the business in 1991 from a local florist who was looking to retire. "Our kids had gone off to college and I had been doing flowers for our church and some caterers in D.C.," Marnie explains.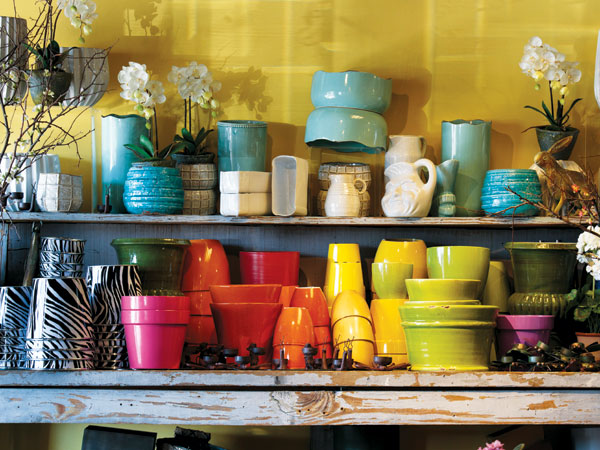 A potting table holds a rainbow of plant containers in varying sizes. Silk orchid with pot, $35. Photo by Mike Oliver.
John, who, over the course of his career, held a variety of positions—including newspaper editor, lobbyist and deputy director of the Peace Corps—"retired" from his job as chief executive of a national trade association to help his wife run the business. Eventually, the couple moved the shop from its original location in Lee Heights to its current spot, less than a mile down the road in Cherrydale. Their daughter and co-owner Wendy, who lives in Bethesda with her family, helps with the window displays and merchandising. She's also responsible for the expansive selection of paper goods, including an entire wall of greeting cards.
Gift-seekers will find high-end soaps and creams from Thymes and Pré de Provence, cheeky jewelry trays and brightly patterned tote bags, along with plenty of fun items for kids and babies—from charm bracelets and pastel piggy banks, to a throw pillow that looks like a real log (which my 10-year-old son thinks is awesome).
There's also a surprising selection of accessories and jewelry, including pieces by local designers "like Rachel Pfeffer, the lady who designed Beyoncé's bee necklace!" John pipes up. There are pillows and candles, pitchers and decanters, vintage utensils that have been repurposed as garden markers—lovely things that make everyday life a little brighter and a little more special.
"The two of us like to shop," John says of the aesthetic they've cultivated over the past 23 years.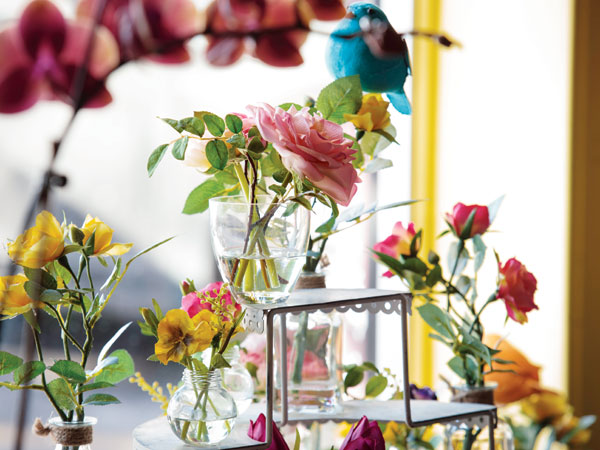 Marnie nods in agreement. "We fill our shop with things that suit our personal taste. Sometimes they fly off the shelves, but even when they don't, we're not unhappy because we just like being surrounded by them."
Got a favorite store or a shopping tip to share? Email style columnist Adrienne Wichard-Edds at adrienne.wichard-edds@arlingtonmagazine.com.