Tall Ships Carry Tall Tales in Chestertown, Maryland
Maritime history and legends abound during the colonial town's annual Downrigging Weekend, Oct. 29-Nov 1.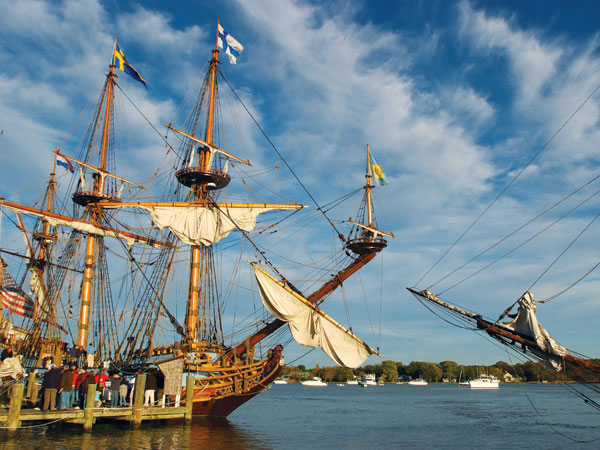 The tall ship Kalmar Nyckel. Photo by Michael Ventura.
Most cars cross the Chesapeake Bay Bridge and veer right toward the beaches, but on a late-fall day, I find myself steering left onto Rt. 213 to the historic port of Chestertown, Maryland. Founded in 1706 as a British royal port of entry and situated above a bend in the Chester River, this tidewater town—which bills itself as "America's best preserved Colonial seaport"—celebrates its heritage with some cool modern spins.
The occasion for my visit is the annual Downrigging Weekend, which started 15 years ago as a showcase of the many wooden vessels—tall ships, tiny cats, skipjacks, oyster boats—that have plied these waters for centuries. (This year's event takes place Oct. 29 through Nov. 1; see sultanaeducation.org.) The centerpiece of the festival is the Sultana, a locally built replica of a 1768 ship that the British used during Colonial times to enforce tea tariffs.
I arrive early on a Friday afternoon amidst talk of a polar vortex that is bearing down on the region, though today the weather is mild and the Chester River is nearly flat, festooned with colorful flags that gently flap from atop the ships' masts. Strolling the dock provides eye candy for any boating enthusiast.
From the impressive Sultana to its equally gorgeous counterpart, the Kalmar Nyckel (a replica of a Colonial Swedish ship), each registered boat has a helpful placard indicating its name, origin and designer. I am drawn to the Shaker simplicity of the Aubrey, a small Beetle Cat built in 1967 that seems perfect for a romantic sail for two. (The Aubrey's owner later gives a bagpipe concert on the dock.)
"How does the weather look?" I ask the woman at the information tent. As advised, I've booked several cruises for the weekend—with fares ranging from $25 to $55 per person—in advance online. But the forecast is iffy.
"It would be good to get out on the water today," she suggests. "The ships are doing private cruises, but you might talk your way on a boat."
I'M NOT ONE to pull rank, but I long to be on the water below those billowing sails. Flashing the verbal equivalent of a press badge, I traipse from ship to ship, pleading for passage. Most turn me away, until the Pride of Baltimore II graciously allows me to stowaway, more or less, on an educational cruise sponsored by the sailing club of Washington College, which is also located in Chestertown.
As we pull away from the dock, puffy clouds that could have been painted by Constable fill my horizon as the cries of swooping gulls, the briny scent of saltwater and a sense of triumph swell my senses.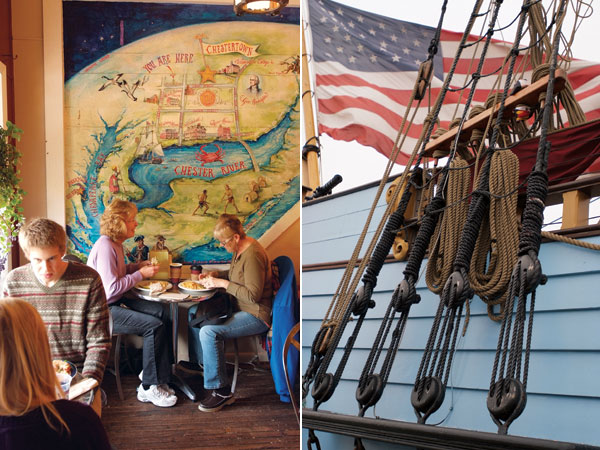 Left: Play It Again Sam, a coffee house on South Cross Street. Right: Riggings on the Kalmar Nyckel. Photo by Michael Ventura.
The Pride is a replica of an 1812 Baltimore topsail schooner—a Baltimore clipper—that ran circles around the more cumbersome British vessels, Capt. Jamie Trost explains. As we head out, the late-afternoon sun casts a honeyed glow on the other polished wooden ships passing by. Like Pride, most of the big ships in our midst serve as floating classrooms promoting history and environmental stewardship.
"Why are all those ropes everywhere?" a boy asks his dad, gesturing toward the neat coils that form the veins and sinews of the tall ship—the same ropes that will soon be tucked away for winter in the deconstruction known as downrigging (although the festival might be more aptly named pre-downrigging, given that visitors don't get to see the ropes and sails actually being taken down).
"She runs on wind and muscle power," Trost says to the boy, explaining the ship's intricate system of masts, sails, pulleys and cables.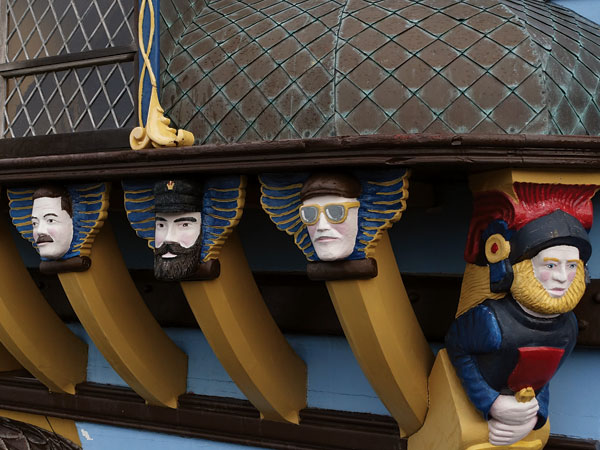 Next, he launches into a series of nautical yarns, starting with the origins of why it's considered bad form to put one's elbows on the dinner table. In Colonial times, sailors usually ate with their elbows on either side of their plates to prevent the plates from sliding as the ship rolled, he explains, and British seafarers who were shorthanded would often scour harbor pubs and inns, looking for deserters and "volunteers." Those who ate with their elbows on the table were presumed to have maritime training and were often pressed into His Majesty King George's service.
Apocryphal or not (there is some disagreement online), it's a great story. Plus, getting on the water gives me a prime view of the historic homes and gardens that line the shore of this quaint town, which, over centuries, gained prominence and wealth through tobacco, the slave trade and wheat. Nowadays its biggest business seems to be tourism.
No one seems to mind that the tall ships are accompanied by some potentially tall tales. Legend also has it that, five months after the Boston Tea Party revolt (news traveled slowly in 1774), residents of Chestertown, in an act of solidarity, dumped tea into the Chester River from the British ship the Geddes. Whether this event actually happened or not matters little to the locals who reenact the protest from the deck of the Sultana every Memorial Day weekend, when the town also offers cruises, tours, wine tastings and wandering minstrels (www.chestertownteaparty.org).
TRUE TO FORECAST, the next morning brings lashing rains and winds gusting up to 40 mph, which keeps all the ships tied down. I entertain myself with the largest, most decadent cinnamon roll I've ever eaten at my place of lodging, Simply Bed & Bread, along with fresh fruit and a dollop of basil ice cream, before heading over to the town's central square, with its ornate 1899 fountain of Hebe, cupbearer to the gods. On Saturdays, the square is filled with farmers and crafters hawking their wares.
Downrigging Weekend also coincides with the second weekend of Chestertown's annual art studio tour. Though the tour includes artists' studios throughout Kent and Queen Anne's counties, I find plenty of work to admire right in Chestertown, which recently gained an official "Arts and Entertainment District" designation from the state of Maryland. (Be sure to pick up the pamphlet available at local shops and B&Bs, which has a map and describes each artist's work in detail.) I check out the Chestertown RiverArts Gallery (chestertownriverarts.org), then walk across the hall to visit the stunning Hegland Glass shop, with its delicately crafted geometric bowls and platters.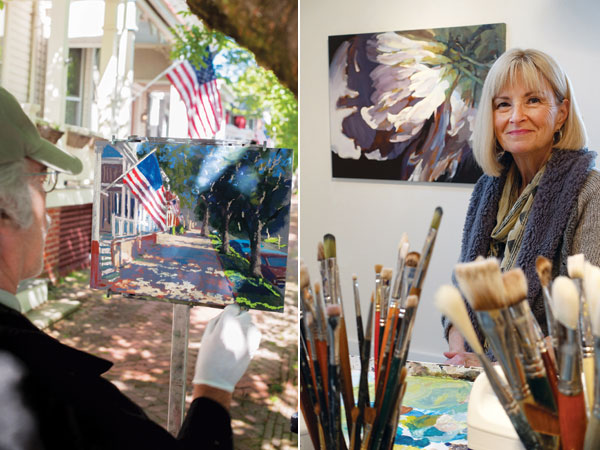 Left: A plein air painter on High Street. Right: Artist Susan Kerns in her painting studio. Photos by Michael Ventura.
Later on, the weather clears and I stroll the town's red-brick herringbone sidewalks, regarding a procession of well-kept Federal, Italianate, Queen Anne and Victorian homes. George Washington reportedly visited this area eight times, and I can see why. Blooming roses and even some azaleas peek out from hidden gardens, enjoying a last hurrah before winter.
The population of Chestertown (5,277, according to 2013 data) hasn't changed too much since 1790, the year of the first U.S. Census. But on this weekend, the place is packed as the town pulls out all the stops with gospel and folk concerts, dancing, wine tastings, nautical lectures and book signings, charming shops and revelers in costume.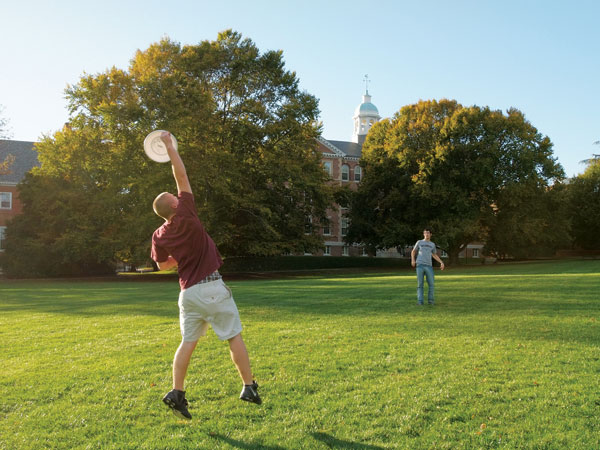 Washington College. Photo by Michael Ventura.
A 45-minute recorded headphone tour of the waterfront is provided by scholars and students from Washington College. It focuses largely on the town's 1746 Custom House, once the residence of Thomas Ringgold—who is ironically remembered as both a revolutionary "Son of Liberty" and a prosperous slave trader—and now run by the college's C.V. Starr Center for the Study of the American Experience.
The tour doesn't sugarcoat the area's slave-trading history (it includes some graphic details), although not all of the slave stories are grim. In 1855, Harriet Shephard impressively led her five children and friends to freedom by stealing her master's two coaches and four horses and driving them all to a stop on the Underground Railroad in Wilmington, Delaware. They eventually made it to Canada.
ON SUNDAY, the sun comes out, but the wind doesn't abate, so the ships are once again grounded. At least the larger ones are open for tours. I have a marvelous time hopping from the A.J. Meerwald (a 1928 oyster schooner) to the Sigsbee (a 1904 skipjack) to the Lady Maryland (a cargo schooner replica), all of which are tethered together. I climb down ladders and into the galleys to chat with the crew and volunteers who man these floating works of art.
"This ship is pretty much made of rope and wood," Giani Siri, a volunteer on the Kalmar Nyckel, tells me. Apparently the ship boasts a full eight miles of rope when fully rigged.
Just then, a strain of bagpipes reaches my ear, and I smile up at the yellow-and-blue flag snapping hard above my head. It's the end of the season and everything is shipshape.
STOPPING POINTS
1. Brampton Inn
(www.bramptoninn.com)
This charming bed-and-breakfast in a former peach orchard offers rooms, suites, and cottages, with special packages for a romantic weekend or kayak adventure. Much of its scrumptious fare, including a full breakfast and afternoon tea, includes ingredients from the inn's organic garden.
2. Washington College
(www.washcoll.edu)
George Washington's signature hangs everywhere, as if the school still has his stamp of approval. (No surprise, he was one of the college's earliest and most generous donors.) With its historic buildings and beautiful landscaping, the campus is worth a stroll.
3. Simply Bed & Bread
(www.simplybedandbread.com)
This bed-and-breakfast in the owners' Cape Cod home offers two cozy, "allergy friendly" rooms, a filling breakfast and mouth-watering cookies. It's a 10-minute walk to the waterfront.
4. Lemon Leaf Café
(www.thellcafe.com)
Stop in for the bright and friendly décor, good service and delectable dishes like crab dumplings in Old Bay broth.
5. BookPlate
(www.bookplate.biz)
In addition to used books, this quirky shop sells imported ceramics and olive oil, along with offbeat illustrated books and letterpress products by nearby Idiots' Books, a publishing and printing operation owned by Matthew Swanson and his wife, Robbi Behr.
6. Gabriel's of Chestertown
The boutique sells fun and affordable jewelry, nautical-themed clothing and accessories, and giftables ranging from books to seasonal tableware. There are small sections dedicated to foodies and kids, too.
7. The imperial
(www.imperialchestertown.com)
A stopping point for travelers since 1903, this refurbished hotel offers boutique lodging, wine tastings and an upscale restaurant serving everything from tapas to surf and turf.
8. Garfield Center for the Arts
(www.garfieldcenter.org)
With its jauntily painted art deco entrance, beautiful brickwork and casual atmosphere, this fun venue plays host to acts like the alt-rock band The Ragbirds, whose members last year dressed as The Addams Family for a folksy concert.
9. Evergrain Bakery
(www.evergrainbreadco.com)
Picture cheddar-scallion scones, roasted-tomato-and-feta croissants and baguettes that look positively Parisian. I settled on a Spanish latte (made with condensed milk) and a wild blueberry muffin. Gotta love a place whose WiFi password is ciabatta.
Delighted by its meshing of new world and old, Arlington-based writer Amy Brecount White plans to set sail for Chestertown more often.