Tea Time in Arlington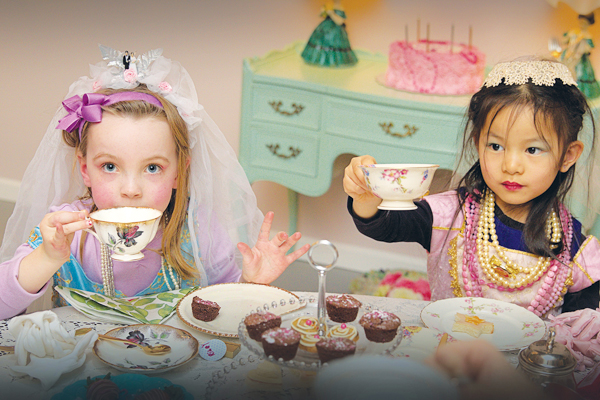 Afternoon tea can be a soothing luxury. Sip a fine, loose-leaf brew from china cups, while nibbling on cute sandwiches and mini-pastries and it's easy to picture yourself as part of the PBS drama Downton Abbey.
Hotels, in particular, tend to maintain this English tradition. "It's a nice way for a reunion between friends and family," says Vincent Feraud, wine director of the Ritz-Carlton Tysons Corner and manager of the hotel's Entyse Wine Bar & Lounge, which offers a variety of tea services. "We get so many bridal showers and older ladies with their granddaughters," he says, noting that Mother's Day is another popular occasion for this pampered ritual.
Taking tea can also be a learning experience—at least when the hostess is Rebecca Czarniecki. She holds children's tea parties, combined with manners classes, in a 1,200-square-foot Falls Church City warehouse decorated with a mix of vintage and shabby-chic furnishings. "Tea is the perfect time to sprinkle in etiquette lessons," says Czarniecki, who launched her business, Tea with Mrs. B, in 2007 and whose clients include the children of Saudi royals living in Northern Virginia. "With the tiny tea sweets as eye candy, we work on how to start a conversation and getting rid of filler words," she says.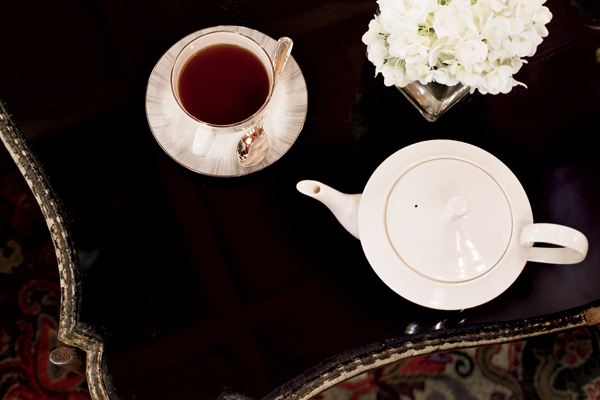 Here are some local establishments that serve afternoon tea. All require advance reservations
Cherry Hill Historic House & Farm
Hold your own private tea for 12 to 20 guests ($30 per person) in the restored dining room of this mid-19th century farmhouse, owned by the City of Falls Church and maintained by the Friends of Cherry Hill Foundation. Monday-Friday, 9 a.m.-3 p.m. "Seasonal Teas," open to the public, are held on holidays throughout the year (reserve one month in advance). The European-style sweets and sandwiches are made by local caterer Natalia's Elegant Creations.
Cherry Hill Historic House & Farm, 312 Park Ave., Falls Church, 703-248-5171, cherryhillfallschurch.org
House of Steep
More contemporary than Old World, this modern teahouse stocks more than 40 kinds of tea and serves nibbles such as wasabi dumplings, edamame pods, chamomile tea scones and more ($22 per person).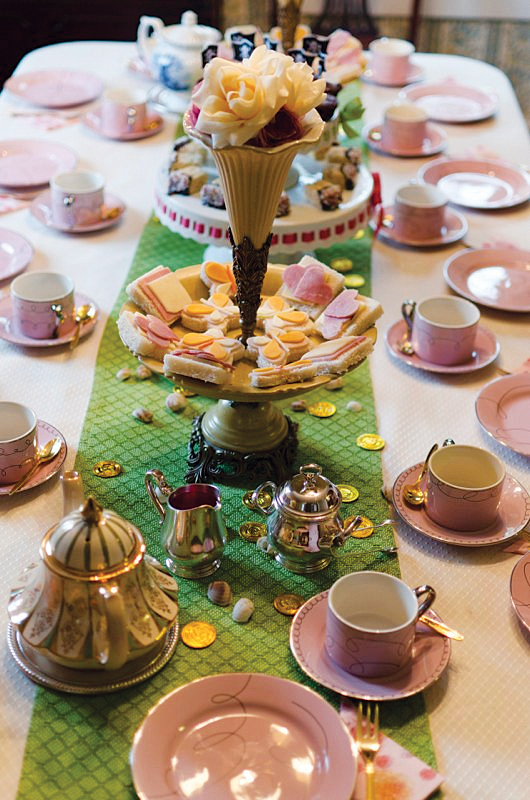 Monday-Thursday, 2:30-5:30 p.m. House of Steep, 3800 Lee Highway, Arlington, 703-567-1589, www.houseofsteep.com
The Ritz-Carlton Pentagon City
Fyve Restaurant Lounge has teas ranging from a Teddy Bear children's tea ($16 per person), to Tea Royal ($42 per person) with traditional sandwiches, scones, pastries and sparkling wine. Saturday, 2:30-4:30 p.m.; Sunday, 3-4:30 p.m. The Ritz-Carlton Pentagon City, 1250 South Hayes St., Arlington, 703-412-2762, www.ritzcarlton.com
The Ritz-Carlton Tysons Corner
The hotel's elegant Entyse Wine Bar & Lounge offers a choice of tea services. The most requested is the Royal Tea ($56 per person), a two-course experience with tiered trays of savory sandwiches, followed by a dessert course of cookies, tarts, scones, fresh strawberries and whipped cream, plus a glass of sparkling rosé wine. There are vegetarian and gluten-free options. For children 12 and under, there's a Peter Rabbit Tea ($34 per child) with options such as PB&J, turkey-and-cheese sandwiches, chocolate-dipped strawberries, fruit tarts and hot chocolate. Thursday-Sunday, noon-4 p.m. The Ritz-Carlton Tysons Corner, 1700 Tysons Blvd., McLean, 703-506-4300, www.ritzcarlton.com
StarNut Gourmet
Owners Joe and Denise Shehadeh offer a tea service that's heavy on sweets ($29 for adults; $15 for children 12 and under) in both "The Gallery" room of their McLean café and on the terrace, which overlooks a park and fountain. The fine pastries are made by Patisserie Poupon in Georgetown. Monday, Thursday and Sunday, 2-5 p.m. StarNut Gourmet, 1445 Laughlin Ave., McLean, 703-749-9090, www.starnutgourmet.com
Tea with Mrs. B
Rebecca Czarniecki's business hosts private children's tea parties. A typical weekend event for eight children ($365) includes dress-up and makeup, a craft and an etiquette lesson. The tea service, using vintage china for sandwiches and sweets, is an additional $64. Tea with Mrs. B, 136 West Jefferson St., Falls Church, 202-448-2930, www.teawithmrsb.com