Teff Love – Authentic Vietnamese at "Korea Town"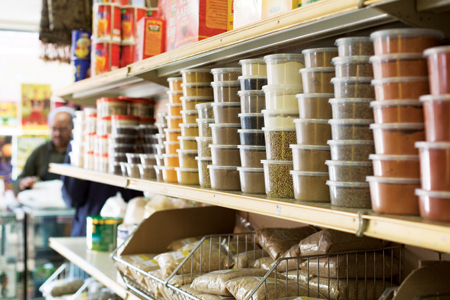 For Authentic Vietnamese shopping and dining, locals flock to Eden Center. Annandale is known as "Korea Town." But where can one go to experience a full-blown sensory explosion of East African and Middle Eastern food and culture? We recommend a visit to the lesser-known Build America at Skyline shopping center in Bailey's Crossroads in Falls Church. Housing 28 food businesses in a two-block strip mall, it's a vibrant warren of halal butchers, restaurants, grocers and hookah cafés, with a strong showing by Ethiopians. With that ethnicity in mind, nearly all of the grocers stock injera flatbreads, the most authentic of which are made with nutritious teff flour (a whole-grain flour with a sweet, malty flavor that is rich in iron). In addition, many of the shops and cafés are known by regular customers for their specialties. Here's a sampling:
Tenadam International Market: Owner Tenadam Yilma is noted for her Ethiopian breakfast menu (8 a.m. to noon) featuring fresh fried bread topped with dates and honey. 3817-C South George Mason Drive, 703-933-6038
NCF Market: This sunny shop has a large selection of locally produced Ethiopian-style, spongy injera flatbreads, as well as more-traditional injera made with 100 percent teff flour, imported daily (except Sunday) from the home country. 3821-E South George Mason Drive, 703-635-7843
Al-Amal Supermarket: Yemeni butcher Younes has a strong following for his fresh-made, hot or mild, veal-and-lamb sausages. 3817-G South George Mason Drive, 703-820-2828
Al Jazeera: The most popular dish in this reliable Yemeni restaurant is oven-roasted, bone-in lamb shoulder served with yellow rice spiced with cardamom, cinnamon and turmeric. 3813-D South George Mason Drive, 703-379-2733
Abay Market: At this small Ethiopian café, owner Yonas Alemayehu has gained worthy recognition for his seasoned, grass-fed raw beef dish, kitfo. 3811-A South George Mason Drive, 703-998-5322
Marhaba Market: Ethiopians love their coffee. Owner Said A. Sirag stocks high-quality green coffee beans, simple metal charcoal stoves for roasting and serving vessels. 3819-G South George Mason Drive, 703-820-7589
Note: Half of the business entrances are located on the back side of the shopping center, where there is also additional parking.