The Brew Shop Slings Craft Brews, Supplies in Arlington
The women-owned business focuses on locally-brewed beers and supplies for home brewers.

The Brew Shop on Wilson Boulevard organizes beer by flavor profile rather than brewery. Photo by The Brew Shop
Beth Helle and Julie Drews admit they sort of stole their husbands' hobbies when they turned a home brewing habit into the stuff of quit-your-day-job retail dreams last month.
"I have to give credit where credit's due," Helle says with a grin. "They definitely got us into brewing."
But Helle and Drews were the ones who left day jobs as forensic accountants to open The Brew Shop in Arlington's Courthouse neighborhood at the end of January.
The shop's concrete floors and wood-palette walls provide a fitting frame for refrigerated rows of locally brewed beers. The selection is organized by flavor profile — crisp, haze, hops, malt, roast — rather than brewer, which encourages customers to stumble upon new brands.
"We want to help people experiment, and it's the way we like to drink, too," says Helle.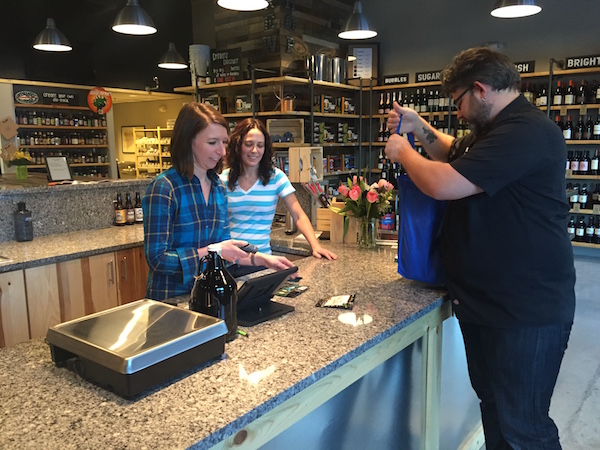 Beth Helle, left, and Julie Drews, right, co-owners of The Brew Shop, had a busy opening weekend just after Snowzilla in January. Photo by Whitney Pipkin
The co-owners tastes are reflected in the selections, with Helle skewing toward malty flavors and Drews representing the hops-heavy brews that have come to define the home brewing scene. But Helle says their aim is to offer local favorites and hard-to-find brews.
She points out a session pale ale from Young Veterans Brewing Co. in Virginia Beach and an Oatis Oatmeal Stout from Ninkasi Brewing in Oregon as reasons to venture in.
The shop is the first in the area to offer a wide (and regionally focused) suds selection alongside home-brewing supplies, making it easy for customers to stumble into a new hobby after a few sips at the tasting bar. Hops, yeast and other brewing staples are sold by weight and can be scooped from bulk bins at the center of the shop.
Local offerings are the focus for The Brew Shop's taps, which can fill up growlers with favorites to go. Port City Brewing Co. was on hand to offer tastings on opening weekend. Helle says the store aims to highlight local breweries through regular tastings.
Along with brews and supplies, the retail store also sells "weeknight-worthy" wines and locally roasted coffee from Cervantes Coffee Roasters in Springfield, as well as beer-centric snacks.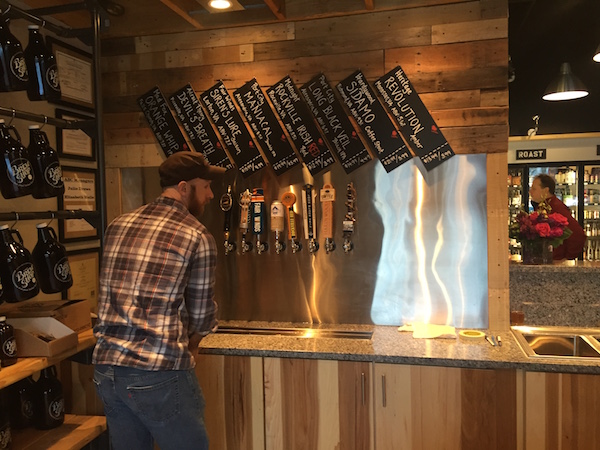 The shop plans to feature local brews on tap, including growlers to go. Photo from Whitney Pipkin
The path to finally opening in January was a long one, says Hale, who quit her job last spring. Drews left accounting more than a year ago and prepared for the new venture by picking up shifts at the Red, White & Bleu wine shop in Falls Church. She also spent a stint on the bottling line at Port City Brewing Co.
"It's been a process," says Helle. "You're sort of on the outskirts like the average person who's just into craft beer and then you really get into understanding how the industry works."
The shop, located at 2004 Wilson Blvd. in Arlington, is open 11 a.m. to 9 p.m. Tuesday-Saturday, and noon to 5 p.m. Sundays.