The Italian Store 2.0
What can you expect to find at the cult-status eatery's soon-to-open Westover location? Here's a taste.
My Arlington friends are abuzz on Facebook, now that the brown paper has finally come down off the windows at the Italian Store's new location in Westover. So for those of you who can't take the suspense anymore, here's the lowdown, from the affable young Mike Tramonte, whose father, Robert, founded the original Italian Store on Lee Highway in 1980.
"My father—this has been his dream for years. He's been saving, and looking for a [second location]…" says Mike, who will manage the store. "[Westover] is one of Arlington's best-kept secrets. There are no chains here; we're all independent. We feel like we fit in here."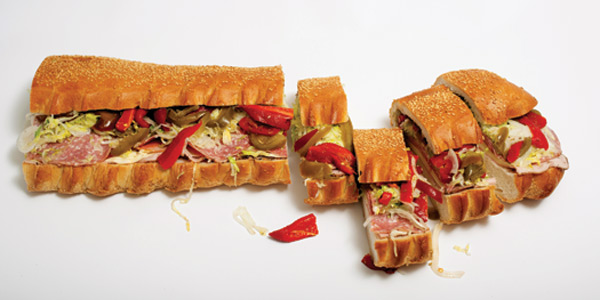 Sooo, when will the store open? As soon as a large fire hydrant is installed at the corner to service that whole row of shops along Washington Boulevard. The good news is that The Italian Store passed the health inspection on Wednesday, and with a couple more minor fixes inside, it'll be good to go.
Maddeningly, the owners are mum on an official opening date, but I'm guessing it can't be more than a few weeks away. Here's what you'll get when the doors finally do open:
An espresso bar—a goal of Mike's ever since he studied in Florence during college—will serve Illy espresso drinks by way of a shiny new Nuova Simonelli "Aurelia" espresso machine. This is the equipment that teams competing in the World Barista Championship (taking place in Seattle as I write this) use each year.
"I'll be the barista in the beginning," Mike says, noting that Daria Illy came to Arlington last month to teach him the art of espresso making, using her family's brand. She'll be back again when the store opens to make sure everything goes smoothly.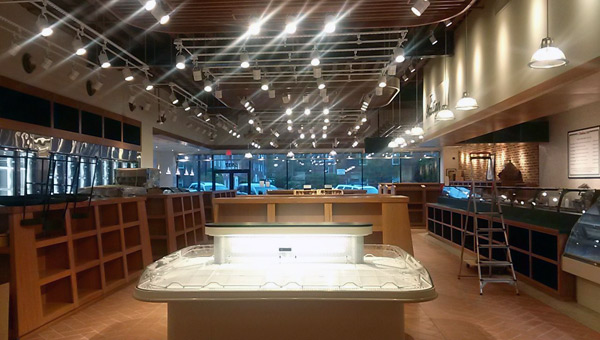 The bar also includes a gelato counter, an idea that emerged out of Robert Tramonte's friendship and consultation with Gianluigi Gellaccio, the founder of Dolci Gelati, which has locations in D.C.'s Shaw neighborhood and in Takoma Park, Md. In that respect, Mike says, they've learned from a master how to make the best gelato.
The shop is also expanding its wine offerings and will have a license to sell wine for consumption on the premises, so you can shop with a glass in your hand, sit at the long bar in front, or relax at happy hour on a patio outside. (How great is it to have a shopping center book-ended by a beer garden and a wine patio??)
Furthermore, it will be a lot easier to get a slice of pizza at the Westover location. At the existing shop on Lee Highway, Mike says, there's a battle for the ovens between the front-counter staff (who need to warm up pizza slices or chicken parm) and the kitchen staff, who are trying to make the whole pies. "We do our Italian shouting matches in the back when we're trying to get orders," he says.
In Westover, a dedicated warming oven at the front counter will be within arm's reach of the pizzas on display.
Speaking of pizza, here's a bit of good news for Swanson Middle School students: The Italian Store will offer a special—a slice of pizza, chips and a drink (price to be determined)—to customers who flash their Swanson ID.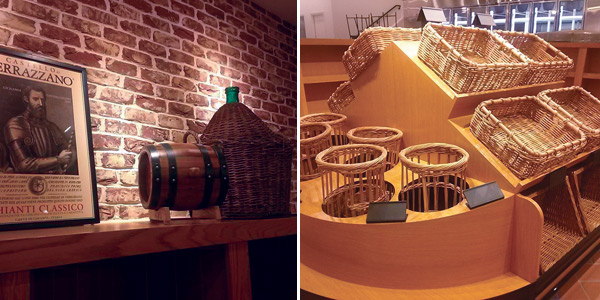 On the matter of equipment and furnishings, the Tramontes went for the good stuff. The shop's grocery and wine selections will be beautifully displayed on custom shelving fabricated by Bethesda-based Hospitality Construction Services (the same outfit responsible for the build-out of Mike Isabella's Kapnos Taverna in Ballston, as well as Rose's Luxury and the The Huxley nightclub in D.C.).
All of the stainless restaurant equipment in back comes from JRS, the specialists who outfitted the likes of Fiola Mare, Georgetown Cupcake, and the Hamilton in the District. "They interviewed us before they would consider the job!" Mike says.
And when you enter the space, be sure to watch where you step—literally. The Tuscan terra-cotta floor tiles were made by Manetti Gusmano & Figli, the same Italian company that makes the bricks needed to repair and maintain the Duomo at Santa Maria del Fiore, Florence's most famous cathedral.
Here's an incentive become a REALLY GOOD customer: There's a private, dimly lit "conference room" in the back that's richly outfitted with custom dark-wood paneling and wine racks, crafted to resemble Robert Tramonte's own wine cellar at home. Eventually, Mike says, they "might" invite good customers to rent the space for entertaining.
Finally, here's something that's not new: The sandwich menu. Don't worry, folks—you can still get those tasty Genoas, Milanos and Capris, oh my!