Throw It on the Grill
These experts know their cuts of meat. Here's what they recommend for barbecue season in Arlington.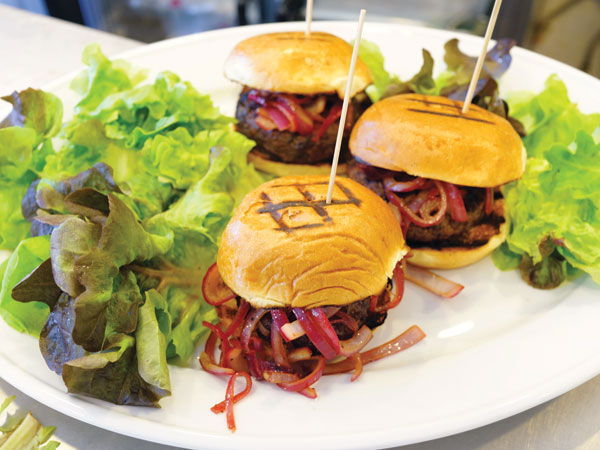 Primo burgers from The Organic Butcher of McLean. Courtesy Photo.
Sirloin Flap.
Westover Market butcher Scott Langbauer likes to recommend under-the-radar cuts that aren't as popular (or as expensive) as the more common rib-eye or New York strip. "One of my personal-favorite cuts is the bavette steak, or sirloin flap. It's reminiscent of a skirt steak, but thicker and softer," he says, noting that this cut holds marinades and spices particularly well, and one long piece (about 4 pounds) will feed up to eight people. You can also chop it up for tasty tacos and stir-fries.
Westover Market Butcher Shop, 5863 North Washington Blvd., Arlington, 703-536-5040; www.westovermarket.com
Flank Steak.
Grilling the same thing two weekends in a row? No one will notice if you mix up the flavors with different marinades. "When you're hosting a party, it's got to be fun for the host to cook," says caterer Stephen DiCicco, the pitmaster at Old Blue BBQ. And flank steak is particularly versatile. Soak it in cumin, chilies and lime juice for a Latin flavor, he says; or go the Asian route with soy sauce and orange juice.
Old Blue BBQ, 5704 Second Street South, Arlington, 703-552-4544; oldbluebbq.com
Deluxe ground beef.
The Organic Butcher of McLean gets raves for its premium burger blend—ground short rib, hanger steak, brisket and dry-aged chuck, spiced with a house rub and made into patties. "Once people try it, they're usually back the next day to get more," says owner Don Roden. Heading out of town? No problem. The shop will vacuum-seal any type of meat you want for the trip. Have cooler, will travel.
The Organic Butcher of McLean, 6712 Old Dominion Drive, McLean, 703-790-8300; theorganicbutcherofmclean.com