Tupelo Honey Coming to Courthouse
The Southern eatery serves up traditional Southern dishes—with a twist.
"Southern cuisine" might churn up all the usual suspects in your imagination: Fried chicken, collards, mac 'n' cheese, ham and biscuits. But there's a new kid coming to town that's won acclaim throughout the South for its modern twists on tradition.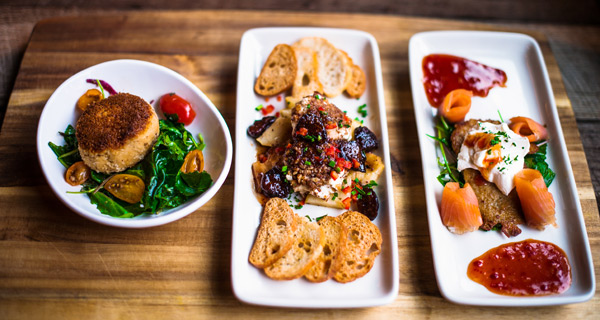 Left to right: Jumbo lump crab cake with arugula salad and lime avocado vinaigrette; Warm pecan-crusted goat cheese with grilled green apple and braised figs in balsamic reduction; House-cured salmon with potato pancake and tomato jam. Photo by Lynne Caldwell.
Here's how Tupelo Honey Café tweaks the classics: Think country ham—in a wonton. Or Appalachian pulled-pork with pickled onions, wrapped in eggrolls. Or cheese grits—goat-cheese grits, that is—with chorizo mixed in.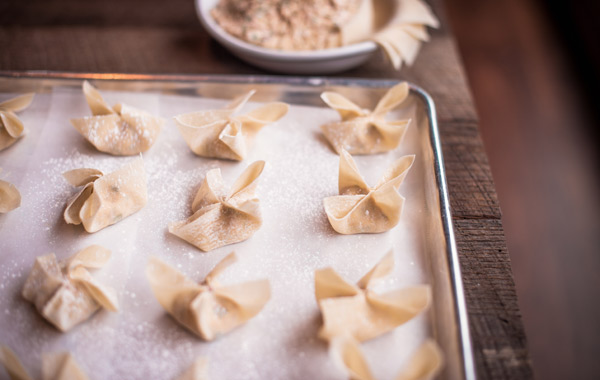 Country ham wontons. Photo by Lynne Caldwell.
Headquartered in Asheville, N.C., the restaurant group already has three locations each in North Carolina and Tennessee, and two in South Carolina. Its first Virginia location is set to open in Courthouse at 2000 North Clarendon Boulevard on June 1.
It helps that the concept already has a solid fan base. "They're really engaged and really enthusiastic," says marketing director Elizabeth Sims. (And it won't hurt that the Arlington location will have a sizable patio and fire pit, plus a large communal table with a tree growing up through the middle of it.)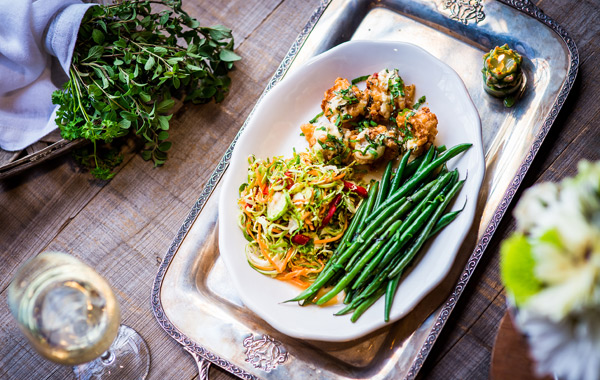 Southern Supper Plate: Fried buttermilk jumbo shrimp with French green beans and shaved Brussels sprouts salad. Photo by Lynne Cadwell.
Chef Brian Sonoskus, who's been with Tupelo since its founding in 2000, presides over a menu that mixes the aforementioned Southern change-ups with the standards, such as buttermilk fried chicken and "scratch made" mac 'n' cheese. Of course, you can also order the fried chicken curried, over apple salsa and drizzled with honey. Likewise, the fried green tomatoes are panko-crusted and served with red-pepper coulis over goat-cheese grits.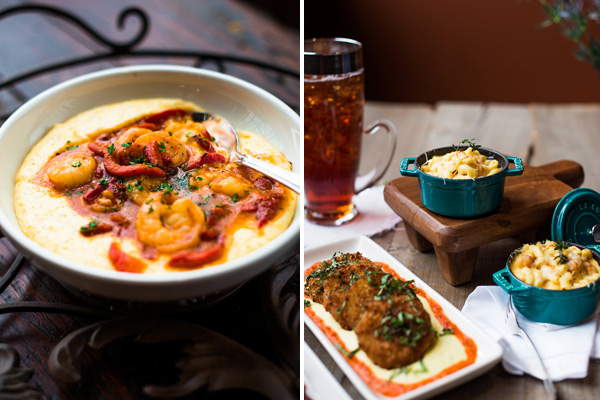 Left: Shrimp and grits. Right: Fried green tomatoes with goat cheese grits; Mac 'n' cheese with blackened shrimp. Photos by Lynne Caldwell.
Thirsty yet? Tupelo recently elevated its bar program by hiring Tyler Alford, formerly of Commander's Palace in New Orleans, to take the beverage helm. He's mixing up a signature cocktail just for Arlington, Sims says—a sparkling sangria with elderflower and thyme.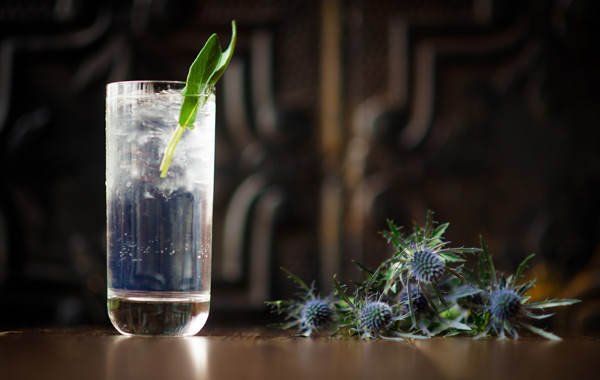 Sage Gin and Tonic. Photo by Lynne Caldwell.
The bar will also have 24 craft beers, a dozen of which will be sourced from Virginia breweries. The bar menu (for the munchies that inevitably arise after a few drinks) will include an only-after-you've-been-drinking fried-bologna sandwich with molasses mustard on an artisan bun (!).
I personally can't wait to see the restaurant's interiors. The space will feature the work of local artists, along with Tupelo's signature glass honeycomb sculpture, which hangs from the ceiling with hand-blown amber "honey drops" of glass descending from it. Back-lit honey jars will also line the walls.
OK, I'm hungry now. June 1 can't come soon enough.