Virginia Beach in Winter? Whale Yes.
January and February are the best months for whale watching off the coast of this resort town.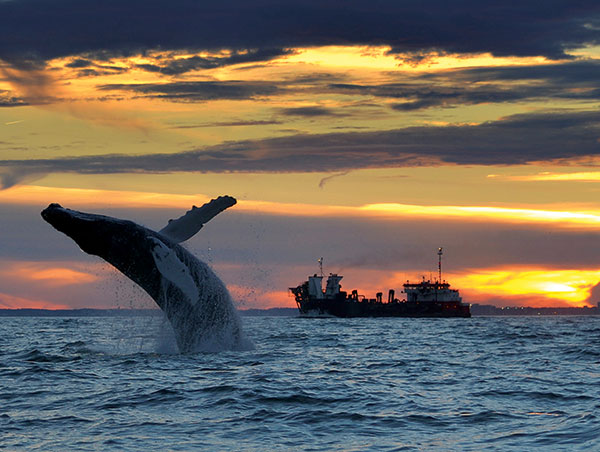 Photo by Brian Lockwood
"Geez! This horizon line is so sharp!" my friend Carol remarks as the 68-foot catamaran we've boarded with 30 other passengers heads north toward the mouth of the Chesapeake Bay. It's February and my senses focus as I breathe in the crystalline air. To our left, Virginia Beach's hotels rise like a strip of pastel and tan LEGO bricks.
We're about half a mile offshore and we all fall respectfully silent as the boat slows. If we're quiet, the crew advises, we may hear the telltale blow—Pffwissshhh!—before we see it. Then we may spot a dark back fin, a flipper, or even flukes (a tail) breaking the blue surface. I scan the winter waves as if my life depends on it.
Although hats, coats and gloves are essential gear for these two-hour-plus whale-watching excursions (on this day the temperature noses toward 45 degrees, but it's colder on the water), I still think winter is the best time of year to visit Virginia Beach. Aside from a few power walkers and scavengers sweeping the shoreline with metal detectors, the beaches are empty. Off season, you can take your dog for long, leisurely walks in the sand.
Plus, that's when the whales are in town. From mid-December into early March (usually), humpback whales—and sometimes fin, minke and critically endangered North Atlantic right whales—come to feast on menhaden, bay anchovies and other schooling fish where the bay meets the Atlantic.
Whale lovers have their choice of two whale-spotting tours off Virginia Beach in season. Maximizing our chances, I've booked us on both boats, back-to-back.
"The whales are kind of like teenagers," explains Kristin Rayfield, one of the first mates on the Rudee Flipper, our first boat of the day. "They just hang out and eat."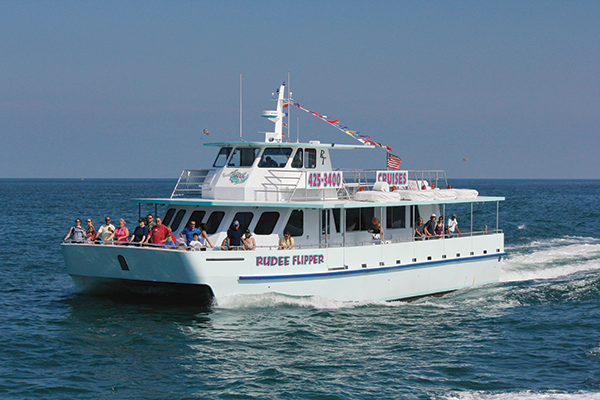 The Rudee Flipper. Photo by Kristin Rayfield
Indeed, most of the whales that have taken up temporary residence in the area are juvenile humpback whales that are not yet able to mate, she says. (The adults head south to the West Indies to mate and calve.)
During the outing, we're advised to look for congregating seabirds, mostly northern gannets. They reveal where the fish—and likely the whales—are swimming just under the surf. While the number of whales here varies each season, I've been lucky, with clear sightings of the graceful giants three of the four times I've made the trip down. Each time, their stately cetacean presence washes over me like a benediction. It's an excellent way to combat both cabin fever and nature deprivation. (I've also been known to listen to their otherworldly whale songs in my spare time.)
Thar she blows! I whisper to myself as I hear and glimpse a telltale plume of vapor. A shiver of awe runs through the crowd, silencing all chatter as we move to that side of the boat and methodically scan the quadrant of water where we expect the humpback to resurface to breathe.
Rayfield estimates that this particular whale is 55 feet long and weighs over 40 tons. For the next few minutes, it generously surfaces several times to our hushed acclamation.
Humpbacks, one of the more abundant winter visitors hereabouts, are especially viewer-friendly because of their feeding habits. As filter feeders, they take in huge gulps of water, filtering the water out through their baleen while retaining its riches of plankton, krill and small fish. And they need to come up for air.
"They're the most acrobatic of the baleen whales," Rayfield says as the lolling mammals maneuver around us. Humpbacks also occasionally burst free of the relatively shallow water (here it ranges from 30 to 60 feet deep) and hurl themselves into the air—a feat I'm still hoping to see. At one point, we have four separate whales taking turns surfacing around the boat.
After docking back at Rudee Inlet, Carol and I gobble down a few snacks that we've brought from home. Time is of the essence as we make the short drive over to the Virginia Aquarium & Marine Science Center's dock on Owls Creek, just in time for our second outing of the day.
Lots of families with children board the Atlantic Explorer, a 65-foot catamaran, and soon we are cruising into the lovely cove and wetlands area behind the aquarium, where we instantly spy a bald eagle atop a dead tree. A few feathery clouds accent the blue sky, and the wind drops as the temperature inches up. By now we don't need gloves.
From the get-go, this tour focuses more deeply on the scientific aspects of local flora and fauna, delving into current research and the characteristics of local habitats. By comparison, this makes the first tour seem a tad touristy.
Owls Creek is a true salt marsh, meaning the only fresh water it gets is from rain. (The aquarium uses the creek water in many of its impressive 800,000 gallons of exhibits.)

Seals along Owls Creek. Photo by Brian Lockwood
Evergreen loblolly pines and wax myrtle trees line this pristine cove, having adapted to the brackish water. Alexis Rabon, the aquarium's boat trip coordinator, encourages us to look for seals (mainly harbor and gray) moving through the marsh, noting that they "look like puppy dogs coming up out of the water." River otters also make an occasional appearance, and we can see mussels and oysters in the low tide.
Rabon's narration is rich with whale facts and statistics, and with the addition of charts and animal artifacts, this tour feels like a floating classroom. A portion of the ticket sales benefit local conservation and rescue efforts for stranded marine animals.
Volunteers and staff circulate through the 50 adults and children on board, sharing pieces of surprisingly heavy baleen that we can see up close and touch. The thin, hair-like filters, we're told, are made of the same substance as fingernails.
Surprisingly, neither boat tour uses high-tech methods to find whales. Instead, the operators rely on birds in the area, and on fishermen like Brian Lockwood (affectionately known as "Jet Ski Brian") to do the scouting. Lockwood tools around local waters, taking superb photos and sharing wildlife trivia with the tour boats, all while adhering to the responsible whale-watching guidelines of the National Oceanic and Atmospheric Administration. (To check out Lockwood's photos of birds, sunsets, whales and what he caught for dinner, visit www.facebook.com/brian.m.lockwood.)
We soon learn that the humpbacks often follow a pattern, taking three breaths and then showing their flukes on the third breath before plunging deeper into the water. The whales usually hold their breath for three to seven minutes, Rabon says, but they can stay down for as long as 20 minutes.
As flukes rise above the water, we notice barnacles on one tail. Scientists identify whales by the patterns of black and white pigmentation on their tails— sometimes called fingerprints—and keep records of which whales are spotted where. The aquarium manages the Mid-Atlantic Humpback Whale Catalog, which contains photos and information on more than 200 whales. Rabon says that as many as 55 different whales may stop by in a given year, and some return to the same feeding grounds year after year.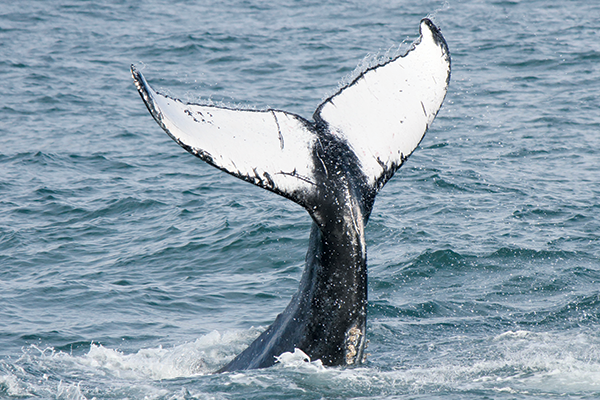 Photo by Kristin Rayfield
During this second trip out, I'm aware of how close we are to the Chesapeake Bay Bridge-Tunnel (a slight misnomer, in that it's an almost 20-mile string of networked trestles, tunnels and manmade islands connecting Virginia's mainland to the Eastern Shore of Virginia) and the Norfolk-bound shipping lanes. Container ships stacked like small cities pass nearby. To avoid striking whales along this stretch of major ports, vessels measuring 65 feet or longer are prohibited from going faster than 10 knots. A military plane buzzes overhead, reminding us that Naval Air Station Oceana is nearby.
Toward the end of the second cruise, we intersect with a group of more than 40 sleek, bottlenose dolphins, which dive and twist all around us, keeping pace with the boat. (Later, Carol and I spy another huge group near the lighthouse onshore.)
These playful marine mammals are actually a small-toothed whale species, Rabon explains, using the lulls between whale sightings to share a host of fascinating facts. For example: Did you know that whale milk is 40 to 50 percent fat, and that humpback babies consume 50 to 100 gallons of it per day, gaining 60 to 70 pounds and growing as much as a foot and a half in a single month?
Adult humpbacks are also big eaters, she says. They can take in up to 1.5 tons of sea creatures—which translates into about 1 million calories—per day.
"Awesome!" yells a young girl as she spies yet another whale breaking the surface. I smile, because it always is.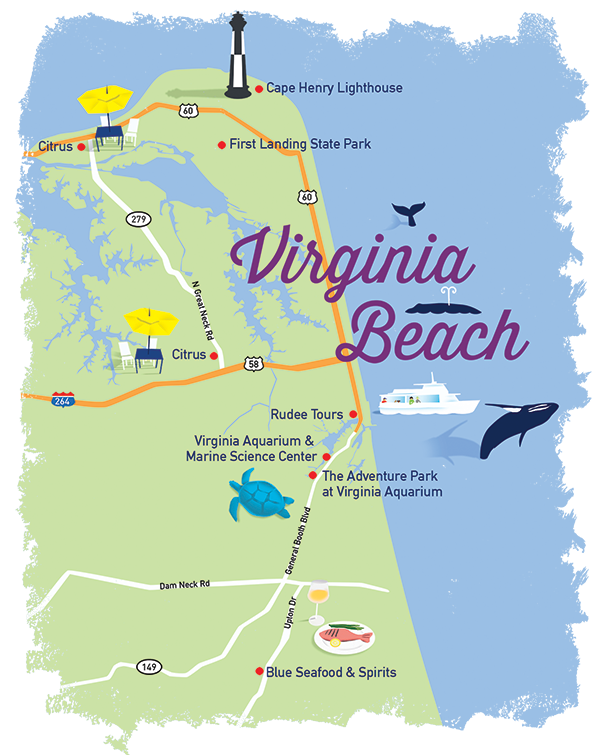 If You Go
The Adventure Park at Virginia Aquarium
This supercool aerial park features 15 treetop-climbing courses with zip lines and rope elements. The courses vary in difficulty, and the park is open year-round, weather permitting. www.virginiabeachadventurepark.com
Blue Seafood & Spirits
Don't be fooled by the strip-mall location. This chef-owned, 60-seat, affordable gem serves favorites such as crabcakes, fried Eastern Shore oysters and tempura fried shrimp. Be sure to save room for chef Charles Thain's sweet potato biscuits with apricot butter and the ambrosial chocolate bread pudding. www.blueseafoodandspirits.com
Cape Henry Lighthouse
Hike the stairs of this sandstone, fortress-like 1792 lighthouse (fun fact: Alexander Hamilton oversaw its construction) for an amazing view over Joint Expeditionary Base Fort Story and the whale-watching grounds. The lighthouse is located on the military base, so be prepared to show ID and proof of vehicle insurance to enter. preservationvirginia.org/visit/historic-properties/cape-henry-lighthouse
Citrus
With two locations, this sunny breakfast spot is always packed. I understood why after my first bite of turkey with a sunny-side-up egg and cranberry sauce on cranberry-orange ciabatta bread. The whole-wheat carrot pancakes and shrimp-and-crab Benedict looked tempting, too. www.citrusvb.com
First Landing State Park
Enjoy miles of well-marked biking and walking trails inland, and along the Broad Bay waterfront. The trails are home to gray-green Spanish moss, croaking frogs and other wildlife ranging from skinks to bobcats. A Chesapeake Bay-front section of the park has boardwalks to a beach. www.first-landing-state-park.org
Rudee Tours
This winter, Winter Wildlife Cruises' annual search for whales begins from Rudee Inlet on Dec. 10 and runs through March 12. Tour operators guarantee you will see whales or ride again free. Holiday weekends often sell out, but you can usually watch the weather and wait to book when the coast looks clear. Boat tours offer a heated indoor space and snack bar. www.rudeetours.com
Virginia Aquarium & Marine Science Center
Unless the whales come early, Whales & Wildlife Sea Adventures tours begin Dec. 26. The sprawling aquarium and science center also offers 300 interactive exhibits, including a touch pool with horseshoe crabs and whelks, and a "Journey of Water" exhibit that takes you through Virginia's diverse habitats. Peer at three species of sea turtles and sand tiger sharks, catch a movie at the National Geographic 3D Theater and listen to a variety of whale calls. www.virginiaaquarium.com
Virginia Beach in Winter
This tourist-savvy town offers an array of special winter events to keep the crowds coming. Time your visit to coincide with the Coastal Virginia Magazine Wine Fest (coastalvirginiawinefest.com) and the Virginia Flower & Garden Expo (vafgs.org), both of which are scheduled for the weekend of Jan. 27-29. You'll find lots of off-season deals on beachfront hotels and a local calendar at Visitvirginiabeach.com.
Donaldson Run resident Amy Brecount White hopes her future travel plans will lead to many more whale sightings.