What to Drink Now
The latest bartending trends in Northern Virginia, from exotic infusions and barrel-aged cocktails to moonshine.
"The whole world is drunk and we're just the cocktail of the moment. Someday soon, the world will wake up, down two aspirin with a glass of tomato juice, and wonder what the hell all the fuss was about."
So said Dean Martin (played by actor Joe Mantegna) in the 1998 film The Rat Pack, though the quip hasn't exactly proven true. Like the martinis he was known to enjoy, the legendary crooner's legacy endures, and America's thirst for a good drink shows no signs of abating. Some might say there's never been a better time to imbibe.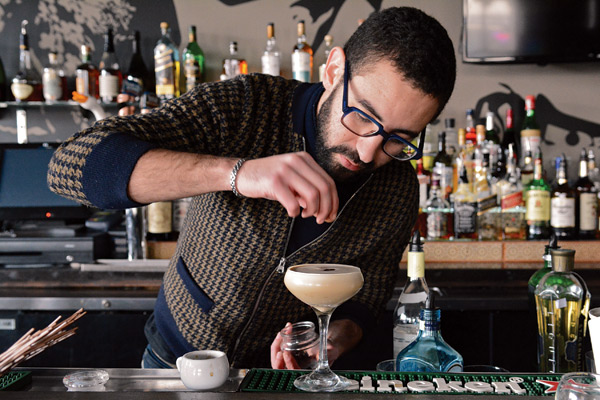 Mazagan's Reda Bouizar. Photo by Laura Hayes.
Local bartenders report that their patrons are more curious than ever about the mechanics of a well-composed beverage. These are the connoisseurs who Google cocktail menus and wine lists before heading out, ask questions beyond Does it taste good? and are open to trying new things with little prodding from barkeep.
Mixologists, beer mongers and sommeliers, in turn, are upping their game. If Martin, the proverbial King of Cool, were still alive today, what would he be drinking? We went to the pros "behind the stick" at a dozen local watering holes to find out.
CULINARY CRAFT
Bryan Tetorakis calls himself a "cheftender" and it's easy to see why. Consider what goes into the spruce oil atop a cocktail called I'm Coming Home at Gypsy Soul in the Mosaic District, where Tetorakis serves as beverage director. "We take pine needles and sous vide them [a cooking process similar to slow poaching] in grape-seed oil at 80 degrees Celsius for an hour," he explains. "Then, we blanch parsley, remove the chlorophyll and put it into the oil for green color."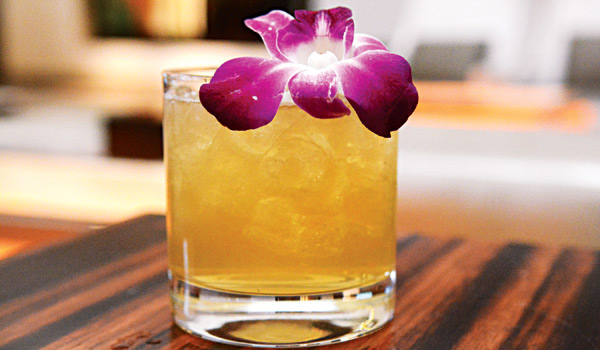 At Härth, The Hive features honey from the restaurant's rooftop apiary. Photo by Laura Hayes.
A graduate of the Johnson & Wales Culinary Arts program, Tetorakis counts among a growing number of bartenders using techniques that traditionally have been reserved for the kitchen. He also has a chef's mentality when it comes to seasonal flavors. "We get most of our ingredients from local farmers, so if it's not growing, we're not serving it." (Translation: no mojitos in winter.)
Jonathan Schuyler, the wine and beverage director at 2941 Restaurant in Falls Church, also holds a culinary degree (his is from the New England Culinary Institute). He sometimes substitutes verjus (a nonalcoholic product made from pressing unripe grapes) for citrus to bring acidity into a cocktail. That light bulb went off during the lime shortage in 2014, he explains, but the verjus that was first used out of necessity has since become a staple. "We're still using it in more-subtle cocktails because it doesn't dilute other flavors," he says.
At Lyon Hall in Clarendon, bartender Jake Worth sees the increasing depth and sophistication of beverage menus as a natural progression. "We consume cocktails the same way we consume food," he says. "There has to be acidity, sweetness, bitterness, and now [we] are working to bring in the earthy umami flavor." For a handy reference, Worth often consults The Flavor Bible, a book that provides a jumping-off point for chefs and bartenders by naming complementary flavors for hundreds of ingredients.
DRINKING LOCAL
The local food movement is no longer just about what's on the plate; it's also influencing what's in the glass.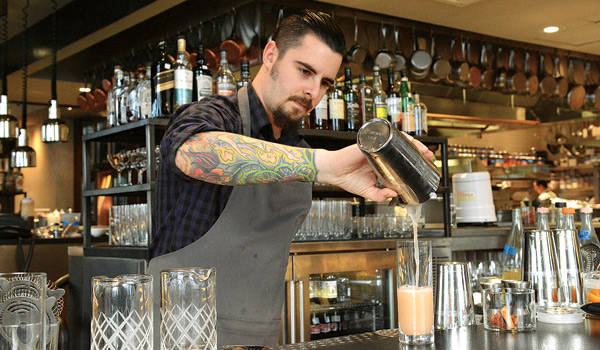 Gypsy Soul "cheftender" Bryan Tetorakis. Photo by Laura Hayes.
That's certainly the case at Founding Farmers, the Washington, D.C.-area restaurant group known for its allegiance to farm-to-table dining. At the new Tysons Corner location, Beverage Director Jon Arroyo reserves all 12 taps for Virginia beers from breweries like Wild Wolf, Mad Fox and Lost Rhino, and offers beer flights to facilitate guests' exploration of the draft list.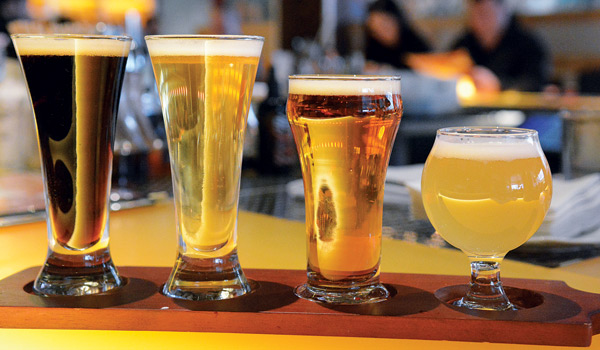 Virginia brews at Founding Farmers. Photo by Laura Hayes.
Regional producers also figure prominently on the wine roster, which includes one Virginia white and three Virginia reds, including Arroyo's favorite: Rappahannock Cellars' "Noblesse" Cabernet Sauvignon.
There's Dominion-state booze, too. Two proprietary, private-label spirits—a gin and a rye made with Virginia grain—are made exclusively for Founding Farmers by Copper Fox Distillery and its master distiller, Rick Wasmund, in Sperryville. You'll find them in libations such as the Farmers Sazerac and the Farm Sour on the "From Farm to Still" section of the cocktail menu.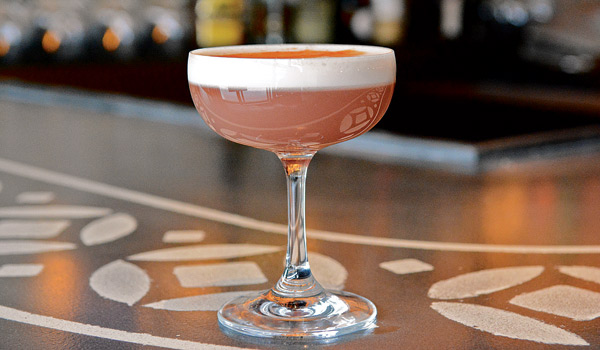 B Side's 59th Street Bridge, a variation on the New York Sour. Photo by Laura Hayes.
But local flavor doesn't always come from the alcohol itself. At Härth, tucked inside the Hilton McLean Tysons Corner, the Härth Flame features vodka infused with Pepin peppers that are grown on the restaurant's garden terrace. Another signature cocktail, The Hive, contains Jack Daniels, lemon and ginger ale, along with honey extracted from the hotel's own rooftop apiary. Come summer, locally grown basil and berries will also find their way into cocktails, says Adam Green, who heads the food and beverage program.
RETOOLED CLASSICS
Perhaps the biggest beverage trend du jour is the resurgence of classic cocktails—those spirit-driven drinks that date back to the Prohibition Era and typically contain no more than four ingredients.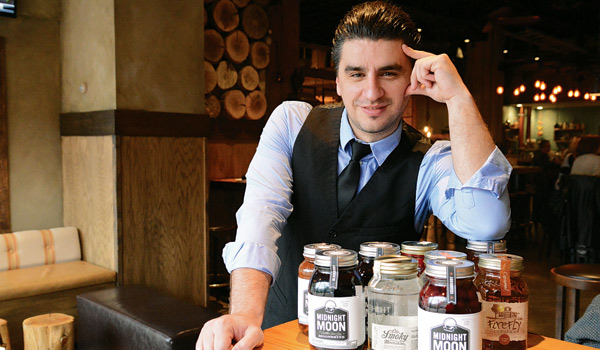 Boris Stojkovic shows off the moonshine options at Copperwood Tavern. Photo by Laura Hayes
"A good classic cocktail used to be hard to get," says Reda Bouizar, the general manager at Mazagan on Columbia Pike. "Now most bars focus on having a good Manhattan, martini and old-fashioned. Without these, you can create as much as you want, but you won't be a good bar."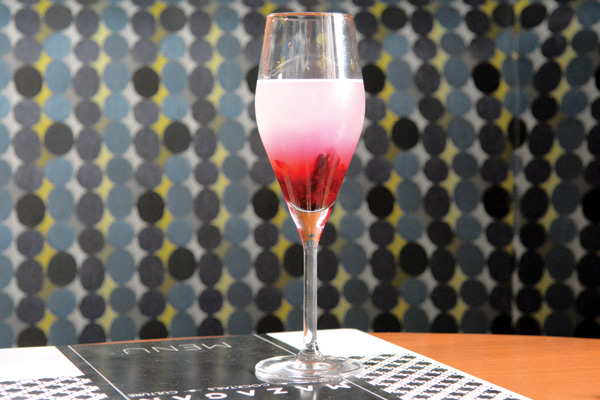 Mazagan's Hibiscus Kiss, made with Bombay Gin, St. Germain, lime juice and hibiscus. Photo by Laura Hayes.
Retro cravings certainly have been fueled by the rise of craft distilleries, which now number more than 600 nationwide (up from 70 in 2003), according to a recent story in The Atlantic. "Spirits are getting better and better, so you don't need to hide their flavor behind two ounces of simple syrup," says Jeff Faile, the bar and spirits director for Neighborhood Restaurant Group and the force behind the classic-cocktail-driven menu at B Side in the Mosaic District.
Faile says the quality of craft spirits overall has prompted an uptick in brown liquor consumption. "Whiskey- and bourbon-based classic cocktails are changing people's perspectives," he says. "They're learning a spirit like that can be enjoyed without it burning all the way down. Once they get past that misconception, they want to try it neat."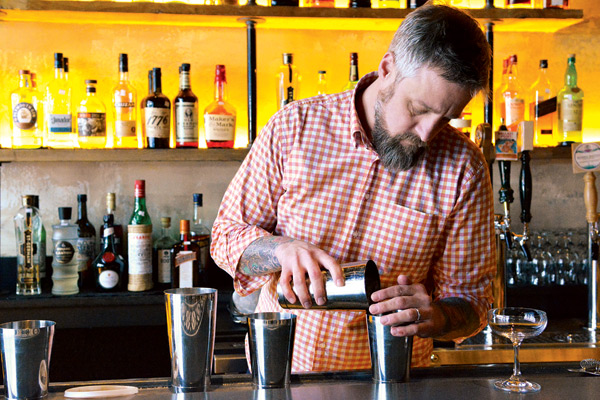 Jeff Faile mixes up twists on the classics at B Side. Photo by Laura Hayes.
Of course, bartenders aren't hesitating to put their own unique spins on old-school recipes. Whereas a traditional New York Sour features whiskey, lemon juice and simple syrup, capped off with red wine, B Side's version (called the 59th Street Bridge) folds in a Cabernet wine reduction. At Mazagan, you'll often find Bouizar squeezing house-preserved lemons into the Dirty Lemon Martini for a salty, tangy tipple. And at Green Pig Bistro in Clarendon, Beverage Director Andrew Shapiro's take on a Manhattan features fig-infused Four Roses Bourbon and house-made vanilla bitters.
BARREL-AGED BOOM
Another means of putting a twist on a classic cocktail is to barrel-age it, allowing the ingredients to meld together and absorb characteristics from the wood. This technique also lessens the bite of the alcohol.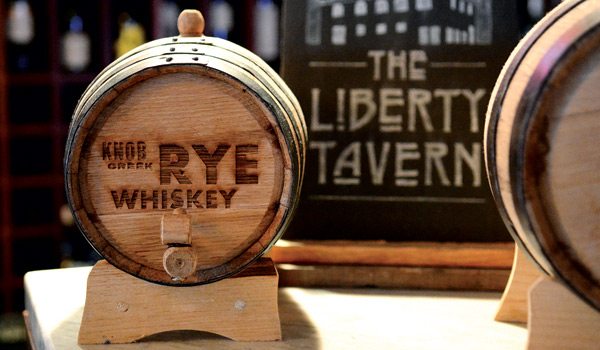 Barrel-aged whiskey at The Liberty Tavern. Photo by Laura Hayes.
"The longer a spirit like bourbon sits in a barrel, the smoother it's going to be," explains bartender Chris Maerki, whose employer, The Liberty Tavern, was one of the first restaurants in Arlington to barrel-age. "The same is true for a cocktail; it's going to be more mellow. We sold out of our first barrel-aged Manhattan in three days because we went ahead right when the law changed saying we could do it."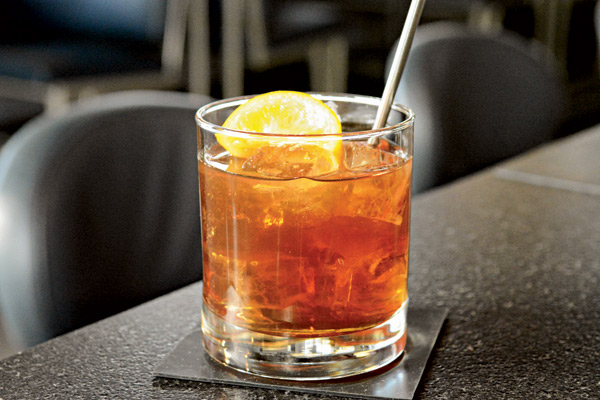 The Percy Adams with Old Grand-Dad bourbon, clementine, black tea and angostura bitters at Gypsy Soul. Photo by Laura Hayes.
That was in June 2013. Now the restaurant maintains a cascading barrel program with three barrels in constant rotation. Aging times range from one to eight months, depending on the drink, and the barrels become richer and more complex with each use. Once a cocktail is depleted, the bartenders will use the same barrel to age something different, allowing the flavors from the previous drink to carry over. Maerki says they recently aged a Negroni (an apéritif made with gin, sweet vermouth and Campari) on top of a Manhattan.
WHITE WHISKEY
It doesn't matter what you call it—hooch, white lightning, white dog or moonshine. This clear corn spirit is making a comeback. And nowhere is the trend more evident in Arlington than at Copperwood Tavern, where you can toss a smile at a portrait of legendary moonshiner "Popcorn" Sutton on your way to your table, which may well rest underneath a still suspended from the ceiling. The cocktail menu includes drinks like the Shine N' Tonic and a list of moonshines that's 10 lines deep.
Copperwood Beverage Director Boris Stojkovic attributes the spirit's resurgence to two factors—the first one practical. "Distilleries want to make some kind of bourbon or whiskey, but it takes a minimum of two years aging in a barrel," he explains.
"Until the aged spirit is ready, they produce a clear spirit to make a little money and get out in the market."
More romantic, however, is the moniker, which still carries illicit connotations and a sense of the taboo. "Originally, moonshine was an illegal spirit distilled by the light of the moon that helped Appalachian families survive and feed their kids," he says.
What exactly is moonshine? Stoj­kovic provides the easy answer: It's bourbon before it hits the barrel. But there's more to it. Though the drink was traditionally made using corn mash (the same ingredient in bourbon), there are no regulations governing what can be labeled as moonshine. As a result, some producers are getting away with putting clear spirits made from grain in the same category. In Stojkovic's mind, that ain't the real deal. "Moonshine is clear, but it should have some flavor because corn is sweet," he says. "It's not a neutral spirit like vodka."
PINTS TO GO
Craft-beer lovers swear by their growlers, those handy vessels used for toting suds home from their favorite bar or brewery. But a typical growler holds the equivalent of four pints. What if you want to diversify your choices, or go a little lighter on the consumption? Spacebar in Falls Church has the answer: a single-serving option.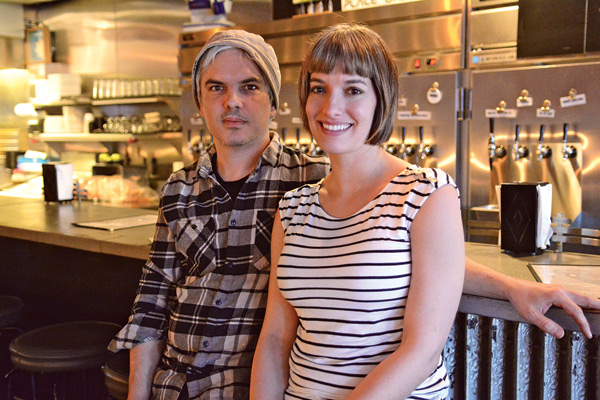 Spacebar proprietors Lary and Erica Hoffman. Photo by Laura Hayes.
"The Virginia Department of Alcoholic Beverage Control [ABC] had a strict definition of a growler [size-wise], but because of our setup, a huge container would kick our kegs," explains Lary Hoffman, who co-owns the craft-beer and grilled-cheese bar with his wife, Erica (they also own Galaxy Hut in Clarendon). "Mason-jar pints to go work a lot better with our concept, so we drew some sketches and the ABC found it was not prohibited under current guidelines."
Spacebar has 24 taps, and many of the beer selections change daily. How can you find out what's on tap at a given point in time? The Hoffmans post the daily draft list on the bar's Facebook page, catering to a clientele that clamors for the new and the rare over household-name brews such as Bud Light.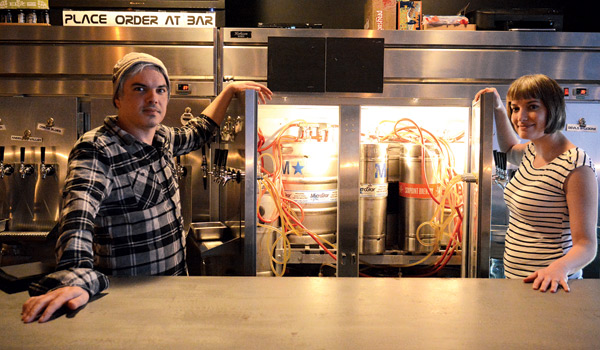 Spacebar specializes in small-batch brews. Photo by Laura Hayes.
Like diners who are eager to know where their meat and veggies come from, true brew fans tend to enjoy a little education with their pint.
"People have styles they stick to, but they're more willing to dive adventurously into the menu," Erica says. And they want to understand the ingredients and the brewing process. "Being able to talk about that with people who genuinely want to know is a lot of fun."
ADVENTURES IN VINO
Green Pig Bistro's wine program has a decided agenda. (It's domestic, with the exception of one bottle from Canada.) But the options aren't limited to vintages from places like Napa, Sonoma and Oregon's Willamette Valley. Beverage Director Andrew Shapiro's list also includes some surprise contenders from Idaho, New Mexico, Arizona, Michigan and Hawaii. His personal favorite is the Hula O'Maui Sparkling Pineapple Wine.
"Every state makes wine," Shapiro says. "Not every state makes great wine, but every state makes drinkable wine. I like to have fun with approachable, unique wines that are not on other lists, while supporting regions that get overlooked in the wine landscape."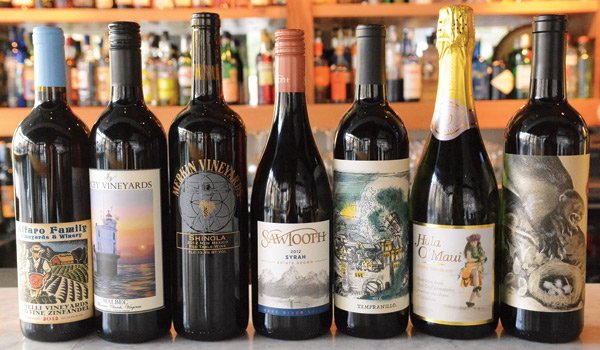 Domestic wines at Green Pig Bistro. Photo by Laura Hayes.
With 30 of the bottles priced at $50 or less, Green Pig is a safe place to try something new. And yes, the list includes five wines from Virginia.
Tazza Kitchen takes a similarly adventurous, albeit more global, approach to wine. While many of its offerings hail from Italy and California—to complement the restaurant's Mediterranean-meets-Baja menu—there are also interesting picks from Greece, Brazil, Macedonia and Lebanon, not to mention Texas.
"We source from the areas that inspire us, but also put forward lesser-known regions," says co-owner John Haggai, whose establishment opened in November on South Glebe Road.
For example, Frascati from Lazio, Italy, is offered as an alternative to pinot grigio. "It's a reflection of the clientele, who are experimental, young wine enthusiasts," he says.
Surprises also fill the wine list at 2941, where sommelier Jonathan Schuyler says he is seeing increased interest in several categories—specifically, orange wine; Austrian varietals like Blaufränkisch; Italian whites such as Grillo from Sicily; and sweeter whites and reds.
"You used to put curious things on the menu and it would be a real fight to sell things," he says. "Now, if I ask how adventurous a table is feeling, they seem a lot more comfortable jumping to lesser-known appellations as opposed to five years ago."
Cheers to that.
Also in the Mix
Custom Cocktails. Always up for a challenge, some bartenders are happy to serve as personal beverage concierges. Patrons share their likes and dislikes and the bartender then crafts something accordingly, often for a preset fee. Green Pig Bistro goes into this mode from 10 p.m. until midnight on weekends. "It allows us to test recipes," says Beverage Director Andrew Shapiro, "and maintain our skills making new drinks."
Sour Beers. Move over hoppy IPAs; it's time to pucker up to sour beers. These funky brews get their flavor from wild yeast strains or bacteria. Try them at B Side or The Liberty Tavern.
Something Smoky. Smoke's popularity as a flavor profile is on the rise, whether it's imparted through a smoke-forward spirit like tequila's cousin mescal, or created using a smoker or smoke gun. At Green Pig Bistro, Shapiro smokes Old Overholt Rye using apple chips, then combines the liquor with vanilla syrup, Mexican Coke and aromatic/orange bitters in a drink called My Peggy Sue.
Mocktails. Good news for designated drivers, underage diners and those who prefer to remain buzz free: Nonalcoholic options are no longer limited to soda, seltzer and iced tea. Try the No-Jito at Härth, or The Last Drops of Summer at 2941, which is made with verjus, basil and lemon.
Laura Hayes' drink of choice is Japanese whiskey, served neat, or a funky Gewürztraminer. Follow her adventures @BTMenu.