Where Chefs Order Takeout
Need a little variety in your carryout routine? Here's where area chefs go to satisfy their cravings when they're off duty.
Sometimes chefs hate cooking. Just like the rest of us, they have days they'd rather gaze at an online menu than a frying pan.
Kitchen fatigue isn't the only reason restaurant folk order out. Maybe they're having a sick day, crave a taste from home or want to indulge in something they wouldn't normally make themselves. Need a little inspiration? We asked a few local culinary pros to share their favorite carryout orders. The next time the kitchen is the last place you want to be, turn here for ideas.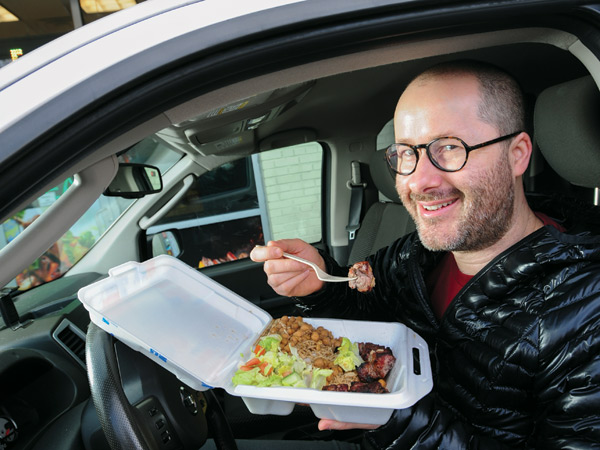 Barrel & Bushel chef Dan Dienemann takes a detour to Kabob Palace in Crystal City. Photo by Michael Ventura.
Dan Dienemann, Barrel & Bushel
Dan Dienemann grew up in Rockville, Maryland, where many of his friends were Iranian-American. "I would go over to their houses and taste what their mothers were cooking and I was like, 'This is amazing,' " recounts Dienemann, now executive chef at beer-centric Barrel & Bushel in Tysons Corner. "It really turned me on to those flavors and now throughout life I seek them out."
While his preferred takeout place is actually Afghani and Pakistani (not Iranian), the Middle Eastern flavors and spices are familiar. He frequents Kabob Palace in Crystal City, a 24-hour restaurant specializing in curries and skewered meats.
Dienemann gets the lamb kabob and the spicy Peshawari beef burger, which comes with biryani rice bursting with raisins. He says the rice dish is the only one he's been brave enough to try to re-create himself.
Dan's picks:
• Lamb kabob
• Spicy Peshawari beef burger
Kabob Palace
2315 S. Eads St., Arlington; 703-486-3535
www.kabobpalaceusa.com

Tim Ma, Water & Wall
Tim Ma confesses that he has a hard time driving past Banh Mi DC Sandwich on his commute from his home in Vienna to Arlington.
"Almost every time I drive, I stop there to get two crispy spring rolls, a taro boba [bubble tea] and the No. 1 combo sandwich," says the chef, who owns Water & Wall in Virginia Square with his wife, Joey Hernandez.
In the bánh mì đặc biệt (which loosely translates to "the sandwich with everything in it") the star ingredient is Ma's favorite cold cut—head cheese.
"It's made by boiling down a pig's head, stripping it of its meat, re-composing it into a terrine mold and wrapping it with pig ears. I've been into offal ever since I started cooking because my parents would always feed it to me," says the French Culinary Institute-trained chef, whose own cooking blends French and Asian influences.
Balancing out the rich head cheese, pâté and ham are typical banh mi toppers: zesty pickled vegetables and fresh cilantro.
Tim's picks:
• Combo Banh Mi with zesty pickled vegetables & fresh cilantro
Banh Mi DC Sandwich
3103 Graham Road
Falls Church; 703-205-9300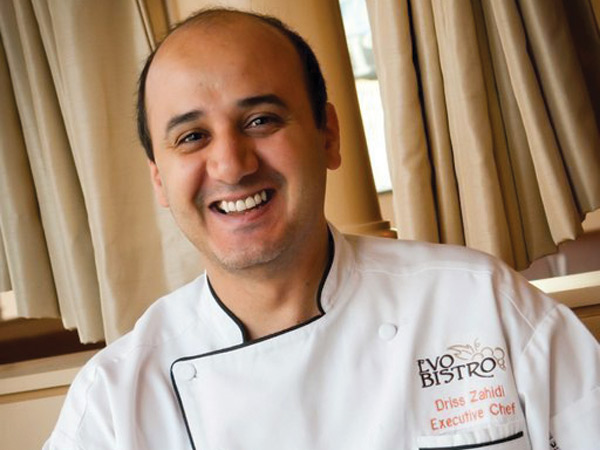 Driss Zahidi, Evo Bistro
Driss Zahidi is sitting on a secret about Ravi Kabob's lahori choley (curried chickpeas) that he gleaned from a kitchen helper.
"They take the chickpeas and cook them with [cows'] feet so they get all the juices, and all the gelatin," says the Moroccan-born chef, who lives in Falls Church and owns Evo Bistro in McLean. "They don't say it anywhere, but I got inside information on how they make it really yummy."
In addition to the savory chickpea curry, Zahidi is partial to the sheekh kabob (ground beef skewers) and champ tandoori (Gujranwala-style lamb chops mixed with hot spices and yogurt cooked on a skewer). If he's planning to bring home takeout from the Pakistani restaurant for his three kids, he'll stock up on chicken kabobs, which tend to be more mildly spiced.
Driss' picks:
• Lahori choley
• Sheekh kabob
• Champ tandoori
Ravi Kabob House
305 N. Glebe Road and
250 N. Glebe Road, Arlington;
703-522-6666
www.ravikabobusa.com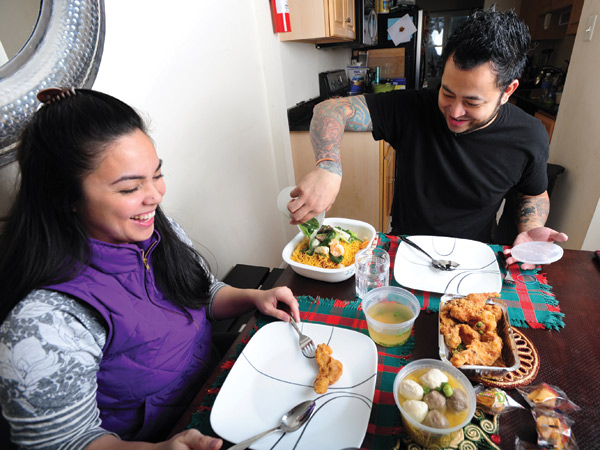 Brine beverage director Jo-Jo Valenzuela and his wife, Christina, enjoy a late-night feast from Miu Kee in Falls Church. Photo by Michael Ventura
Jo-Jo Valenzuela, Brine
"I have their number on speed-dial," Jo-Jo Valenzuela says with pride of his favorite takeout place, Miu Kee in Falls Church. He first discovered the Cantonese restaurant during his musician days.
"I used to be the guitarist in an all-Filipino band called P.I. We would play in Virginia and that's where I would go after gigs because it was still open," he says. "I lived a block or two away, so I would go there two or three times a week."
Valenzuela, now beverage director for Brine in the Mosaic District, prefers Hong Kong-style dishes to Sichuan or other regional Chinese cuisine. His regular order includes deep-fried spicy pork chops, Hong Kong seafood pan-fried noodles and beef brisket noodle soup—to which he adds an off-menu crispy fried pig's ear. He typically scoops up his order on his way home from work late at night, and often the heavenly smells will wake his wife, Christina, inviting her to join him at the table.
Jo-Jo's picks:
• Deep-fried spicy pork chops
• Hong Kong seafood pan-fried noodles
• Beef brisket noodle soup with crispy fried pig's ear
Miu Kee
6653 Arlington Blvd.,
Falls Church; 703-237-8884
Keith Cabot, Evening Star Café
Keith Cabot and his college friends have upped their wing game since graduating from Johnson & Wales University in Charlotte, North Carolina. "I have a couple of buddies from school in the area," says Cabot, the executive chef at Evening Star Café in Del Ray.
"Usually we'll meet at Bonchon Chicken or, since I got them hooked on it, they'll pick it up before a football game."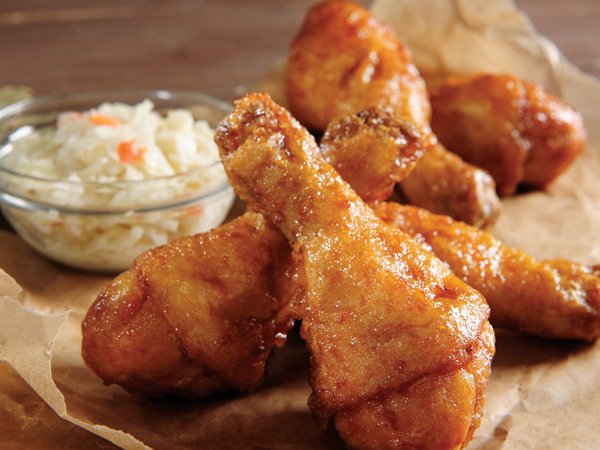 That's not the only time the chef calls upon the Korean fried chicken chain to satisfy a craving. "I crush Bonchon once or twice a week, as healthy as that is," he confides. "Last week, I sent my sous chef over before [dining] service to pick it up for family meal."
In that case, he ordered the large combo of 12 wings and four drums, plus sides of kimchi coleslaw and pickled radish, to satisfy his team's hunger before dinner service. Half the wings were doused in the signature hot sauce, the others in soy-garlic. Cabot sings Bonchon Chicken's praises as a carry­out option because "the chicken stays crunchy for so long; the texture is so on point."
Keith's picks:
• Chicken wings
• Kimchi coleslaw
Bonchon Chicken
2209 N. Pershing Drive, Arlington
703-528-1011
www.arlingtonva.bonchon.com
Seng Luangrath, Bangkok Golden
When Laotian chef Seng Luangrath needs a break from laab, a traditional Lao dish of minced meat and fresh herbs, she turns to Korean food. Namely, Lighthouse Tofu in Annandale, where she gravitates to the "combos" section.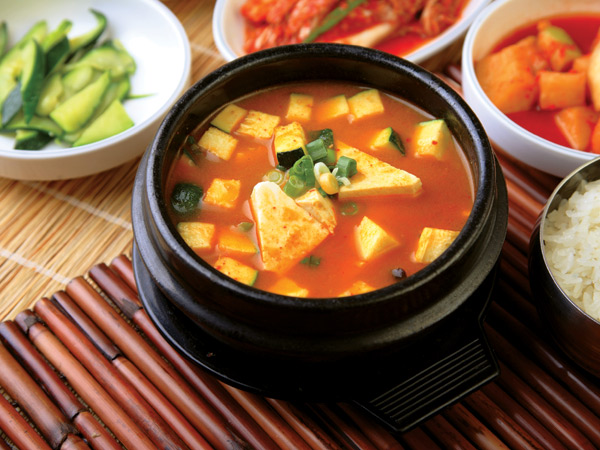 "We usually order the set that comes with tofu soup, fried dumplings and an assortment of kimchi and sides," says the Springfield resident, who owns Bangkok Golden in Seven Corners and Thip Kao in D.C.
While Luangrath also likes the restaurant's Korean barbecue dishes, she says she mainly comes for the vegetarian fare. "We don't have a lot of tofu in Lao cuisine; we have a soybean drink, but not a lot of tofu. Lots of people don't like it because it's bland, but I just love [it]," she says. "Sometimes it's just me at midnight and my son will join me. We both work late at night, so we'll sit down and eat together."
Seng's picks:
• Tofu soup
• Fried dumplings
• Kimchi
Lighthouse Tofu
4121 Chatelain Road,
Annandale; 703-333-3436
Kate Bennett, Marble & Rye
Kate Bennett lives in Penrose and has come to rely on a neighborhood institution for pickup orders: Bob & Edith's Diner. Though Bennett is a relative newcomer to Columbia Pike, B&E's is not; the 24-hour joint has been slinging old-fashioned comfort food since 1969.
"It's pretty basic food—easy and simple," says the executive chef at Marble & Rye, a farm-to-table restaurant and whiskey bar that opened on the Pike in November. "After a long day of work, I don't want anything too complicated." Her order is indeed modest, just a cooked-to-order veggie omelet or a BLT sandwich.
"I grew up in Pennsylvania eating very simple food," she explains. "We were Pennsylvania Dutch and ate a lot of meat and potatoes." For these reasons, the diner reminds Bennett of her grandmother's no-fuss cooking.
Kate's picks:
• Veggie omelet
• BLT
Bob & Edith's Diner
2310 Columbia Pike,
Arlington; 703-920-6103

Javier Candon and Christiana Campos-Candon, SER
Arlington residents Javier Candon and his wife, Christiana Campos-Candon, have a Sunday tradition. They pick up Peruvian chicken from Super Pollo on the way home from church, but instead of digging in with plastic utensils and paper plates, they gussy it up.
"Christiana is all about the table, so she still sets it beautifully, puts candles on, and uses all of our fine china," says Candon, who co-owns SER in Ballston (read David Hage­dorn's review of SER on page 126). "I put [the food] on a nice tray to make it look like it didn't come from [a carryout place]."
They usually order a whole roasted chicken with two sides: yucca frita and tomato onion salad. The meal reminds each of them of home. "The chicken has a very strong cumin flavor, which I love because it reminds me of Andalucía where there is Moroccan influence," Candon says.
Campos-Candon, meanwhile, is transported back to her hometown of Miami, where fried yucca beats french fries as surely as rock beats scissors.
Javier & Christiana's picks:
• Whole roasted
Peruvian chicken
• Yucca frita
• Tomato onion salad
Super Pollo
5011 Wilson Blvd., 703-351-7666, and
550 N. Quincy St., 703-970-3421,
Arlington; www.superpollovirginia.com
Laura Hayes is a D.C.-based food, drink and travel writer who also contributes to Thrillist, Washington City Paper and Food Network. She would like to challenge chef Cabot to a wing-eating contest at Bonchon Chicken. Follow her on Twitter @BTMenu.