Where to Eat and Drink in Eden Center
Discover banh mi, bubble tea and a whole lot more at this expansive Vietnamese shopping center.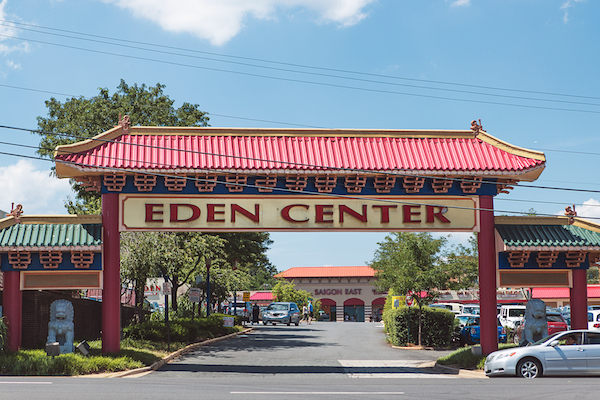 Photo by Brian Oh
To eat in Eden Center is to be presented with an embarrassment of riches. Whether it's a  storefront with a line of eager diners spilling out of the doors, or a dining room tucked behind shops selling Buddhist shrines, there is no shortage of enticements from Vietnam's many distinct regions.
The difficult part is deciding which spot to pick. Vietnamese cuisines are as diverse as they come, and Eden Center is home to everything from full-blown eateries and restaurants to tiny counters and stalls specializing in fried tofu or beef jerky.
Need a primer? We've put together a quick guide to help you find your way around.
Dining In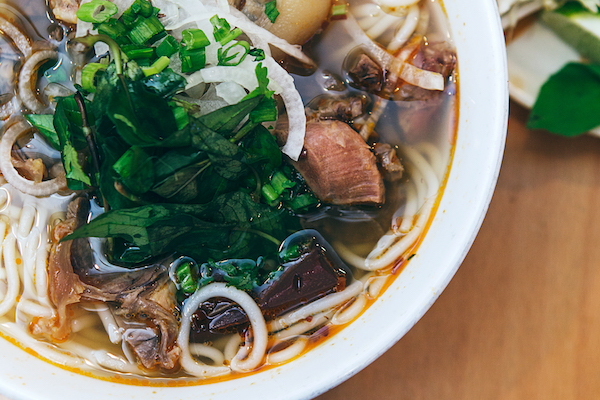 The Bún bò Huế at Eden Center's Hai Duong. Photo by Brian Oh
Hai Duong
Hai Duong's extensive menu and rapid — if terse — service add up to one of the best places to sample dishes that span the spectrum of Vietnamese cuisine. With options from northern, central and southern Vietnam, you could easily eat your way through the entire country at Hai Duong. A great place to start is the Bún bò Huế. A dish from the central Vietnamese city of Huế, Bún bò Huế is a noodle soup built on thick vermicelli noodles and a beef both. Distinguishing itself from the more ubiquitous pho, this dish includes a greater variety of meats, like oxtail, pork trotters and blood cake. Hai Duong's Bún bò Huế balances sweet, spicy, salty and sour in a way that characterizes Vietnamese cooking perfectly.
6795 Wilson Blvd., #7, Falls Church; 703-538-5289
Huong Viet
One of Eden Center's oldest restaurants, Huong Viet, is a hive for visitors, and rightfully so. The breadth and depth of Huong Viet's menu is what draws crowds week after week. And while there are plenty of more obscure dishes to try, Huong Viet also nails the staples. Bún thịt nướng is a common comfort dish consisting of a bed of cold vermicelli topped with caramelized and smoky pork, pickled carrots, roasted peanuts, cucumbers, cilantro and fish sauce.
6785 Wilson Blvd., Falls Church; 703-538-7110
Nha Trang
Located in the interior corridors of Eden Center, Nha Trang is harder to find, but worth the effort. The dining room, marked by fluorescent lighting, haphazard Vietnamese kitsch and artificial plants, serves a high-quality menu of layered flavors and textures. The restaurant's proprietors hail from central Vietnam, as does one of their best dishes: Mì Quảng — a noodle dish in a shallow broth that comes from Quảng Nam Province — is characterized by wide, yellow rice noodles with turmeric and cu nen, a pungent, garlic-like vegetable that's fried in raw peanut oil for a rich, funky finish. Mì Quảng can be topped with all types of vegetables and proteins. At Nha Trang it's served with tender pork and shrimp.
6757 Wilson Blvd., #7, Falls Church; 703-534-1657
Lighter Fare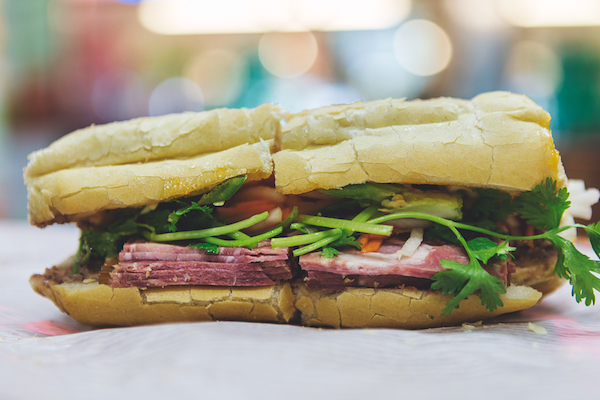 The bánh mì sandwich at Eden Center's Nhu Lan Sandwich. Photo by Brian Oh
Nhu Lan Sandwich
Bánh mì sandwiches are as ubiquitous in Vietnam as burgers are in America. More than a few shops in Eden Center offer the Vietnamese sandwich, which layers various meats and vegetables inside a French baguette, but Nhu Lan's is a consistent standout. Served out of a tiny space with a counter and a soft drink cooler, Nhu Lan's signature bánh mì thịt nguội (which the owners describe as an "assorted cold cut combination") is a delicate combination of pork liver pâté, ham, head cheese, cilantro, cucumber and pickled radish. You'll be hard pressed to find a sandwich shop that can throw together something so complex so quickly — and for only $3.
6763 Wilson Blvd., #14, Falls Church; 703-532-9009
Thanh Truc
Thanh Truc is a little restaurant tucked inside the southwest wing of Eden Center. Need help navigating the full menu? The dish to order at Thanh Truc is its cơm tấm, a broken rice platter typically topped with pork, vegetables and a fried egg. Occupying a middle ground between light and heavy, cơm tấm makes a quick dinner or a solid hangover cure.
6795 Wilson Blvd., #29, Falls Church; 703-534-6988​
Snacks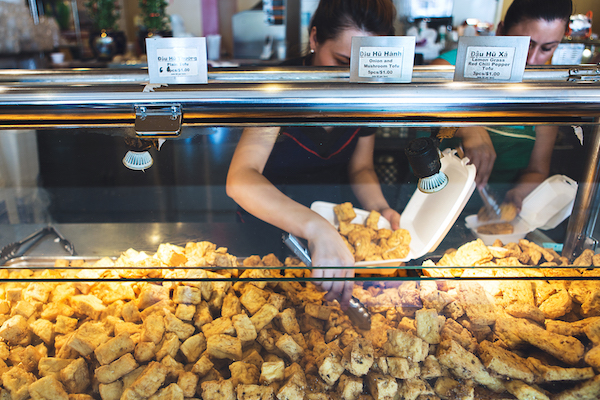 Fried tofu at Eden Center's Thanh Son Tofu. Photo by Brian Oh
Thanh Son Tofu
There's probably no another shop in the metro area boasting such a persistent line of people waiting to buy tofu. But it's a common sight at Than Son Tofu. Than Son's specialty is Vietnamese fried tofu that comes in three flavors: plain; onion and mushroom; and lemongrass-chili. Pay by the cube and you'll be handed a Styrofoam container with your tofu haul as you're hurried out by the massive line behind you. Crispy on the outside (thanks to flash frying) and soft and moist on the inside, it's a perfect on-the-go snack. If you're not in the mood for tofu, a separate counter also offers rice porridge, fruit smoothies and rice cakes.
6793-A Wilson Blvd, Falls Church; 703-534-1202
Phu Quy
Phu Quy is like a candy store for meat. The main attraction is a series of shelves holding different styles of jerky preserved in sugar and salt, from lemongrass-beef to white abalone (a sea snail). You can pick and choose from the brightly colored wall of jerky and purchase it by the quarter pound. Napkins are a must for some of the sweeter flavors because of the thick, molasses-like sauces.
6799 Wilson Blvd., #5 & 6, Falls Church; 703-536-6106
Phuoc Loc Bakery
It can hardly be considered an Asian meal if it's not rounded out by boba. Phuoc Loc offers similar offerings to other bakeries in Eden Center, including pastries, fried tofu and rice cakes. But the real highlight here is the bubble tea. Made with exceedingly fresh fruit and produce, Phuoc Loc's bubble tea is the way to go after a round of exploring Eden Center's gastronomical delights. Try something light, like lychee, and let the tapioca pearls cleanse your palate.
6795 Wilson Blvd., #38 & #40, Falls Church; 703-854-1750
Save
Save