Where to Eat Authentic Afghan Food
Susan Clementi spent five years in Afghanistan and brought back some of its finest culinary traditions.
Sometimes knowing the story behind an ethnic restaurant makes the food all the more delicious. Case in point: Arlington Kabob on Lee Highway, just west of Glebe Road.
The modest eatery is located at the end of a tiny strip mall and is easy to miss—unless you've met its owner, Susan Clementi. Born in London to Afghan parents, Clementi moved to Arlington in the late '70s and worked in the local restaurant scene for 17 years before changing careers and taking a corporate job in telecommunications.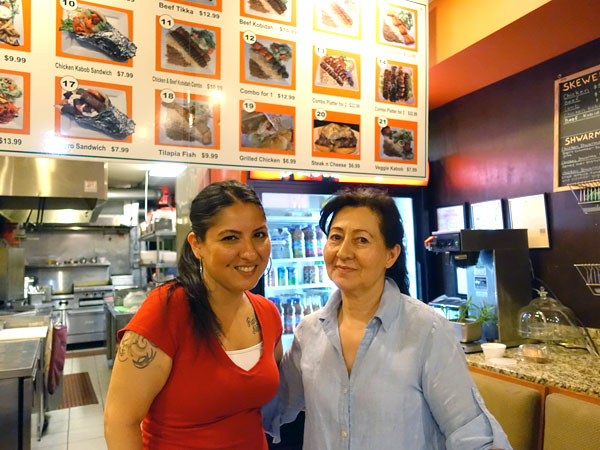 Sophia Qadar and Susan Clementi.
In 2009 she traveled to her parents' native country, where she spent five years working as a translator for a military contractor that was trying to help local tribespeople rebuild their communities. She went, in part, because she was outraged by the Taliban's oppression of women and girls and hoped to make a difference.
"My vision of Afghanistan was [a place] where women could work, everything was normal," Clementi says of the days when her mother was young. "After seeing all the craziness that's happening over there [now], it gets to you after a while."
But there was one constant. "The food was amazing—very delicious, very simple food," says the Falls Church resident. "I came back and I just wanted to retire and have a small restaurant."
That's precisely what she did. Opened in August, 2013, Arlington Kabob is all about traditional Afghan cooking. You'll find grilled meats spiced with turmeric, ginger and herbs; fluffy rice, sometimes dressed up with carrots and raisins; and a yeasty naan that's slightly charred, but chewy on the inside. Everything comes with two sauces—one green, made with yogurt, cilantro and jalapeno; and one white, a combination of yogurt and vinegar. (Alternating back and forth with bites of chicken and lamb is the way to go.)
Clementi says she sources her meat and produce as locally as possible, and serves New Jersey-based Boylan cane-sugar sodas as a refreshing complement to the food.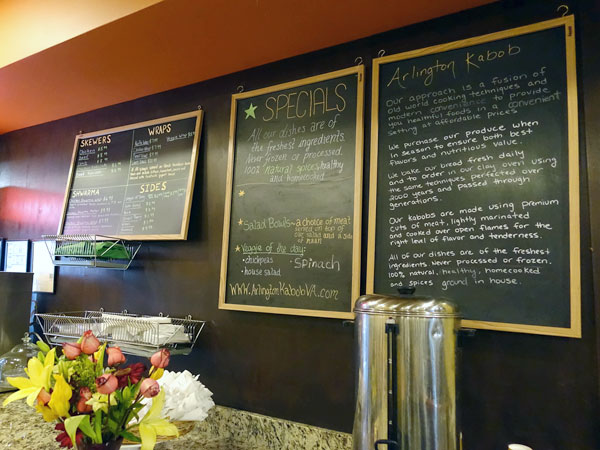 Arlington Kabob menu
One dish, No. 16, comes straight from her time in Afghanistan. Quabli palaw, a moist, falling-off-the-bone lamb shank, served in rice with carrots and raisins, is a specialty that's served at most Afghan weddings. Clementi remembers translating for a medical training session in a wedding hall, where the chefs prepared the dish in big batches for the trainees who were there. It's typically sprinkled with nuts, although she avoids them in her version, keeping in mind that some customers have food allergies.
(She does sell a walnut-laden baklava, but makes her batches early on Sundays, before any other staff have arrived, and then meticulously cleans the work area of any nut traces for the following week.)
The restaurant enjoys a nice following. It's frequently recommended on the Mothers of North Arlington listserv because the food is kid-friendly, with options such as steak and cheese, grilled chicken sandwiches with French fries, and meats that are lightly spiced for young palates. "I wanted to have a kabob place where kids go," Clementi says.
Kids also work there, handling delivery orders. Clementi says she makes a point of hiring Yorktown High School students to fill part-time and summer jobs, serving as part employer, part den mother. "I am a mom, and when they come after school, they can eat here," she explains, "and I make sure they do their homework."
Her own daughter, Sophia Qadar, 33, works for the Arlington County Police Department by day, ordering uniforms and equipment. She comes by the restaurant on nights and weekends to help out.
"It's nice, because it doesn't feel like work here," Qadar says. "It's like coming to a second home. I'm eating Mom's food, so it is home!"
Fourteen-hour days are the norm for Clementi. It's not exactly an easy retirement, but she is careful to keep things in perspective, ever mindful of the sacrifices she witnessed during her time in Afghanistan, where she says she watched soldiers, doctors and military police working tirelessly to improve the quality of life for Afghan citizens.
For those customers who serve the public—military service members, police, EMTs, even road workers—drinks are on the house, she says.