Where to Hear Live Music
Here are four local bands to check out this summer. Plus, a list of restaurants, clubs and other venues for lives tunes.
NOW PLAYING

Tom Principato
The sound: Roots music—a combination of blues, rock 'n' roll, jazz and Latin influences
Local connection: Grew up in the east Bel Air/Westlawn section of Falls Church and graduated from Falls Church High School in 1970. Now lives in the same Falls Church house where he grew up.
Favorite area venues: The Hamilton, Bethesda Blues & Jazz Supper Club, JV's Restaurant and The Birchmere
Upcoming gigs: Cherry Hill Park in Falls Church (Aug. 6) and Mason District Park Amphitheater in Annandale (Aug. 30)
Musical influences: B.B. King, Albert King, Les Paul, Chet Atkins, Jimi Hendrix, Jeff Beck, Danny Gatton, Roy Buchanan, Santana
Career highlight: Headlining the outdoor stage at the Montreux Jazz Festival in Switzerland in 2011
Dream collaboration: "The late B.B. King—he was my lifelong inspiration and hero."
Music philosophy: "To play from the heart and to follow my heart."
Fun fact: "I have always wanted to be a Major League Baseball player."
More info: www.tomprincipato.com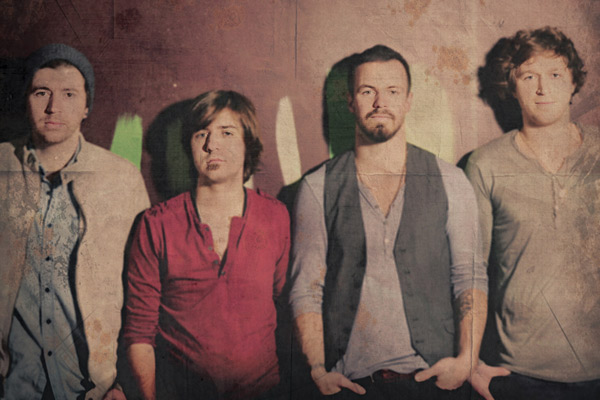 Courtesy Photo
Melodime
The sound: "Somewhere between alt-rock and pop-country…anthemic tunes with strong lyrics."
Local connection: Brad Rhodes (guitar, vocals) lived in Falls Church for many years, and now lives in Fairfax. Sammy Duis (keyboards, bass) and Tyler Duis (drums) live in Leesburg. Jon Wiley (guitars, background vocals) lives in Fredericksburg. The CD release party for the band's most recent album was held at the State Theatre in November.
Favorite area venues: Jammin' Java, State Theatre, 9:30 Club, Iota Club & Café
Upcoming Gigs: Rock This Town at Jammin' Java in Vienna (June 27)
Musical influences: Led Zeppelin, the Police, the Doors, Billy Joel, the Beatles, Elton John, Zac Brown, John Mayer
Dream collaboration: "A sappy duet with Adele could be cool. She can do no wrong. Giving us a No. 1 single on iTunes would not be wrong."
Music philosophy: "We write songs that heal us. These stories are formed from disappointment, personal failures and broken relationships, but they always find their way back to the light with elements of hope, redemption and renewal."
Fun fact: "All profits from our latest album, Where the Sinners and the Saints Collide, fund a project we've started to provide musical instruments and instruction for disadvantaged children." (Learn more at nowiplayalongtoo.org.)
More info: www.melodime.com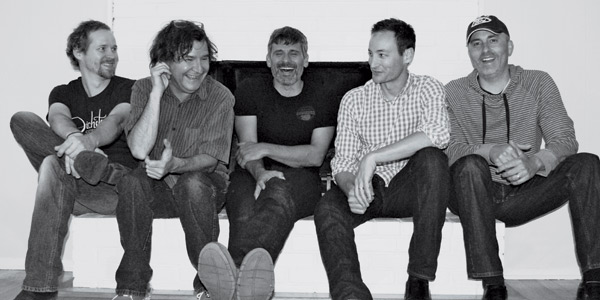 Courtesy Photo
The Walkaways
The sound: "A mix of alt-country and Americana. Our songs are often about finding hope in a sometimes hopeless world."
Local connection: All of the band's members—Todd Daniel (lead vocals, guitar, mandolin, harmonica), Mark Bower (keyboards, mandolin, accordion, guitar, vocals), John Cunningham (drums and percussion), Ed Jackson (bass), Bobby Birdsong (pedal steel guitar)—have lived in or near Arlington for years. "Many of our songs draw from the experience of living in the area, whether it be references to the country's political epicenter, or the rural sprawl west of the Beltway."
Favorite area venues: Evening Star Café, Iota Club & Café, Gypsy Sally's
Upcoming gigs: Volta Park Concert Series in Georgetown (July 12), Woo Live! in Vienna (July 16); Westover Beer Garden (Aug. 28)
Musical influences: Wilco, Ryan Adams, Bruce Springsteen, Van Morrison
Dream collaboration: "Jeff Buckley was an artist taken from us far too soon. It would be interesting to see how our styles would mesh."
Music philosophy: "Take nothing for granted. Live each day, and play each song like it's your last chance at greatness."
Fun fact: By day, Daniel is a construction project manager; Cunningham is a criminal defense attorney; Bower is a retired Air Force colonel; Jackson is a studio engineer and music producer; and Birdsong is a piano tuner.
More info: www.thewalkaways.com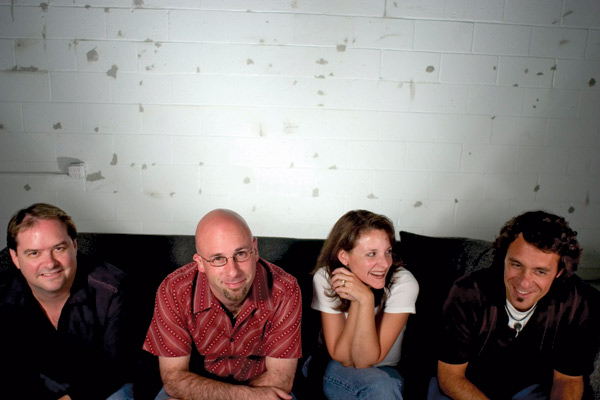 Photo by Bryn Barber/Virginia Soul Records
Eddie From Ohio
The sound: "Too energetic to be labeled folk, and not angry enough to be pegged alternative."
Local connection: Mike Clem (bass, harp, guitar, vocals) and Robbie Schaefer (guitar, lead vocals) attended McLean High School. Eddie Hartness (drums, hand percussion, vocals) is a Washington-Lee grad who now lives in Falls Church. Julie Murphy Wells (lead vocals, tambourine, shaker) grew up in Vienna, graduated from Marshall High School and now lives in Arlington.
Favorite area venue: "The Birchmere. We've recorded two albums there and have played there every winter, over Martin Luther King Jr. weekend or Presidents Day weekend, for the past nine years."
Upcoming gig: Music at Arrowbrook Centre Park in Herndon (July 11)
Musical influences: James Taylor (Schaefer); Rush (Hartness); the Beatles (Clem); Judy Garland, Billie Holiday and Frank Sinatra (Wells). "The four of us are truly an eclectic mix of musical souls."
Fun fact: "We submitted an original song entitled 'Old Dominion' in Virginia's 1998 competition to select a new state song. Somehow the state never ended the competition, so technically our state song is still 'Carry Me Back to Old Virginia'—not a very inspiring tune."
More info: eddiefromohio.com
Check out our 2015 Summer Music Guide for details about upcoming summer concerts and music festivals in Arlington, Falls Church and McLean.
ARLINGTON
Busboys and Poets
www.busboysandpoets.com
Cassatt's Café and Gallery
www.cassattscafe.com
Clarendon Grill
cgrill.com
Cowboy Café
thecowboycafe.com
Fire Works American Pizzeria & Bar
fireworkspizza.com
Galaxy Hut
www.galaxyhut.com
IOTA Club & Café
www.iotaclubandcafe.com
Ireland's Four Courts
www.irelandsfourcourts.com
O'Sullivan's Irish Pub
osullivansirishpub.com
P. Brennan's Irish Pub & Restaurant
www.pbrennans.com
Ragtime
ragtimerestaurant.com
Republic Kitchen and Bar
www.republic-arlington.com
Rhodeside Grill
www.rhodesidegrill.com
The Salsa Room
thesalsaroom.net
Samuel Beckett's Irish Gastro Pub
www.samuelbecketts.com
Westover Beer Garden & Haus
www.westovermarket.com
Whitlow's on Wilson
www.whitlows.com
William Jeffrey's Tavern
www.williamjeffreystavern.com
FALLS CHURCH
Clare and Don's Beach Shack
clareanddons.com
Dogfish Head Alehouse
dogfishalehouse.com
Dogwood Tavern
www.dogwoodtavern.com
Irelands Four Provinces
www.4psva.com
JV's Restaurant
www.jvsrestaurant.com
State Theatre
www.thestatetheatre.com
DEL RAY
The Birchmere
www.birchmere.com
Evening Star Café
www.eveningstarcafe.net
FireFlies
www.firefliesdelray.com
VIENNA
Jammin' Java
jamminjava.com
Wolf Trap
www.wolftrap.org