Worlds Apart
Incomes and property values are rising in Arlington. So is the number of residents relying on food pantries, free medical care and housing assistance.
"Come on, Federer! Prove why you're number one! Come on, fool!"
It's a late morning in August, and Marvin "Happy" Robbins is glued to his 63-inch TV, watching the men's tennis semifinals of the Olympics. The singles match between Roger Federer and Juan Martin del Potro has astonishingly continued for more than four hours.
A confessed sports nut, Robbins, 77, usually starts his days this way, watching whatever athletic entertainment the tube brings to his 500-square-foot apartment. It's a cozy place. A Dallas Cowboys jacket is slung over a nearby chair. His Army baseball cap sits atop a Tupperware container filled with medications. A couple baseballs are housed in a plastic holder on top of the TV. The one-bedroom off Columbia Pike has been Robbins' home for 27 years. He's hoping to keep it that way.
"It's not rent-controlled. It just went up this month," he says, noting that his rent is now $1,286 after a recent increase of $61. It's a far cry from his early days in the eight-floor building, when the monthly payment was $546. "It's ridiculous what they do."
Robbins is not alone. He's one of thousands of Arlingtonians struggling to get by in a county that's been their home for years.
In a community with a 3.5 percent unemployment rate (the national average is 7.8 percent) and the nation's second largest "creative class"—a term coined by author Richard Florida for white-collar professionals who work in sectors such as technology, health care, arts and education—it's all too easy to overlook those who are getting left behind.
But their numbers are growing. Arlington County's Economic Independence Services division, which provides employment, food and housing assistance, has seen a 46.4 percent increase in walk-in customers in the past four years—up from 39,264 people in 2008 to 57,488 this year.
The number of Arlington households on food stamps has risen by 79 percent since 2008. Nearly a third of Arlington's schoolchildren now qualify for free or subsidized school lunches.
According to the Arlington Free Clinic, a nonprofit that provides free medical care to residents in need, 15,351 adults in the county between the ages of 19 and 64 have no health insurance.
And yet, a stroll along Wilson Boulevard in Clarendon shows no signs of economic distress. Larry's Homemade ice cream is serving up a scoop in a sugar cone for $4.25. Whitlow's on Wilson offers a $20 brunch buffet that includes all-you-can-eat crab legs. In this enclave of young, mostly Caucasian college graduates, the most pressing concerns of the moment seem to be whether to wait for a table at Circa or head across the street to order a gourmet slice at Pete's New Haven Style Apizza.
For Arlington's less-well-off, the priorities are more fundamental: shelter, food, gasoline.
"Imagine if you are a person trying to rent an apartment in Arlington with $14,000 of income a year," says Anita Friedman, division chief of the county's Economic Independence Services division. "It's not possible. The lowest one-bedroom you're going to find is $1,100 a month. Then you don't have any money left over for food or medical expenses or transportation."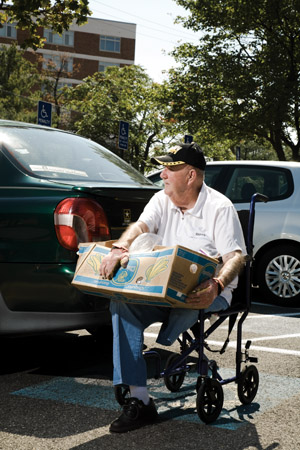 This is the reality for the 7 percent of county residents (roughly 14,800) who live below the federal poverty line.
That statistic alone is startling, and yet it doesn't entirely capture what it means to be poor in Arlington. The federal government sets the poverty line for an individual at an annual income of $11,170 or less. For a family of four, it's $23,050. But these national benchmarks are not adjusted for communities that may have a higher cost of living. And Arlington is a very expensive place to live.
According to RealEstate Business Intelligence, a local real estate analytics company, the median sales price for a home in the nation's mid-Atlantic region in August 2012 was $290,000. In Arlington, it was $512,000.
The median household income nationwide, according to the latest Census Bureau figures, is $50,502. Arlington nearly doubles it at $100,735.
Local experts say that blaming the recession for the increase in poverty oversimplifies the problem, in that there are other factors at play. As more affluent, young and educated residents have flocked to Arlington's Metro corridors—in August, CNN ranked Arlington as the nation's fourth best place for the "rich and single" to live—many of those who inhabited these hot spots before the demand started are now unable to make ends meet. They are getting pushed out of the very neighborhoods they helped create.
"We have a blessing and a curse with Arlington," says Friedman. "We're a victim of our own success."
Pulling up in his 2000 Toyota Echo at the Arlington Food Assistance Center (AFAC) off South Four Mile Run Drive, Robbins is in a good mood—hence the "Happy" nickname he's had since childhood. A volunteer hoists a cart filled with milk, chicken, eggs, apples and peanut butter into his backseat while he jokes that the 30-something reporter sitting next to him (me) is his wife.
Robbins maintains an affable attitude despite his dire circumstances: his sole source of income is his $945 monthly Social Security check. Sixty years ago, his current situation would have been unthinkable to the Sharpsburg, N.C., native. A county-wide athletic star in high school, he was scouted and signed by the New York Yankees. He pitched for a Yankees farm team for one season. Then came the Korean War.
After serving in the Army for 18 months, he was honorably discharged with the plan of returning to baseball, but there was just one problem: he couldn't throw like he used to. "I was too much out of shape when I came back," he says. "There wasn't no speed."
Robbins moved to the D.C. area in '58 and landed a job officiating sports games for the D.C. Department of Parks and Recreation. When he was laid off after 22 years, due to budget cuts, he got a job delivering books for Distinctive Bookbinding in the District. He was far from wealthy, but his income was stable. Life was good.
That is, until a heart bypass in 2001. Complications from the procedure resulted in a blood clot in his left leg, which was eventually amputated above the knee. After taking a year to recover, he found it too difficult to walk with a prosthetic, so his old job was no longer a possibility. Robbins now receives an $836-per-month housing grant from the county. He has been going to AFAC to get 40 pounds of free food per week ever since a neighbor told him about it in 2005.
"Happy's a happy guy," says AFAC Executive Director Charlie Meng. "He's polite and he's a gentleman."
Robbins is one of 4,200 county residents who visit the pantry weekly for supplemental groceries. AFAC gives out 280,000 pounds of food per month, some of which is donated by local citizens, community groups and retailers (Meng says the Trader Joe's in Baileys Crossroads alone donates more than a thousand pounds of food every night).
But not all of the items stocked on the nonprofit's shelves come free. Unlike most food pantries—which rely solely on donated nonperishables—AFAC purchases 35 percent of the food it gives out from wholesale distributors such as Sysco and US Foods. This allows the organization to buy perishable staples in bulk (166,000 pounds of chicken for 48 cents a pound; 100,000 dozen eggs for 65 cents a dozen) and do more with less.
Even so, Meng says AFAC took a hit last year, spending $60,000 over budget. Basing his estimates on previous years, he was expecting a 6 percent increase in food recipients this year. The increase was 22 percent.
"We serve a population that has been really hard-hit with this economic downturn," Meng says. "A lot of the folks worked in the residential housing construction business and that has basically dried up. That's not going to come back to the levels it was before, at least not anytime soon. We're still dealing with those individuals. They just can't up and move."
"Underemployment is another significant factor," he adds.
Some 12,298 Arlingtonians were underemployed as of March 2012, according to the Virginia Economic Development Partnership's Ally Information Exchange, an online information resource. (The database defines the underemployed as people who are working part-time jobs but want full-time positions; or as those who have full-time jobs but whose skills aren't being fully utilized.)
Linda An is one such person. After losing her job as a staff geologist and project manager for an engineering firm in Dallas in 2008, she relocated to Arlington when a friend offered to let her stay in an efficiency apartment by herself—the idea being that she could get back on her feet and pay back the debt later. Neither of them expected it to take so long.
"I have continued to apply for jobs," says An, who is 62, her voice both blunt and defeated. "I send in 30 applications a month."
Since November of 2010, An has been working with the Senior Community Service Employment Program (SCSEP), an initiative funded by the U.S. Department of Labor that helps seniors ages 55 and up find work. Her contract is for 25 hours of data entry per week, for which she is paid $7.25 an hour. It's an income, yes, but not enough to sufficiently sustain her. She estimates she owes $9,000 to the IRS and another $4,000 in credit-card bills.
She is doing everything she can to make the last four payments on her 2003 Buick.
But An has type 2 diabetes and high blood pressure, and the last of her COBRA insurance ran out years ago. As a result, her savings are depleted. So she travels from her Rosslyn apartment to the Arlington Free Clinic (AFC) off Columbia Pike for care. She became a patient there in February 2011 after getting her name called in the clinic's monthly lottery on her third try.
Can't she apply for some form of governmental assistance? An's not exactly sure what to apply for. She says her visits to Arlington's Department of Human Services have been unsuccessful. "They look at me and say, 'What do you want?' I don't know what I want. I don't know what they can do for me and nobody's been able to tell me."
An feels the public assistance system is stereotyped and flawed—designed to help people who come across as needier and more desperate, leaving those who have work (but not enough) in limbo.
"I've tried to take as good care of myself as possible," An says. "I'm fat, but I try to take care of my teeth. I guess I don't look as rough as some people. I'm not living on the street. I'm not living in a shelter, thank God, but I am in need. People just look at me and blow me off."
Nancy Sanger Pallesen, executive director at the Arlington Free Clinic, is sympathetic. "Sometimes you'll look at someone and you think, 'Gosh, you're really dressed nicely,' " Pallesen says, noting that service providers have to resist passing judgment. "You wonder. You have to look beyond their physical appearance."
Since AFC covers costs for medication and medical care, the nonprofit can only take on about 250 new patients annually, averaging 1,600 total patients a year. To fill those open spots, AFC holds a monthly lottery to pick new patients. But demand for its services is growing: the clinic says the number of people arriving for the lottery grew by a third between fiscal years 2011 and 2012, from 1,235 to 1,753 participants.
Lottery day is a tough one for the staff at AFC. Even though the nonprofit tries its best to make it clear that arriving early before the drawing of 20-25 names doesn't give any advantage, there's always a line outside. "I pull in at about 9," says Pallesen. "It starts about 8:30 and it gets bigger until they open the doors at 10 a.m."
These aren't folks coming in because they have a cold. They are individuals with chronic conditions, ranging from diabetes to breast cancer.
Pallesen believes the increased demand for free health care is symptomatic of a larger problem. "Housing is a real issue," she says. "It's always been an issue, but now it's an even more pressing issue. How can they afford to live here?"
Some can't.
"We have people who are actually dying on the streets of Arlington," says Kathy Sibert, executive director of A-SPAN (Arlington Street People's Assistance Network), a local nonprofit seeking to end homelessness in Arlington.
"Most recently in March, we had a guy die…right in the parking lot of the Arlington Funeral Home, right by the library," Sibert says. "He had grown up here in Arlington. He graduated from Washington-Lee High School and he died on the streets at age 42."
His name was Leonard McCoy. He was one of the county's 451 homeless.
Still, McCoy's tragic story is becoming less the norm. The current count—which includes both sheltered and unsheltered homeless—is down by 2 percent from last year. The year before, there was a 39 percent decrease in unsheltered homeless in the county. The downward trend is no coincidence. It's the result of organized efforts by county officials and groups like A-SPAN to reduce Arlington's homeless population.
Several initiatives are under way, including the county's A Passageway Home plan, which was created in 2006 with the aim of ending homelessness in Arlington by 2016. In addition, the 100 Homes Arlington Campaign, a joint venture by the county and A-SPAN as part of HUD's national 100,000 Homes Campaign, is seeking to place 100 homeless individuals in permanent housing by July 2013 (27 had already been placed as of June 2012).
The county is also in the midst of securing a comprehensive services center in Courthouse which will serve as a year-round shelter with 50 beds (75 in winter), replacing the Emergency Winter Shelter that is only open Nov. 1 through March 31 with 73 beds.
These are important steps for a population in dire need—people whom so many see as an anonymous "other," not somebody's father, mother, sister or brother.
"Our typical demographic is a mom in her mid-20s, mid-30s," says Michael O'Rourke, executive director of the Arlington-Alexandria Coalition for the Homeless. (The nonprofit's Sullivan House in Clarendon provides shelter for up to 14 families.) "She's got two kids. She's been abandoned or abused or some combination thereof. She has or had a job and she wants to work. She's looking for an opportunity. She has exhausted her social network. She can no longer sleep on her sister's couch because she's not on the lease and her brother-in-law says, 'We just can't have your sister and her two kids here anymore.' That's typical."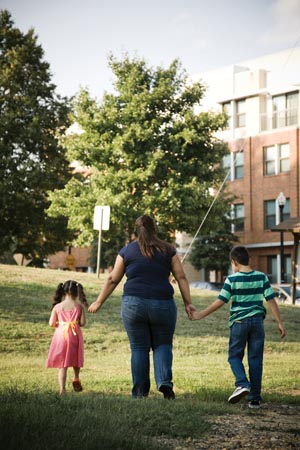 J.R. was one of those women, until she sought help from Doorways for Women and Families, a local nonprofit that provides assistance to women who are homeless or victims of domestic abuse. Today the 23-year-old (who prefers not to use her real name) is living in a subsidized two-bedroom apartment in South Arlington. In one room, a Little Mermaid blanket covers her bed (she's a big Ariel fan). The second bedroom has a pink Dora the Explorer twin bed for her 4-year-old daughter and another bed with a Super Mario Brothers comforter for her 9-year-old son.
Four years ago, J.R. couldn't have imagined such living arrangements as a single mother. Her son's father is currently incarcerated for gang-related activity. Her daughter's dad has been estranged for several years (he's the reason she fled to Doorways' shelter for at-risk women). They lived together briefly as she carried their daughter to term, J.R. explains, but he "wouldn't leave me money for breakfast, lunch or dinner. There was no fridge. He wouldn't buy food, he'd always eat out. If he did [leave money] it would be five or six dollars. What am I supposed to do? I'm pregnant, I'm hungry."
After a month and a half at one of Doorways' shelters, J.R. landed an apartment through the nonprofit's HomeStart Supportive Housing program, which provides a monthly stipend for housing. Weekly visits with social workers helped her develop the financial and life skills she needed to establish a stable home. After following the counseling for a year and a half and securing a second source of income, J.R. was poised to step out on her own. She graduated from the program in April 2011.
"It's phenomenal to see her shine now," says Caroline Jones, Doorways' executive director. "I can't think about her without being moved to happy tears. Teen moms get such a rap. She was 19 and had two young kids. She didn't have great role-modeling but she's a phenomenal mom. I have never seen her compromise when it comes to her kids."
Today, J.R.'s monthly rent is $1,315. Without the monthly $740 housing grant she receives from the county, she'd be in debt. She gets $8.25 an hour as a cashier at Party Depot and $13.13 an hour as a part-time receptionist at the local office of the Special Supplemental Nutrition Program for Women, Infants, and Children (WIC)—a USDA program that provides nutritious foods for low-income children.
With the two jobs, J.R.'s annual income is around $14,000. She gets $400 in monthly food stamps, and Medicaid covers the kids' insurance. She pays $100 a month for a babysitter. At the end of each month, she usually has $20-$30 left over.
"You would think with two jobs you would have enough money to pay everything," she says. "I don't. I still struggle sometimes trying to figure out what to cut down on."
Even so, J.R. is one of the lucky ones, as getting housing assistance in Arlington is increasingly difficult. More than 4,000 households in the county are currently on the waiting list for the Housing Choice Voucher Rent Assistance Program (Section 8), a federally funded program that provides housing for very-low-income residents. In Arlington, "very low income" is defined as a family of four with an annual income of $52,750 or less, or an individual who makes $37,650 or less.
The list was closed the day it opened in April, says Cynthia Stevens, chief of Arlington's Housing Assistance Bureau. It may not reopen for another five years. "With a wait-list of 4,000, we don't anticipate the need to reopen anytime soon," she explains. As of 2011, 1,511 households were enrolled.
With the federal list closed, many Arlington residents have been encouraged to seek help through the county's own housing grant program, which provides supplemental rental assistance to those earning less than 42 percent of Arlington's median income ($100,735). The county's human services department saw a 61.6 percent increase in applications for housing grants between 2008 and 2012 (from 1,198 to 1,936). Currently 1,142 households are receiving grants. That number is expected to continue escalating.
Which brings up a more complicated problem: There's a housing shortage in Arlington.
In 2003, the county established a yearly goal of creating 400 committed affordable housing units (CAFs)—residences stipulated to remain at a fair market value for those making 40 percent of the area median income or less. The average number of CAFs built annually between 2003 and 2011 was 293.
Meanwhile, competition for nonsubsidized housing has intensified with the economic downturn. In recent years, middle-class residents who couldn't afford to buy homes were still able to pay higher rents and, in turn, push out those at the bottom of the renting scale. Last year, the monthly lease for an efficiency apartment in Arlington averaged $1,337; a two-bedroom averaged $2,063, according to county estimates.
"Many private owners have figured out ways to raise rents even without a major change in their facilities," says Nina Janopaul, president and CEO of Arlington Partnership for Affordable Housing (APAH), a nonprofit that develops affordable housing in the county. "We've got a couple properties on Columbia Pike that have shown that with just granite countertops, stainless-steel appliances, a shuttle to the Metro and a fitness center, they can take what was a $1,000-a-month, one-bedroom apartment and bring it up to $1,700 a month."
APAH is in the midst of constructing Arlington Mill, a four-story, family-friendly site that will offer 121 committed affordable units when it is finished by December 2013. Janopaul sees the project as a victory in the ongoing fight to preserve affordability as redevelopment continues throughout the county—particularly along the Columbia Pike corridor, which has plans to debut a streetcar in coming years.
"[The trolley] will make it harder for low-income people," Janopaul says of the plan and its inevitable boost to property values. "It will make it harder for us to buy land and properties for affordable housing because our properties are rent-restricted."
The combination of skyrocketing housing costs, chronic underemployment and, in some cases, health problems, has created a perfect storm for many low-income residents who are struggling to get by. Though the county expects to add 23,100 new jobs by 2015, the people with the greatest need won't necessarily qualify for those jobs.
"There are many new applicants for entry-level and lower-skilled positions, but they don't have the basic skills to be qualified candidates," explains Friedman of the county's Economic Independence Services division. A recent emphasis on creating white-collar professional jobs has created a mismatch in the workforce, she says. "There's not really an avenue for people to obtain trade associate degrees."
A couple miles down the road, J.R. isn't fretting about Arlington's economic future. It's not that she doesn't care; she simply doesn't have the luxury of time to process the big picture. Her reality is the day-to-day.
Right now her daughter is tired, snuggling into Mom after a long day. It's time to figure out what to cook for dinner and then tuck the little ones into bed. It's the quiet respite of a summer evening before things get really busy again in the fall, when J.R. resumes classes at Northern Virginia Community College (she is studying psychology), all the while holding down two jobs.
"I'm doing what I can do," she says. "It's a struggle, but I'm making it work somehow."
Kris Coronado is a freelance writer based in Arlington. You can read her work at Kriscoronado.com and follow her on Twitter @Kriscoronado.