10 Guilty Pleasures That Are Worth the Calories
Looking to cure a hangover, mend a broken heart or cheat on your diet? Food critic David Hagedorn recommends these indulgent dishes.
When it comes to food, is there anything more exhausting than being good? It's gotten to the point where we expend so much energy obsessing over carbs, dairy products, red meat, booze, cholesterol, fat, gluten, caffeine and—gasp!— fried food that the worrying should qualify as cardio. The simple truth is, life is hard and sometimes when you've had it, you have to go get it.
And by "it," I mean the most over-the-top, sick-of-my-diet, just-got-dumped, get-rid-of-this-hangover, ridiculously bad-for-you dish you can find.
In the interest of public service, I jotted down some of my go-to guilty pleasures around Arlington, Falls Church, McLean and Del Ray, and polled various experts in food and drink self-medication (read: my friends) for theirs. Over the course of a few grueling weeks I then sampled myriad sweet and savory concoctions, culling the list from 30 contenders to 10 winners.
Not all of the decisions were easy. Near misses that failed to make the final cut included: a bowlful of Pho 75's ethereal broth, rife with well-done and fatty brisket and meatballs; Super Pollo's piping hot, crispy-skinned, right-off-the-rotisserie Peruvian chicken; Cheesetique's brunchy mac 'n' cheese crowned with a runny fried egg; and The Dairy Godmother's banana split, which was excellent, but sadly missing a cherry.
What I looked for above all was an "OH!" factor—that certain something that makes you sit up and take notice of a dish, whether it's the audible sizzle from a skillet of seared cheese or the first blissful bite of a truly remarkable burger.
Forthwith, in no particular order, is my Top 10 list, where retox trumps detox, clog is the new cleanse and rationalization comes in handy.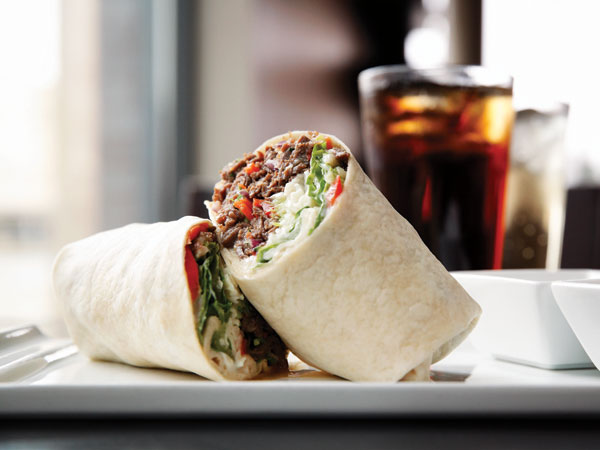 Photo by Jonathan Timmes
Bulgogi Saam
Bonchon, 2209 North Pershing Drive, Arlington
703-528-1011;
www.bonchon.com
I know everybody raves about the signature Korean-style chicken wings at Bonchon, but I'm not a fan. Too much coating and goopy sauce for my taste, but to each his own. Instead, I was intrigued by two other items.
The first was dduk-bok-ki, which, at first glance, resembles something out of a can from Chef Boyardee. It's made with chewy macaroni-like tubes of rice cake, thin fish-cake squares and vermicelli floating in a five-alarm, neon-orange-red pepper sauce. The dish is then topped with mozzarella, Parmesan and half a hard-boiled egg floating face-down like a mafia hit. I found the gumminess of the rice cakes strangely appealing, although after a few bites my mouth was so ablaze that no amount of pickled daikon or water could soothe it. I concluded it was a taste I hadn't acquired.
The second dish, however, induced an OH! moment. It is basically a Korean version of a burrito—a warm flour tortilla bulging with bulgogi (thinly sliced rib-eye steak marinated in soy, ginger, sesame oil and garlic, then griddled); stir-fried broccoli, red peppers and carrots; shredded romaine lettuce, ranch dressing, mozzarella and Sriracha mayonnaise. It has everything going for it: crunch, heat, chew and melted cheese, all wrapped in an edible container. It threatens to fall apart with each bite, so give up early, let it explode on your plate and eat it with a fork.
Rationalization: It's practically a salad!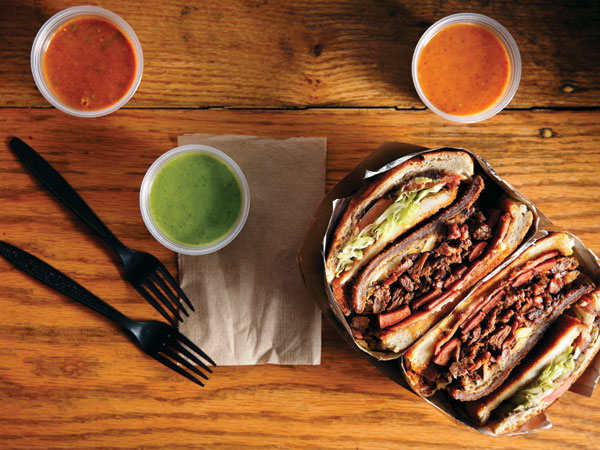 Photo by Jonathan Timmes
Torta Bamba
Taco Bamba, 2190 Pimmit Drive,Falls Church,
703-639-0505;
tacobambarestaurant.com
Tortas are Mexican sandwiches, often featured alongside the other offerings found at a taqueria. If you are the indecisive type, the Torta Bamba at Taco Bamba is for you.
Chef-owner Victor Albisu calls it the grandfather of all tortas—which is true if your grandfather happens to weigh 400 pounds. When Albisu and his cooks were designing the menu, they sought to strike a balance between traditional and interpretive. And when they got to the Bamba, they just kept adding whatever they had on hand to see how far they could gild the lily.
This is one gilded lily. It's a behemoth of halved hot dogs; thin, breaded cutlets (milanesas) of chicken and beef; garlicky chorizo sausage; carne asada (morsels of grilled marinated steak); ham; al pastor (pork loin marinated with guajillo chilies, achiote paste and chipotle; then shaved thin and cooked on the plancha); crumbles of Chihuahua cheese; pineapple salsa; mayonnaise; refried beans; avocado; tomatoes; lettuce; and house-made pickled jalapenos.
The lot is wedged between two soft, crunchy-on-the-outside rounds of bread that Albisu picks up from a bakery in Manassas three times a week. The Bamba is about the size of a football, which is fitting considering that this is the Hail Mary pass of hangover food.
Rationalization: Enough for two meals at least, so it's economical.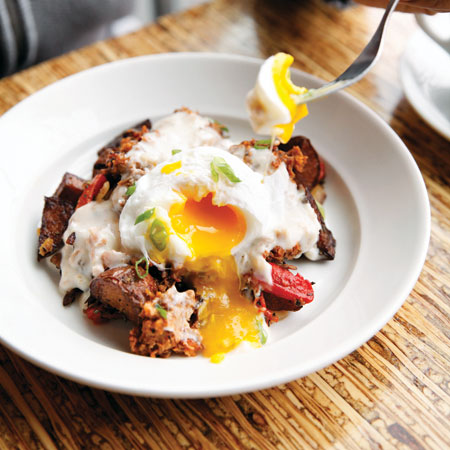 Photo by Jonathan Timmes
Hung-Over Hog
Bayou Bakery, 1515 North Courthouse Road, Arlington
703-243-2410;
bayoubakeryva.com
When you feel like hell after a night of drinking, it's only fitting that you remedy that with something that looks like hell but tastes like heaven. That's what this dish, available only on Sundays from 8 a.m. to 4 p.m., is all about. David Guas, the bakery's proprietor, is a chef with bona fide credentials, so it's no coincidence that this offering has layers of flavor hiding behind its countrified exterior. It starts with a pile of "tators," roasted skin-on red potatoes tossed with fresh rosemary and thyme and Creole seasoning. Then there are shreds of pulled pork whose sauce has just the right notes of sweetness and vinegary tang, an eruption of cream gravy (made with rendered bacon fat, bits of Edwards' country ham, milk and cayenne pepper) and a perfectly poached, chive-sprinkled egg resting on top.
The OH! moment comes when you pierce the egg and watch the molten yolk meld into the gravy and over the potatoes like a lava floe. The first bite is what you know it will be—a thoroughly fulfilling amalgam of starch, fat, meat and creaminess. Spattering the crime scene with an abundance of jolting Crystal Hot Sauce takes it to another level. The more you eat, the worse it looks, but the worse it looks, the better you feel. That's a win-win in my book.
Rationalization:  It's from a celebrity chef, so it's classy.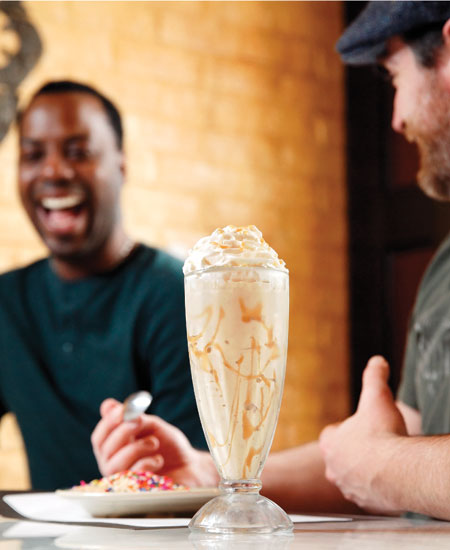 Photo by Jonathan Timmes
Irish Caramel Coffee Milkshake
Ted's Bulletin, 2911 District Ave., Merrifield (Mosaic District)
571-830-6680;
tedsbulletinmerrifield.com
When life gives you lemons, sometimes you need to toss the lemons and go get ice cream. And booze. All in one glass.
Ted's Bulletin offers a variety of adult milkshakes that allow you to recall the good old days and forget about the bad new ones all at the same time. The menu includes a variety of flavors, including a Grasshopper (with Kahlua and crème de menthe), Bananas Foster (with banana rum) and even a Millionaire Malt for $19.99 made with Glenlivet 18-year-old Scotch.
My money, however, is on the Irish Caramel Coffee, a blend so thick with whirred coffee ice cream, milk and Baileys Irish Cream that you could pop a few teeth trying to suck it through a straw. It arrives in a tall sundae glass topped with a swirl of whipped cream and so much caramel sauce that your eyes bug out.
But wait, there's more! No, really, there's more—a tall stainless-steel canister half full with leftover shake, plus a long bartender's spoon to facilitate the shoveling of it into your mouth. You know what couldn't hurt? Ask them to throw a little vodka in that shake to keep the Baileys company.
Rationalization: It's really nothing more than your morning coffee with some extra cream.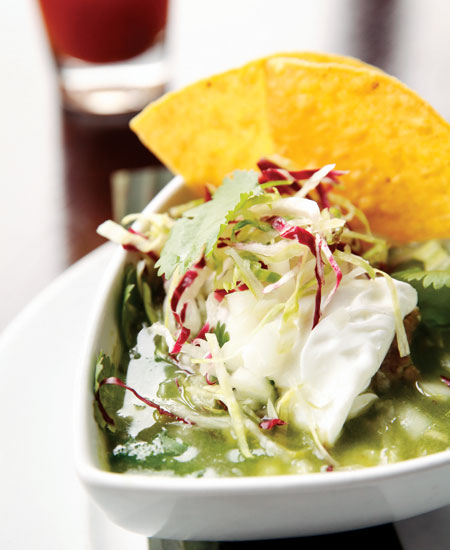 Photo by Jonathan Timmes
Pozole Verde
Fuego Cocina y Tequileria,
2800 Clarendon Blvd., Arlington
571-970-2180;
www.fuegova.com
If chicken noodle soup is Jewish penicillin, then pozole—pork and hominy stew—would be the Mexican counterpart. This traditional dish is widely known there as a hangover cure and is eaten for good luck on New Year's Day, much as black-eyed peas are in the South. Hominy, by the way, is made of corn kernels that have been soaked in an alkali solution to remove their tough hulls. What are left are their puffed, white, starchy interiors, which have a pleasing chewiness.
Executive chef Jeff Tunks' personal recipe for pozole verde is served on the dinner and brunch menus at Fuego Cocina y Tequileria. (Tunks is the culinary mastermind of Fuego's parent company, Passion Food Hospitality.) I prefer it at the latter meal, especially after a night on the town, because it comes with a poached egg floating on top.
For the stew, Tunks slowly cooks whole pork shoulder in chicken broth with garlic and onions until the meat is tender. He cuts the meat into bite-size chunks and adds the hominy, whose starch helps thicken the stew slightly. A purée of cilantro, serrano chilies and epazote, an herb also known as Mexican tea, imbues the stew with its vibrant green color and hint of spiciness.
The dish comes with traditional accompaniments on the side (fresh lime for squeezing, shredded cabbage, cilantro and diced yellow onion) and a poached egg in the center. The egg's yolk coalesces with the rich, starchy soup to add luxuriance. The dish is offered as a starter, but I suggest asking for a double order and making that your meal, washing it down with a Mala Suerte cocktail of habanero-infused tequila, grapefruit juice and lime juice.
Rationalization: It's green. It must be good for you!.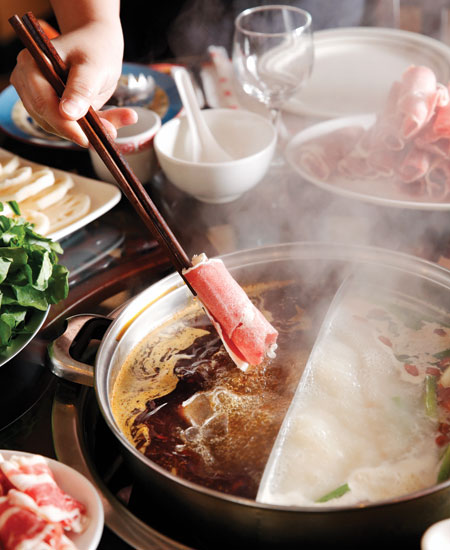 Photo by Jonathan Timmes
Hot Pot
Uncle Liu's Hot Pot, 2974 Gallows Road, Falls Church
703-560-6868;
uncleliuchinesefood.com
In a strip mall on Gallows Road, right next to Merrifield's Mosaic District, is Uncle Liu's Hot Pot, a vast, bare-boned Chinese restaurant where tables house built-in wells that are designed to hold large pots of boiling broth. You order ingredients a la carte from an extensive menu of possibilities and then drop them into the bubbling soup, retrieving them once they're done to your liking.
Given that you're doing the cooking, you are furnished with all the requisite utensils you need to accomplish the task (a slotted spoon, chopsticks and a ladle) and are offered a choice of broth (spicy, non-spicy and mushroom). Half spicy and half non-spicy is a good way to go, if for no other reason than to use the latter to douse the fire from the former.
Dipping options range from the unusual, at least to Americans (lotus root, chrysanthemum, green bean leaves, beef stomach, intestines, duck gizzards and feet), to the expected, including shrimp, scallops, broccoli, chicken and dumplings.
Your first stop, past a buffet that looks like it has seen better days, is at the dipping sauce bar, where you put together a bowl of goodies to be used as a condiment. I suggest a mix of hot oil, sesame oil, vinegar, oyster sauce, hoisin sauce, cilantro, scallions and garlic. It's all great fun, infinitely satisfying and sure to numb lips, feelings and ailments.
Rationalization: It's just soup!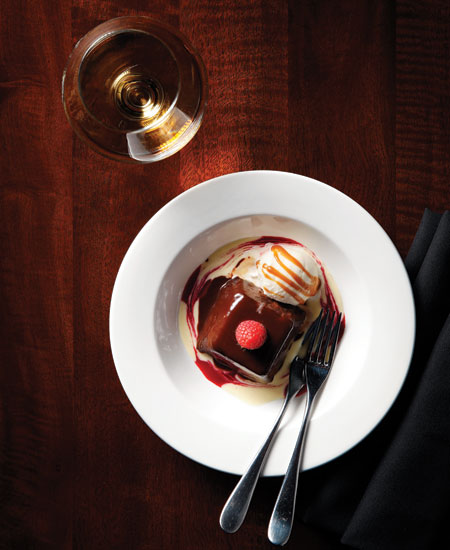 Photo by Jonathan Timmes
Warm Bourbon Chocolate Cake
Willow Restaurant, 4301 North Fairfax Drive, Arlington
703-465-8800;
www.willowva.com
Chocolate is an all-purpose palliative and the No. 1 foodstuff for people the world over who prefer to eat their feelings rather than express them. Bad breakup? Chocolate! In love? Chocolate! Stubbed your toe? Chocolate! Wednesday? Chocolate!
I happen to be very picky about chocolate preparations, so I prefer to put myself in the hands of a pro. Pastry chef Kate Jansen is tops in her field, having cut her chops at Galileo Restaurant and her own bakery, Firehook, before opening Willow in 2005 with fellow chef Tracy O'Grady.
Jansen's talent lies in technique and experience, mixed with a heaping helping of heart. Her desserts are never cloyingly sweet and are always refined yet homey and comforting.
Her bourbon chocolate cake is a case in point. Fudgy, intense, creamy and irresistible, this flourless confection is made with Belgian Callebaut chocolate (60 percent cocoa), Polyface Farm eggs, sugar and butter whipped into a satiny emulsion, a smidgen of oat flour for binding and Jim Beam, because…bourbon!
A three-inch cube of the cake is served warm, bathed in a chocolate-and-cream liquid ganache that pools all around it, the whole resting atop a swath of thick, eggy crème anglaise. To one side is a rosette of whipped cream, to the other a scoop of Moorenko's ice cream (made in Silver Spring, Md.), the flavor rotating according to the season. Mulled cherry ice cream is a perfect foil for the slightly bittersweet chocolate, but you also can't go wrong with peppermint stick, salted caramel or even classic vanilla.
Rationalization: It's gluten-free!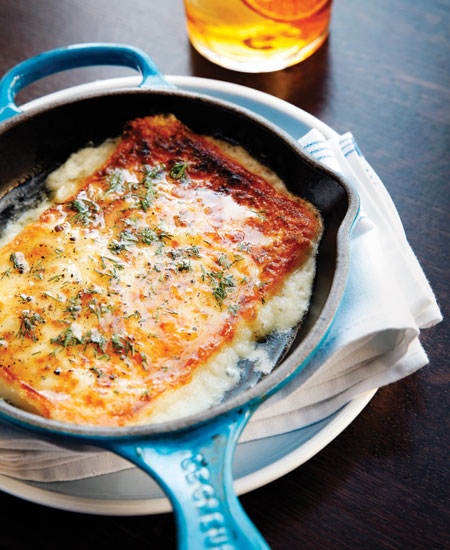 Photo by Jonathan Timmes
Saganaki With Honey and Dill
Kapnos Taverna, 4000 Wilson Blvd., Arlington
703-243-4400;
kapnostaverna.com
I have to say I was really torn over this, because the first thing I sampled at celebrity chef Mike Isabella's new Kapnos Taverna in Ballston was the gyro—meltingly tender chunks of spit-roasted lamb, tzatziki, romaine lettuce, pickled onions and radishes, all rolled up in a pita-like flatbread made in-house and warmed on the grill. Each bite surpassed the next and I was all ready to put it on my list. That is, until I heard sizzling behind me.
And there it was: a small cast-iron skillet filled with a hefty square of kefalograviera cheese that had been dipped in milk, dredged in flour, seared in the scorching skillet, baked and topped with freshly ground black pepper, a wash of honey, a squiggle of lemon vinaigrette and chopped fresh dill.
Result? A crispy, crunchy veneer and a gooey, stretchy interior, the tang and saltiness of the kefalograviera (a Greek hard cheese made from sheep's milk) perfectly balanced by the sweetness of the honey. Any blues you may have will melt away right along with that cheese.
Rationalization: It's protein!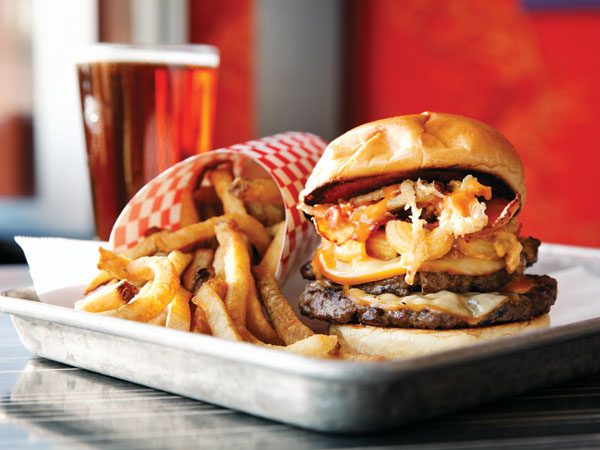 Photo by Jonathan Timmes
The Hot Mess Burger
Holy Cow, 2312 Mount Vernon Ave.,Alexandria (Del Ray)
703-666-8616;
www.holycowdelray.com
I don't usually go for burgers that have a lot of superfluous stuff keeping me from getting to the meat of the matter. Give me a Five Guys hamburger with some mayo and raw onion or a bacon cheeseburger, also with onion, and I'm happy. So I'm dubious about joints that boast long rosters of burgers with multiple fillings and cutesy, theme-y names.
Holy Cow in Del Ray is an exception. On its menu, my eye was immediately drawn to The Hot Mess because it takes one to know one. This is the kind of burger just made for diet cheat days, because it is a collection of seven deadly sins: one-third of a pound of Angus beef (or two-thirds, known as the Holy Grail option); macaroni and cheese; crispy onion strings; bacon; Sriracha aioli; Gouda cheese; and a brioche bun, which is made with butter instead of just silly old flour, water and yeast.
I wondered if all that stuff would turn out to be a gimmicky failure, but the first bite made me pause. The char and juiciness of the burger, made with meat whose quality you could actually taste; the discernible crunch and sweetness of the onions; the smokiness of the cheese and bacon; the lushness of the mac 'n' cheese; and the spiciness of the aioli all add up to perfection, down to the last bite. The piping hot hand-cut fries are also first-rate here.
Rationalization: It hits all the major food groups!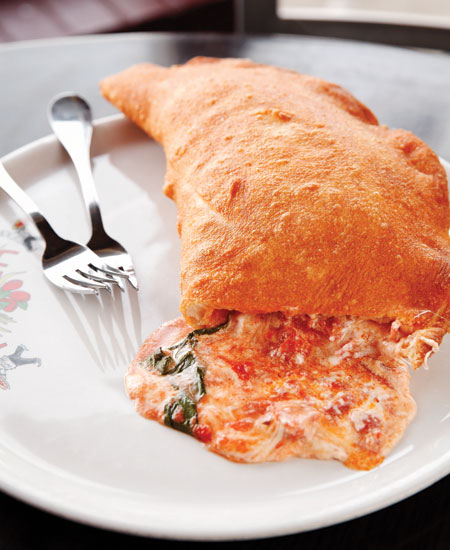 Photo by Jonathan Timmes
Pizza Fritta
Pupatella, 5104 Wilson Blvd., Arlington
571-312-7230;
www.pupatella.com
Pupatella is a no-frills fast-casual place. You order your pizza, retrieve your own utensils and water, take them to a table and wait for your order to be brought to you. The restaurant serves Neapolitan-style pizzas that are D.O.C. (Denominazione di Origine Controllata), meaning that they have to be made according to stringent guidelines outlined by the Italian government. The pies have blistery crusts, cook in less than a minute in an 800-degree-plus wood-burning oven and are gloriously soft in the center, to be eaten with a knife and fork.
But if you're feeling particularly indulgent in a bad or good way, head to the Friggitoria section of fried-food specialties on the menu and zero in on the pizza fritta. It requires 30 minutes of your patience, but you are well rewarded with a half-moon-shaped smiley-face that stretches from one side of a dinner plate to the other. When you cut deep into the center of it, be prepared to say "OH!" as its innards of fresh mozzarella, ricotta cheese, zesty salami, pure San Marzano tomato sauce and fresh basil leaves gush forth to fill any void on the plate.
It all blends into a marvelous gooey soup that entangles the meat. The best strategy is to maneuver it onto your fork with some of the crust, then use whatever crust remains as a sopping medium, thereby removing any evidence of wrongdoing.
Rationalization: There are basil leaves inside, otherwise known as vegetables. n
Food writer and cookbook author David Hagedorn is Arlington Magazine's restaurant critic. He threatened to submit a bill for "man-Spanx" after researching and writing this piece.