Afternoon Tea for Tots
The Ritz-Carlton's Petite Socialite Afternoon Tea delights guests ages 4 to 15 in Pentagon City.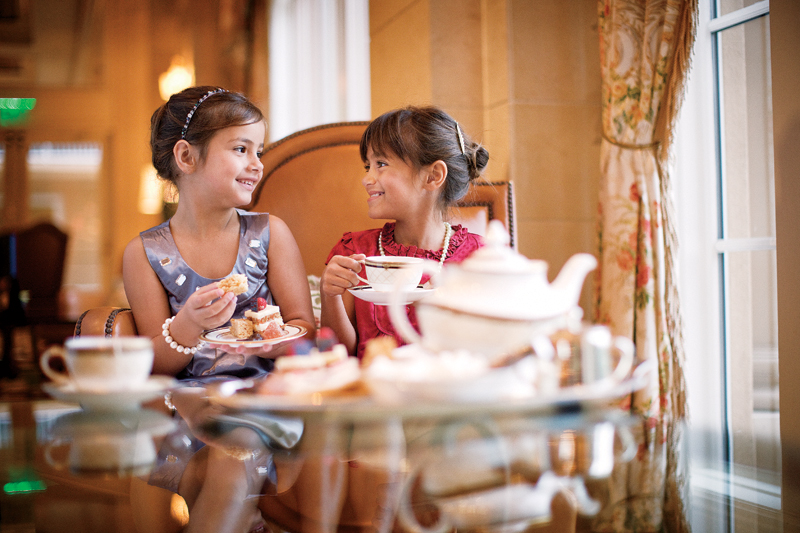 Tea at the Ritz
Socialites have to get their start somewhere. What better place than in a luxury hotel attached to a swanky shopping mall? This spring, The Ritz-Carlton Pentagon City debuted its Petite Socialite Afternoon Tea, aimed toward younger guests, ages 4 to 15.
Each tea is held in a curtained-off area of the hotel's Fyve Restaurant, lending an air of privacy and cachet. The price ($65 for participants under 12; $75 for those 12 and over) includes an assortment of afternoon tea sandwiches (think smoked-salmon roulade; prosciutto-and-brie crostini; and curried chicken salad in quinoa cups), a pot of tea, glitter-dipped fruit, macaroons, fruit preserves, miniature cupcakes and sparkling cider.
The package also includes a $20 gift card to the mall for each guest; complimentary parking for one car (for the parent or chauffeur, presumably) and tiaras all around!
Parties of four are the norm, but the hotel can accommodate smaller or larger groups and is happy to customize the theme and the accoutrements, upon request.
Tea hours are Thursday, Friday and Saturday, 2:30 to 4:30 p.m.; Sunday, 3:30 to 4:30 p.m. Teas can also be scheduled during alternative times with 72 hours' notice.
For reservations, call 703-415-5000 or visit www.ritzcarlton.com/pentagoncity.