Amazing Additions
Three local residences go from modest to magnificent.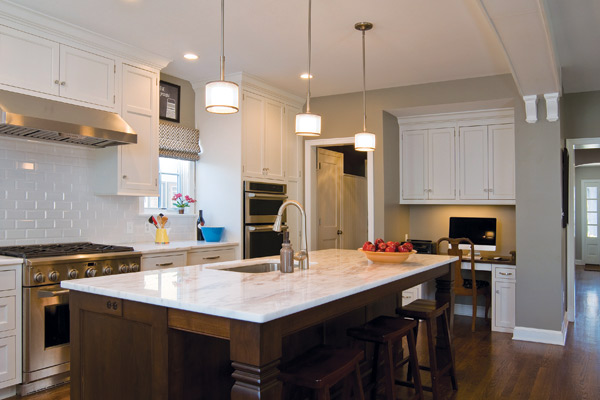 Party of Five
Maggie and Andrew Hershey hoped to have a second child when they moved into their three-bedroom Colonial in Lyon Park. Instead, Maggie says, "We got the bonus." Twins.
Suddenly their vintage home felt a little less charming and a little more cramped. The main living spaces were small and closed off from each other, and "it just didn't flow well," Maggie says. But they loved the neighborhood and their corner lot. So they decided to add on rather than move.
Soon, they were challenging Bob Braddock of Red House Architects and Dennis Lewis of T.W. Wallace Construction (both based in Arlington) to devise a way to expand their home's square footage without creating a monster that towered over neighboring houses.
"The addition couldn't look like it had turned its back on the front of the house," Braddock says. "And we didn't want it to look like the big part [of the house] was eating the small part."
It doesn't—thanks to deft use of a lot that naturally slopes downward in the back. The three-story addition is oriented toward the rear, where it steps down the hill, making it less obvious.
With the addition, the home now features an open-plan kitchen and great room, a double-height screened porch in back and a new master suite upstairs. All three kids—Cameron, 8, and Hayden and Sarah, 5—have their own rooms, and the once-tiny basement now includes a fitness room and guest room, along with a new garage.
D.C.-based renovation and style consultant Jenny Macomber helped the Hersheys make color and furnishing choices to fit their aesthetic. "We wanted a welcoming, warm space that was good for entertaining," says Maggie, a former lobbyist for the semiconductor industry who now stays home with the kids. Andrew, a sales executive at a software company, wanted "a New York feel, like a loft in Tribeca."
Everyone got what they wanted. "Daily life is much better because the flow has improved so much," Maggie says. "We can be together much more as a family instead of being isolated in different rooms, doing different things."
   
Before and after. Exterior: Though the original stoop has been replaced by a front porch, the house maintains a modest scale from the street. The addition stretches out in back. Photos by Scott Braman

Master suite: This bedroom sits two steps up from the hallway, by design. The move creates an extra level of privacy, while allowing 9-foot ceilings in the kitchen and great room below. Photo by Scott Braman

Great room: Window shades that operate from the bottom up maintain privacy without blocking out natural light. Photo by Scott Braman
  
The Hersheys with their dog, Crosby. Porch: From its second-story vantage point, the screened retreat feels like a tree house. Photos by Scott Braman
Neighborhood: Lyon Park
Architect: Red House Architects, redhousearch.com
Builder: T.W. Wallace Construction, twwallace.com
Interior Designer: Jenny Macomber Homes, jennymacomberhomes.com
Originally built: 1938
Remodeled: 2014
Original sq. footage: 3,224
New sq. footage: 5,442