Amazing Additions
Three local residences go from modest to magnificent.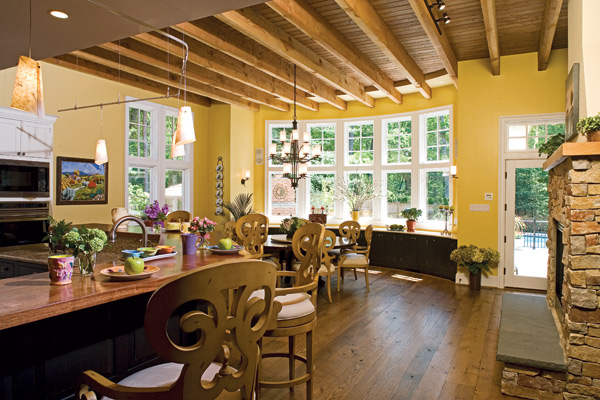 Open Minded
Remodelers Wilma and Bruce Bowers had just finished renovating their own home in McLean's Salona Village—a whole-house makeover so lovely it was featured on HGTV—when another house in the neighborhood stole their hearts.
Their new love? A "Colonial Williamsburg-style" brick Cape Cod sitting on a bucolic half acre.
"It just exuded charm," says Wilma, who owns McLean-based Bowers Design Build with her husband. "I'm a Virginian—it's something I'm very proud of—so anything that speaks to Virginia heritage is terrific."
The original owner, who had built the house himself 50 years earlier, had just passed away. The Bowerses purchased it with the intention of preserving its classic exterior architecture. But the interiors were another matter.
Beyond eliminating "the horrible wallpaper, the cobwebs and the smells," Wilma says, they wanted to renovate and add on to create a more flowing layout that could accommodate family gatherings of up to 75 people, along with day-to-day life with their daughters, Sadie and Mary (then students at Longfellow Middle School). Walls separating the original home's kitchen, dining room and living room were among the first things to go. In their place is a large, open kitchen and great room, divided only by a two-sided stone fireplace.
Natural materials such as exposed wood beams help to bring the outside in, Bruce points out. And the space feels even bigger, thanks to large windows and doorways that now connect to a pool terrace, outdoor fireplace and dining patio.
With the renovation, the couple also created his and hers home offices, a light-filled sunroom and a lower-level bar and exercise room.
Though the initial remodel was completed a decade ago, the house is still a work in progress. This year, Wilma says, they hope to expand the pool and patio area to include an outdoor kitchen: "We do so many cool outdoor spaces for our clients that we have outdoor-living envy!"

Office: French doors channel light from the foyer into Wilma's sunny office. Photo by Anne Gummerson
   
Rear before and rear after. Exterior: The backyard now includes an expansive patio and a pool. Photos courtesy of Bowers Design Build.

Great room: Ochre walls and a double-sided fireplace create the feeling of a rustic Tuscan farmhouse. Photo by Anne Gummerson

Kitchen: The original galley kitchen ended just to the right of the window and stove. Now the kitchen extends into the dining area and great room. Photo by Anne Gummerson

Bruce, Sadie, Wilma and Mary Bowers. Photo by Anne Gummerson
Neighborhood: Salona Village
Builder: Bowers Design Build, www.bowersdesignbuild.com
Originally built: 1961
Remodeled: 2005
Original sq. footage: 3,700
New sq. footage: 5,600
Design writer Jennifer Sergent lives with her husband and two sons in Arlington's Waverly Hills neighborhood.