Restaurant Review: Brine
Oysters aren't the only draw at Rappahannock River Oyster's Mosaic District restaurant. But they're a big one.
For oyster devotees, is there anything more alluring than a dozen craggy, ear-shaped cups of bivalve manna and liquor chilling on a bed of crushed ice? And for Northern Virginians, so near the Chesapeake yet so far, is there anything more disappointing than having so few local restaurants that emphasize the bounty of that bay?
Enter Brine, a 160-seat restaurant and raw bar that opened in May, a welcome addition to the Mosaic District and its environs.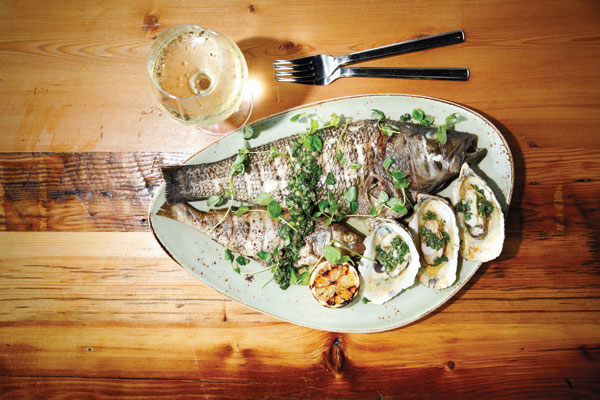 Seafood rotisserie with charred lemon and anchovy salsa verde. Photo by Jonathan Timmes
Brine's owner, Travis Croxton, is an old soul and a visionary. In 2001, he and his cousin Ryan Croxton took over oyster leases from a family business started by their grandparents and set out to restore the health and glory of the Chesapeake's native oyster, the Crassostrea virginica, through aquaculture. Their oyster gardens, grown from local brood stock in floating cages, flourished, and so did the reborn Rappahannock River Oysters LLC. Accolades from Food & Wine magazine and superstar chef Eric Ripert, owner of the noted fish restaurant Le Bernardin in New York City, put RRO on the map.
In 2011, the Croxtons began opening eateries of their own, starting with Merroir, a "tasting room" at their oyster farm in Topping, Virginia. Rappahannock in Richmond and Rappahannock Oyster Bar in D.C.'s Union Market hit the scene the following year.
Whereas the Union Market location offers a limited menu from a tiny counter that amounts to a stall on steroids, Brine is closer to its Richmond cousin; it is a full-blown, full-service, chef-driven restaurant that breaks away from the oyster-bar brand.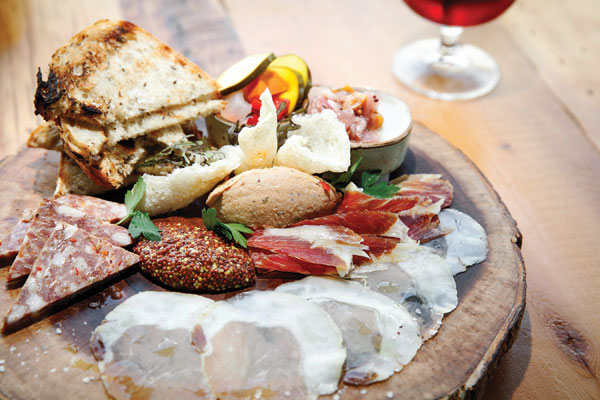 Charcuterie with mustard and pickles
The chef in the driver's seat at Brine is John Critchley, a Culinary Institute of America graduate who worked under chef Ken Oringer in Boston before joining Kimpton Hotels in 2008 as the chef at Area 31 in Miami. The chef's job at Urbana in the Hotel Palomar brought Critchley to Washington in 2010. He then became executive chef at Bourbon Steak.
Teaming up with Travis Croxton to open Brine made sense for Critchley, in that both share a commitment to local sourcing and sustainable seafood. Critchley is from the Massachusetts shore and previously worked as an oyster harvester on Duxbury Bay for Island Creek Oyster Co., whose oysters are often on Brine's menu.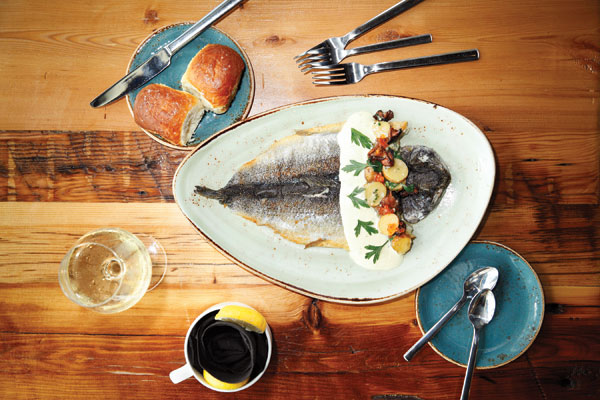 Seared Carolina trout with chanterelles, confit potatoes and hollandaise
It's de rigueur to start a meal at Brine with oysters. To support the home team, I opt for RRO's three signature slurps: buttery, sweet Rappahannocks; mildly salty Stingrays; and my favorites, briny Olde Salts. I ask for horseradish, and out comes a serving of thin, pickled strips of the fresh root that could be eaten on its own as a slaw.
The non-RRO oyster offerings are also right up my alley, including cold-water East Coasters such as Salt Ponds from Rhode Island, Beausoleils from New Brunswick, Canada, and WiAnnos from Cape Cod. A Mosaic platter, which is perfect for two, offers a more comprehensive raw bar experience. It includes six oysters, six clams, six poached Carolina shrimp, and a refreshing ceviche of shrimp and mahimahi, brightened with radish, jalapeño, red onion and passion-fruit juice.
Lambs and clams—a coupling of sautéed merguez sausage and clams—is a signature dish from Rappahannock Oyster Bar and proves just as winning at Brine, especially when you sop up its zesty broth with grilled country bread.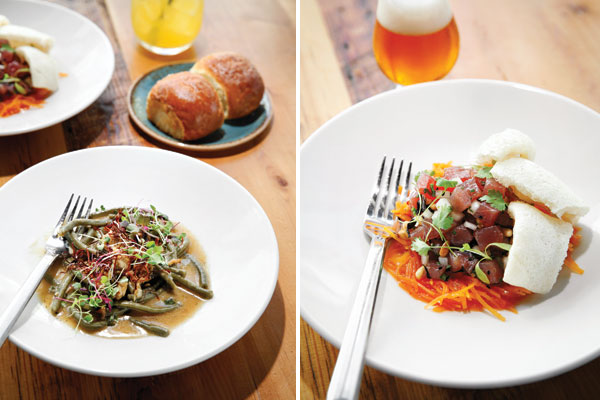 Left: Plankton bucatini with clams. Right: Raw tuna with ginger, sweet onion, sesame and pickled squash
Thick, spaghetti-like bucatini, made green from plankton in the dough (sounds weird but isn't), is rich with clams, guanciale, sliced garlic, saffron threads, white wine and brown butter. I loved this dish when Critchley served it at Bourbon Steak, and I love it now. The warm homemade Parker House rolls topped with sea salt that hit the table while I'm eating it come in handy; I use two of them to soak up every drop of sauce.
Critchley also makes a mean charcuterie platter, filled with house-made goodies such as a fennel-scented ham terrine with cubes of white fat (giving it the appearance of mortadella); duck-liver rillettes with peach-shallot jam; whipped lardo; and garlic salami. Luscious slices of Berkshire Surryano ham from Virginia make the assortment stellar.
There are a few items to be avoided. These include a stodgy oyster chowder, and a salad of stringy, fried Redbor kale piled on raw tomato purée and interspersed with bread-and-butter zucchini pickles. (Sounds weird and is.)
In the entrée realm, the Simple Fish section of the menu will appeal to those who prefer their protein prepared in a straightforward manner with embellishments on the side. The offerings here change depending on what's available but include on my visits croaker, mahimahi, sea bream, swordfish and tilefish. Some are cooked on a flat-top griddle, others on a wood grill; all are served on a bed of greens with a choice of lemon aioli; herb-and-seaweed salsa verde; or a Puerto Rican-style sofrito made with peppers, onions and culantro, an herbal relative of cilantro.
The Wood Rotisserie part of the menu also keeps things simple and features large-format dishes meant for sharing. The seafood rotisserie includes fresh catch (on one occasion that meant two black bass steaks and a whole croaker) roasted over wood, which imparts a nice hint of smoke. Grilled lemon and a salsa verde spiked with anchovy add just the right touches of acid and salt.
For those craving a bit more complexity, the Carolina trout fits the bill. The (mostly) boneless whole fish is served splayed open, skin side up, with a swath of hollandaise sauce, chanter-elle mushrooms and sliced fingerling potatoes. The accompaniments buoy the delicacy and sweetness of the flesh rather than overwhelming it.
Carnivores fare well at Brine, too. For the General Tso quail, two plump, juicy, semi-boneless birds are dredged in rice flour, deep-fried to crispness and tossed in a sweet-and-sour sauce, arriving on a bed of rice with broccoli rabe and a generous sprinkling of chopped scallions.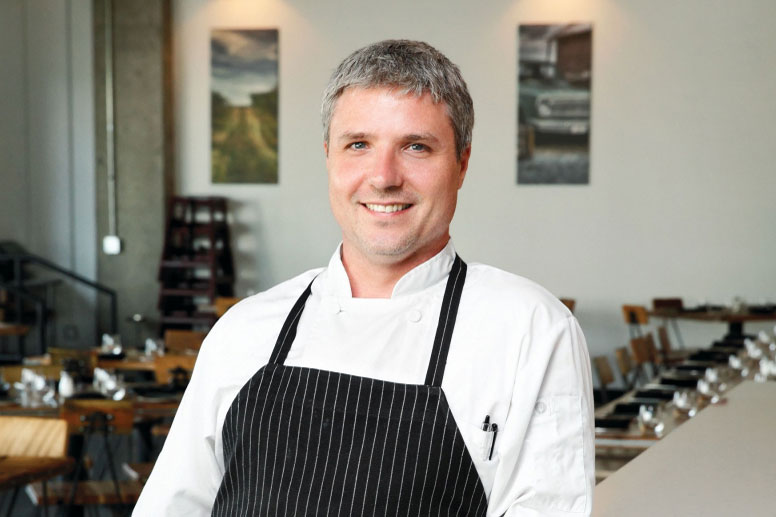 Chef John Critchley
A burger may be a sleeper at a restaurant focusing on seafood, but Brine's will keep me coming back. It's a thick patty of rosy Roseda Farm beef topped with cheddar cheese, shredded lettuce, red onion jam, and a ketchup-and-mayonnaise-based special sauce that turns magical when it mixes with the meat's juices.
Dessert isn't a strong suit here, but the fudgy, peanutty Valrhona chocolate cake is quite good, especially if you scrape some ganache off the top and use it as topping for the mint-chocolate-chip ice cream that comes with it.
The décor at Brine qualifies it as a member of the culinary industrial complex (didn't Eisenhower warn us about this?) that follows a cut-and-paste formula: high ceilings, concrete beams and floors, exposed ductwork painted black, strings of Edison bulbs, a shiny open kitchen with counter seating, a wood-burning oven and noise bouncing off all the hard surfaces. The chairs, twisted wrought-iron frames with rectangles of wood bolted to them as seats and backs, induce lumbago.
But, hey, no pain, no gain, right? In Brine's case, it's a small price to pay to indulge in a large platter of gleaming Olde Salts, a cool beverage and a beautiful hunk of fish.
WHAT TO DRINK:
BOOZE
Many of the cocktails change seasonally. Two standouts are the Rizal (gin; house-made, spiced guavamansi soda; lime), for which beverage director Jo-Jo Valenzuela won the D.C. 8th Annual Rickey Competition in 2015; and Passion and Warfare (Silver tequila, Laphroaig Quarter Cask Scotch, passion fruit, lime juice and ancho salt).
BEER
The draft beer and cider list (all locally sourced) breaks offerings into categories (Lighter Bodied; Fruit and Wheat; Hoppy; Dark and Rich), so you can find your preferences easily. Everything is offered in 4-ounce pours (plus some in 10-ounce or 16-ounce), so why not sample several? Start with Three Notch'd Brewing Company's Of, By, For pilsner (Charlottesville); then Hardywood Singel, a Belgian-style blond ale (Richmond); Evolution's Lot #6 Double IPA (Salisbury); and a hearty finish of 3 Stars' Southern Belle Imperial brown ale (Washington, D.C.).
WINE
Brine's wine list is definitely well valued, with per-bottle prices ranging from $32 (Broadbent Vinho Verde NV) to $135 (René Bouvier Gevrey-Chambertin "La Justice," 2012). Most hover around $50. Two-thirds of the 36-bottle list is offered by the glass. Domaine Antugnac chardonnay ($11/$44) and Wildewood pinot noir from Oregon's Willamette Valley ($13/$52) are fine sips. Virginia wines only make two appearances, which is strange considering Brine's commitment to sourcing locally. Virginia is home to many fine viogniers, for example, so why offer only an Australian one?
2985 District Ave., Merrifield (Mosaic District), 703-280-1000, brinerestaurants.com
OPEN
Monday-Friday: 11:30 a.m. to 10:30 p.m.
Saturday-Sunday: 11a.m. to 10:30 p.m.
Raw bar open until 11:30 p.m. Tuesday-Saturday
PRICES
Appetizers: $8-$18
Seafood platter: Small $38/Large $76
Entrées: $16-$32
PARKING
A free parking lot is across the street, and a free parking garage is a couple of blocks away.