Restaurant Review: Tupelo Honey Cafe
Our Southern food critic takes issue with the Arlington newcomer's spins on certain hallowed traditions.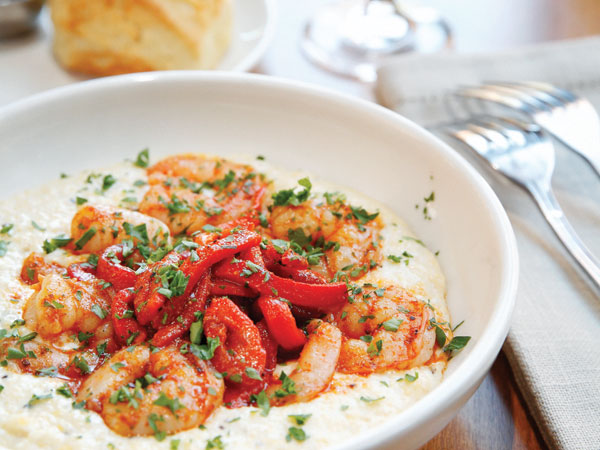 Shrimp and goat-cheese grits with roasted red pepper sauce. Photo by Jonathan Timmes.
There's a church pew in the foyer when you walk into Tupelo Honey Café. Consider it a sign that your faith in Southern cooking is about to be tested. The Asheville, North Carolina-based chain, which started in 2000 and has grown to include a dozen outposts in North and South Carolina, Tennessee and Virginia, came to Arlington's Courthouse neighborhood in May 2015. As a native-Alabamian, my impressions after visiting the place could be expressed as a slow, tsk-tsk-ing shake of the head and these four words: Bless their little hearts! Instead, I will elaborate.
The name Tupelo Honey Café is meant to evoke down-home country Southern wholesomeness and goodness. The décor of the 200-seat interior underscores that mission with light-stained wood veneers, "weathered" paned windows with peeling paint suspended from the ceiling, walls lined with honey-filled Mason jars, a large American flag and honeycomb-shaped shelves for liquor storage.
The goldenrod-and-burnt-sienna color scheme and the restaurant-supply-grade leatherette banquettes and side chairs conspire with the bric-a-brac to convey the forced theme-y-ness of a chain restaurant.
So does the menu, which bandies about mumbo-jumbo food jargon like "New South Flavor" (how do meatloaf tacos with Brussels slaw and jalapeño sauce fall into that category?), "fresh, made-from-scratch and thoughtfully sourced food," and "time-honored Southern dishes," "jazzed up a little," with "something deliciously unexpected to delight your palate."
Goat cheese in grits is unexpected, yes. Delightful? No. Especially not as part of a dish as iconic as shrimp and grits. Or as a bed underneath fried-green tomatoes. Or turned into poppers, which are basically fried polenta squares.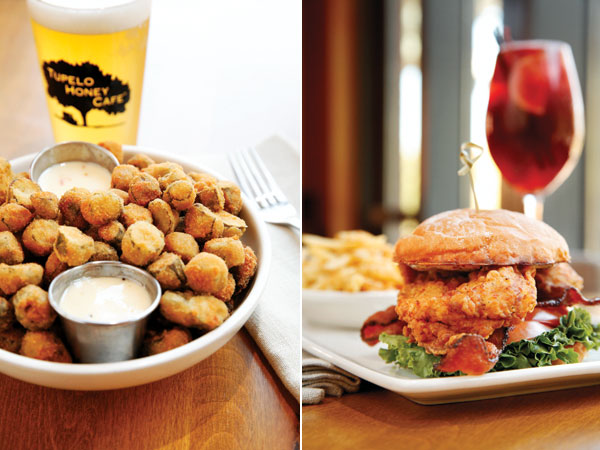 Left: Fried okra with Carolina white sauce. Right: Southern fried chicken BLT. Photo by Jonathan Timmes.
I can say good things about the bar. When I ask an affable and knowledgeable server whether the signature cocktail—the "Ode to Eleanor Roosevelt," which features sparkling sangria with brandy, Triple Sec, elderflower tonic syrup and thyme—is too sweet, she fetches a taste to help the decision along. (It isn't.) My dining companion orders what proves to be a very well-made and chilled martini.
Next, a large, fluffy buttermilk biscuit arrives topped with large flecks of coarse black pepper, prompting the first in a series of whys. Why put black pepper on a biscuit? Why bread and deep-fry already fat-laden avocado and then put those hot morsels on top of cold salsa that's been puréed to mush in a blender?
I understand the idea behind warm pimento cheese (redneck fondue?), but when you heat that beloved starter—often called the "pâté of the South"—it takes on the texture of Cheez Whiz and loses the pleasing al dente quality of grated cheddar. And adding mustard to pimento cheese just amounts to sacrilege.
Herbed lamb meatballs, which fall under the heading of "Southern small plates," are light and tasty in a chunky sauce of tomatoes, celery, onions and green peppers. And their toppings of crumbled goat cheese and basil prove to be compelling and balanced accompaniments. (In this instance, the goat cheese works.) But what does this dish have to do with the South? The question may be moot; I've since learned it's no longer on the menu.
Cutesy appetizers like pork barbecue-filled Appalachian spring rolls and fried wonton purses that are scantly filled with grayish deviled country ham fall flat; the latter make Chinese restaurant crab Rangoon seem gourmet.
Pristine ruby slices of seared tuna look promising, but their lack of depth betrays middling quality. And an effort to coax flavor out of the fish with lime proves fruitless; when squeezed, no juice emanates from the dry citrus wedges, which are edged in brown, just like the tuna. (Also, why are there raisins in the bed of edamame salad underneath the fish? And why is there edamame salad underneath it at all? This kind of dish should be a less-is-more situation.)
There are some partial successes. The porterhouse (meaning loin) pork chop is perfectly cooked to medium, juicy, and flavorful, although I find it best to avoid the glut of braised dried figs in red wine reduction and the stringy mashed sweet potatoes that accompany it. What is billed as a lump crab cake contains lots of backfin meat and is a tad bready, but it is a credible version of our Mid-Atlantic darling, with a nice kick of cayenne to it.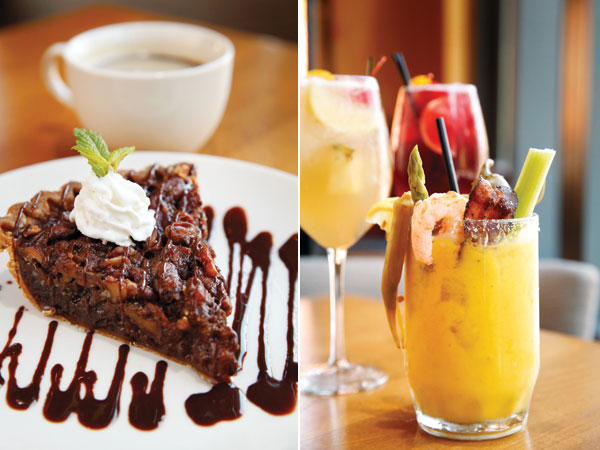 Left: Chocolate pecan pie. Right: The Queen Mary. Photo by Jonathan Timmes.
The boneless buttermilk fried chicken breast is piping hot and nicely brined, its flour dredge well-seasoned and crunchy. I wish that it were served on the bone, which adds extra succulence. Still, the thick boneless breast is just fine in Tupelo's BLT chicken sandwich, piled high with ample slices of maple bacon, lettuce and tomato and swiped with Dijonnaise sauce.
A brick of meatloaf, salty and smoky from bacon, comes with a rosemary-shallot "gravy" that's really just a wan tomato sauce. (If there is rosemary in it, I don't taste it.) Meanwhile, the over-salted-and-peppered pan-seared Carolina mountain trout is so visibly dry and overcooked that I have to wonder how it passed so many eyes in the kitchen and still made it to the table.
That's an indication of a management problem, and there are many others. Dirty plates linger on tables long after diners depart. No manager stops by in the dining room to say hello. No one questions food that's left largely untouched. A back waiter brings entrées to our table before it's been cleared of first-course plates.
I have issues with the shrimp and grits that extend beyond the goat cheese. Here, they are topped with a heap of unneeded red pepper sauce. And the "Shoo Mercy" option, which comes loaded with spinach, caramelized onions, bacon and mushrooms, is utter overkill. The well-cooked and delicately flavored shrimp don't stand a chance against all that competition. The menu offers chorizo sausage as yet another add-on, though what arrives is clearly merguez sausage made from lamb—not chorizo, made from pork.
There are many side dishes to choose from at Tupelo, and their execution is just as inconsistent. The macaroni-and-cheese is gooey, loaded with cheddar and topped with crunchy, buttery crumbs, just the way it should be. Asparagus and green beans are abundant but undercooked. Cheesy smashed cauliflower brings to mind Velveeta. The cornmeal-crusted fried okra isn't the worst I've had.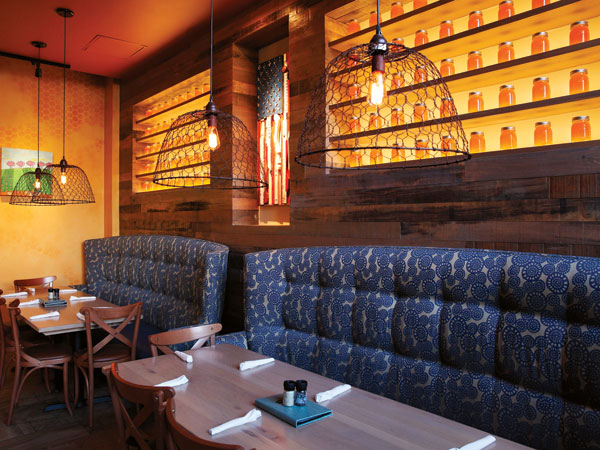 Photo by Jonathan Timmes.
For dessert, there are two options only. The chocolate pecan pie has a nice, corn-syrup-rich custard and a buttery, flaky crust. But the banana pudding, rife with vanilla wafers and sliced bananas that had seen better (less brown) days, left me with the biggest why of all. Why didn't I go somewhere else?
WHAT TO DRINK
Cocktails: Tupelo Honey Café has an excellent cocktail program and gets classics right—like a spot-on, ice-cold Hendrick's martini; and the "Achille's Heel" Manhattan with Copper Fox rye, Vya sweet vermouth, orange bitters and flamed orange peel. The bar also creates its own sour mixes and makes good use of Jack Rudy's superlative mixers, including elderflower and small-batch tonic syrups. Roasted yellow tomato juice is the foundation for the Queen Mary Bloody Mary, a cocktail with a salad bar perched on the rim of the glass that includes pickled okra, pimento-cheese-stuffed olives, grilled shrimp, bacon, celery, asparagus, pickled jalapeños and cherry tomatoes. Other cocktails such as the Carolina peach mai tai and the "Violet Beauregarde" Champagne cocktail tend to be overly sweet.
Beer: If you like craft beer, you'll love the selection here. The bar offers 24 on tap and more than 30 by the bottle. Local brews are well represented. Look for DC Brau's Public pale ale; Hardywood Park's The Great Return IPA; Mad Fox's Broad Street IPA; Devils Backbone Schwartz Bier; and rotating selections from Dogfish Head and 3 Brothers Craft. Bottled brews are smartly categorized by Crisp, Fruit, Malt and Hops. Ciders make a welcome appearance. Foggy Ridge's Seasonal cider is clean, crisp and appealing.
Nonalcoholic beverages: There is a nice selection of nonalcoholic drinks at Tupelo, including house-made rosemary-peach lemonade, sparkling blueberry punch, lavender-limeade fizz and Island Sunrise punch. Additionally, the restaurant carries Blue Blaze all-natural sodas (elderberry hibiscus, orange Dreamsicle and lemon-cherry Echinacea) from Asheville and Craft ginger beer.
Tupelo Honey Café, 1616 N. Troy St., Arlington, 703-253-8140, tupelohoneycafe.com
OPEN
Monday-Thursday: 11 a.m. to 10 p.m.
Friday: 11 a.m. to 11 p.m.
Saturday: 9 a.m. to 11 p.m.
Sunday: 9 a.m. to 9 p.m.
PRICES
Appetizers: $7- $14
Entrées: $16-$30
Desserts: $6-$7
PARKING
Street parking. Paid parking in the public garage on North Troy Street next to the restaurant, with free parking there after 6 p.m.