Basketball Diaries
Former Georgetown coach Craig Esherick on college hoops, Olympic scouting, TV banter and pivoting to the classroom.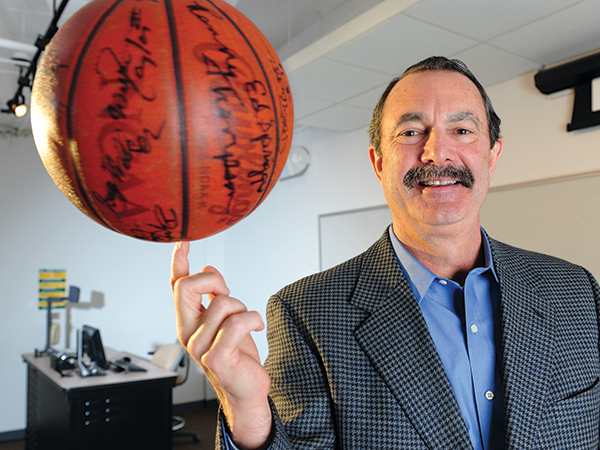 Name: Craig Esherick
Age: 59
Height: 6 feet 4
Current Job: Associate professor and associate director of the Center for Sport Management, George Mason University. Also a part-time college basketball announcer for the Mid-Atlantic Sports Network (MASN) and author of three books on sports management and media relations.
Lives in: Westover, with his wife, Theo Stamos
Kids: Two sons, Nicko (23), a recent graduate of the University of South Carolina, and Zack (20), a rising junior at the College of Charleston. Both played varsity hoops at Yorktown High School.
Credentials: A four-year letterman in basketball at Georgetown University, Esherick served as a graduate assistant to John Thompson Jr. beginning in 1979 while earning his law degree. Later, he was an assistant coach for the Hoyas (and part of the 1984 national championship team), a member of the coaching staff of the 1988 U.S. Olympic men's basketball team and Georgetown's head basketball coach from 1999 to 2004.
Technical Foul: Growing up in Silver Spring, I once got arrested—together with my brother and a friend—for trespassing in a high school gym where we played basketball after hours. I was only in seventh grade but still got taken down to the police station. It wasn't funny at the time, but it is now.
Glory Days: I started the last four games of the 1977-78 season, my senior year at Georgetown, including postseason games versus UVA, Dayton, N.C. State and Rutgers, and hit a shot against N.C. State to send that game into overtime. I also made a 40-foot shot against our biggest rival at the time—George Washington—that sent that game into OT. Under today's rules, that would have been a game-winning 3-pointer.
Switching Positions: Coaching wasn't my intended career, but after I graduated from Georgetown Law and passed the D.C. bar, I was offered an opportunity that I had to take—full-time assistant coach at Georgetown. I always thought I could practice law if I didn't like coaching. Obviously, that didn't happen!
World Arena: Probably my favorite basketball experience was serving as assistant coach and scout for the 1988 men's Olympic team in Seoul, Korea. After scouting the U.S. talent pool, we had to scout the world. I traveled to Olympic qualifiers in Europe, Asia and South America to scout potential opponents. That was the last U.S. Olympic basketball team composed of college players. After that, the rules changed to allow pros, and the first Dream Team competed in Barcelona in 1992. I think the change has been a good thing for basketball. Many of the European players had been getting paid to play but weren't considered professionals according to Olympic guidelines. Their countries wouldn't allow them to play in the NBA because they'd lose their eligibility to play for their national team. Now the overall level of competition—both at the Olympics and in the NBA—is considerably higher.
Life After Georgetown: I was offered a job with a TV network startup called College Sports Television (CST) in New York and worked there for 2½ years while my family stayed in Arlington. I loved the job and learned a lot, but I hated the commute. My career path also was impacted by my wife and her professional aspirations. [Theo Stamos is currently the Commonwealth's Attorney for Arlington County.] Coaching requires you to be ready to relocate, and I became less interested in doing that. Between scouting, recruiting and the regular season, a college basketball coach is never home. I felt that Theo had shouldered the responsibility of raising our boys long enough. I wanted to be able to spend more time with my family.
Call Me Professor: During my time in New York, I was asked to be a guest lecturer at NYU. When I learned that George Mason University had a Sport Management program, I made my pitch, and they offered me a position as an adjunct professor. I've been there eight years now. Former Redskins general manager Charley Casserly has also taught in the program for several years. Students learn about sports management and the fundamentals of finance, economics, marketing and communication. We offer some innovative minors, including sport coaching, sport communication and computer game design. We will be offering a minor in sport analytics very soon, and we're starting a study-abroad program. This summer I'll be teaching in Lugano, Switzerland.
Sports Ambassador: I've had the opportunity to work in partnership with the U.S. State Department to promote sports across the globe. One aspect of GMU's sports diplomacy efforts has been managing large-scale apparel/equipment donations to some of the poorest nations. Last year we sent soccer balls to a female soccer federation in Iraq. This was especially meaningful, as the opportunities for girls and young women to participate in sports there have long been restricted.
TV Talk: I've been working for MASN for eight years, and I love doing color commentary on televised games. I can't believe I get paid to talk about basketball. Broadcasting allows me to keep my hand in the game and talk to the coaches I used to coach and recruit against when I was at Georgetown. I've always had a healthy respect for the game officials—I was a referee myself in high school—but I must confess it's easier to accept their calls when your livelihood isn't on the line.
Bodies in Motion: I still play ball on a regular basis. I'm part of a group that plays every Saturday morning at Trinity Presbyterian Church in Arlington. While the players change from week to week, it's always an eclectic mix ranging in age from 13 to 72 years old, including friends, former players and even my two sons. It doesn't get too heated—it's mostly just good exercise—and we all end up at my house afterward for pizza and beer. n
Rick Schadelbauer is a freelance writer living in Arlington. He spent four glorious years as a Cameron Crazy at Duke University and thus knows how to correctly spell "Krzyzewski."