Celeb-Owned Wahlburgers to Open in Arlington at Ballston Point
The burger chain is co-owned by brothers Mark and Donnie Wahlberg.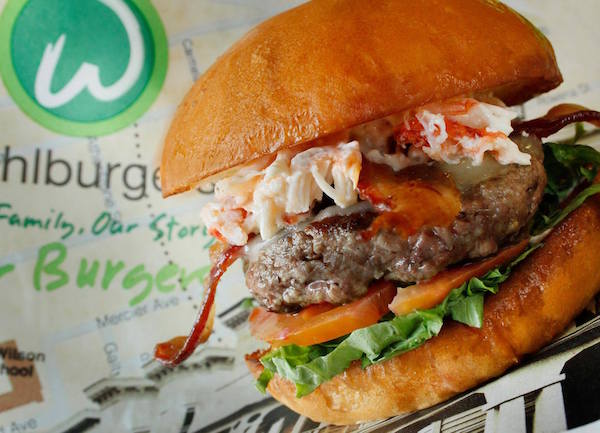 The surf-n-turf burger from Wahlburgers. Photo by Nicoletta Amato Photography
​Massachusetts-based burger chain Wahlburgers will add an Arlington location in early 2017.
The restaurants are owned by celebrity siblings Mark and Donnie Wahlberg, along with their brother and Wahlburger executive chef, Paul Wahlberg. The company will open its first D.C.-area location in Dupont Circle later this year.
The Arlington restaurant will be located in a 6,000 square foot retail space within Ballston Point, adjacent to the redeveloping Ballston Common Mall (soon to be resurrected as Ballston Quarter). Wahlburgers will replace the former Ted's Montana Grill, which closed in June 2015.
According to a news release, Wahlburgers "will deliver a dining experience built on the Wahlberg family values of heartfelt hospitality and fun while offering a chef-inspired menu that highlights creative burgers, sandwiches and sides made with quality ingredients."
Plans for the Arlington location include a fast casual counter and spacious dining room, bar and outdoor patio.
"We are thrilled that Wahlburgers has invested in the Ballston neighborhood and has chosen our building, Ballston Point, to do so," said Michael Darby, principal of Monument Realty, in a news release. "The renaissance that is happening in Ballston right now is so exciting and Wahlburgers is a perfect fit for the area and our building."