Columbia Pike Restaurants Team Up with Arlington Arts for DIY Cookbook Project
Residents can put together their own cookbook using recipes from local eateries.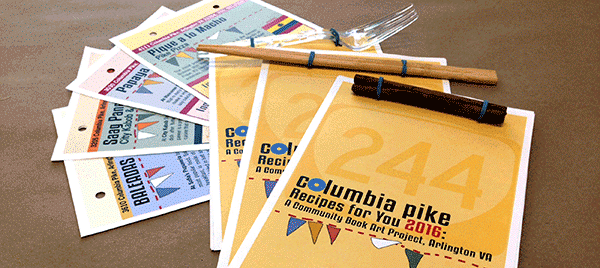 Fans of the many restaurants along Arlington's Columbia Pike have a chance to pick up recipes from some of their favorites this fall.
In partnership with artist Sushmita Mazumdar, Arlington Arts created "Columbia Pike Recipes for You: A Community Book Art Project" as a way for local residents to learn more about the restaurants and dishes at area eateries. Participating restaurants include Sofia's Pupuseria, Pike Pizza, Rincome Thai Cuisine, City Kabob & Curry House, Dama Pastry and Restaurant, The Celtic House Irish Pub and Restaurant, Atilla's Restaurant, Cafe Sazón, Cantina Mexicana, Bangkok 54, El Puerto Restaurant and Mazagan.
At three locations this fall, participants can choose from cards depicting a recipe and story from 12 restaurants along Columbia Pike and combine the selected recipe cards into a book bound with items like chopsticks and spoons.
Locations for the project include the We Are All Arlington! Festival, 6-7 p.m., Sept. 23 at Wakefield High School; Arlington Central Library, Oct. 1-31; and the Columbia Pike Farmer's Market, 10 a.m.- 1 p.m. Oct. 16 and Nov. 20.